It began with Tricity and now Yamaha has taken the leaning multi-wheel (lmw) concept to the next level. Is this alien weaponry or is it the next big thing in motorcycling?
Gaping, gawping, grinning, even pointing. Yamaha's new Niken is such a novelty that it stops people in their tracks. While three wheelers aren't new per se, most don't allow leaning. Niken does. Is this new-fangled three-wheeler merely a show pony or does it break new ground?
It's based on the MT-09, the penultimate offering in Yamaha's Mighty Torque range. These bikes are designed to be light, and to perform with real strength across a broad swathe of revs. Most are twins though the MT-09, Tracer 900, and XSR900 all have three cylinder engines.
But how about three wheels? Traditional trikes have one wheel in front and two behind. Modern trikes like the Canam Spyder get two up front and one behind. None of these leans like a motorcycle, and they can't lane split. Niken is a bit different. It also has two wheels up front but they're not so spread out as those of a conventional trike, and they turn and lean in tandem. In Japanese Niken means 'technology from the future'. In truth, the translation is actually 'two swords'. So must cut better than one, right?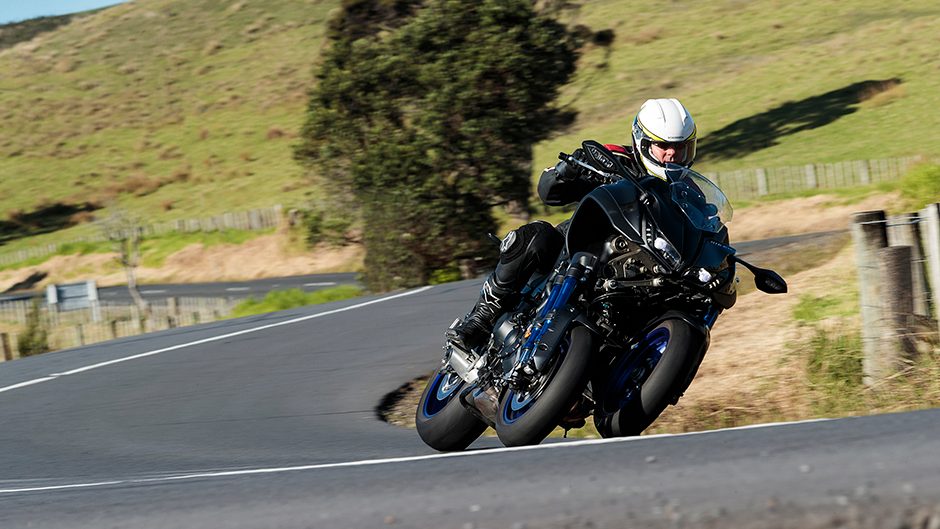 What is it exactly?
This isn't Yamaha's first three wheeler, but it is its first performance machine with three wheels. Like its wee Tricity sib, it leans conventionally. And that is always the first question everyone asks. Well, the second actually after 'What is it?' They want to know what it's like to ride. And the considered response would be: just like a regular motorcycle, only more secure. It's also easier to move around under your own steam, and when executing U-turns feet up.
But it will fall over, just like a regular bike. Hence the side stand. Yamaha doesn't want people to think of the Niken in trike terms. They see it as an optimised motorcycle. Unlike Tricity, which can be ridden on a car licence, this is legally classed as a motorcycle. Because it's based on MT-09 mechanicals it has serious performance potential – think 0-100 in under 3.5sec – so Yamaha opted to have it designated as a motorcycle. You need a full motorcycle licence to ride it.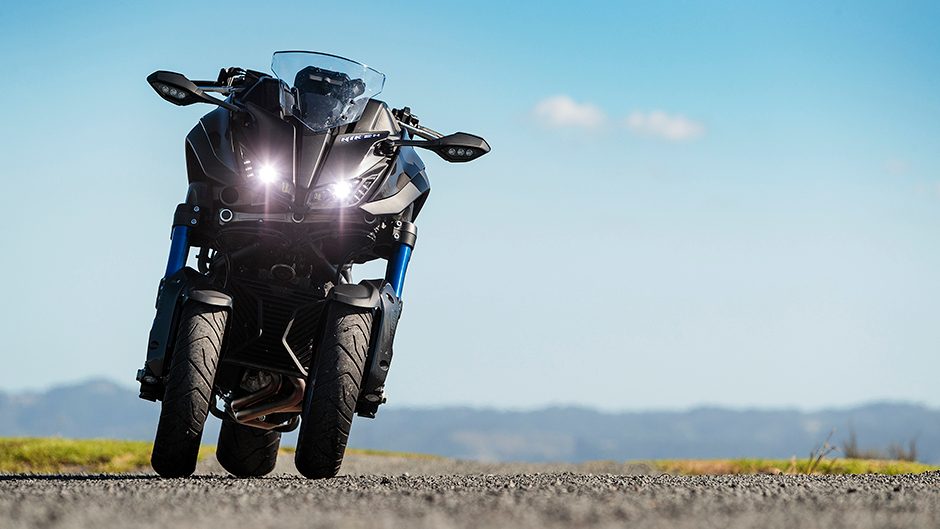 What's it cost?
The bike upon which it is based, Yamaha's MT-09 costs around $15k. Niken spec level is midway between this and the sport-tourer, the Tracer 900 GT, which costs $19,999. The Niken gets cruise control, heated grips, a small fixed screen, an LCD readout, three engine modes, the same number of traction control levels, a quickshifter system, and it retails for $23,999.
So you're essentially paying about one-third more for that unique dual-wheeled leaning front end. On top of which the extra hardware adds 50-odd kg of weight. And that front end needs servicing every 20,000km too. On the other hand, it has its advantages. Before we discuss those, it's fair to say that the appearance of the Niken will be critical in the final analysis of whether or not you want one. To behold, it's utterly different, and the general public is generally gobsmacked by this.
The shocked looks are often priceless. Numerous times we witnessed double takes. If you fancy plenty of public interaction, buy one of these. It not, best steer clear. From any angle this is distinctly different. Do the looks grow on you? Yes, but it's ungainly from some angles too. Course, you might think differently.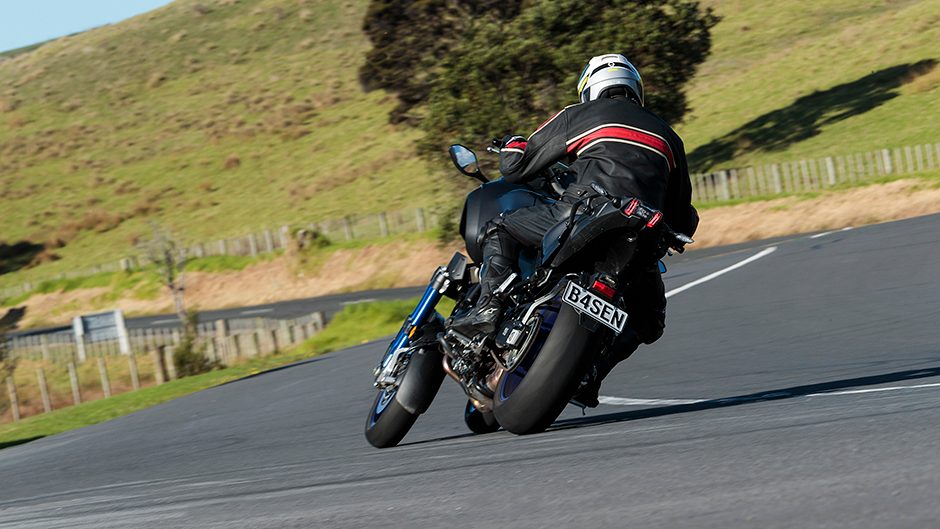 How does it work?
As to what that front end does, that's technically interesting. Peering up and under the front hood and there's a lot of beefy superstructure. Yamaha has evidently been investigating leaning multi-wheel (LMW) technology for almost half a century, and believes the extra stability and grip justify the added expense and complexity.
The company has been busy buying up patents too, believing they can expand the three-wheeler market. There's definitely more hardware with two wheels, four forks and the 'parallel quadrilateral arms' tying everything together. The front end weighs 150kg versus 110kg on the rear which is why it accelerates so hard off the mark; no wheelies, see? You get an extra pair of fork tubes, stacked inline, along with alloy tie-rods and suspension links, all of which keep the twin 15-inch front wheels tracking on the same path and at the same distance apart.
At the rear there's also an extended alloy swingarm. The advantages are roughly an 80 per cent increase in grip up front, 20 per cent better stopping distances and a more difficult to quantify decrease in fatigue and increase in comfort when riding. Essentially then, more safety and comfort. And it's the safety aspect that Yamaha believes will be a lure to those 50 per cent of people who possess a full motorcycle licence but don't ride. There's also a substantial proportion of those with car licences who would like to ride but feel conventional motorcycles are unsafe.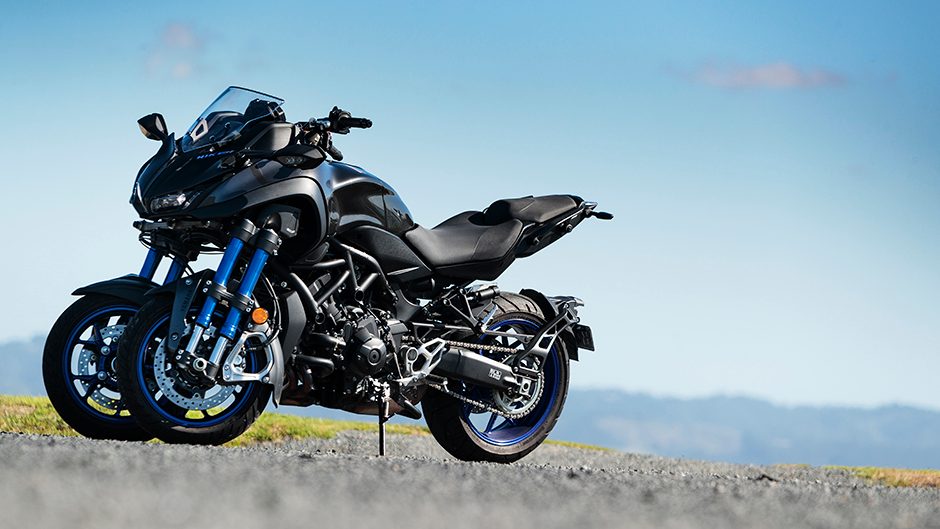 Are the advantages noticeable?
We rode this on varying roads, a few hours in freezing fog without a hint of slipping or sliding, the 15-inch Battlax front tyres ensuring superlative grip in a range of conditions. This offers a turn experience that's almost too easy, especially on faster sweeping roads. Think effortless, with less countersteering/lean required. In tighter slower going a bit more body English is needed, likely because of the greater contact patch up front, but there's still that sense of it being locked and loaded.
Occasionally, when really pushing hard and decked over there's a hint of understeer. But most of the time there just this sense of turning ease. Hitting bumps mid-corner can be upsetting on a regular bike; this seems to shrug off such things. Are there hidden benefits? There's another surprising aspect of the Niken's performance you'd not necessarily expect and that's its superlative ride quality.
With four shocks up front, even the worst bumps seem to impact minimally. Helping with comfort is an excellent riding triangle, very open and upright, and a huge seat that allows lots of movement. At the helm there's plenty of width – it's like riding an F6B Goldwing, only this is way lighter and more biddable.
Mirrors are the widest bit but they're mounted way forward so there are blind spots. But given vibes aren't great – midway between those of a twin and a four – the images are clear.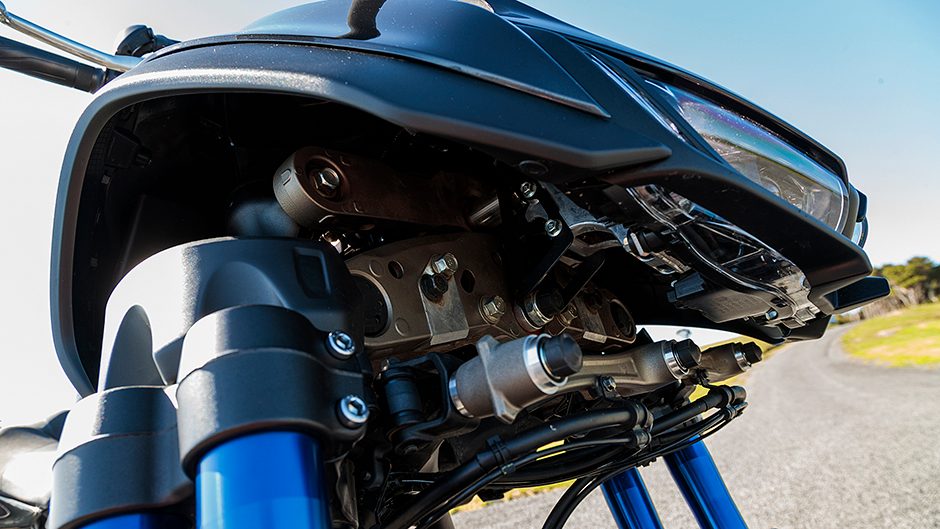 Any downside?
There's a couple of aspects to this bike that don't quite live up to expectations. Yamaha reckons that with two wheels up front and twice the contact patch that braking is 20 per cent better. Than what, I'm not sure. But given there's only one rotor per wheel and calipers aren't radial mounted, stopping power isn't reference level – a best 100-0 distance of 42m is merely average. Missed opportunity?
Unlike regular bikes, however, you can brake quite hard in corners without it standing up. Another not so great aspect is lane splitting; it's wide so you need to be judicious, but the rear wheel seems to run over all the lane markers (cats eyes) so yeah, nah. We liked the transmission which features a quickshifter but there are better units around. All MT-09 gearboxes seem to whine in top; this is no different.
We reckon the raciest engine mode which clearly offers the best grunt across the range is still a tad sharp, especially for a sport tourer, but the middle mode is good. Fuel use ain't special but nor is it bad, averaging 5.2L/100km. Likely that's because you use revs in the 4000-6000rpm range so much. Overtaking requires one downshift for optimised haste.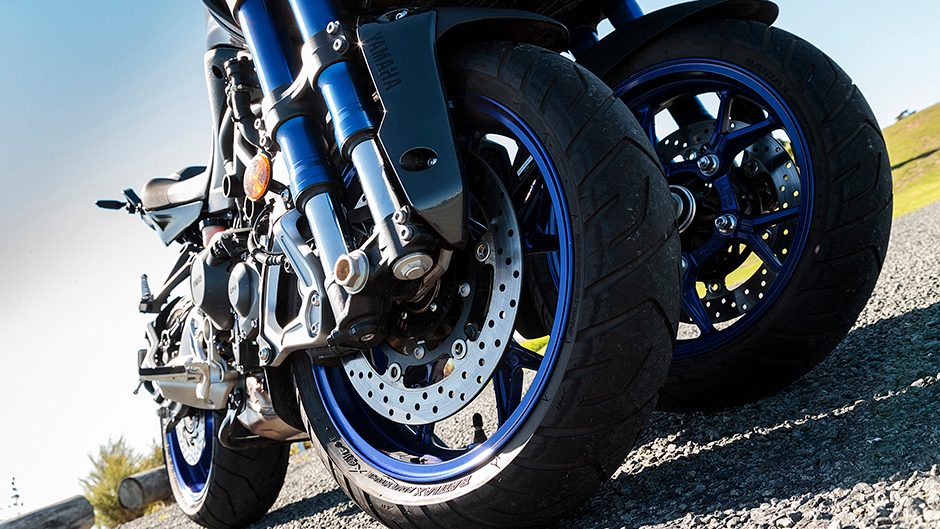 Thumbs up?
Minor gripes aside, there's lots to like about the Niken, though there have been few takers thus far. This is a new twist on the sport-tourer. Many companies have tried different front end architectures, but most have drawbacks. Price and aesthetics are generally up there and this is no different.
However, Niken's front-end benefits are clearer; returning riders will love the confidence-inspiring dynamics. And a GT version with better weather protection and panniers is available. The company is also talking about an MT-10 variant and a whole LMW family eventually. A less weighty, less expensive MT-07-based version would be really nice. We'd be Niken that.
| | | | |
| --- | --- | --- | --- |
| Model | Yamaha Niken | Price | $23,999 |
| Engine | 847cc, liquid-cooled, fuel injected, IL3,, 85kW/88Nm | Drivetrain | 6-speed, chain final drive |
| 0-100km/h | 3.42sec | 100-0km/h | 42.07m |
| 80-120km/h | 1.80sec (51.3m) | Weight | 264kg |