It looks trail ready but the fourth member of the R nineT family is more a stylish road-oriented all-rounder. Is this the pick of the modern retro set?
In an increasingly sophisticated and electronically controlled world where vehicles are threatening to drive/ride themselves, a simple, well designed back-to-basics machine is a breath of fresh air. And that's what the super-stylish retro motorcycle, the BMW R nineT Urban G/S, feels like to me.
It has the bare necessities on a bike that you'd want, two wheels and a powertrain, plus the bits that connect them, is beautifully made, and that's almost enough. Even the safety gear is pared back to the bare minimum; ABS brakes and traction control. There's no real protection from the elements either, bar a wee fly screen, and just a single dial for speed and trip data. You don't even get a tacho, gear position or a digital readout of speed. None is really missed.
Brakes up front are twin disc, using conventionally mounted calipers, with good bite. Topping it all off is the retro styling, recalling the R80 G/S of the 1980s, almost the perfect homage to a bike that kickstarted the adventure bike class. Not that this bike is really meant to take to the dirt, despite the retro style bellows-like fork protection. Sure, it has a 19-inch front wheel and can be shod in knobbly tyres but it comes fitted with Metzler Tourance rubber which is street oriented, as is the suspension.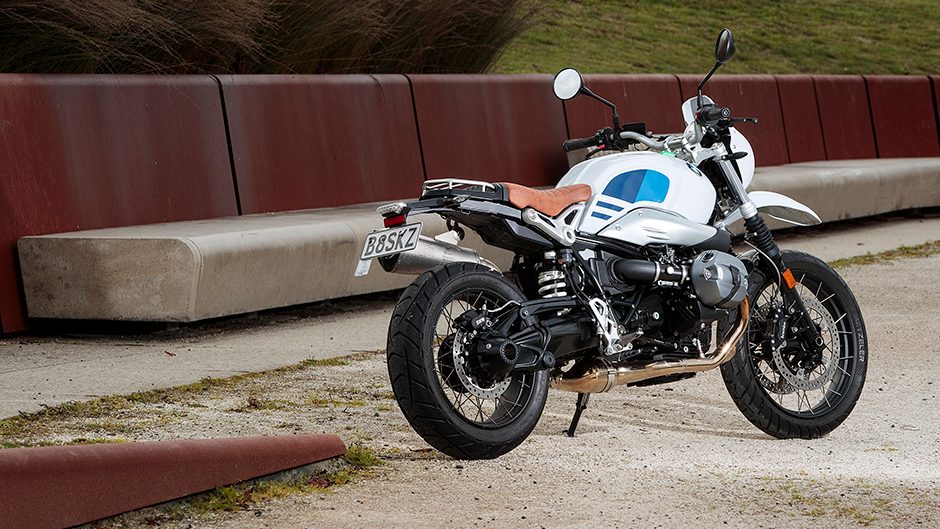 Yes, it will tackle modest trails but its natural hunting ground is suggested by its name, Urban G/S. This is a street bike that's optimised for commuting and weekend rides, with the odd excursion down gravel roads a distinct possibility.
To behold it's a peach, the cool design unmistakably a 21st century rendering of the iconic flat-twinned original off-roader. Packing the 81kW/116Nm 1170cc air/oil-cooled boxer twin of the R nineT family, this is the bike's centrepiece, while the clear styling inspiration from the R80 G/S makes this arguably the most alluring of the R nineT family to date.
Where the Racer version puts the rider into a long ranger riding position, this is more upright, elevated, and just about ideal for melding town and country travel duties. Wide bars make for easy changes of direction, aided by all that weight concentrated low, and there's just a slight forward lean to balance the wind blast when riding at open road speeds. For those who actually want to head off into the badlands, the foot peg rubbers can be removed and with a wet weight of 220kg we'd imagine this might actually go okay off-road.
Were it ours, however, we'd limit such outings to dirt road excursions. Really, this is something you want to keep pristine. Buy the Scrambler version of the R nineT if you're serious about going bush.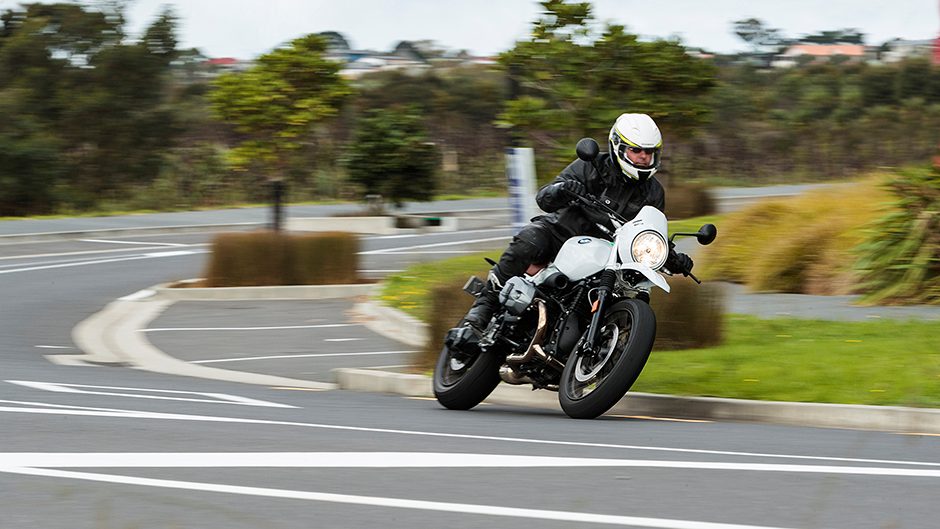 What a donk
BMW has been making flat twins now for almost a century and this is amongst the last of the air/oil-cooled boxers, meeting current EU IV standards.
Emissions laws will eventually mandate the move to water cooling but in the meantime this retains the authenticity of the iconic machine upon which the styling is based. Right down to the retention of shaft drive, which not only circumvents one of the major motorcycle maintenance issues (chain tightening and lubing) but also makes selection of first gear of a cold morning a non-clunk affair. Just a gentle snick into first, and easy shifting thereafter, with short lever movements between subsequent gears.
Clutch pressure is moderate too, and there's adjustability for levers either side. Small things, sure, but on a machine costing just the right side of $20k, it's the little things that count. This, by the by, is a $4k reduction on the list price of $23,990, a current promotion that makes it better value than ever.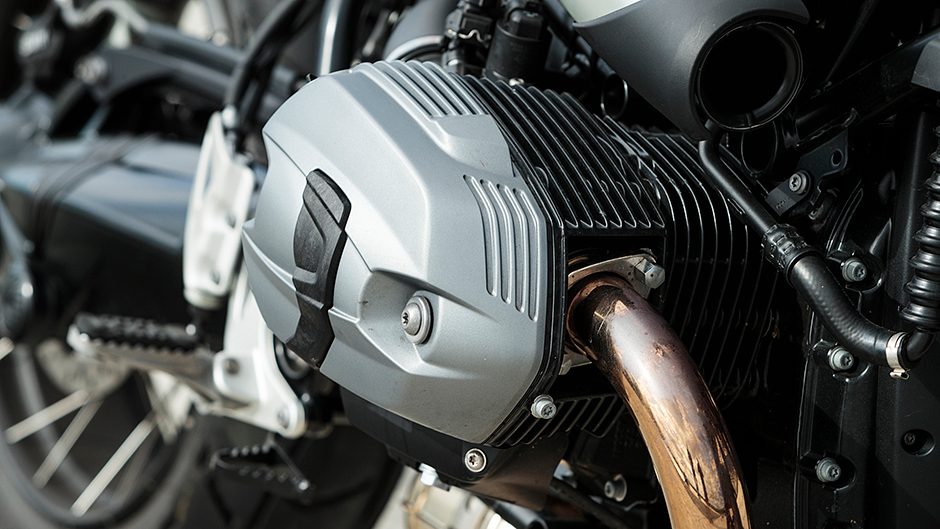 So there's not so much in the way of high tech content. ABS brakes are now essentially mandatory on new bikes, and TC is becoming almost default as well, at least on bigger displacement machinery. In the interests of off-roading, should the urge take you, both can be switched off. Otherwise, standard gear comprises heated grips, electronic fuel injection, spoked wheels for that authentic retro look, and an immobiliser.
Our particular machine had an Akrapovic slip on pipe, an aftermarket item, and a brown single seat replacing the standard flat red two-person item. Neither is really needed; the standard bike sounds pretty nice with its two-into-one exhaust anyway, and the red twin seat harks back to the original. Besides, the bike is so pretty friends will for sure ask you to take them for a ride and you can oblige.
Regarding the Akra' muffler though, it really does sound good and loud-ish out on country rambles, especially when you wind the wick up some. Like all in the R nineT line-up this is ripe for customisation. There are numerous milled engine parts available, while crash bars, engine guards and a protective headlamp grille are also on offer. The rear subframe can be easily removed if you just must have that single seat look. But the original G/S dual seat was red so…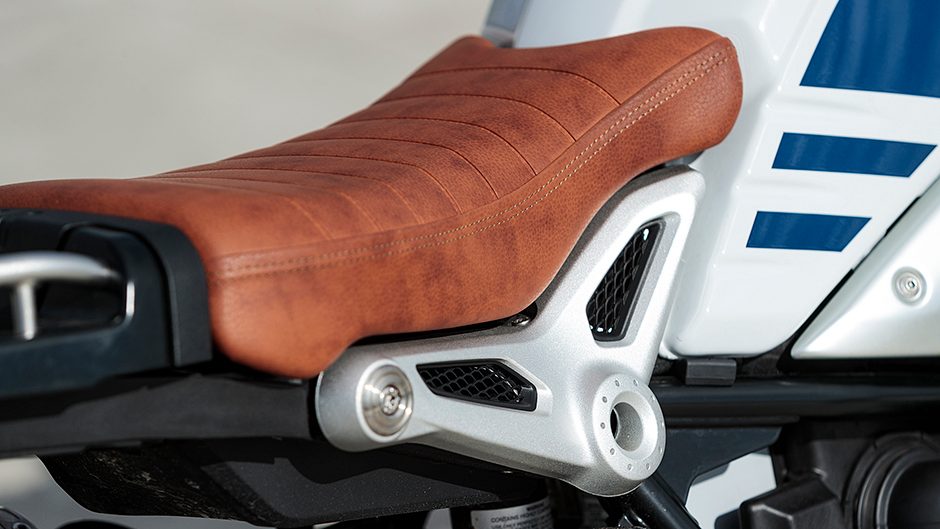 Faster than you might think
Returning to the heart of the Urban G/S matter, the engine is the thing. It's the most easygoing big bore donk out there, with substantial peak torque of 116Nm arriving at 6000rpm and max power of 110hp nailed at just 7750rpm. This suggests something with glorious midrange and that it has. But it's not just strong through the midband as it hits 100 in a mere 3.7sec. Astoundingly, it manages an 80-120 overtake in just 1.47sec and that includes an upshift from second to third gear.
That's nearly superbike quick, and all for under $20k remember. On the open road, you'd not suspect this is that fast. Once into top gear, it feels like its natural gait is around 100 to 110km/h but twist on and there's much more to go. Our one initially felt a bit reluctant but seemed to lose its green tinge as the week wore on.
About the only real negative is a few vibes but they never really intrude much, and certainly don't numb any body parts. The old-school round mirrors are handy enough, but are never quite crystal clear.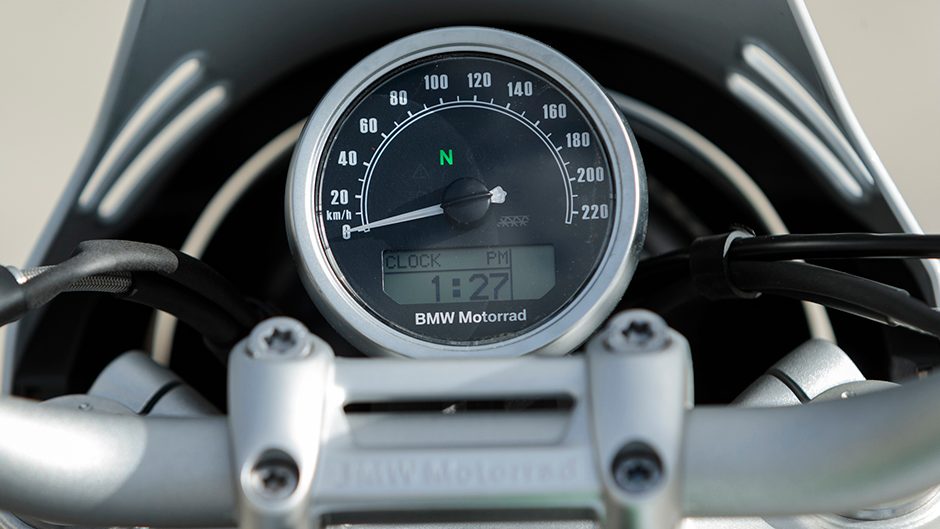 Rides so securely
Naked bikes on still days? Almost unbeatable if you're into that windy experience. The riding position is great, though a bit more seat foam wouldn't go astray. Countering that is minimally adjustable suspension that genuinely irons out the ruts and bumps, not always a given. It's not the quickest steer ever, as you'd expect from the raked out forks, but stability is outstanding, and cornering a joy with the adhesive Metzler Tourance rubber.
As we've mentioned before, the low-set combustion chambers poking out each side seem to make changes of direction feel really natural. It stops reassuringly too. So yes, another member of the R nineT family that shines. And at a price that's hard to overlook. And as to style? Well that's priceless.
| | | | |
| --- | --- | --- | --- |
| Model | BMW R nineT Urban G/S | Price | $23,990 |
| Engine | 1187cc, air/oil-cooled, fuel injected, flat-twin, 81kW/116Nm | Drivetrain | 6-speed, shaft final drive |
| 0-100km/h | 3.72sec | 100-0km/h | 39.49m |
| 80-120km/h | 1.47sec (42.99m) | Weight | 220kg |