When this HSV arrived on the scene in 1996 sporting its race car rear wing, it was seriously outrageous, while its paint job was equally attention grabbing. Here we track down an original HSV VS GTS-R.
HSV's GTS-R is a polarising machine. As the owner of this car, Jarrod Knight, puts it; "It's one of those cars you either love, or you wonder what the hell were they thinking. The colour was radical and that giant wing at the time was outrageous." Yep, that pretty much sums it up nicely. "It's the car I've always wanted. Some guys dream about Lamborghinis, but since I was young the GTS-R was THE car," says Knight. "I saw one when I was a young fella growing up and always thought they were pretty neat. It was the car that started my obsession with HSV and I've had a heap of them. My first was a VS 215 Senator back in 2008 and since then I've had about 20 of them but always the the holy grail of HSV, in my view, was the GTS-R."
Knight likes that it was unique and at the time a touch dubious. "Like the Walkinshaw before it, they are a little controversial. The rear wing has a solid steel subframe under the bootlid, it's almost a team lift effort to raise it, and it's questionable whether it actually produces any down force or if it was just for the look."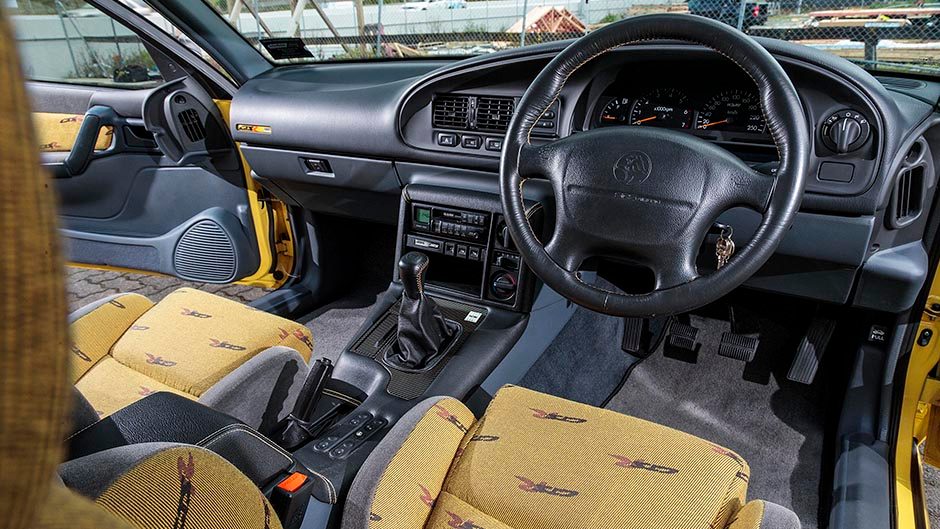 The story goes that a cancelled order from the Melbourne taxi company left Holden wondering what to do with 85 yellow Commodores. Someone brave at HSV saw an opportunity to do something a bit different with them and we got the VS GTS-R. The car is mechanically similar to the regular GTS of the era, meaning it was fitted with the Aussie-built cast iron V8 with the usual 5.0-litre (304 CID) capacity taken out ot 5.7 (355) thanks to the Harrop stroker kit. This saw power lifted from 185 up to 215kW at 4800rpm, with 475Nm of torque at 3600rpm. All had the Tremec T56 six-speed manual, the Aussie-developed Hydratrak LSD and the usual GTS suspension upgrades.
So the GTS-R additions were largely cosmetic in nature but unique at the time thanks to the addition of carbon fibre bits made by the Holden Racing Team. There was that giant wing, which has an adjustable angle of attack, the side skirts and front bumper air-intake inserts, as well as the rear trim and wheel caps which were all made from carbon fibre. The 17-inch, three spoke alloys were the same as the VS GTS wore, but were finished in charcoal grey and wrapped in 235/45 ZR17 Bridgestone Expedias. HSV's premium brake set-up of the era consisted of 330mm rotors and twin-piston calipers up front with singles at the rear.
Much buzz was created by the GTS-R's 'blueprint' option. Those who were willing to spend more (around $AUS10,000) and wait longer for delivery could have their engine honed by HRT. This involved a complete strip down to improve tolerances, smoothing cylinder chambers, balancing the internals and decking the block to ensure it was absolutely straight. This helped bump the compression ratio a little higher while the ports were better matched to the manifolds before reassembly. Each blueprinted engine received an HRT number stamped on the original HSV build plate. Outputs were raised by around 10 to 15kW with an additional 25-40Nm of twist as well. Performance stats from the era recorded a 0-100km/h time of 6.6sec with HSV quoting a 6.1sec time for its optimised car.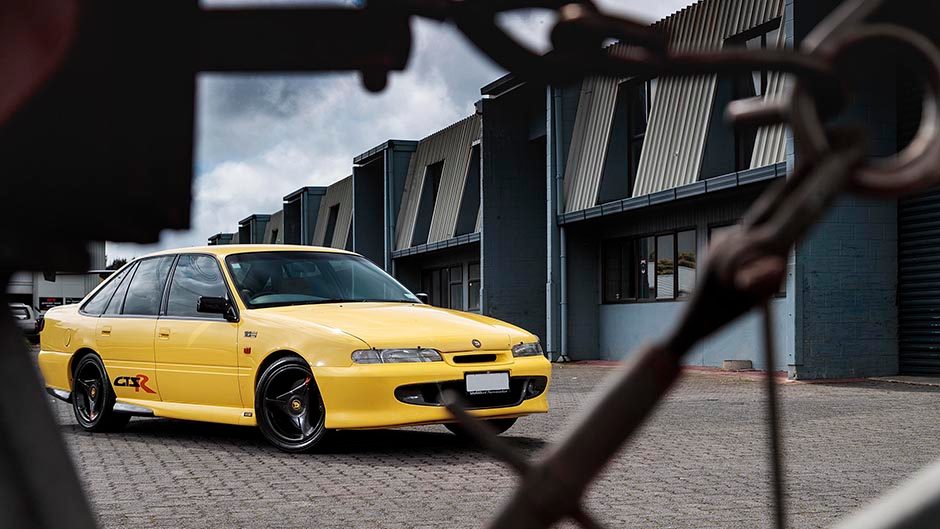 he GTS-R was a limited edition as Knight explains; "there were 85 built and they shipped nine to NZ, or ten depending on who you talk with, and now there's only four left in NZ. There were three options for the car from new; the optimised engine, a sunroof and premium sound. The two optimised cars that came here disappeared back to Aussie pretty quickly and this car is the only one left in NZ with an option, that being premium sound." Knight's car has just ticked over 20,000km in its 20-year history. "Apart from the battery, everything is as it was ex-factory. It's still on its original Expedia S01 tyres (and are rock hard as you might expect) and even the exhaust is still factory with the twin pipe muffler."
Knight say he knows that one of the early cars had a supercharger added to it from new. "That car is back in Aussie now, I'm not sure if it's still supercharged, but I'm a purist; in my view, this car is how it should be, original from the factory." As for the other Kiwi cars, Knight says one got written off early in its life, while his car is build number 83, and number 82 went back to Australia and now resides in the Gosford car museum with just 8000km on the clock. "They are certainly becoming collectable now, particularly those with less than 20,000km on the clock. The others left in NZ all have between 60,000km and 90,000km on them. Most stay with their owners for a reasonable amount of time and so don't often come up for sale. I bought this one eighteen months ago and prior to that it hadn't been on the market for ten years. One car in Gisborne has been with its owner for the past 15 years."
Knight, an active member of the HSV owners club including a stint as vice president last year, says he remembers this particular car from various car shows in the past. "I have photos of this very car from when it was on display in the early 2000s. I got to know the previous owner, so to now own it, it's pretty cool and now that I've got it, I'm pretty reluctant to part with it. It'll be in the stable for a while."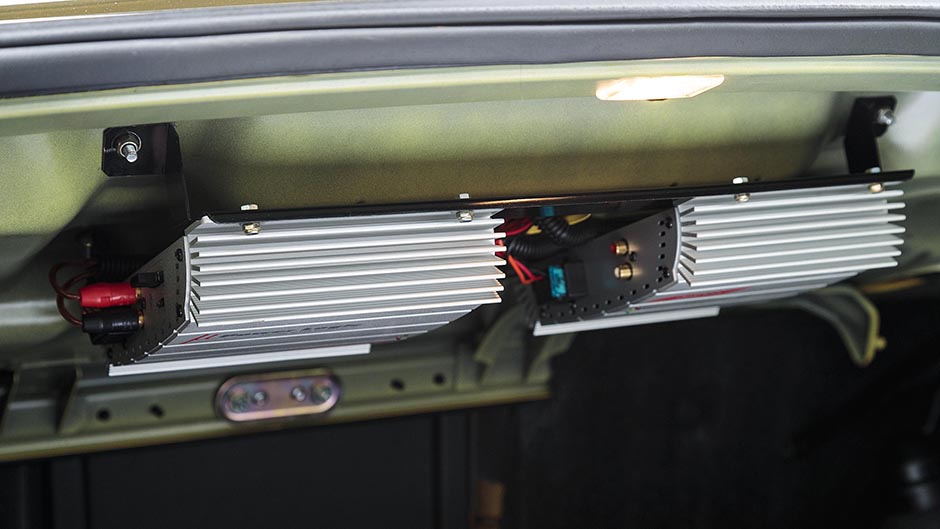 Knight has owned plenty of the breed prior, as many as four VS variants over the years, and a few VRs (he says he always loved the shape), as well as a VN LS, a VT, a couple of VXs, a VZ and few VEs among others. Is there anything else he has a hankering for? "I could see a Walkinshaw sitting next to the GTS-R at some point maybe. I had an SV5000, I loved that car and while I'm more in tune with the older cars it didn't stop me buying a new F2 GTS recently." Knight says the GTS-R has led 'a pampered life' but that after 20 years there are still a few things that need some attention, like the window frame that's starting to show signs of rust. "I'm pretty lucky to be the custodian of it now and the previous owners have done a good job of looking after it. I'm keen to do a few more events in it, and have it on show where I can."
While the majority of parts are generic VS GTS bits, Knight says all the cosmetic pieces are GTS-R specific and are now almost impossible to replace. "The badges, like the yellow HSV badges, and all the stickers and carbon pieces are extremely hard to find. Things like the lens for the brake light, that type of thing, are hard to replace. Even original gear knobs from this era of car are becoming very rare and when they come up for sale command thousands of dollars."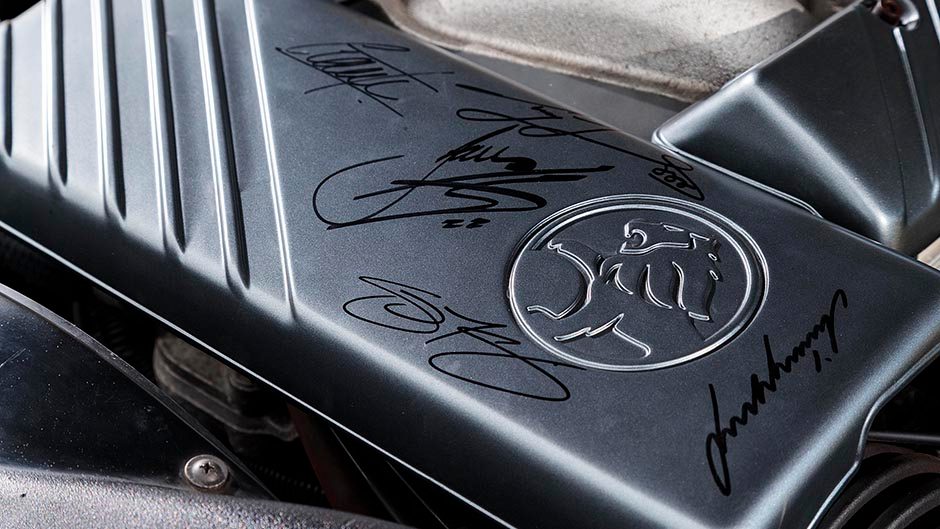 Another of the GTS-R's party pieces is the yellow interior trim on the seats and door cards which carry the GTS-R logo and yet somehow they manage to mix harmoniously with the school uniform grey interior in a nineties way. As Knight says, it even smells nineties inside. "A two metre piece of the yellow GTS-R material sold on ebay for a few thousand dollars recently."
It will be interesting to see what the future holds for HSV, and Knight is eagerly awaiting what the brand has in store for the final hurrah of the Aussie-made Commodore era. He reckons it would be good if the final cars could be had in some of those heritage paint colours from HSV's past, like the purple of the VP Senator, the SV5000 green, panorama Silver, anthracite grey, and of course retina-searing Yellah.