The venerable Mark ii Escort has been a labour of love for one Bruce Manon, and it's an affair that stretches back decades, as we discovered.
Club racing attracts stoic individuals. In terms of hobbies, campaigning a club racer is a hell of a rollercoaster ride. From toiling away at the daily grind creating the means to pursue the call for speed, there are the hours spent fine tuning their weapon for absolute performance. It's just short of an all-encompassing obsession for those immersed in the culture of braking late, turning in then powering forth to the next apex.
The net result is a competition vehicle developed to suit the builder's requirements. Years of development and know-how meld with upgraded mechanicals as the opposition gets faster and the thirst to cut valuable tenths from lap times needs quenching. This evolutionary process means those machines found in the pits on race weekend are a permanent life fixture for many of these racers.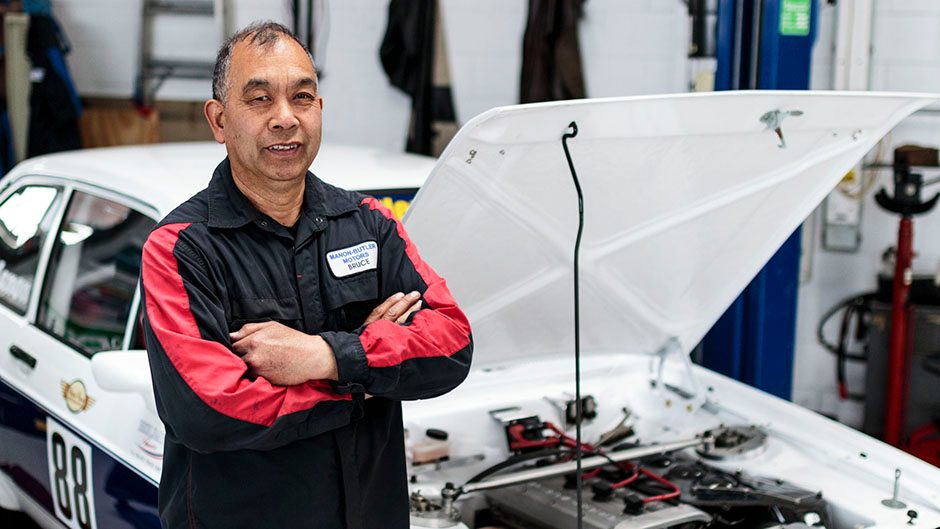 But what if the unthinkable happens? When an incident renders those years of development to scrap? Tricky decisions then require consideration. Is it the end of the line or an opportunity to rise from the ashes, seizing an opportunity to rebuild, redevelop and return to the tarmac in six-million dollar man fashion – better than it was before.
No stranger to racing at a club level is North Shore-based Bruce Manon, whose reputation as one of the consistently quickest in his class comes courtesy of many years tinkering with the venerable Ford Escort, arguably a vehicle that represents the club racer archetype to a T. Unfortunately, during the 2013 Leadfoot Festival an almost 25-year run in the driver's seat of his prominent white and blue Mark II came to an abrupt halt thanks to an unplanned off road excursion – but more on that later.
Bruce's affinity to drive quickly began at an early age when as an eight-year-old his father first acquired a rudimentary go kart riding on wheelbarrow wheels and powered by a small Velocette motorcycle engine. He coerced a grader driver working nearby with a crate of beer to form a small dirt track on their eight-acre market garden property. This was his initial taste of "speed and sliding in the dirt" as Bruce recalls. The apprentice mechanic was 17 when he participated at his first proper race at Waikaraka Park at the helm of a Morris Oxford, repowered by a tuned Austin Healey 100/4 lump enhanced on the rolling road dyno at his place of work, invaluable in eking those last few ponies from the big 2.6-litre four-cylinder.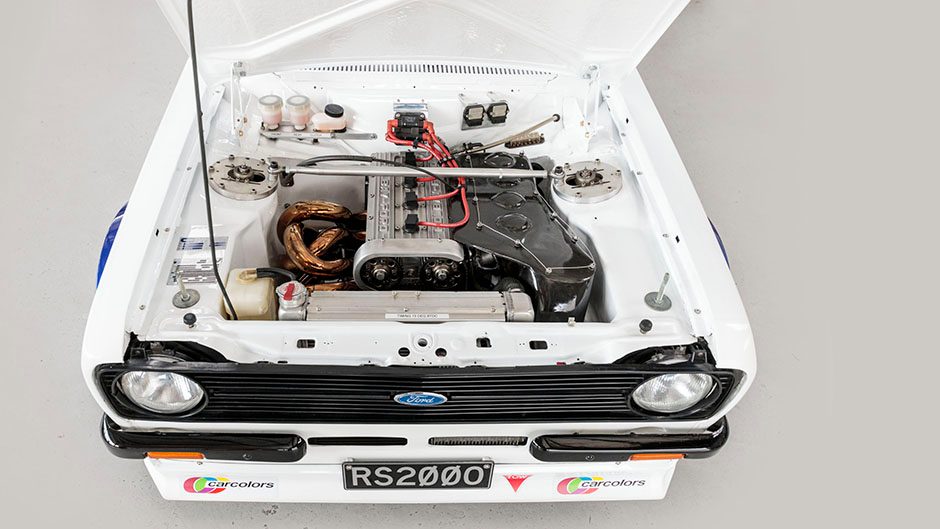 Drag racing soon followed, with a 'Rookie of the Year' accolade earned punting associate Dave Wong's turbocharged Mark I Escort down the quarter mile. In 1980 he established his own North Shore workshop with business partner John Butler, Manon Butler Motors, and is still in the business of race car modification and preparation (including specialising in Mazda rotaries and turbocharger conversions to all manner of vehicles), as well as the day-to-day tasks on everyday vehicles.
In 1984, Bruce and John assembled the defining vehicle of Bruce's racing tenure, a potent Mark II Escort two-door clad with aggressive flares to contain wide rubber, and sporting wild aero so typical of the sports sedan class of the era. Given prior experience with the technology, the Escort packed a potent turbocharged 2.0-litre Pinto engine built in-house by Manon Butler Motors. TRW forged pistons mated to Carillo rods, a 332-degree duration camshaft and a decompression plate lowered compression to 6.1:1, allowing the Garrett T04B turbo to stuff 26psi of boost down the inlet's throat, resulting in 360hp at a heady 8500rpm. Regardless of its diminutive capacity, Bruce and the Escort proved a potent threat to the 'big banger' V8s that ruled the sports sedan roost of the time, with power to match (and often beat) the 6.0-litre plus class leaders on occasion – something Bruce describes as a satisfying result.
In 1988, Bruce's run behind the wheel of the turbo Escort was over – it was sold to purchase a new house and concentrate on business interests – but the appeal of flinging the small Fords across the tarmac never waned.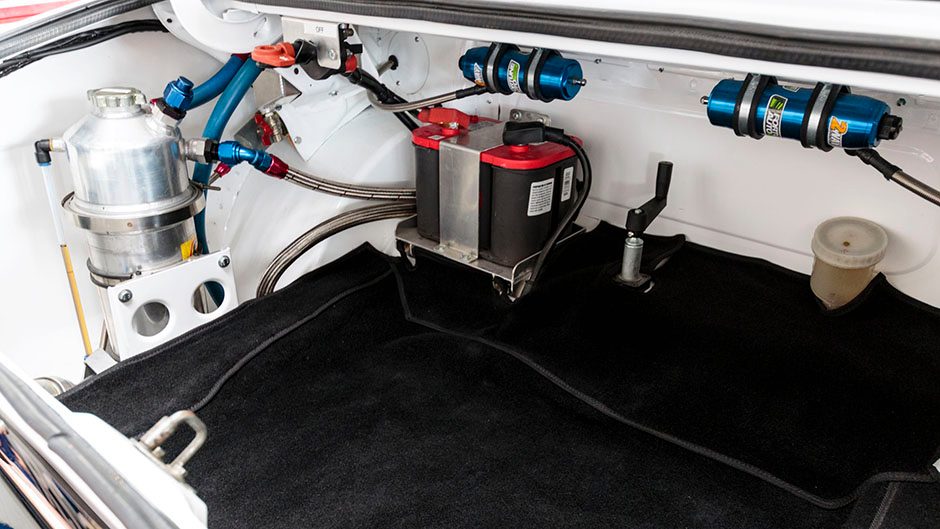 Again teaming up with Dave Wong, in the early nineties Bruce found himself behind the wheel of yet another Mark II, this time competing in the Production Supercars championship, again fighting the might of big-capacity eights, but without forced induction. Continual and gradual development of the car came with each and every race meeting which, as Bruce explained, presented its own challenges with varying degrees of change in the car's behaviour experienced with each tweak along the way. In 2004 Bruce purchased the Escort off Dave.
As Bruce says it was "basically a road car with bolt-on bits – including the roll cage!" It was running with SOHC Pinto power, the 2.0-litre putting out a respectable 216bhp courtesy of its twin 50mm Weber carbs and usual high compression race engine trickery. Eventually the Escort came to house a 2.3-litre sporting a remanufactured Holbay 16-valve head and 296bhp was available, making this one of New Zealand's most rapid four-cylinder Mark IIs on the tarmac. While it had huge power reserves, the chassis was still relatively simple, including the retention of leaf springs with tramp rods to keep them in check!
Then came the incident. Bruce was invited to take part at Rod Millen's inaugural Leadfoot Festival. Approaching the final brow before the finish line, the Escort became airborne, came down atop a ripple strip and slewed sideways across the finish line towards the trees lining the course. At this point, retaining control was out of the question and Bruce and the Escort impacted a tree heavily, which flipped the car onto its roof before finally coming to rest.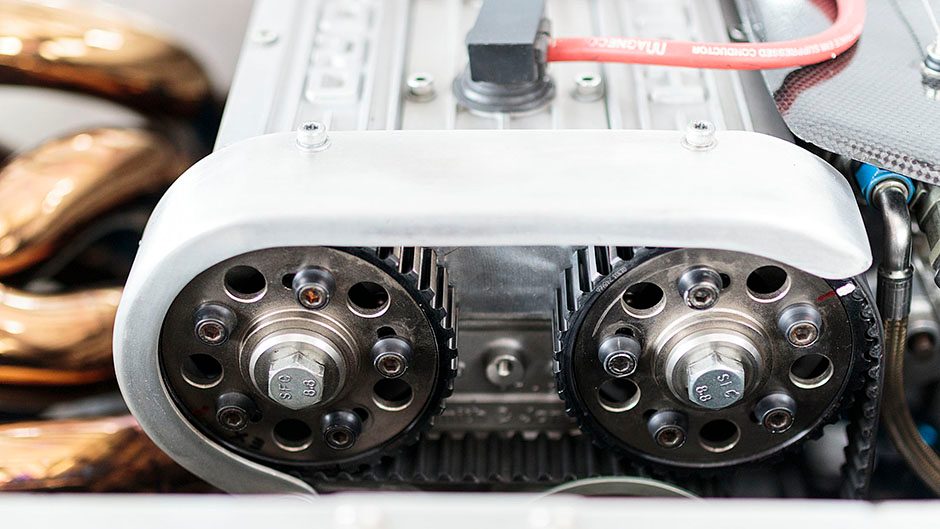 Bruce recalls his immediate thoughts as "I hope the car's not too badly damaged," moments before he extricated himself (unhurt) from the vehicle and began surveying the catastrophe. Initial thoughts of "perhaps we might rebuild" eventually turned to a plan to reshell, and redevelop the Escort. Some 20 years of competition had taken its toll on the old shell, with chassis fractures and other stress-related issues making themselves apparent on inspection of the damaged chassis.
The car you see here was acquired in 2014, and has been prepared to a near-concourse state. Purchased as a stripped, primed and importantly straight shell, this 1979 two-door Escort presented the perfect canvas for Bruce to resurrect the mechanicals from the old car. With the body shell hoisted onto a rotisserie, Bruce stripped back and cleaned the shell by hand, electing to avoid the often employed acid dipping technique with a view to maintaining longevity.
A brief stint on a chassis machine to ensure everything was arrow straight then saw the bare shell dropped to the talented Dan Slater, proprietor of Slater Fabrication, for some bespoke chassis work. As well as fabricating (beautifully, I might add) gearbox, radiator, engine, oil cooler and dry sump tank mounts, Dan welded in the kitset Custom Cages rollcage sourced from the UK. A comprehensive cage, the main hoop ties into the metalwork which improves the most significant development from the previous shell – the completely reworked rear end set-up. Based on the era-correct Group 4 rally homologated arrangement, Bruce's Escort features a coil sprung diff located by a custom four-link set-up, again fabricated by Slater to impressively high standards. Not stopping there, a floating Watts linkage keeps the diff in check laterally, with easy roll centre adjustment permitted by a bell-crank system accessible in the Escort's boot. Finishing the rear is a disc brake arrangement, gripped by four-piston Wilwood calipers, and a pair of Fortune Auto remote reservoir coilovers.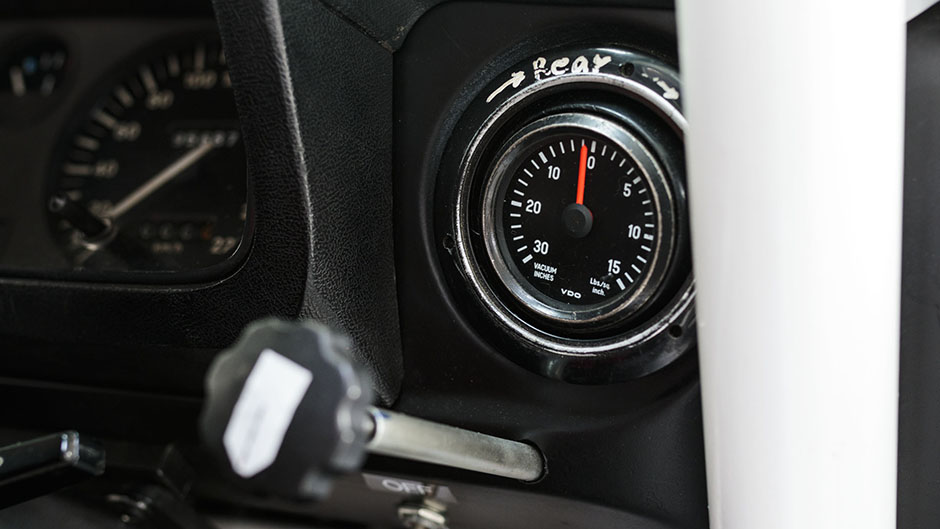 The front is a little more conventional; Group 4-style coilover uprights and anti-roll bar, again the handywork of Dan Slater, while big Endless four-piston calipers nestle snugly under the Yokohama semi slick shod 15×8-inch Minilite style wheels.
Inside, the immaculate finish and attention to detail continue with the aforementioned cage coexisting with an otherwise factory interior. Rear seat, all door trims and the original dashboard are retained, with concessions to safety in the form of Racetech fixed-back seats and Sabelt five-point harnesses. A subtle touch to the wild engine set-up is seen in the factory tacho – now recalibrated and reading a maximum of 10,000rpm, although this is noticeable only at a second glance.
The muscle is revealed when Bruce pops the fibreglass bonnet, beneath which resides an even more extreme development of the Holbay 16 valve-topped Pinto. Now displacing 2500cc thanks to an Arrow steel stroker crank, the 16 valve's output has escalated to a shrieking 370bhp (275kW) and 325Nm, topping out at 9800rpm on the dyno. To keep it all holding together the engine utilises a Pace dry sump kit, ensuring consistent oiling of the internals, which also feature Saenz forged rods with JE pistons, bumping static compression to 13:1. Big compression of course allows big camshaft lift, and the 16-valve head is home to cams allowing 14.5mm of it, sucking through 53mm throttles hiding beneath a carbon fibre airbox, lockwired in place due to the harmonics induced by a 10,000rpm four-cylinder. Making it all run is the job of an Autronic ECU, and topping off the mechanical package is a steel flywheel, and Tilton twin-plate clutch driving a five-speed H pattern dogbox.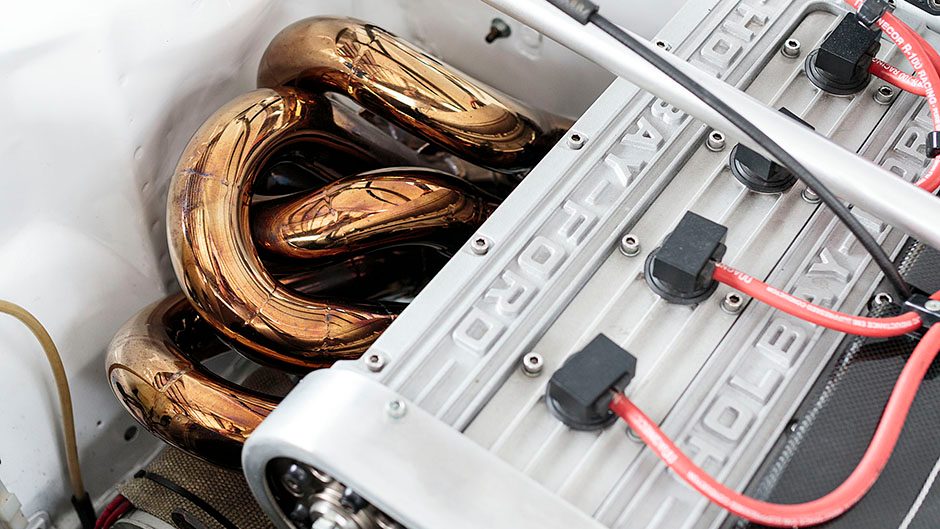 The icing on this tasty cake, perhaps, is that Bruce's Escort remains street legal – those 'RS200O' plates are indeed registered and while the car doesn't see regular road driving, the 960kg Ford can still be driven on public roads, Bruce admitting he does make use of the car's legality to run in new engines, or ensure new components are fitted correctly before hitting the track – which when it does has run a best of 1:11.2 at Hampton Downs Motorsport Park. But above all, Bruce's Escort epitomises the attitude held by the staunchest of club-level circuit racers. As the ultimate evolution of his Escort-rich competition history, the Escort embodies Bruce's penchant to develop, to refine and to squeeze that last ounce of performance from a long-serving chassis. And with the admission that this car should get even faster with some additional suspension tuning, it's a safe bet Bruce and the Mark II will be hammering up the front straight of Hampton Downs for some seasons to come.