In recent times compact SUVs have gone gangbusters. Is the next big thing the seven-seater SUV? We check out a couple of newcomers to the burgeoning sector, one French, one German.
With continuing growth in the general SUV sector, one of the niches that has exploded in popularity over the past few years is the seven-seater. Once a bit of a rarity, it has now become a must-have for all car makers. A reader asked recently what seven-seater should his Dad buy, and we were surprised at just how many options there were.
We'd lately compared two favourites, the Kia Sorento and CX-9, with good words to say about both. Others include Highlander, Santa Fe, and Pathfinder, while there are also ladder-chassis offerings like Trailblazer, Mu-X, Pajero Sport, Everest, and Fortuner. Recent new entrants include Kodiaq and Discovery. There are myriad luxo seven seaters available as well. Generally large in size, there are now many examples that are medium SUVs, including CR-V, X-Trail and Outlander.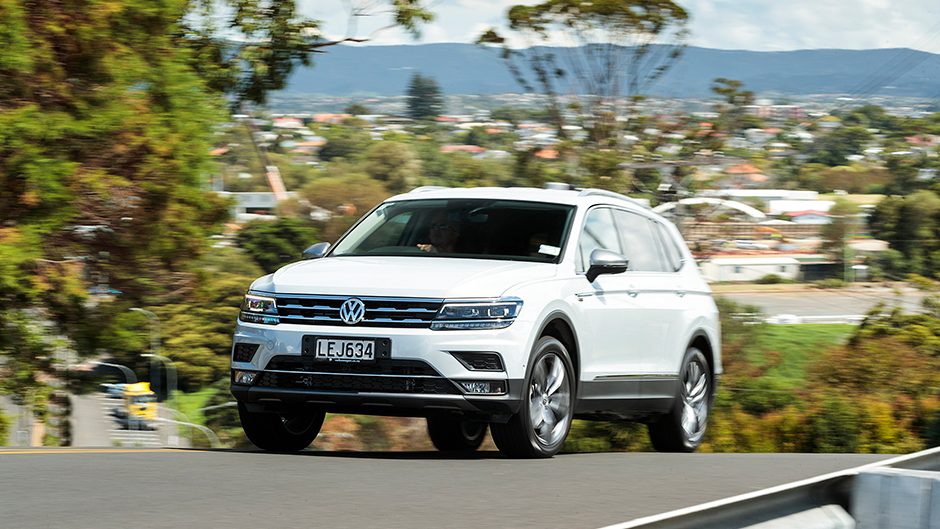 Volkswagen has just launched a range of Allspace variants based on a stretched Tiguan body shell, and rationalised its five-seater range. It plans on being a big player in the sector, for there are six new models in three specification grades, with both diesel and petrol engines. The range kicks off with a $48k Comfortline model with a 1.4 110kW TSI engine, and for $9000 more there's a stronger 2.0L 132kW petrol alternative.
All versions have twin-clutch gearboxes. Intermediate in the line-up are the Highline variants, such as the 132kW 2.0 TSI you see in this comparison, costing $64,990. At the top end is a pair of R-Line seven-seaters, costing $72,990 (petrol) and $76,990 (bi-turbodiesel). As to other new entrants competing with Allspace? Why, there's a pair of Peugeot 5008s, the base model Allure powered by a 1.6 turbopetrol costing $47,990. The model you see on these pages, the GT, tops the range, is better specified, runs a 2.0L turbodiesel and costs $10,000 extra.
Above and below the skin
If you think the 5008 resembles an elongated 3008 you're on the money, for it utilises the same EMP 2 chassis that underpins our 2014 COTY, the 308. It's French, and so is a bit different. Step inside the Tiguan and it's all very familiar, with Golf-like architecture; serious, dark hued and with firm seating. Within a short time everything becomes familiar. Simple things like split folding and access to the third row seats are almost intuitive.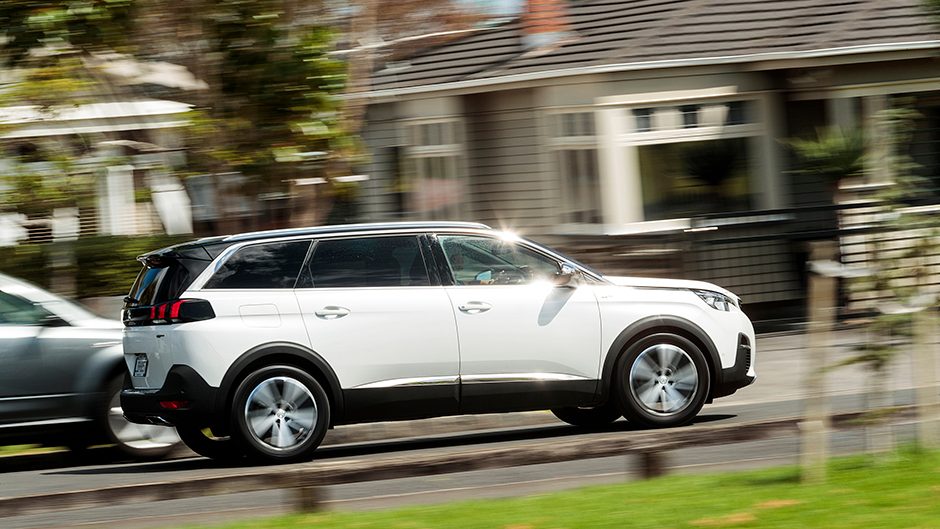 The French offering has much softer quilted leather seats, and two rows of ornate centre console buttons. There's more of a sense of theatre here then. But in the back sorting the additional seats involves more faffing around. There are lots of little flaps to fold over or concertina in the Peugeot, though they do result in a smoother floor when the extra seats are folded away, but there's definitely more time involved when moving from one configuration to another. And the VW has a storage area for the cargo cover.
That said, the Peugeot does make better use of the space available. Although both vehicles have sliding rear seats (two in the Tiguan, three in the Pug) there's more available leg room in both rows two and three of the 5008, probably the result of its longer wheelbase (2.84 vs 2.79m). We squeezed into the third-row pews of both, but essentially they're for small people only. Those in the middle row get better fold-up tray tables in the VW than the pull down examples in the Peugeot. As to luggage space, there's a bit of a reversal.
With all seven seats in play, we couldn't fit the little three-wheeler kiddie bike in the back of the 5008 but it went into the Allspace; VW claims 230L of luggage capacity when all seven seats are filled, 700L with five seats in use but slid all the way forward (so not really in use, unless filled with amputees) and this expands to 1775L when only two seats are occupied. Peugeot reckons on 702L expanding to 1940L, or 2150L with the third row seats removed. Yes, you can do that, but not with Tiguan. The Pug also has extra storage capacity in middle row underfoot cubbies. The Peugeot's optional sunroof impacts on headroom but the rear seatbacks recline some, partly compensating.
Not so very different strokes
So both of these models come with entry-level front-wheel drive variants, only Peugeot offers no 4wd option. Tiguan has five all-paw models, with a $20k price span between $57k and $77k. Our particular tester was the $65k Highline 2L turbopetrol running a seven-speed dual-clutch transmission. The Peugeot was almost the polar opposite, being a turbodiesel driving the front wheels via a six-speed auto. At $58k it costs $7000 less than the Allspace. However, our Peugeot featured a $3000 Nappa leather package, and a powered panoramic sunroof was a $2500 optional extra, meaning only a $1500 difference.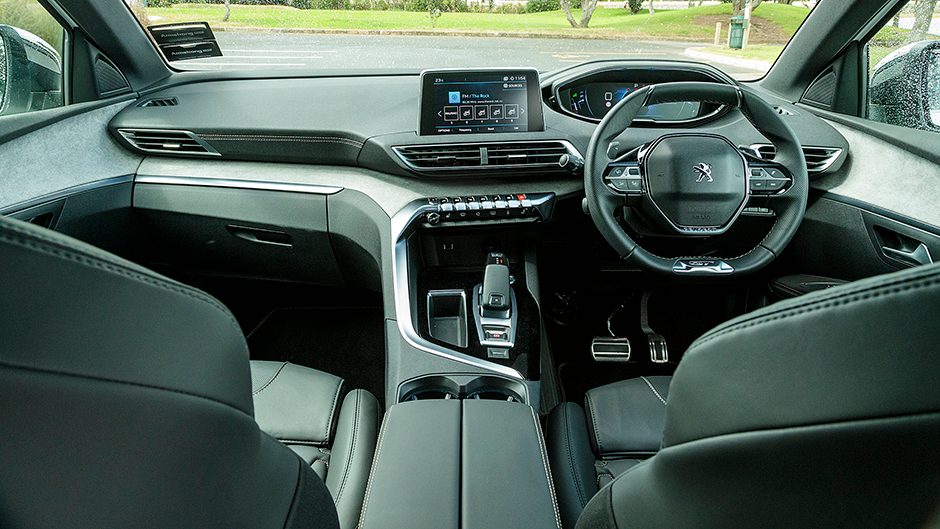 As to spec levels, both fare extremely well with climate air (two zones Peugeot, three in VW), sat nav, active cruise control with stop and go, LED headlamps and cornering lights, 19-inch rims, a gesture controlled electric tailgate, and comfort entry with pushbutton start. Figure also on lane keeping, blind spot elimination, 360 degree camera, autonomous emergency braking, pedestrian detection and electronic parking brake.
Both sport top NCAP crash test results, front and rear parking sensors and self parking, fatigue detection, paddle shifters, Isofix fittings (three in the Pug, two in the VW) and digital speed readout in trip data menus. The Peugeot also comes with a pleasant blackened roof finish, unpleasant fragrance diffuser, and wireless smartphone charging pad. Moreover, it has a configurable instrument cluster and the unusual small ovoid steering wheel, above which you view the instruments. The Tiguan is more conventional, the wheel shape essentially round, the meters viewed between the spokes.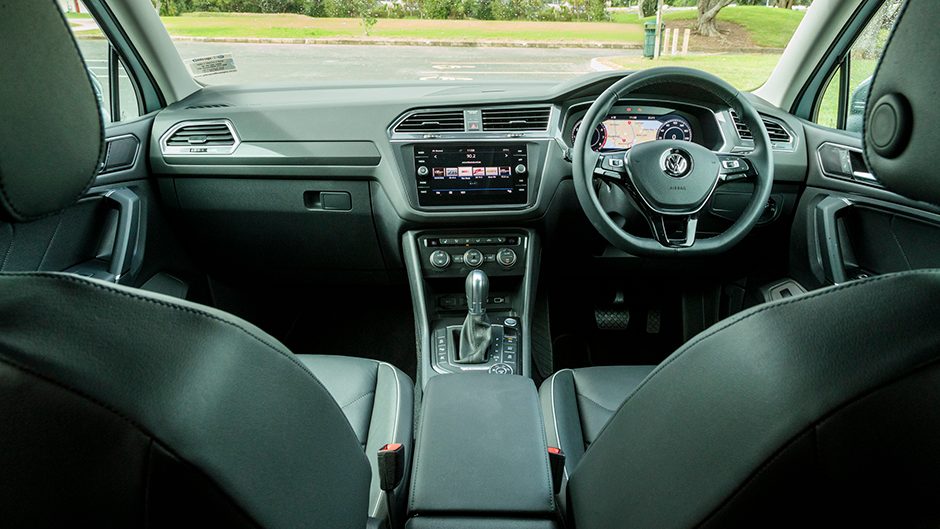 Part of the extra Allspace expense is explained by its standard 4Motion 4wd system, giving it a much better braked towing capacity of 2500kg vs 1500kg for the 5008. Aside from a terrain-response type system the Tiguan also gets four driving modes to the 5008s Normal and Sport options. The VW comes with rear cross traffic alert, and an extra airbag for the driver's knee. Also it gets an extra forward gear. Both have three-year warranties, each with roadside assistance.
Turbos both
Under the hoods of these lie 2.0L turbocharged engines, the Pug's a Euro 6.1 diesel rated at 133kW and 400Nm, the Allspace's a petrol good for 132kW and 320Nm. Both vehicles weigh much the same if you subtract around 50kg for the 4wd system of the Tiguan. For performance, you'd bet on the one with the slick-shifting twin-clutch transmission. Peugeot is getting better with its automatic transmissions and this one isn't bad. Round town in default mode the engine lugs to conserve fuel but gets by well enough. Its urban consumption is rated at 5.5L/100km, with a claimed overall average of 4.8L/100km. We saw 7s and 8s most of the time, nines occasionally.
Hit and hold the Sport button – like the starter, you need to be patient – and powertrain responsiveness perks up, so paddling isn't needed. The GT is rated to hit 100 in 10.2sec and we achieved a second better than that, but of more importance its overtaking time of just over 6sec; that matched and actually bettered the VW figure. On the sprint, the much quicker shifting gearbox of the Allspace gave it the win, by a second over the Peugeot. But you do pay for that stoplight performance. VW reckons on a combined fuel figure of 7.5L/100km but we only managed that at 100km/h cruising. Best emergency brake results were similar for the pair, both in the 36m region.
Dynamic duo
On a brisk country drive we rather liked both of these, and each feels almost wagon-like to drive. They're a bit different though, the Allspace gaining the grip advantage in corners and with a better weight split it can hold more corner speed without running wide of the line. Not that the Peugeot is any slouch, hanging tough on its ContiSport rubber, and offering better steering fidelity. We imagine in wet or slippery conditions the Allspace would pull ahead confidently. Still, the Peugeot has a much more compact turning circle at 11.2m to the Allspace's 11.9m. Perhaps the most marked difference between these two dynamically is for ride comfort, a win to the Peugeot with its deep seats underpinned by plush suspension.
Not that the VW is rough riding but it's firmer and can be a bit busy at times. The Peugeot also has the slightly quieter cabin, with average SPL readings in the high 60s compared with early 70s for the VW. Not much in it overall though. We liked the noise of the petrol engine more, but no surprise there.
So the $60k question
If there's one final aspect where the Peugeot gets a leg up, it's the visual one. Both are modern iterations of medium SUVs, but the Peugeot designers managed to add a certain something to both exterior and interior, imbuing them with a dash of extra character. The VW shape is popular though; almost every other VW sale in New Zealand last year was a Tiguan, nearly 2000 of them.
And the ergos of the Allspace are easier to live with than the 5008's. In the end, it more or less comes down to powertrains here. If you're agin diesel, there's the $48k 2wd petrol Allure only. VW has a much wider range of both petrol and diesel Tiguan seven-seaters. As to the pair here, if you're towing significant loads or frequently dealing with slippery conditions, the 4wd Allspace is it.
But if it's a mix of town and country running intended, then the better sticker price, economy and ride comfort of the Peugeot are compelling. As with our recent Sorento/CX-9 seven-seat comparison, a case could be made for either, depending on wants and needs.
| | | | |
| --- | --- | --- | --- |
| Model | Peugeot 5008 GT | Price | $57,990 |
| Engine | 1997cc, IL4, TDI, 133kW/400Nm | Drivetrain | 6-speed auto, front-wheel drive |
| Fuel Use | 4.8L/100km | C02 Output | 124g/km |
| 0-100km/h | 9.34sec | Weight | 1723kg |
| | | | |
| --- | --- | --- | --- |
| Model | VW Tiguan TSI Highline 4Motion | Price | $64,990 |
| Engine | 1984cc, IL4, T/DI, 132kW/320Nm | Drivetrain | 7-speed twin-clutch, on-demand AWD |
| Fuel Use | 7.4L/100km | C02 Output | 170g/km |
| 0-100km/h | 7.98sec | Weight | 1702kg |