Small cars continue to evolve and have become ever more sophisticated, and that's especially true of the new VW Polo which thinks it's a mini Golf. So how does it compare to our current favourite small, the Suzuki Swift?
If you're a believer in the idea of good things coming in small packages, these two will do you nicely. Not convinced you need to pay extra for ground clearance of questionable worth? Take a look at these two. The boom of small SUVs is somewhat baffling; why pay extra for the me-too looks when there is still plenty of life in small car land? While the formula remains familiar for small cars, they have become quite sophisticated little jiggers and, in some cases, very well specified with top safety creds to match.
Suzuki Swift stepped its game up last year with a new platform, new powertrains and a swag load of extra kit. Recently added to the VW showroom is the new Polo, it too touting new underpinnings, powertrains and a spec upgrade, so we felt the best small of 2017 would be a good measure for the 2018 Polo. Let the bantamweight stoush begin.
Mini Golf
As it launched last month, first a bit of a run down on the Polo. This Gen 6 version is bigger all round and comes with a larger price tag. There is added interior space thanks to a stretching of the dimensions, with more steel added to the wheelbase, width and length. That means there's more cabin width and both space for bods in the rear and stuff in the boot. VW's MQB underpinnings bring refinement from increased body rigidity, less weight and improved electrical systems.
Where Polo used to start at $24k, it now kicks off at $25,490 for the TSI with a five-speed manual, while the seven-speed twin-clutch version is $27,990, up $1000. There's a funky Beats model in the middle of the range which adds sounds and style, and that's what is on test here at $29,990. The line-up will be completed with the arrival of the R-Line (more power, style and available features) at $32,990 and the 147kW/320Nm GTI will be $38,490.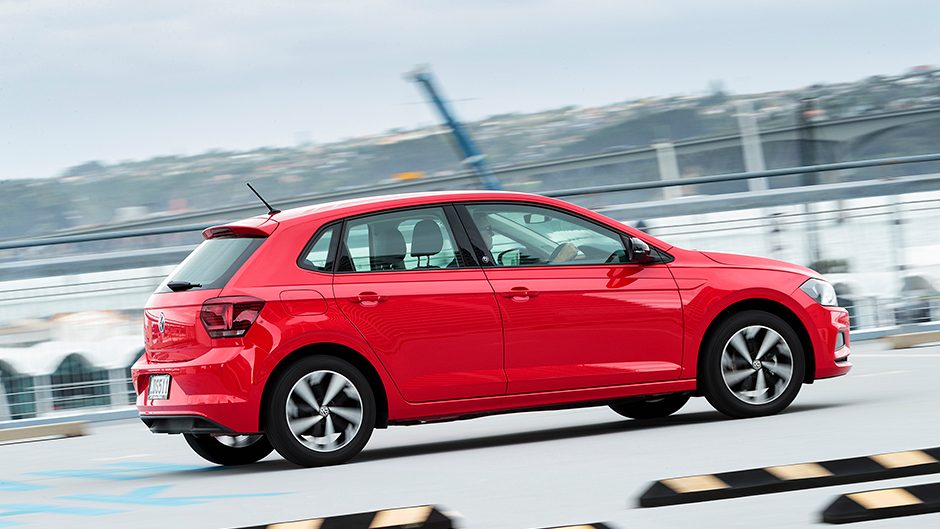 Polo now uses a litre three-pot, boosted by a turbo to produce 70kW and 175Nm at 2000rpm, while the R Line receives a tune good for 85kW and 200Nm. VW quotes an average of 4.7L/100km for the 70kW version and 4.8 for the 80kW alternative. Safety enhancements include AEB, pedestrian detection, collision alert, blind spot monitoring and rear cross traffic alert.
Beats working
Saucing up the middle of the range is the Beats model which is apparently aimed at young types, the likes that seem okay with handing over $500 for a set of headphones. To the TSI spec this adds decals, a black grille and mirror caps and larger 16s along with a retrimmed interior, unique seats and a 'Velvet Red' matte finish across the dash. And there's the banging 300wpc sounds with six main drivers (regular folk will know these simply as speakers) and a dedicated sub.
Swift one
Suzuki's Swift range begins at $19,990 while the RS featured is $25,990, $4k beneath the VW. Like Polo Beats, it has a smart key, touchscreen infotainment with Apple and Android connectivity, a leather-trimmed multifunction wheel with shift paddles, 16-inch alloys, a rear camera, AEB, and lane departure. While it misses out on the Polo's BSM and RCTA (and booming system) it adds privacy glass, speed limiter, integrated nav, climate air con, LED headlights, auto high beams and active cruise control. The new Swift sure does pack the value into its diminutive frame.
Swift RS also uses a 1.0-litre turbo triple which makes 82kW, and 160Nm at 1500rpm and uses a six-speed auto to drive the fronts. Suzuki rates it at 5.1L/100km on average, and like Polo it requires 95 octane. In terms of warranty, the VW's covered for three years/unlimited kays while the Suzuki has a three year/100,000km vehicle warranty with the powertrain covered for five years.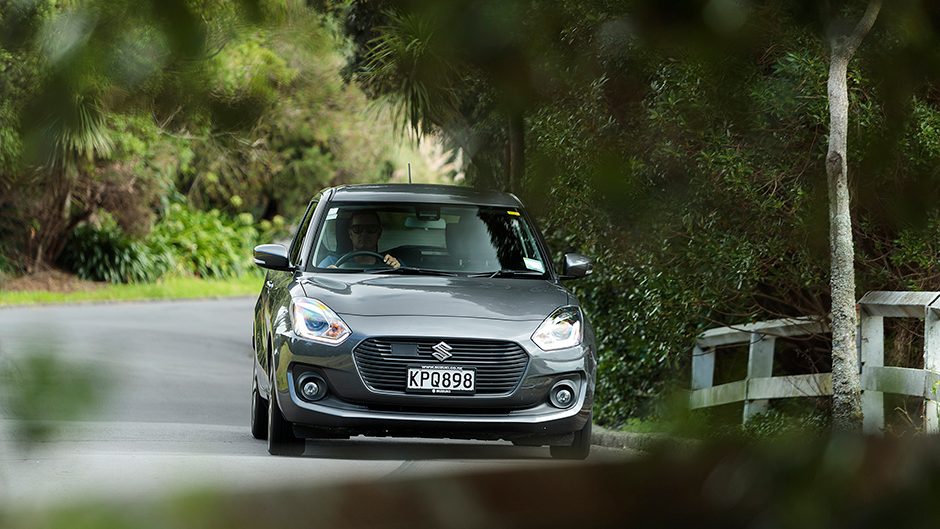 Been bitten by a twin-clutch gearbox in the past? VW has a five-year, 150,000km DSG warranty that may help calm your apprehension. An additional $995 will cover the servicing costs of the Polo for three year/45,000km, while Suzuki recommends the RS be serviced every 12 months or 10,000km.
Light and well charged
With turbo-fed triples, these light cars can charge around the city in a jaunty manner. Each feels quite lively, particular the Swift, which has a better launch feel from rest while at times the twin-clutch in the Polo has a moment of slur before hooking the drive up. As Swift is almost 180kg lighter, the RS feels right perky.
Both have transmissions set for max economy and so they tend to hook high gears and hold 'em, mooching about on their boosted midranges. When you are ambling along at low speeds, the Polo forever hangs on to second gear so it feels laboured when you try to accelerate while the Swift is more willing to pluck first gear to make sure you get that gap.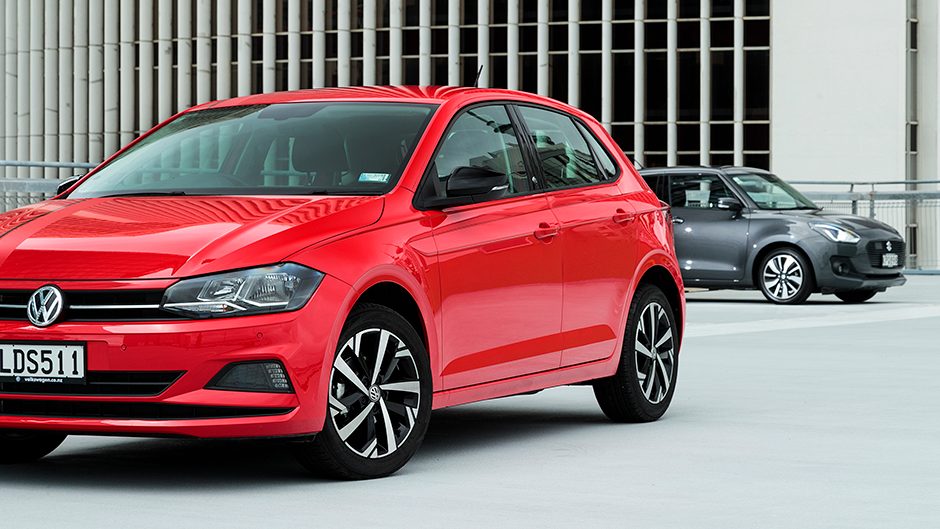 Swift's not perfect though. A lumpy idle is ok if you have a hulking V8 under the hood, but the RS at rest just feels a bit rough and unrefined next to the VW. The Polo features an idle/stop system, so it's dead calm at a stop. A pity that the system is way too eager to cut the engine and then far too slow to refire the action, so it's best defeated.
At least the Polo now has a proper hill starter to stop those unnerving roll backs. In terms of fuel use, Swift's indicated consumption was in the low 6L/100km range, while the Polo was in the sevens. While it's great the Swift has active cruise as standard, it doesn't operate below 30km/h, but is helpful to have otherwise.
Charging on
Polo's trump is refinement, and that it feels more like a compact hatch. It's bigger than Swift, longer by almost 200mm and 100mm in the wheelbase, wider too. Its ride has a more sophisticated and quiet manner about it, both on town and country type tracks. It's quieter on road as well, as is the voice of the triple.
As with all VW's MQB-based machinery, it's capable and calm but also a tad characterless next to the Swift; its steering is precise but the feedback is filtered for example. It goes about its business in a straight-laced manner. The engine does rev more keenly than the Swift's and with more closely stacked ratios it drives with a nip more vigour off a bend.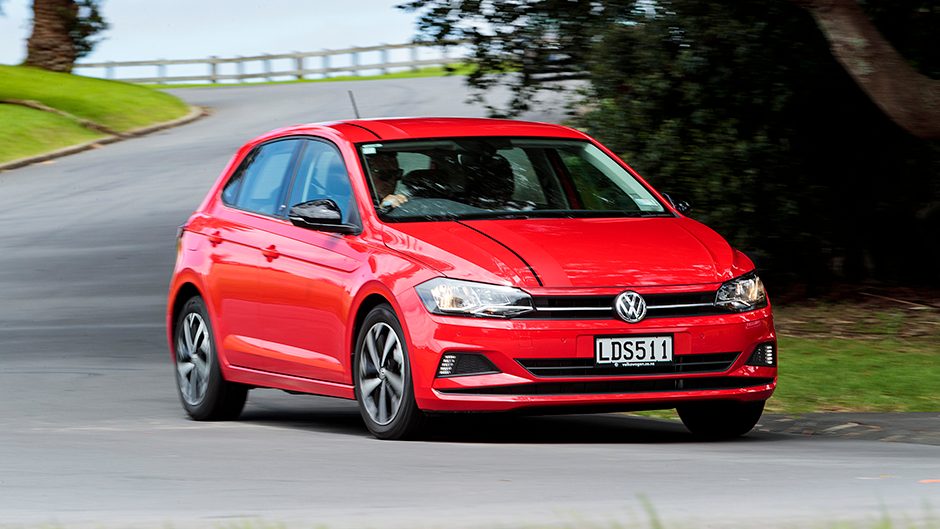 The twin-clutch's Sport mode is all that's required to keep things stirred up whereas the Swift needs the occasional paddling to get along more quickly. The Suzuki's triple goes well from 2000rpm through to five and sounds pretty good too. Its steering is more meaningful, with good feel and assistance, and the chassis feels livelier. While the ride is a bit busier, and noisier, Swift's light and nippy in the bends and is simply more charming as it rounds up the curves.
The practicalities
The Polo has a brighter, roomier cabin thanks to its larger dimensions and its funky decor. The colour combo in this Polo is interesting to say the least; you've got off white, grey, black, silver, red and chrome. It's all a bit much really and the white bits are already starting to look grubby. There are a few more soft touch points in the Polo but most of the plastics are hard, even the door tops, though they do impart a more premium feel. That said, there's nothing much to separate them in terms of the finishing. The Polo has a small centre console box which gives you an armrest that's missing in the Swift, and the VW also has the better storage solutions.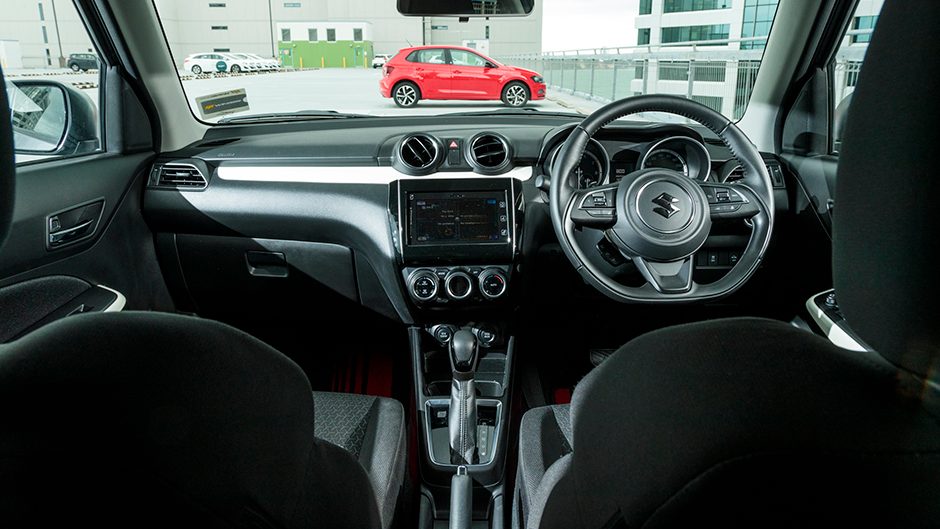 The driving positions are sound in both, the Polo with more adjustment, the Swift lacking lumbar support, and the Polo has a more comprehensive trip computer with the Swift missing a digital speed readout. Both infotainment systems are easy enough to fathom, the Polo's slick in design and response but it requires a smartphone plug-in to unlock its potential.
The Swift's is likeable for its straightforward operation, though it's not quite as quick. There's not much in it for rear seat space, the Swift with a few more millimetres of leg room, a comfier seat and a low rise transmission tunnel but it feels more airy in the Polo thanks to its larger glasshouse. You'll be able to stuff a bit more in the boot of the Polo, even if its hold is reduced by the presence of the Beat's subwoofer, as you can't lower the variable load height floor. That's the price of banging bass we guess. The rear seat does split fold easily for a flat load area, and you get a full size spare. Swift has a space saver and a stepped load area when the seats are folded.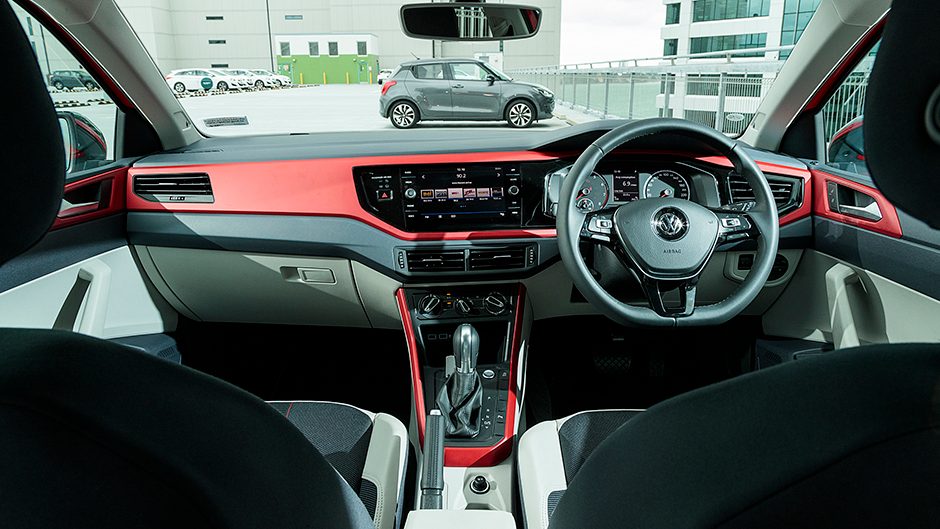 So, sophistication or charm?
This one comes down to whether you're willing to pay the $4k extra for the refinements of the Polo or like the fun character and value equation of the Swift. Tallying the scores, the Swift pulls ahead thanks to the fact our under $30k class has a bundle of points up for grabs when it comes to value. And we simply like the Swift's cheeky character.
| | | | |
| --- | --- | --- | --- |
| Model | Suzuki Swift RS   | Price | $25,990 |
| Engine | 998cc, IL3, T/DI, 82kW/160Nm | Drivetrain | 6-speed auto, front-wheel drive |
| Fuel Use | 5.1L/100km | C02 Output | 119g/km |
| 0-100km/h | 9.5sec | Weight | 960kg |
| | | | |
| --- | --- | --- | --- |
| Model | Volkswagen Polo Beats   | Price | $29,990 |
| Engine | 999cc, IL3, T/DI, 70kW/175Nm | Drivetrain | 7-speed twin-clutch, front-wheel drive |
| Fuel Use | 4.7L/100km | C02 Output | 107g/km |
| 0-100km/h | 11.23sec | Weight | 1175kg |