Living in a van doesn't have to be a hardship, as long as you're in a Volkswagen California. It's a dream home on wheels
It's always the way, just like the local launch of Euro convertibles. You get the keys to a VW California camper for the weekend…in the middle of winter. Praying for good weather, the forecast revealed a big front moving in, which delivered rain, squalls and chilly temperatures for the duration of our time with the Cali'. While it's bad enough camping in a gale, the thought of taking two excitable pre-schoolers along meant it wasn't a happening thing. For the sake of our sanity, and the preservation of the VW, we stayed home and admired the modern microbus on our driveway from the warmth of the lounge. Ideally, the weather would have been kinder and we'd have ditched the dependents to have a couple's retreat, for which the California would be perfect.
The Cali is VW's factory-built camper, the latest take on the old Kombi. And like a mint example of the old split screen Dubbie, the California is worth a bob or two; at $130,000, it's some mobile home. The California could just as easily be called the Transformer, morphing as it does into a little house on wheels with space for four, a kitchen, garden bar and penthouse accommodations.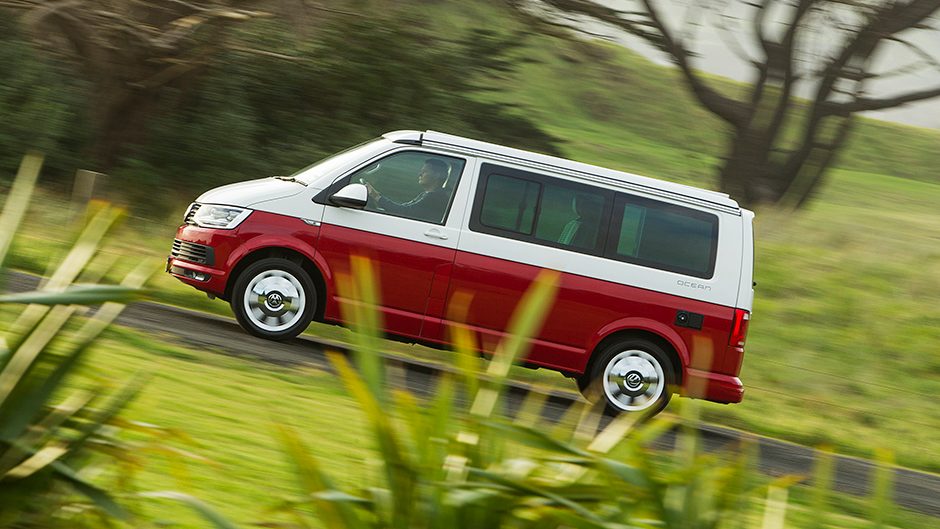 Once you've parked up in your perfect spot, the first thing you'll want to do is relax in the garden bar. This involves cranking out the side awning, a relatively straight-forward process once you've worked out where the support poles are hiding; they are concealed in the leading edge of the awning. At first, it feels a little flimsy, until you've worked out how it all locks in place. A quick perusal of the owner's book is recommended for most of the transforming do-hickies on board to ensure you're doing it right. As we discovered, some things take a little figuring out but once you've done it a few times set-up will be a quick task.
After finding the folding seats stowed in the tailgate and the camping table in the sliding door, the garden bar was sorted. Next, arranging the kitchen/living area. The van's front seats can rotate around 180 degrees, which is a bit of a palaver, and once you've slid the rear bench seat backwards, you can deploy the kitchen table. It's hardly the setting for a feast, and while we can't imagine the sink being of much use, the 42L fridge might well come in handy. And you'll be able to fry up your bacon and eggs on the stove top easily enough once the gas bottle is connected.
The California can be plugged in at a powered camp-site, while it also has two auxiliary batteries and a 230V inverter. With dinner sorted, the rear bench (which even has Isofix fittings for the kids) can be converted into a sizeable bed. But it would be more fitting to retire upstairs.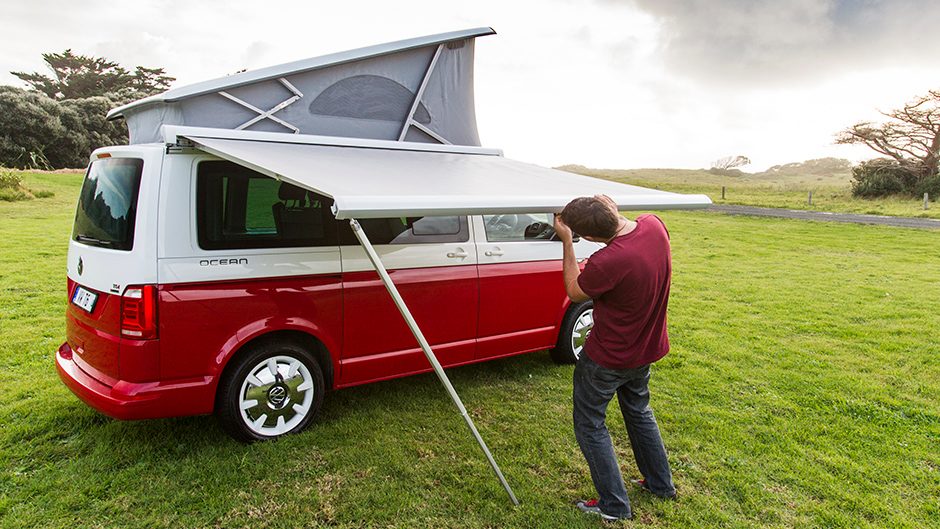 The California's roof pops up at the press of a button, the top slowly rising as the canvas sides unfurl to reveal the master bedroom. Then you somehow have to get yourself up there. It requires a fairly athletic effort to clamber up and through the hatch, which is about the size of a big sunroof. So if the old hip is giving you gyp, it won't be a goer, while a 'no fat chicks' bumper sticker would be apt. Once in, it's comfy for one, cosy for two, though any hippie-like free love is going to be a challenge.
Ideally there'd just be two on tour, sleeping up top and leaving downstairs for living. There's plenty of storage at the rear of the van, LED lights everywhere, and many more storage holes and cupboards. It's well thought-out, the fittings nicely made and it just takes a while to learn how everything unfolds, locks, slides and rotates. There are, however, many things to rattle and clank together, with a few noises coming from the kitchen area on the go, though we'd imagine a couple of extra rubber bung-type things in the right places might cure that.
The California gets necks craning with its heritage-style two-tone look and shiny chromed wheels, which are no-cost extras. If you could do without the admirers, a silver California on regular alloys will go almost unnoticed. It's a van in both appearance and drive, all 2500kg of it. It has the 2.0-litre bi-turbodiesel with 132kW, and 400Nm coming on at 1500rpm. This is handled by a seven-gear twin-clutch tranny, and there's all-wheel drive via the on-demand 4motion system. This is not so much about accessing remote locations, but rather lending traction in all weather and on all surfaces.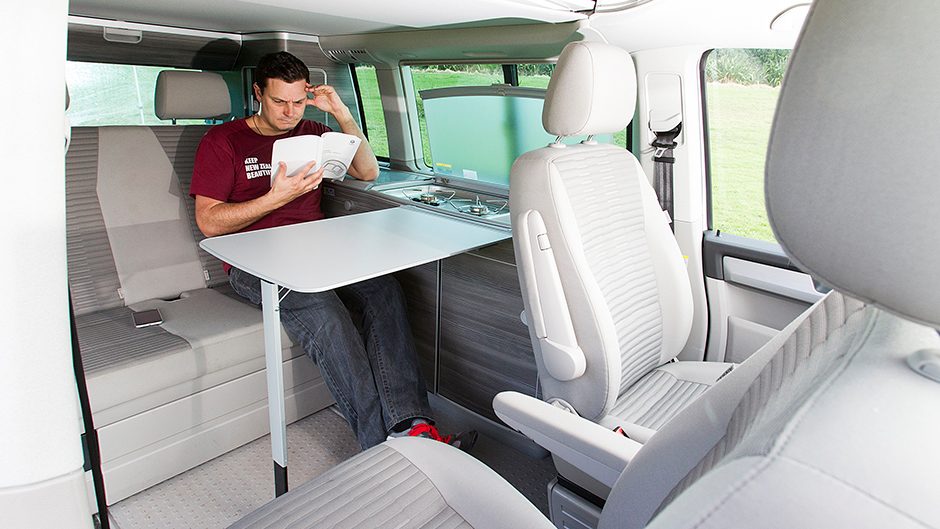 At 2.5 tonnes, and with a touch of turbolag, remember to take it easy. It does 0-100km/h in well, who cares, it's a camper. Enjoy your time getting there (but 12.9sec if you're wondering). It's 30,000km/two-year oil service intervals are worth noting. The California is unlikely to be the camper that holds everyone up on road as it will easily maintain 100km/h on your typical main highway while the roll is well managed in bends, for a van at any rate. Most of the bumps are sorted, though a few do make their way through to rattle the fixtures on board. With that in mind, lumpy gravel roads need to be taken at a sedate pace.
In the urban setting, the California has an advantage over those much larger campervans. As it is just a van, it makes it that bit easier to manoeuvre around with no constant worry about height limitations. It's easy enough to park and with a backing camera and sensors at each end, you're unlikely to back it into a power box at your camping site. Other aids include blind spot monitoring, and cross traffic alert, though active cruise would have been handy on a vehicle destined to accumulate most of its mileage on highways. If you want to take even more stuff away with you, it will tow 2500kg.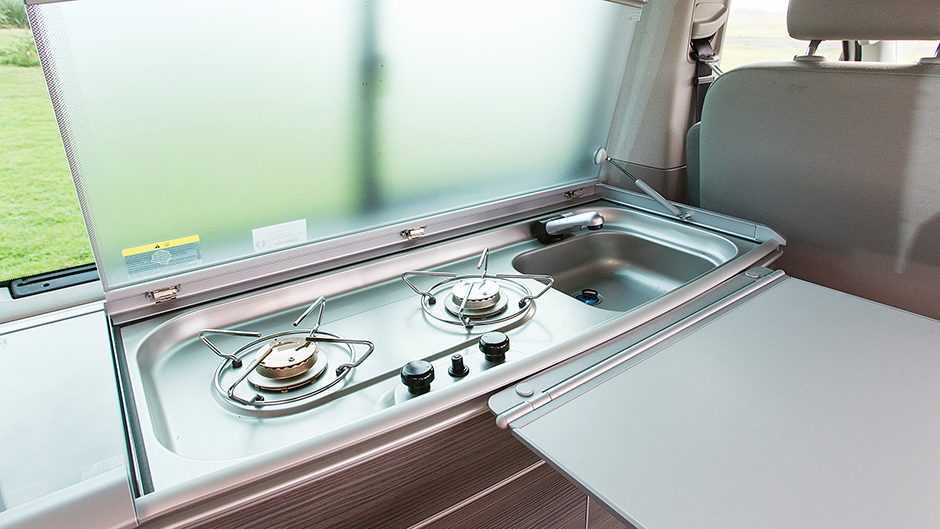 It's a bit of a leap up into the driver's seat, but it's a commanding position with good adjustment and comfort for eating up miles, even coming complete with a pair of arm rests. There's good storage up front for road tripping essentials, cup and bottle holders aplenty, and all the hidey-holes are nicely lined, opening and shutting with damped precision. We wouldn't recommend this lightly coloured interior though; it's far too impractical and another reason we didn't venture out with the kids who would have turned it brown with mud in no time.
So if you're not quite ready to sell it all and live a nomadic lifestyle but want to downsize the home and look to get away more, the California could just be the one to help recapture some of that freedom of youth.
| | | | |
| --- | --- | --- | --- |
| Model | VW California Ocean | Price | $130,000 |
| Engine | 1968cc, IL4, TDI, 132kW/400Nm | Drivetrain | 7-speed twin-clutch, on-demand AWD |
| Fuel Use | 8.8L/100km | C02 Output | 233g/km |
| 0-100km/h | 12.9sec | Weight | 2573kg |