Amarok sales have not been great lately but when the facelifted version arrives things could be different for there's a pair of range-topping V6 variants that will reset the performance bar for utes.
Utes continue to be big news here. Ford Ranger plows on with its best-selling status like some runaway juggernaut, leaving former darlings, like rental staple Corolla, in its wake. Trends change, and new vehicle buyers aren't averse to piloting high-riding vehicles, especially butch ones.
Ranger's not the only high flyer, Hilux the second best seller overall and the Colorado, Triton and Navara duke it out for the final podium position. Languishing somewhat is Amarok, YTD sales of 500 lagging behind those of 2016 (700).
With a facelift coming, VW felt a change of strategy was needed and the decision to drop all 2WD variants was made. According to VW New Zealand's chief, Tom Ruddenklau it's because they've been unable to procure the 2WD variants for the right price, and also the 4WD examples constitute the lion's share of sales anyway. By going 4WD only, they've been able to negotiate better deals across the range. Generalising, each model has had a swag of spec added, while cost has either decreased or is unchanged. So it's an improved value story.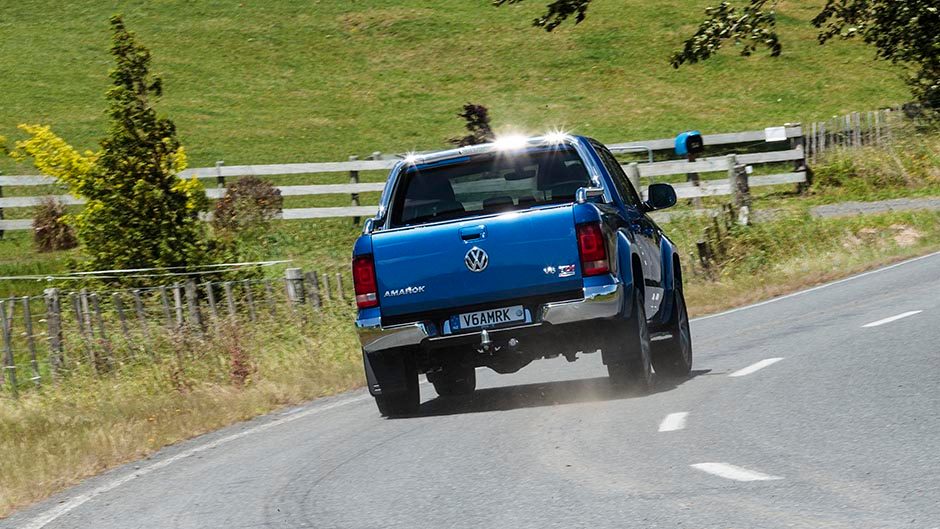 However, the big news for facelifted Amarok is the addition of two new V6-powered turbodiesel models, one of which, V6 Highline, will sell for $73,990, not much more than what's asked for the top four-potter rivals. A better specified Aventura model with "the lot" including Nappa leather, premium audio, chrome bars, and 20-inch alloys will sell for $82,990, making it the most expensive one-tonne ute on the market, at least until the Mercedes X-Class arrives.
Evidently 148 chassis modifications were required to accommodate the 3.0 V6, which is essentially a retuned Touareg/Q7/Cayenne diesel engine. Amongst these is the addition of an Adblue tank, which takes the V6 to Euro6 emissions status.
The engine itself is modified for use in full-time 4WD Amarok, with a bigger sump, and the motor's tilted back five degrees, necessary apparently for lubrication when subjected to 45-degree inclines, vertical or otherwise. The variable geometry turbo gets an electronic actuator for more accurate control of boost surges.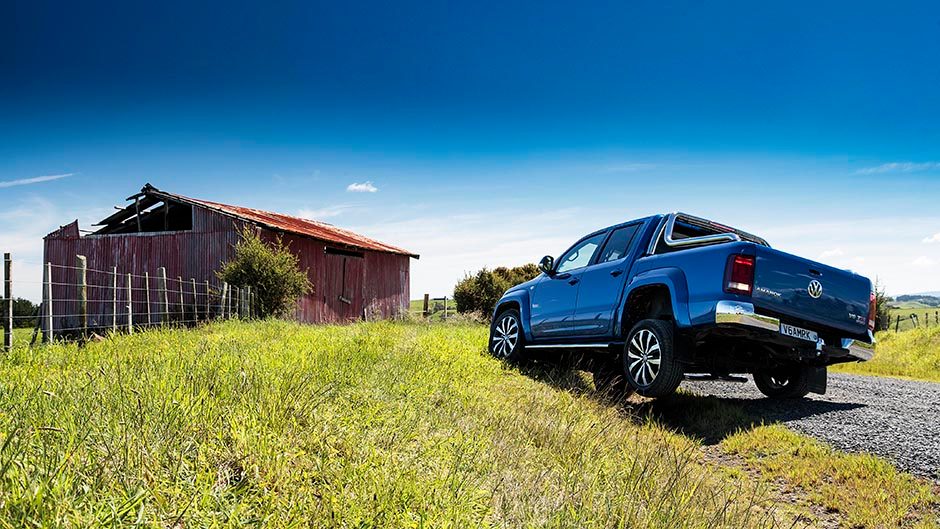 And on that, the V6 is good for 550Nm of torque from 1400-2750rpm, overboost temporarily extending that to 580Nm, while adding around 15kW of power (180kW). It's available for 10sec from 50-120km/h, so is perfect for hasty overtaking. The eight-speed automatic transmission has been strengthened to handle the extra grunt, and in the Aventura shifts can be made using paddles attached to the wheel.
Nissan used to have a 550Nm turbodiesel Navara on sale, and Toyota still offers a six-cylinder 4.0L Hilux but that's a petrol. Ditto Jeep with its Wrangler Brute but that's a six-figure offering.
Amarok Aventura qualifies for brute status too, only in this case that's also short for brilliant ute. This vehicle is set to upset the ute applecart. Nothing to date has had a turbodiesel you could actually say, hand on heart, was an animal. Not until now; this is gutsy, refined, relaxed and just outright exciting to drive. Economical? Well in theory perhaps; you don't get big power and torque for nothing. On cruise at highway speeds, you're looking at between 7 and 8L/100km on a good day. Most of the time, we saw averages in the 11s.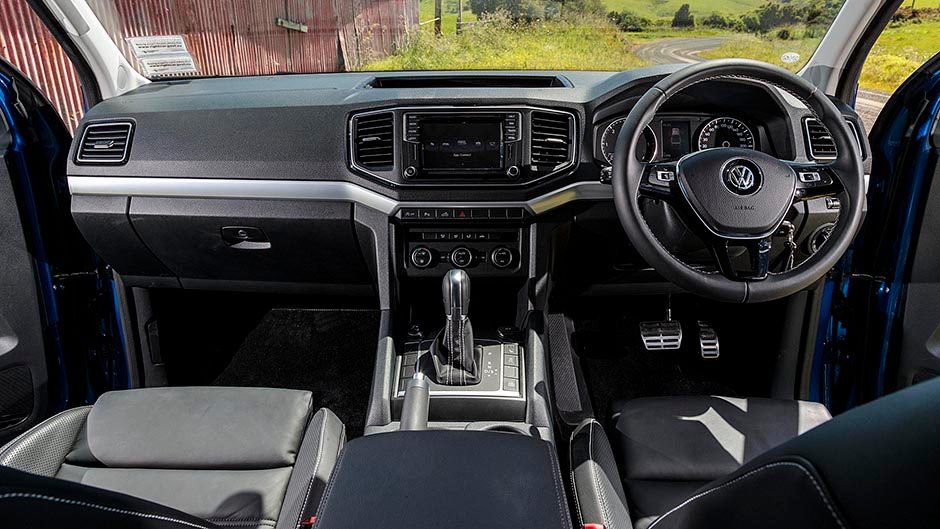 Forget that because performance more than compensates. We should just add before going there that this has a braked towing capacity of up to 3500kg, up with the best in class, and unlike all the others has four-wheel disc brakes, uprated because of the hike in performance.
Initial acceleration tests showed promise. In the Sport transmission setting the gearbox seemed to hesitate on full bore upshifts, and we couldn't better 8.8sec. In context, that's still 2sec ahead of the four-pot Amarok and over a second up on the quickest ute, Colorado. But we thought we'd try out the paddles instead, and the shifts were much snappier. It then ran into the sevens, with a best 7.8sec pass, one-tenth beneath claimed.
That's impressive, especially given it weighs in at 2290kg. No other ute comes within a bull's roar. On the overtaking front, an 80-120 time of 5.5sec odd is identical to the best we could coax from a Mazda3 SP25 manual we had in the office at the same time. A best stoppie of 37m was right up there with the Mazda too, though having bigger paw prints no doubt helped (255/50R20).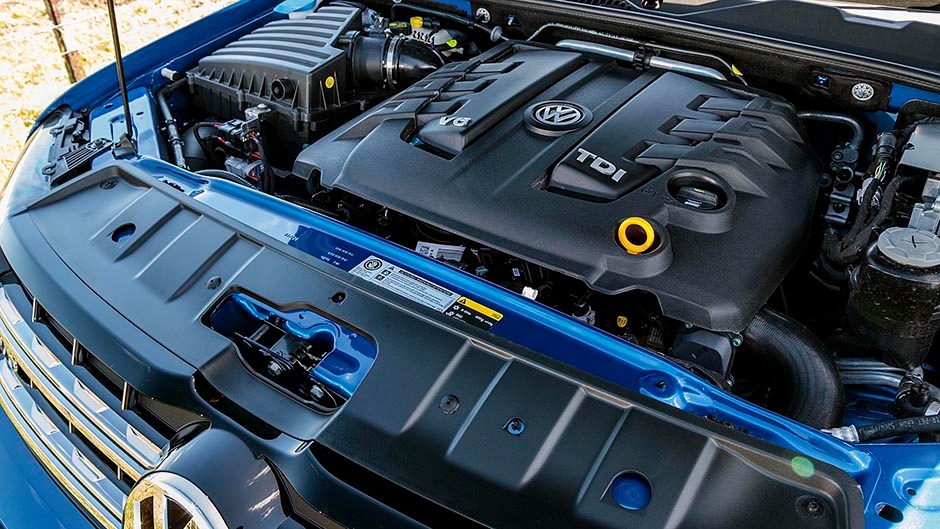 And that brings us to the issue of ride quality, not always a strength of modern utes. However, Amarok has always been at the pointy end of the pack for ride refinement and nothing's different here. Helping is an ergonomically designed 14-way power-operated seat, evidently certified by German chiropractors. Whatever, it's encompassing, supportive and helps gives the Amarok the best ride in the business. It's hushed too, even on the 20-inch rubber, registering an average in-cabin SPL of 65.3dB.
Amarok has amongst the biggest wellsides in the class, especially for width between the wheel arches; it's the only ute that can fit a pallet. The Aventura comes standard with a spray-on tray liner, and the shiny bars are also standard fare.
In the cheap seats, Amarok has never been quite as generous as the others, at least for legroom. There are no airbags back there either. At least seats lift up when additional space is needed for non-human cargo.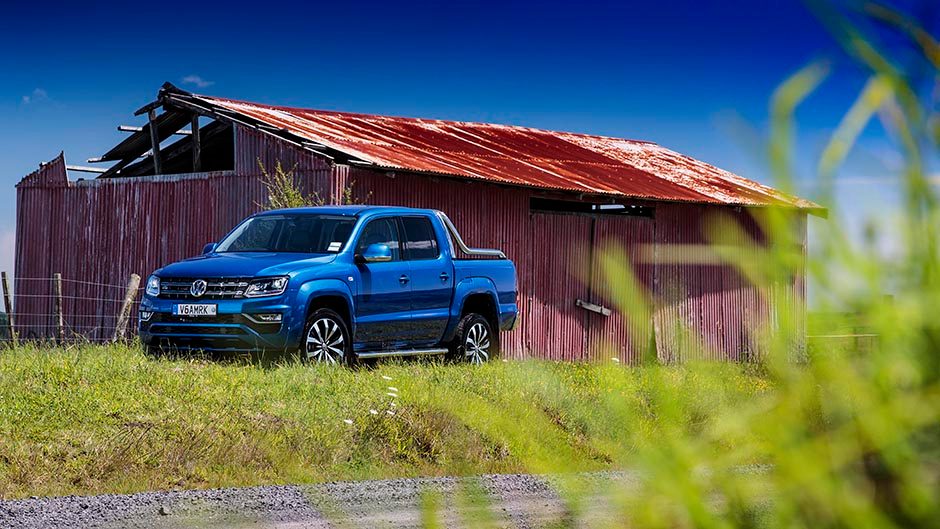 Even with its new grille and fascia it may not quite match Ranger for butch styling but it certainly does where it matters; it's engine is monstering. It makes a gruff noise too, especially around 2000rpm where it pulls like no other, and on road it hikes from 2500rpm onwards. But it isn't just impressive in a straight line. Despite that hulk of an engine over the front axle, the Amarok still has a better weight split than its prime competitors, at 54/46, and it corners at least as well as any of them, if not better with its low profile road-oriented rubber.
The Servotronic steering we found a touch light at times, but this is a confident bend swinger, understeer building progressively and it's well telegraphed. It also responds nicely to a throttle lift.
Round town at 5.25m in length and over 2.2m in width, you have to be mindful of all four corners. This I know from bitter experience.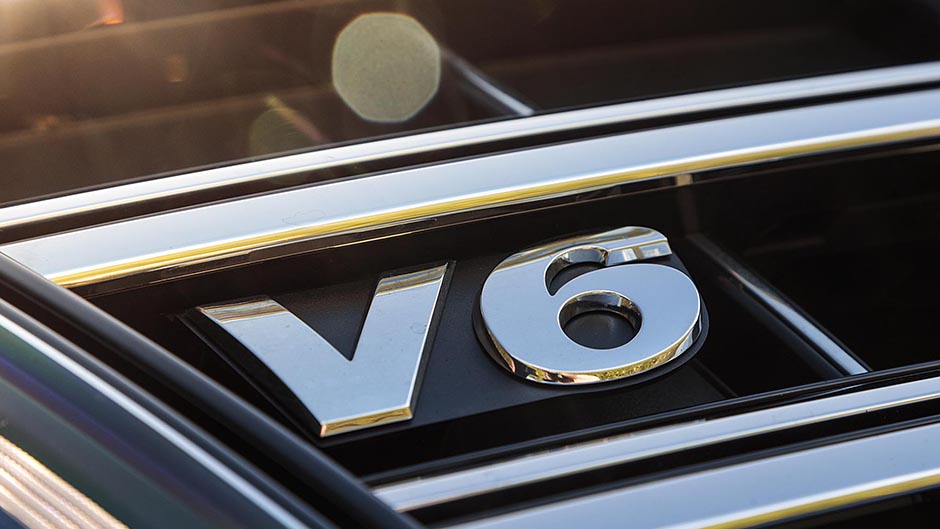 Production for the first six months is out of Hanover – you can pick these by their stainless styling bars – and then reverts to Argentina, so if you want a German Amarok be quick. Evidently the truck is already sold out until May so clearly there's demand for something special at the top end of the ute sector. And this is that something special.
Available also as a Highline for $73,990 that model gets heated seats and partial leather trim along with sat nav and bixenons. The four-cylinder range now kicks off at $49,990 for the Core model, with a Comfortline model at $57,990 (formerly $62k) and Highline variant for $64,990.
If you're considering one of the top double cab 4×4 utes, you must add the V6 Amarok to the list. It's sets the bar much higher for performance, and will shake up the sector.
| | | | |
| --- | --- | --- | --- |
| Model | Volkswagen Amarok V6 Aventura | Price | $82,990 |
| Engine | 2967cc, V6, TDI, 165kW/550Nm | Drivetrain | 8-speed auto, all-wheel drive |
| Fuel Use | 7.8L/100km | C02 Output | 207g/km |
| 0-100km/h | 7.80sec | Weight | 2290kg |