We sample a new Kia that's under consideration for our market later in the year. It's the Niro, a smart looking crossover that also happens to be a frugal-running hybrid.
Here's something a bit different from Kia. It's the Niro, the company's first dedicated hybrid model. You're unlikely to have seen one out and about as there are just two in the country at present, imported by Kia NZ for evaluation purposes. The model, launched earlier in 2016, is intended primarily for Europe and North 'Murica. By combining a crossover with hybrid running gear, Kia is plugging two in-demand market niches, the low consumption handy in countries where the amount of CO2 your vehicle pumps out determines how deep the government gouges you for road tax.
Kia NZ is keen for another reason on introducing the Niro here, adding a further crossover/SUV solution to its line-up, one that would slot handily in between the Soul and Sportage, in size rather than price, mind you. It's under evaluation initially, Kia NZ needing to build a case for the car before head office will consider sending it our way.
In a market that is mad keen on SUV-types it seems a simple decision. A smart looking, mini-Sportage should sell even before considering the Niro's diesel-beating consumption figures. And, being electrified, corporates will be keen, at least if a plug-in version materialises, though we might be getting ahead of ourselves here…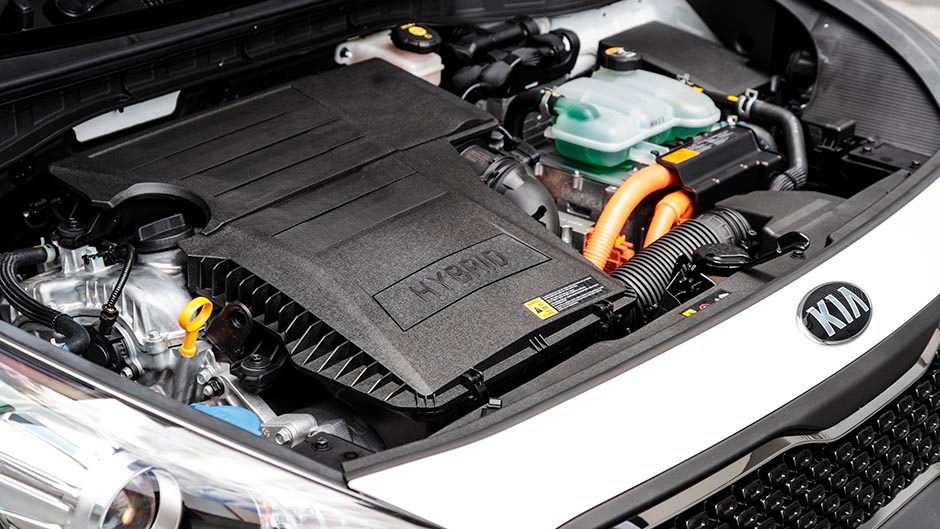 First, a bit more about Niro. A parallel hybrid, it rides on Kia's first dedicated hybrid platform. In styling and size it sits somewhere between the Cerato and Sportage; it's a hatchback cum crossover with a wide stance and short overhangs. Niro looks rather normal, the antithesis of the ghastly Prius. It has all the Kia styling attributes; that nose, the jeweled lights and a strong C pillar. Subtle plastic body mouldings and some air under the arches lend it a crossover look, yet with a few aero tricks, Kia claims a drag coefficient of 0.29.
Behind the grille is a combination of a 1.6-litre DI petrol engine and a 32kW motor. The 1.6-litre petrol utilises direct injection and the lean burning Atkinson cycle helps to reduce pumping losses. Some of the torque-reducing effects of this cycle, which leaves the valves open slightly during the piston's return back up the cylinder, are offset by a long-stroke engine design. There is also cooled exhaust gas recirculation for further combustion efficiency.
The engine makes 77kW and 147Nm and is paired with a transmission-mounted 32kW/170Nm electric motor which draws power from a 1.56kW/h lithium-ion polymer battery pack sited under the rear seat. Kia quotes a combined output at 104kW and 265Nm and this flows via a six-speed twin-clutch to the front wheels only. There's no AWD here – it's a crossover in appearance only – but this hybrid is rated to tow up to 1300kg, which is 1300kg more than a Prius, or even a Lexus RX450h.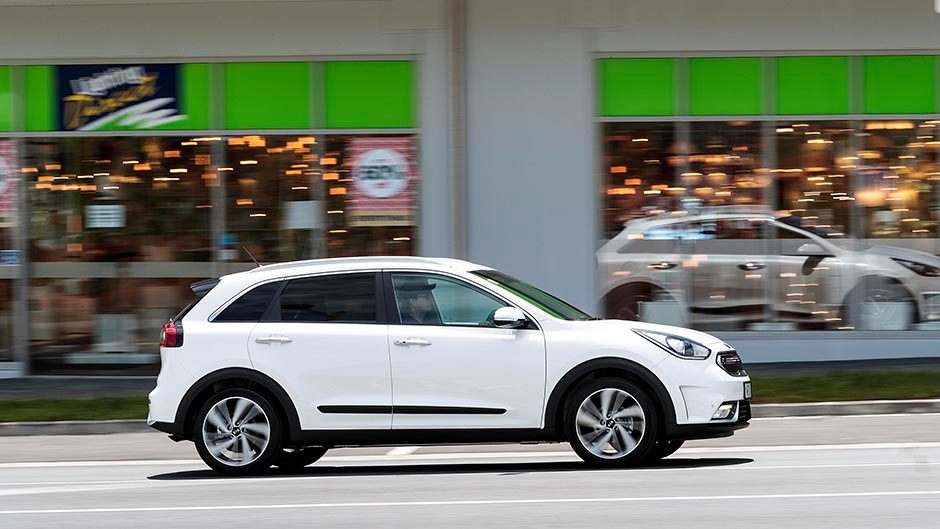 The Niro's overall frugality depends on tyre size, Kia claiming 3.8L/100km when rolling on 16s (probably encased in eco rubber) and 4.4L/100km on 18s, as is the case here on this high-spec version.
For starters, we like the hybrid drive philosophy here. The Niro is utterly conventional; no drive modes to fiddle with nor any comical gear levers or switches. About the only hybrid giveaway is the energy meter in place of the tacho, and the engine doesn't fire immediately upon prodding the start button. But it's soon in action once you move off. The Niro generally employs both motivators, petrol and electric, to get you up to speed but then if you back off the gas the petrol engine usually cuts out. While there's no EV mode as such, when the engine cuts out, the electric motor can maintain your speed on a light throttle along even terrain, and does so happily up to 70km/h with the odd EV spurt on the motorway too at about 90km/h. It's torquey from a standstill, and is quickly up to 50km/h when spurred along, though that initial urge drops off the faster you go, as the acceleration figures suggest. As we've said countless times previously, these hybrids are optimised for urban use, and this is no different.
When it is firing, the noise from the petrol engine is subdued, as are vibrations; it's difficult to detect when it's working, though the small EV indicator light on the dash is there to advise you, as is the instantaneous fuel use read-out, which reverts to 0.0 when you're volting along.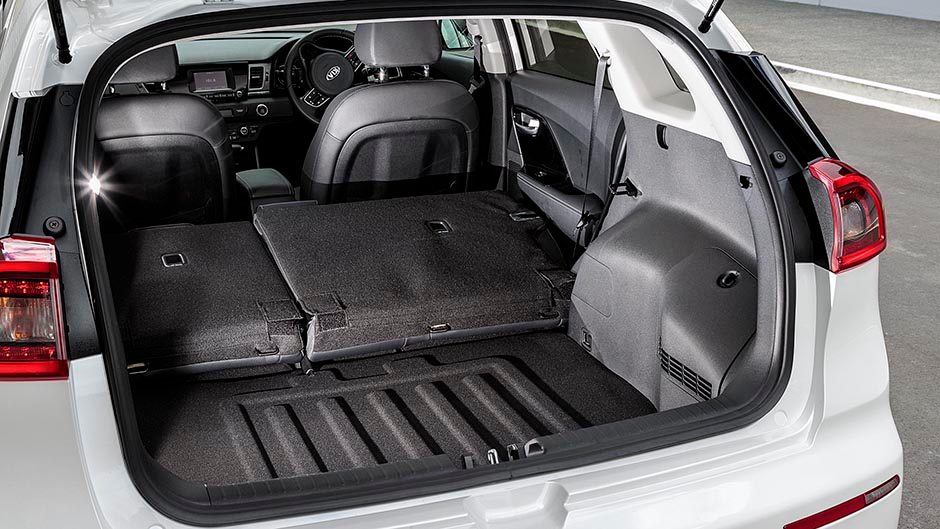 The power take-up from a halt is smooth with the twin-clutch and, with the motor's abundant torque, low speed manoeuvres are refined too though there's detectable shift shock when the transmission progresses through the lower gears. When up to cruising speed, shifts aren't so frequent as it tends to hold gears when asked to accelerate, relying on the torque of the motor to climb inclines rather than dropping a ratio to access more engine power.
Without trying all manner of eco driver trickery, or thinking too hard about it all, the Niro gets about in regular, conventional fashion while our 200 or so around town clicks returned 4.5L/100km. That's also with far fewer noxious outputs from the tailpipe than a diesel. Yes, the Prius is rated in the mid-threes, but as we mentioned we had the Niro rolling on 18s which, as we discovered, helps further afield.
As we've already suggested, the city is the hybrid's happy place, but for research purposes we headed around our usual test route to see how she fared. And it was surprisingly reasonable. The power, and it's delivery are pretty tame, and with the road racer rubber the high-spec Niro wears, it's never going to get away on you. During a rare moment of clarity, former editor Owen once said that a good way for hybrids to improve their open road economy would be to give them decent rubber and the ability to maintain some speed through corners. Niro is good in this regard thanks to its Michelin Pilot Sport 4 rubber. They can be a bit noisy on coarse chip but they do grip, allowing the Niro to maintain momentum through bends without having to constantly brake and then accelerate back up to speed. And giving the throttle pedal a right mashing, the fuel use only climbed as high as 5.7L/100km.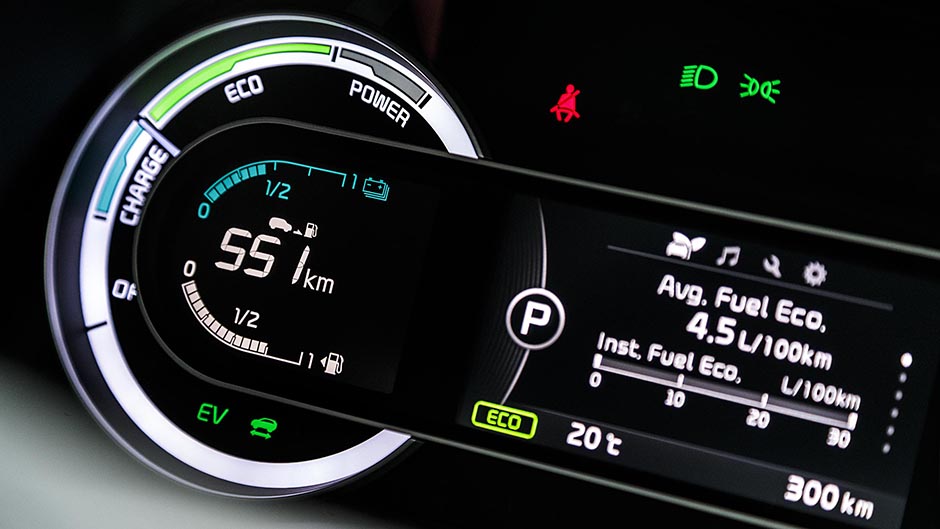 As it is in the city, the ride remains agreeable on winding roads, even on the low profile rubber. The Niro will succumb to inevitable understeer when pressed, and there's the odd movement from the rear end too but it's otherwise sorted. Kia maintains it chose a twin-clutch to give the Niro better response than the typical e-CVT of Toyota hybrids, but it's not quite the case. Even in the transmission's Sport mode, the delivery is delayed but Kia did a better job on the brake pedal. Hybrid brakes can often be too snatchy but the Niro's are easy to modulate, and the pedal has a reasonable sense of tactility. The steering is light but gets you through the curves without frustration and Niro has a great turning circle; it's easy to spin around.
As a general conveyance, Niro is suitably practical. The seats are set high for easy entry and they are comfy too while the cabin quality is solid, with just enough soft spots to suffice amongst the hard plastics. Space in the rear is favourable with good leg and head room and the door openings are large, as is the boot. This is wide and deep, the opening generous here too and split folding is simple, though the load floor isn't even.
As to price and specification, that's all 'a bit up in the air', as they say. It's likely Kia will eventually offer two models, a high spec version like this one in the low- to mid-forties and a fleet special in the upper-thirties. At that level, it won't be a super-star seller like Sportage, but as long as it's cheaper than Prius, they'll move some. The spec levels are also TBA, but you'd expect AEB, seven air bags, ESP, and reversing camera with the high brow model to add leather, larger alloys and a few more safety features. Hopefully an upgraded infotainment system makes the list as this unit is fairly basic.
We like that it looks good, is practical and is miserly without being too overtly hybrid. And it should make a good addition to the Kia line-up when it eventually arrives.
| | | | |
| --- | --- | --- | --- |
| Model | Kia Niro EX Hybrid | Price | $34,990 |
| Engine | 1598cc, IL4, DI, 77kW/147Nm | Drivetrain | 6-speed twin-clutch, front-wheel drive |
| Fuel Use | 3.8L/100km | C02 Output | 88g/km |
| 0-100km/h | 9.55sec | Weight | 1429kg |