Vespa means wasp in Italian and the latest GTS 300 with its upgraded motor has a sting in its tail.
What you see here is the top of the Vespa range, the Supertech version of the GTS300 HPE, and it is the quickest, smoothest, bestest vespa we've encountered.
The way it gets off the mark it's appreciably smarter than those we've ridden previously.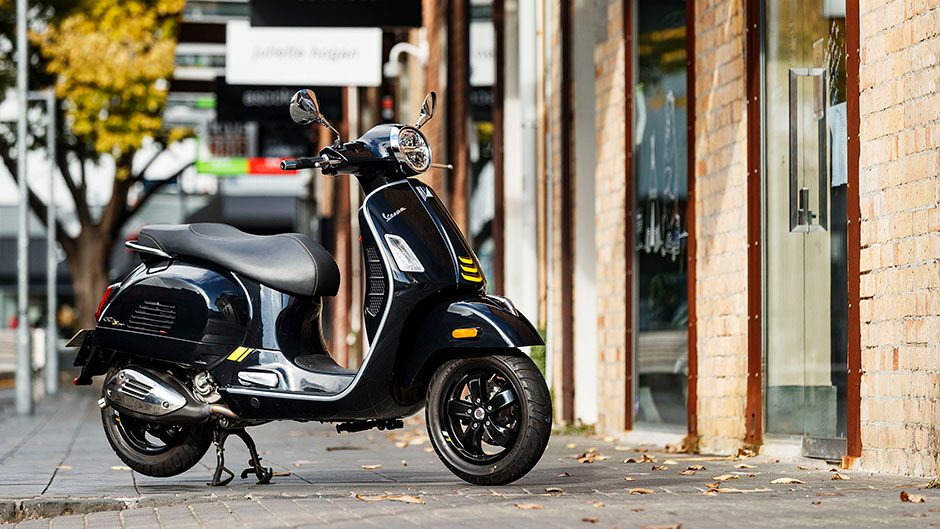 In fact, it felt so darn nippy after pick-up, cruising on the motorway at 110 indicated (actually 102km/h), that we figured we may as well check out performance with the GPS-based data logger. It's a second quicker to 100 than the 300 GTS, so the impression is real.
But first, what is the SuperTech exactly? Essentially, it's an updated GTS 300. Physically, you can tell this one by its wasp-like paint job; there's a fetching new front grille with yellow painted elements, so too the two-tone alloy wheels and even the front suspension spring is sun-coloured. LED lights feature front and rear.
Also new for this model is digital instrumentation with a 4.3-inch full colour TFT display and a comprehensive trip computer that you access by messing with a toggle switch on the left handlebar block. In town it's using fuel at a rate of 2.5L/100km. The claimed average is 3.2L/100km. Give the wasp nest a bit of a poke and you'll see a fuel figure around the 4L/100km mark. It scarcely changed from that in the time I rode it.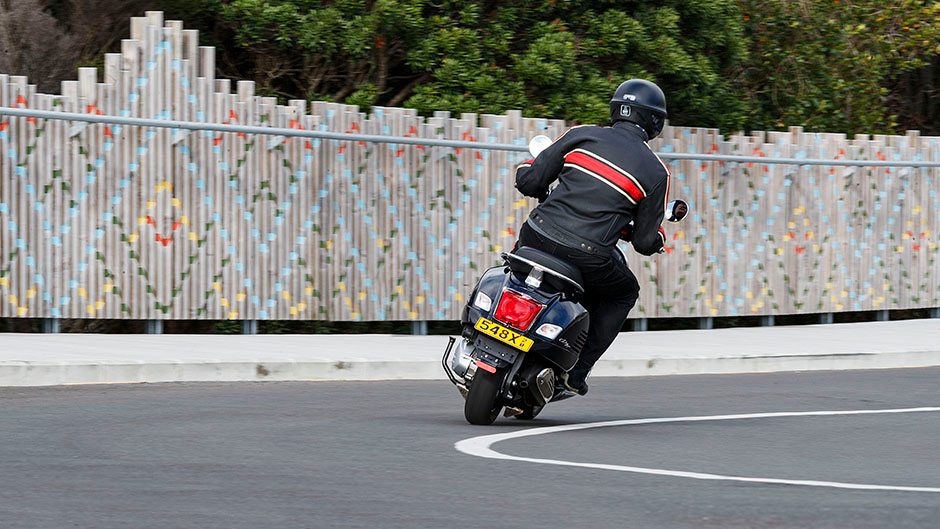 The engine has had a right going over, mainly to reduce friction. Its piston and cylinder head are new, so too ports which are bigger, as are intake and exhaust valves. This and other changes aim to add torque at low revs for smoother and quicker take-offs in traffic. And the engine now meets Euro 5 emissions standards. Sweet.
Work has also been done to make the CVT smoother, stronger, more durable. It needs to be too because there's been a lift in power and torque of 12 and 14 per cent, respectively, peak power now almost 18kW and maximum torque 26Nm, generated at 5250rpm. There's no tacho so you'll not be aware of that. But what you do notice is the suddenness and ease with which this hits 50km/h, and how it surges on to 100.
One other aspect of the SuperTech model is the fact that it is fitted with both ABS and traction control. TC for something with 18kW? Yes, we tittered when hearing that too. But there is quite a bit of torque right out of the blocks and in the wet you might inadvertently spin it up so perhaps in those circumstances you'd be thankful. Fortunately, TC is switchable. We say that because on our reference hill road, the TC was constantly in a tizz, cutting ignition when you want power out of a corner for the added stability it brings. One flick of the switch and it's all back again.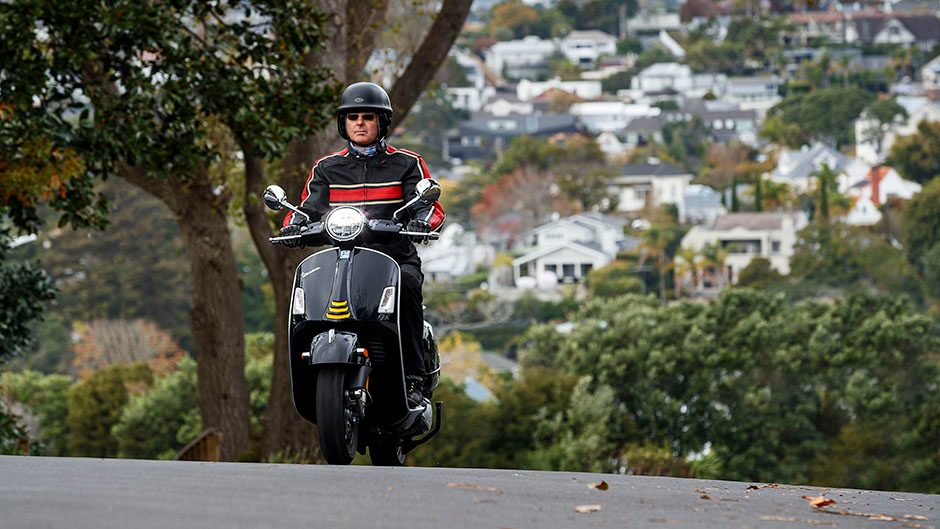 On that, we love how flickable this scooter is in town but that makes it almost too much of a good thing when you get a bit of speed on. Small wheels don't generate as much gyroscopic effect as larger ones so there's not quite the stability at motorway speeds. But you soon get used to this, and simply make more of an effort to be smooth about things on faster roads. Trailing the rear brake into turns helps. Out of town this doesn't lack for firepower; we even overtook a ute on a back road, though you need a bit of a straight for that.
And there are brakes to match, only you must be sure to activate both levers simultaneously for best effect. That's because this has a strong rearward weight bias, as you'd expect with an engine mounted over the back wheel.
The CVT system is smooth too. There's always some vibration from the rear with such devices but it's better than it used to be and hardly noticeable now.
Even comfort is good, thanks in part to the new saddle; sharp bumps can catch out the 12-inch wheels, but otherwise progress is great, the riding position well sorted for its mainly urban romp. A generous pillion perch and grab bar make this two-person ready. There's a centre stand which is well balanced and lightweight in use.
Equipment runs to a USB port for phone charging in the glove compartment up front, smartphone connectivity via Bluetooth (Vespa Mia) enabling call management and navigation, and a generous underseat bin (small helmets only but). The fuel filler is at the rear of this, and you need to take a bit of care when refueling or you get blowback. The seat requires some manhandling to close too.
Nero Volcano (gloss black) may be wasp-like but it isn't the greatest safety colour. The alternative is gloss grey, somewhat more visible. If it's aftermarket bling you're partial to, there are screens, tasty exhausts and plenty of other fancy add-ons.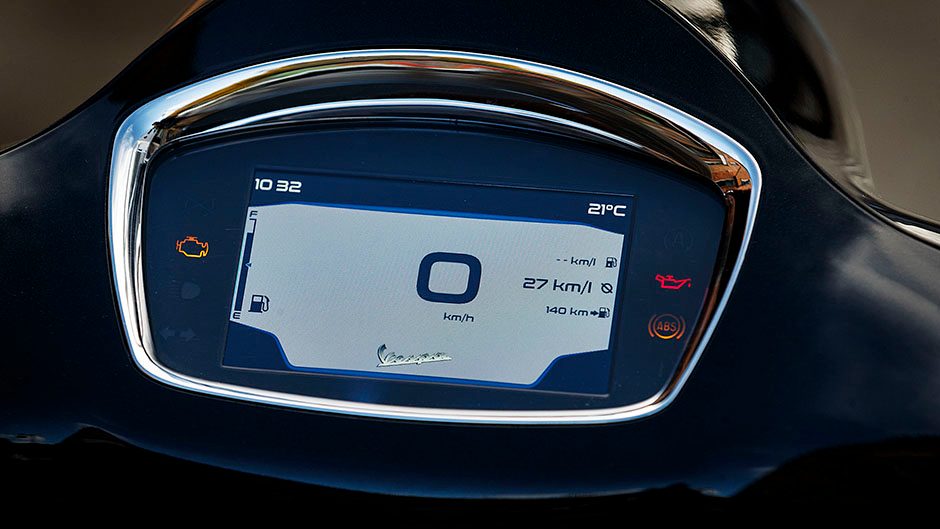 Vespas aren't inexpensive, especially the bigger ones, and with its extra tech and spec, this one has a sticker price of $10,900 attached. That's up there with some of the bargain middleweight LAMS bikes. But then Vespa buyers aren't interested in that sort of thing; they're into the retro Italian design and the urban/cafe lifestyle. And they will simply love how this fulfills that remit.
Thanks to Daniel from Vespa Auckland for the loan of the scooter.
| | | | |
| --- | --- | --- | --- |
| Model | Vespa GTS 300 SuperTech HPE | Price | $10,900 |
| Engine | 278cc, liquid-cooled, fuel injected, single, 17.5kW/26Nm | Drivetrain | belt final drive |
| 0-100km/h | 10.95sec | 100-0km/h | 42.92m |
| 80-120km/h | 15.99sec (474) | Weight | 161kg |