The big V-Strom is gradually morphing from an ADV into a classy tourer. Is the 1050XT long distance ecstasy?
We'd been looking forward to reacquainting ourselves with the big V-Strom, now known as the 1050 whereas before it was the V-Strom 1000. Oddly, the last one we rode also displaced 1050cc. Actually, 1037cc, but rounding up makes it sound ballsier.
The reason the V-Strom is now the 1050 is because the bike makers' top adventure bikes are all bigger nowadays, many of them hulking V-twins. The Multistrada displaces 1262cc, while KTM's 1290 Adventure actually displaces 1301cc. Even the Africa Twin is now an 1100.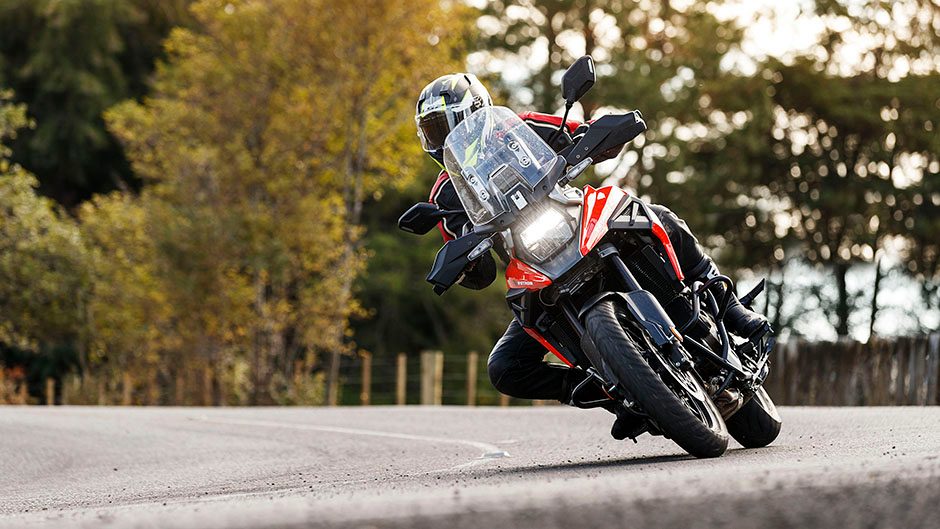 Mention of the big Austrian (KTM) is relevant because the 2020 V-Strom 1050XT we've been riding sports a colour scheme that's alarming close to that of the KTM's ubiquitous orange and white. Not a copy, but a bit more than a coincidence, surely? Imitation, flattery and all that.
You can also get the top level XT model in banana yellow, just like the DR Big from way back in the day. We mention this, because styling borrows cues from that enormous 800cc rally raid single of the 80s.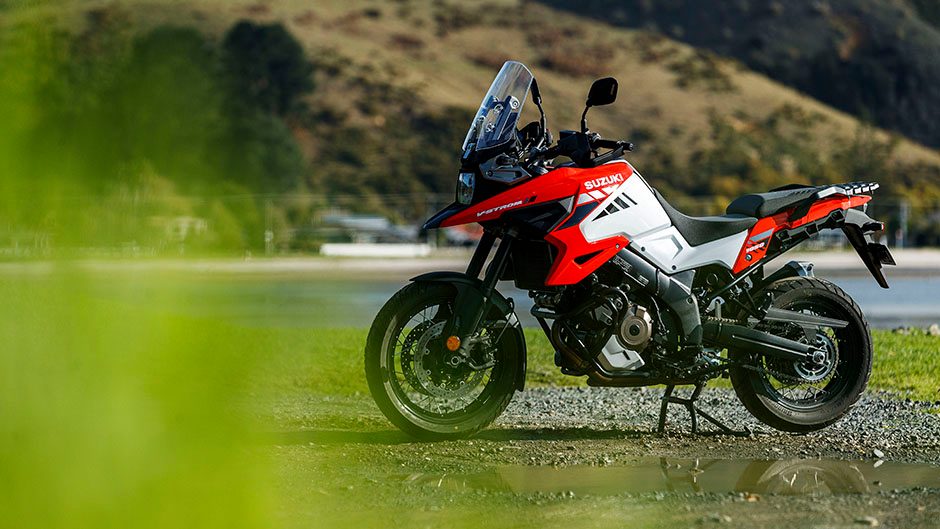 Evolution of the familiar
Bike development outside of the superbike arena is evolutionary and that's because these companies aren't that big and nor are their R&D budgets. Even some of the superbikes go from generation to generation with just running updates. And that's certainly the case here; why change what works? In the case of the 2020 V-Strom 1050, there's been a number change, new bodywork and a fresh colour scheme. But it's the motor and tech upgrades that make this a new generation V-Strom. Included in the changes to the 90 degree V-twin are a slight compression bump, new camshaft profiles, and bigger 49mm throttle bodies, the result being a five-unit increase in power to 80kW at 8500rpm. Torque is unchanged at 100Nm, but the peak is now at 6000rpm instead of 4000rpm, not that you'd especially know. It pulls from 2000rpm cleanly and you're still hiking along by upshifting at 4000rpm. Naturally there's more strom, er, storm that is, higher up, from 6000rpm to the 9500 redline. This engine now evidently meets Euro 5 emissions regs too, mainly via an uprated catalyser. It's fuel use mean is quoted at 4.9L/100km, as before, and that is pretty much what we saw (5L/100km). Part of the reason is a strong midrange – no real need to chase top revs – and high gearing, registering just 3500rpm at 100km/h. At that it is almost vibe free, with its large mirrors clearly showing what's behind.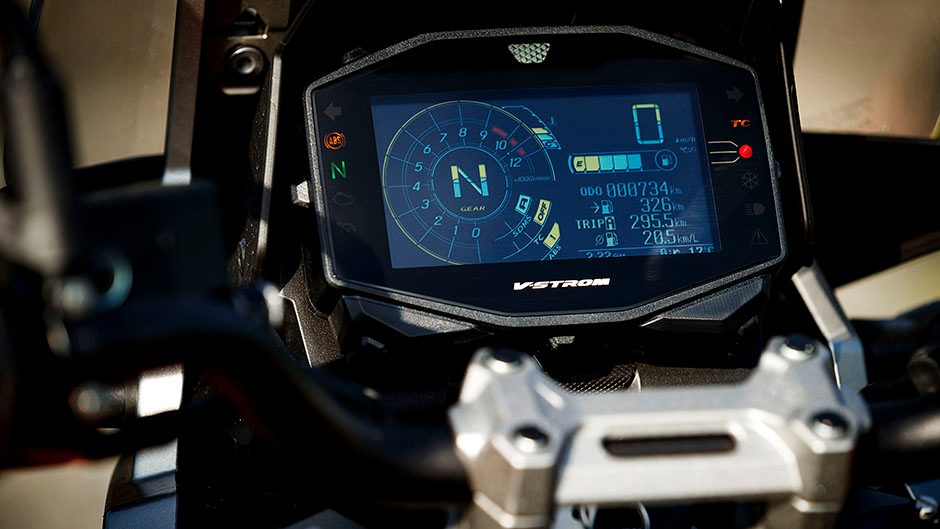 Tech to burn
Whereas previously you had fast and slow modes according to throttle angle, there are now three actual engine modes, A, B and C, thanks to a new ride-by-wire throttle. We stuck to A mainly as there are also four TC settings to save you from your silly self.
Back when we last tested it in 2014 – I cannot believe it was that long ago – it registered a 3.65sec sprint time and an overtake of 2.1sec. This new one was quicker by 0.3sec to 100 and by 0.2sec for the overtake. There was almost nothing in it for the stoppie despite a new combined brake system. Back then it weighed in at 228kg, but this new model is heavier, closing on 250kg, thanks to the extra kit. So perhaps the braking department is better, given that. Strong engine braking virtually makes the need to grab a fistful for emergency situations only.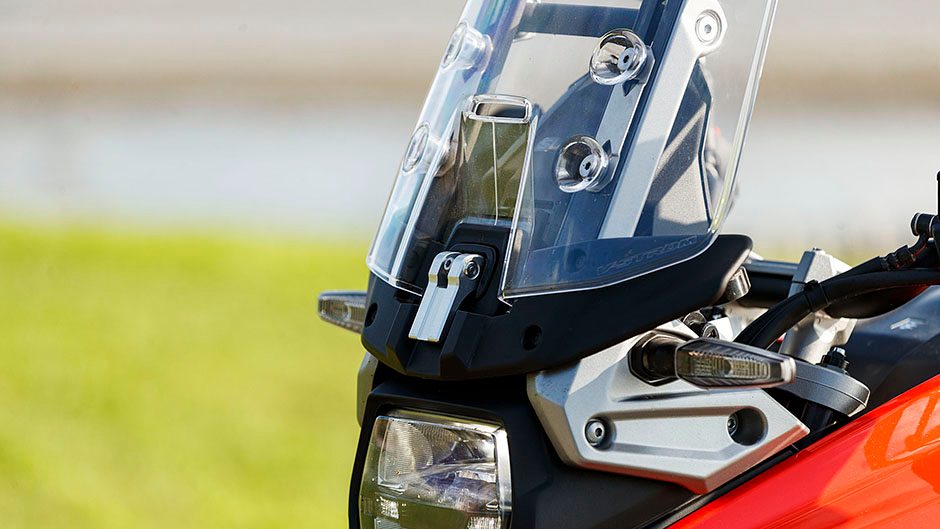 Style favours function
The look is new and there are retro inspirational design cues, as mentioned. The stacked rectangular headlight, LED naturally, is reminiscent of the retro-modern Katana. There's new bodywork and of course a longer beak as this is an ADV. It has the classic practical/functional look of the breed, with good ground clearance, spoked wheels, a 19 up front, 17 at the rear, as expected for gravel work.
Normally when I head out for a ride I don a yellow backpack with things like camera, phone, performance equipment, wallet, hand sanitiser, face mask, the tools of the modern trade. Because the 1050 comes equipped with a standard luggage rack, there's enough room to sling my pack on the pillion seat and tie it on by threading its straps through the hand rails. It's much nicer to ride unencumbered and should the unexpected happen, you're less likely to get your gear smashed to smithereens, or lodged in your shoulder blade. Well, that's the theory.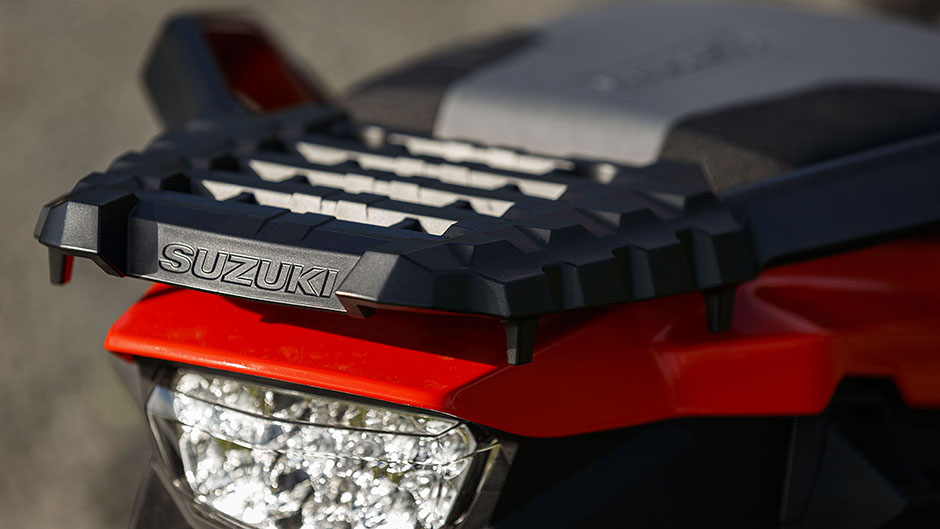 Cushy and confident
On road, this is even more of an easy-going dream than before, once you're aboard. Swinging a leg over ain't that easy but the new riding position is open thanks to higher bars. We're not sure seat comfort lasts the distance but height adjustability is nice, and the two-tier set-up is good for locking yourself in place, and it enhances the pillion's viewpoint.
Suspension is almost plush but also controlling, right out of the box. It's adjustable both ends, especially up front but worked so well we left it alone. There are no big hits over sharp bumps, and stability in turns and at speed is excellent. You gotta love how big V-twins make direction changes seem so effortless. Look where you want to go and this virtually follows. It makes touring duties painless as it works with you rather than you fighting it to change direction.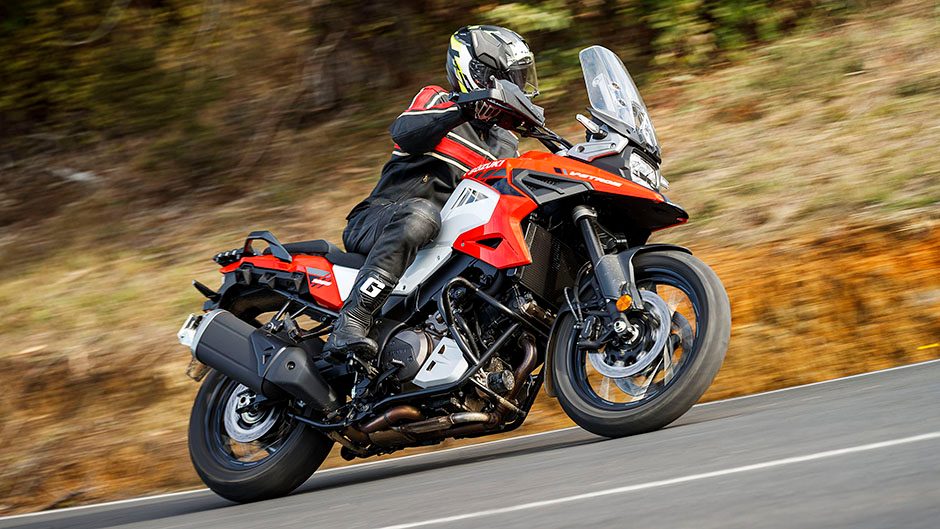 How much?
First shipments of the 1050XT arrived in July, at which time pricing was unclear. We'd imagined that it would sell around the $23k mark because of the extra spec. Wrong, turns out $21,999 is the official pricing, so the usual Suzuki value deal applies.
It comes with nice practical bits like a centre stand (though the kick part is positioned too close to the rear footpeg for ease of use), hand protectors for those icy days, a knurled knob for easy preload adjustment at the rear, fully adjustable front suspension, cruise control, and outlets for charging gizmos. There's also cornering ABS thanks to the fitting of an inertial measurement unit (IMU), a hill holder function, a new LCD screen with every item you need, and a height adjustable seat. Oh, and a wind jammer that adjusts by 50mm through 11 different settings.
Weather protection therefore is great, but then you'd want it to be because this is essentially a modern day tourer. People don't buy these to go off-road; they buy them because they have that potential. But you need expertise to pilot these 250kg machines on adventure rides. Likely that's why crash bars are fitted!
Want that big reliable easygoing range-anywhere tourer without having to shell out the extra for Euro badging? Look no further; just add panniers.
| | | | |
| --- | --- | --- | --- |
| Model | Suzuki V-Strom 1050XT | Price | $21,999 |
| Engine | 1037cc, liquid-cooled, fuel injected, V2, 80kW/100Nm | Drivetrain | 6-speed, chain final drive |
| 0-100km/h | 3.33 sec | 100-0km/h | 38.84 m |
| 80-120km/h | 1.97 sec | Weight | 247kg |