Max Verstappen recovered from an off-track moment and capitalised on Ferrari's reliability woes to win the Spanish Grand Prix.
For most of the race's first half, victory was firmly in the grasp of polesitter Charles Leclerc.
The Barcelona circuit is incredibly tricky to overtake on, and when Leclerc held serve on the race start and built an early lead, it would take something dramatic for him to lose the win.
…and that's precisely what happened.
Leclerc peeled into the pits on lap 27 of 66 with a power unit issue. He retired from the race, and a certain victory was lost.
"I don't know anything more than what happened basically," he said. "I had no indications before and then it just broke, lost the power completely. It's a shame."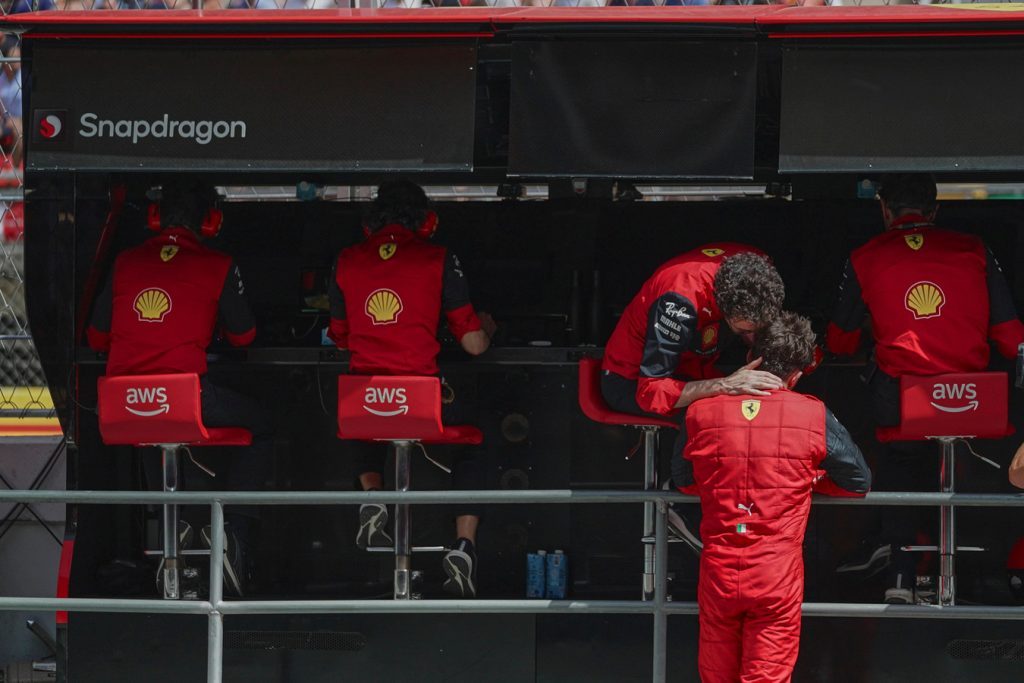 Before Leclerc's engine trouble, Verstappen had his share of concern.
For some reason, drivers were massively struggling to find grip at turn four in the first few laps.
Carlos Sainz spun on his own on lap six before Verstappen had nearly an identical incident a few laps later.
Both managed to continue but lost vital track position.
Verstappen quickly got to work and hunted down erstwhile leader George Russell. Russell wouldn't make it easy for the defending world champion, but some shrewd pit strategy work ensured Verstappen eventually got in front of the Mercedes.
The only car left to pass was Red Bull teammate Sergio Perez.
Perez was informed on the radio that Verstappen was on fresher tyres and had significantly better pace, which, in F1 terms, is a not-so-subtle way of enforcing team orders.
And so, Verstappen eased past Perez, moved into the lead and sauntered home to take an unlikely but well-earned race win.
He also becomes the new championship leader.
George Russell rounded out the podium, finishing ahead of Sainz and a recovering Lewis Hamilton.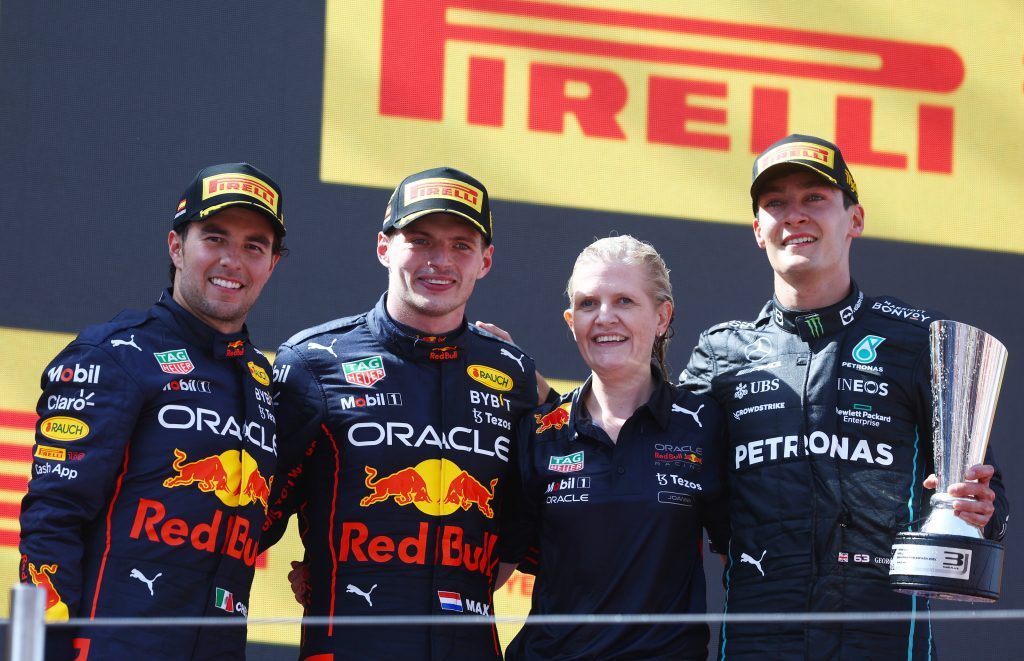 Hamilton got tangled up with Kevin Magnussen on the opening lap but managed to keep going and pull off a timely comeback drive.
The weekend was perhaps the first time Mercedes showed any real kind of pace this season, so the team were pleased to see both their drivers score a solid tally of points.
Valtteri Bottas was sixth, ahead of Esteban Ocon and Lando Norris.
After his Q1 exit on Saturday, Fernando Alonso battled up to ninth and ensured he didn't leave his home race empty-handed.
Yuki Tsunoda was tenth and saw out the points scorers.
F1 jets off to Monaco next weekend for round seven of the world championship.
| | | |
| --- | --- | --- |
| Pos | Name | Gap |
| 1 | Max Verstappen | 66 |
| 2 | Sergio Perez | +13.072s |
| 3 | George Russell | +32.927s |
| 4 | Carlos Sainz | +45.208s |
| 5 | Lewis Hamilton | +54.534s |
| 6 | Valtteri Bottas | +59.976s |
| 7 | Esteban Ocon | +75.397s |
| 8 | Lando Norris | +83.235s |
| 9 | Fernando Alonso | +1 lap |
| 10 | Yuki Tsunoda | +1 lap |
| 11 | Sebastian Vettel | +1 lap |
| 12 | Daniel Ricciardo | +1 lap |
| 13 | Pierre Gasly | +1 lap |
| 14 | Mick Schumacher | +1 lap |
| 15 | Lance Stroll | +1 lap |
| 16 | Nicholas Latifi | +2 laps |
| 17 | Kevin Magnussen | +2 laps |
| 18 | Alex Albon | +2 laps |
| 19 | Zhou Guanyu | DNF |
| 20 | Charles Leclerc | DNF |