The prestigious NZ advertising Effectiveness Awards for 2022 took place at the Civic theatre last Thursday night with Turners taking home two gold trophies. These awards celebrate the most effective advertising campaigns in NZ over the last year.
Of the seven Golds awarded on the night, two of them went to Turners, in the Best Strategic Thinking and Retail/Etail categories.
The executive judges said: "We love Tina! This campaign was a brilliant case study which was effective in its delivery and had a clear strategy showcasing simplicity at its finest. It was a pleasant surprise and one that had our Judges saying, why didn't I think of this?".
Greg Hedgepeth, Turners Auto Retail CEO, said: "This is a another recognition of all the hard work that went in to developing this campaign and backs up the wins we had at the Marketing Awards earlier this year,"
"We're very proud of all the thinking and effort that went into our new brand strategy; the whole business has galvanised around it, and the impact has been significant."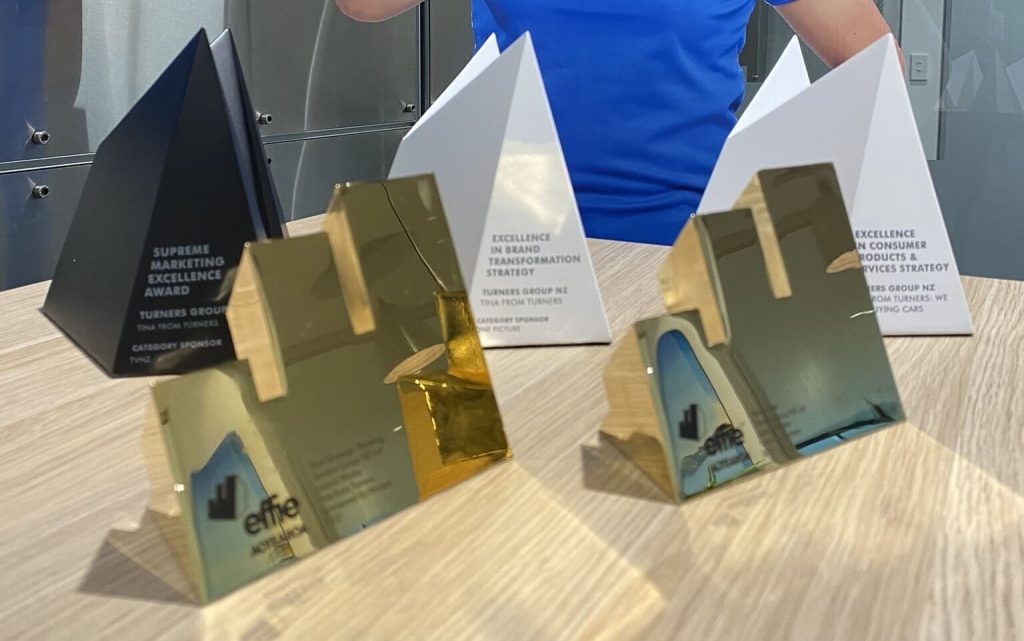 At the NZ Marketing wards earlier this year Turners won the Excellence in Brand Transformation Strategy and Excellence in Consumer Products & Services Strategy awards before being awarded the NZ Marketing Supreme Award for 2022.
Sean Wiggans, GM Marketing, commented "Our thanks to the Comms Council for the process and for putting on a great night for all,"
"The marketing team are beyond stoked with our haul this year and very aware of the quality of the other campaigns out there. We are also very thankful for our team in blue at the branches that consistently deliver an amazing customer service for our customers – each and every day."