For 2020 Triumph has updated the Street Scrambler 900 with more go and stop power. It's lighter too so is it all goodness?
It doesn't seem all that long ago we rode the then-new Street Scrambler, 2017 in fact. At that time it was updated with a high torque 900cc engine that gave it a bit more in the way of relaxed performance. And it maintained the modern classic lines as if it had arrived straight from the sixties.
Since then Triumph has added another layer to the Scrambler line-up in the form of the 1200, the more exclusive XE variant of which we featured recently. But we also got to ride the updated version of the Street Scrambler 900 of late, the Thai built on- and off-roader sporting a bit more of everything, bar weight. To behold it doesn't look much different from the 2017 model, but there's a new seat and main instrument, an uprated front disc brake by Brembo, and added aluminium detailing.
At its core the refreshed engine gets a lighter crank and breathing mods add 10hp, taking output to 64 ponies. It now also conforms to EU4 emissions regs. The peak torque figure is unchanged, at an even 80Nm, still developed at a practical 3200rpm where it's doing 100km/h in top. But there's said to be more slugging power across the range.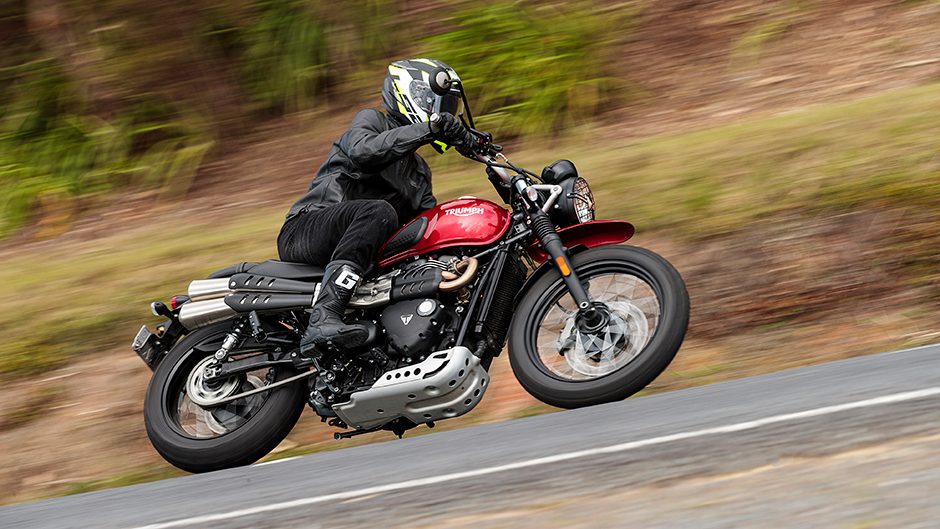 Whatever way you dice it, this delivers relaxed progress. If you're a revhead, probably best to look elsewhere as this is dusted by 7500rpm. On the other hand, at 100km/h the twin is essentially vibe-free, so the mirror reflections are unblemished. Scramblers and dual purpose bikes are huge at present. Together they've just about taken over the touring bike market. I guess people like their look and the attitude. Swing a leg over (so easy to do on this) and you realise just how comfy these bikes are with their generous open riding triangle.
Having ridden the revitalised Street Twin which gets similar updates to the Street Scrambler, the less constricted riding position is obvious on the off-road-oriented machine. The added ride height helps, courtesy of the 19-inch spoked front wheel, and the taller springs front and rear. These offer a better ride over a variety of surfaces than the units suspending the Street Twin, although those of the 1200 are better again. There's not much adjustability with these ones and the rears felt a bit stiff, even on their lowest setting. However, Fox adjustable shocks are available ($1650, along with 119 other accessory items). And the new seat is most supportive, lasting the distance.
With the updates, the price has risen to $18,690. One thing that I hadn't really noticed previously was that you can lean your right leg up against the high-rise dual exhausts without burning your riding gear. The exhaust itself, which sings a rather tasty parallel twin tune, runs beneath polished metal heat shields so you can keep your knees locked to the tank for improved bike control. And it's such an easy-going thing to twist through your favoured roads, the Tourance tyres offering reassuring grip in the dry, the motor slugging up hills in top. It's not often you can touch the footpegs down in corners on high riders, but we did on both sides with the Street Scrambler. It's reassuringly stable leaned over.
The former model wasn't what you'd describe as a rocket, posting a sprint time of around 5.5sec, an overtake requiring 4sec. Triumph's engineers have managed to extricate around 12kg from the SS, which now weighs in at 218kg wet. That also makes it easier to U-turn and manoeuvre than the 1200. The power to weight improvement pays real dividends for performance, the 0-100km/h time dropping well into the fours, a 0.9sec improvement, and a similar outcome for the 80-120 overtake.
Not so as you'd notice perhaps on the go because much of the time you short-shift up the gearbox to fifth, making use of the abundant low-down torque available. It pulls with ease from 2000rpm. That helps make it easy on gas too, achieving the claimed combined figure of 4.1L/100km. Handy, given the tank is only 12L, but that's still a range of over 200km.
Stopping performance has improved out of sight. Where I recall the former model's single disc being a touch wooden and needy in terms of lever pull, this is now brimming with feel and vitality. Perhaps the adjustable aftermarket lever helps but where the former machine required 42m to stop from 100km/h, this updated machine consistently managed emergency stoppies in the 39m region, with a best of 39.28m. This mainly reflects the stronger four-piston caliper used (formerly two-piston) while a rearward weight bias also means the back brake contributes more to retardation than the norm.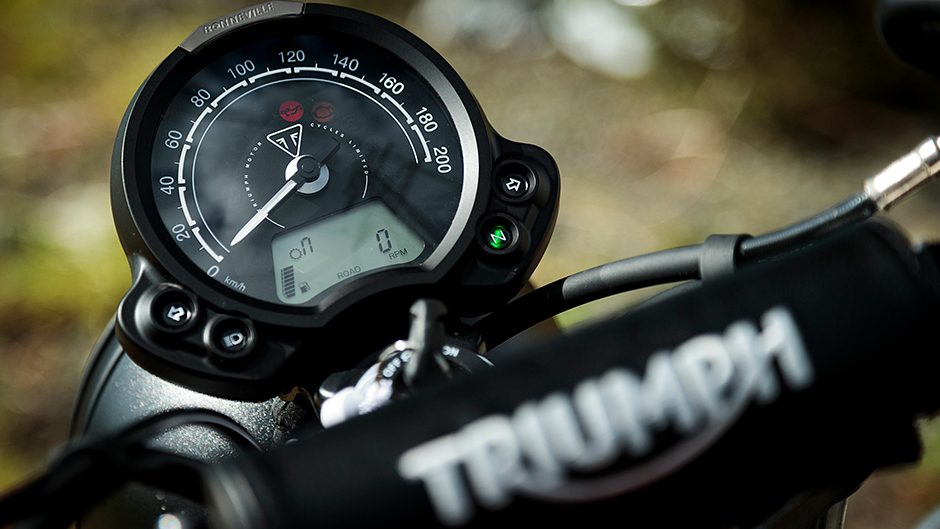 Rounding out the updates is a new by-wire throttle with three riding modes, comprising off-road, rain and road. We stuck to the latter; too much rain meant no excursions into the bush with the Street Scrambler. But it is a peach in both town and country environs, happily lane splitting with both indicators flashing, the big wide tapered bars offering plenty of leverage, and the brakes now up for evasive manoeuvres should someone lunge across your bows without checking their rear view mirrors first.
Because it's less expensive than the 1200 there's less gear as well, the 900 missing out on hand guards and cruise control. But there are heaps of accessories available, our tester sporting a protective headlight grille, an aluminium bash plate, the aforementioned lever upgrades, dual mudguards up front, that type of thing. It comes in a khaki/silver hue as well, which probably looks a bit more period correct than the Cranberry red or Fusion white colours.
Back in 2017 we liked the Street Twin more but with this revision now I'm not quite so sure. In the end, it will depend more than anything whether you plan to go off-piste or not.
Primary competition is from the Guzzi V85, which isn't as quick but looks fabulous, and offers better ride quality and wind protection, though is more expensive, kicking off at $21k.
| | | | |
| --- | --- | --- | --- |
| Model | Triumph Street Scrambler | Price | $18.690 |
| Engine | 900cc, liquid-cooled, fuel injected, IL2, 48kW/80Nm | Drivetrain | 5-speed, chain final drive |
| 0-100km/h | 4.67sec | 100-0km/h | 39.28m |
| 80-120km/h | 3.28sec (93.3m) | Weight | 218kg |