Breaking out from building traditional wares takes courage. Indian has done just that, creating a road bike based on a flat tracker concept. It looks fit but does it ride as beautifully?
Just take a gander at this piece of two-wheeled artwork. The concept bike was sex on two wheels and the resulting production bike is also a peach. To build something with these beautiful lines there are some functional compromises, the most notable of which is a fuel tank the size of a beer flagon. Brimmed you're looking at a best of 200km, riding it carefully. Hit it, and you're gasping at 150km.
So like an electric motorbike, you will pass no refill station. But the moments in between should be memorable. The FTR 1200 is one of the most hyped bikes of 2019. And that may be why Indian felt duty bound to get it out there ASAP.
We'd heard on the social networks that prototype versions had dodgy fuelling, though evidently the production bikes are better. But sorted? Not quite yet. Ours was certainly cold blooded, with a propensity to stall at idle or gasp on takeoff. This also had coughing fits at about 3500rpm when cold, and while better when warm it can surge on a constant throttle. We're told there's a software fix coming but we'd also say there's inadequate beta testing here.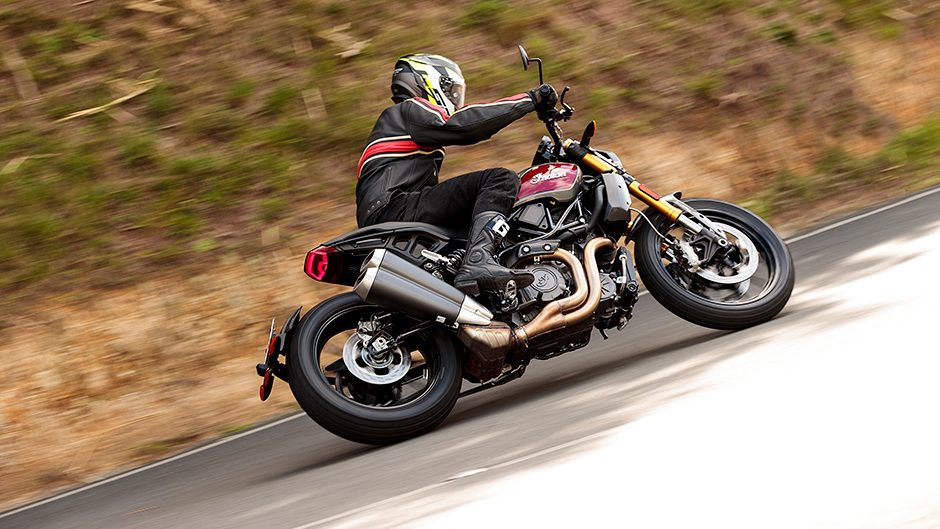 So fuelling is a work in progress. And that's not something you expect of a major Western motorcycle manufacturer. It's all the more disappointing given how generally excellent the rest of the bike is.
First, some background. Both Indian and Harley-Davidson are in the business of diversifying, their audience for expensive high capacity cruisers gradually diminishing. Moreover, newcomers aren't filling their shoes in adequate numbers to maintain sales. The bar and shield brand is unexpectedly adding electric models, the antithesis of what traditional customers lust after. Its first offering is an expensive halo bike, the Livewire.
In contrast, Indian has been more conservative with its breakout FTR 1200. Without question, the Indian will sell better; it looks sensational and costs half as much. However, H-D has plans for bigger electric things. Actually smaller, and more of them. Like a kiddie e-bike which will introduce children to the brand and potentially make them customers for life. This is genius, getting them hooked on Harley as youngsters. Other electric mobility devices are coming, as well as an adventure offering. Indian has this new FTR 1200 and others based on its running gear.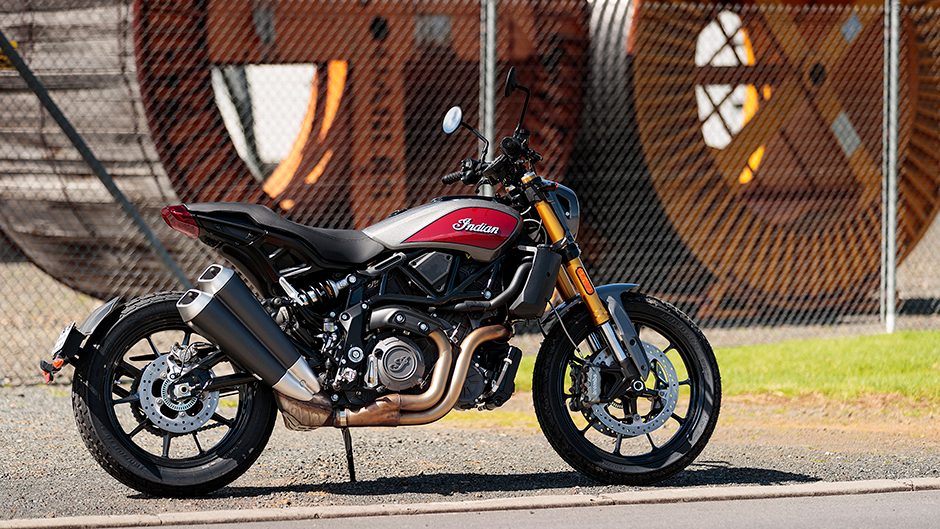 Back to the now though and Indian would probably like this bike to be known affectionately as the Hooligan for there's an FTR race series in the US that goes by this name. Is it a wild thing? Sure, if you want it to be. Most TC systems stifle attempts at hoisting the front wheel but in second this gets a big rise with little apparent effort. Hit it hard before clutch drop and wheelie mitigation control takes over. Cold running antics aside, once it's warm the big flat torque curve compensates.
The engine is smooth at open road speeds, any vibes being friendly, and power comes on in a progressive wave. Our's was green in the extreme, with just 14km on the odo at pick up, the dirt tracker-inspired tyres unscrubbed. So we left it until as long as we could to do performance testing.
It's quick, almost superbike fast, down by only a couple of tenths on the big fours. Not bad given it weighs in at nearly 240kg brimmed. And gearing is tall too. That can actually help a bit with obtaining good figures, for it manages over 120 in second gear so rattles off an overtake in 1.5sec. Its stoplight GP figure of 3.4sec makes it far and away the world's fastest accelerating Indian, taking over from the Scout.
But then you'd expect that for this is a bit lighter and vastly more powerful. How much exactly? Try 90kW and 115Nm to the Scout's 62kW and 87Nm, meaning the FTR 1200 is in a different league of speed. That said, they both haul away from indecently low revs for V-twins, 2000rpm no problem, and can be ridden off their torque bands easily rather than chasing revs, the FTR good for almost 10,000 of them. And with tall gearing this bike feels effortless at motorway speeds, 4000rpm an indicated 110km/h, the exhaust making a pleasant muted V-twin soundtrack.
It's an interesting ride too, partly because of the chunky Dunlops fitted which don't have the traditional rounded sidewall. These finish abruptly, though still allow reasonable lean angles, but conventional tyres would allow more. Presumably the design encourages getting the rear end sideways more easily.
Helping in that regard is a ride mode, Track, that allows you to switch off ABS and TC in tandem but not individually.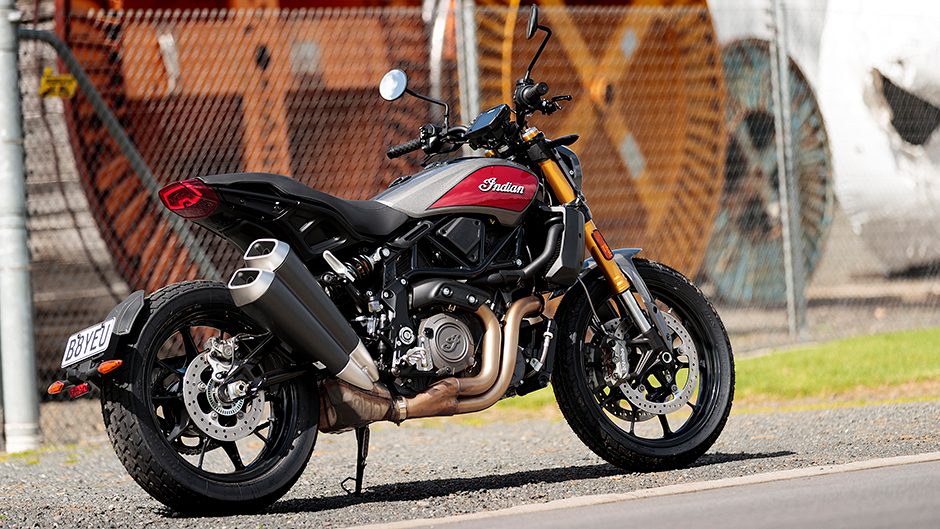 It's surprisingly tall the FTR, with an 840mm seat height, so it won't fit all body types. Once mobile, it really doesn't feel its 240kg, the wide tapered bars facilitating U-turns and a 150/70R18 rear tyre helping to ensure the bike turns quickly. It tracks through corners well, though the Sachs suspension was initially set up quite firm.
Fortunately it's fully adjustable both ends so we set about relieving compression and rebound settings until we hit rock bottom which was just about right for my 80kg. The seat is also quite firm but the riding position feels sorted, about what you'd expect of a naked machine, with a bit of a lean to the spread out bars, and the knees and hips flexed a bit but not too much.
The 'tank' which is actually not a fuel holding device – that would be under the seat – is just the right width for gripping with both knees. There's not much wriggle room on the rider's seat, so you tend not to lean off it much, but then you don't need to either, as a bit of bar and peg pressure has the bike turning easily.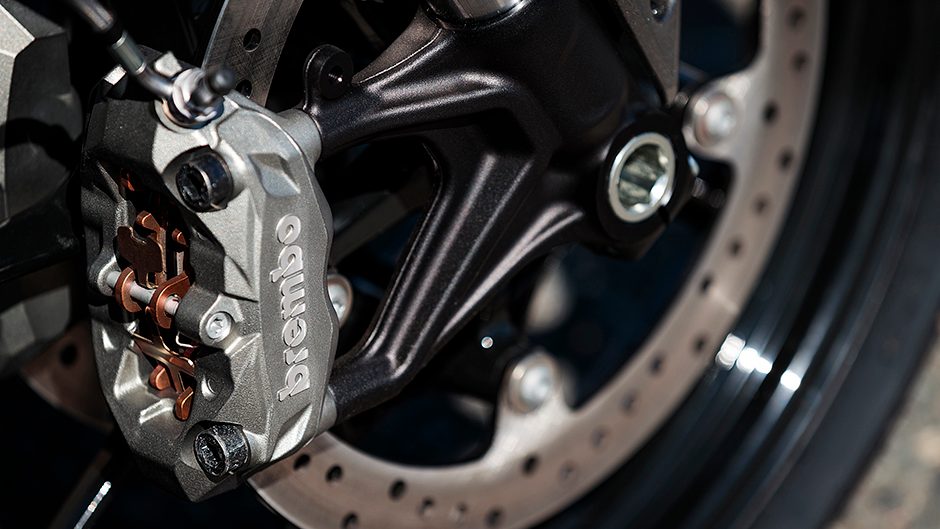 Compared with what the Scout gets this has some pretty serious brakes, Brembos with radial calipers and master cylinder. They're not the top Brembos but do stop the bike well, getting into the 39m zone under a full ABS stop from 100. Engine braking does most of the slowing, however.
There are three FTR variants available, varying only in spec. The base model has fixed suspension and a conventional four-inch analogue gauge with digital rev counter. It costs $20,995, similar to its rival, the Scrambler 1100. Like the S it gets cruise control and full LED lights as standard, along with a USB charge port and black paint.
The S variant is $2k more expensive and adds fully adjustable suspension, three ride modes and a configurable 4.3-inch "Ride Command" TFT touch screen that's also Bluetooth ready.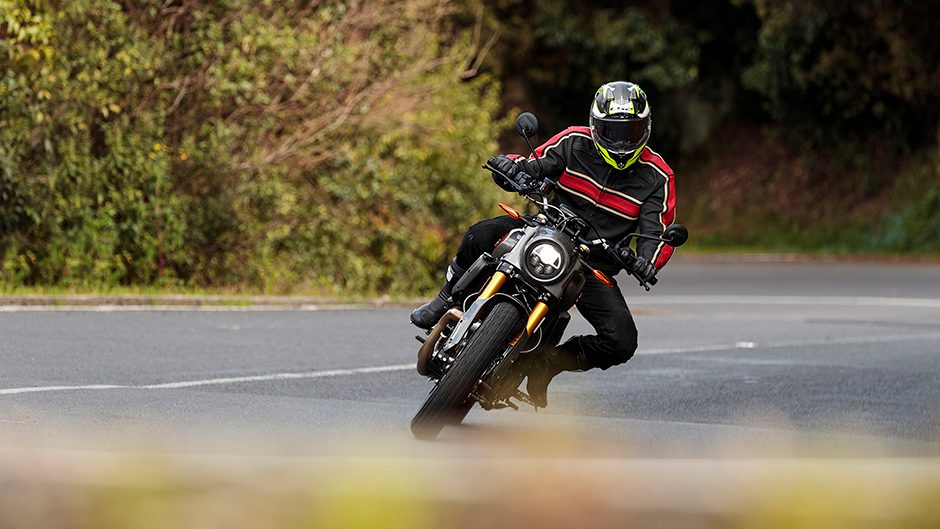 The RR model has red frame highlights and Akrapovic slip-on pipes. The latter is available as an option for the S anyway. And there are plenty of accessory kits available for customising, should you want to tour, for example. Or replace the awkward rego holder with a lightweight tail tidy.
We liked the FTR 1200 very much, despite it seemingly being rushed to market. Indian needs to sort the fuelling issues quickly.
Other bikes based on the FTR 1200 are evidently in the pipeline, a lower-riding streetfighter with 17-inch sports rubber, and an ADV high rider model. Both should be epic.
| | | | |
| --- | --- | --- | --- |
| Model | Indian FTR 1200 S | Price | $22,990 |
| Engine | 1203cc, liquid-cooled, fuel injected, V2, 92kW/120Nm | Drivetrain | 6-speed, chain final drive |
| 0-100km/h | 3.42sec | 100-0km/h | 39.14m |
| 80-120km/h | 1.51sec (53.24m) | Weight | 238kg |