Now into its third iteration, Triumph has undertaken a major renovation on its Speed Triple, gunning for performance. It's competitive but has it lost character?
Triumph has done two major reconstructions on the Speed Triple since it debuted in 1994. It has always been popular, despite not being the most potent in the sector and that's because it was such a well balanced offering, doing everything pretty well with few foibles.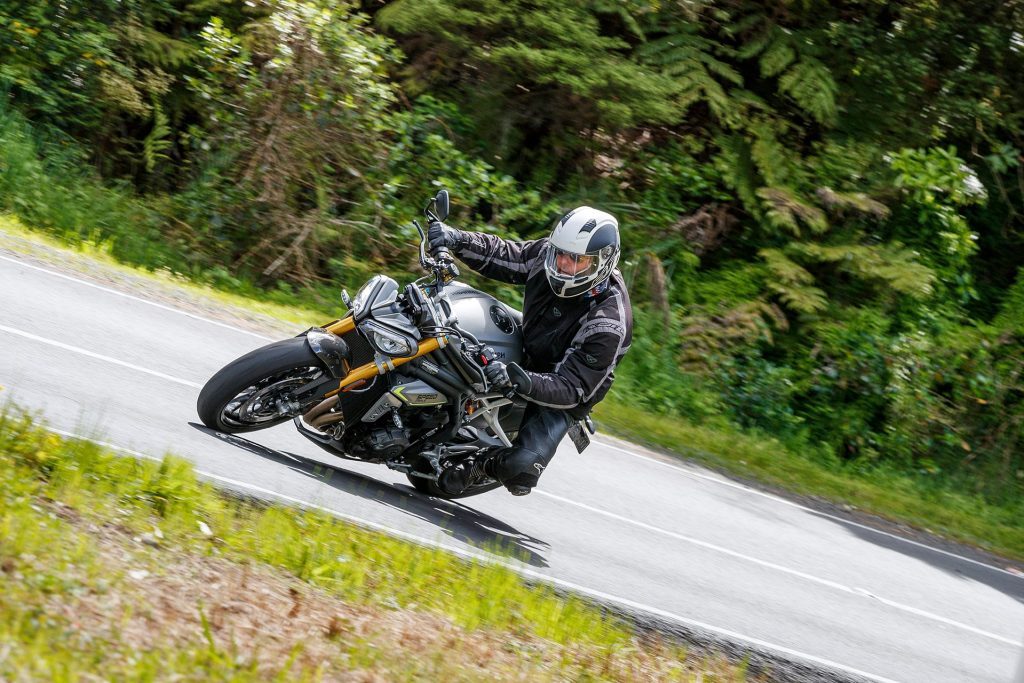 So how does the latest third-gen Speed Triple stack up? Apart from retaining its angry twin headlamps, even angrier three-pot engine and unique chassis appearance, the bike itself is hard to recognise as a Speed Triple. Gone are the twin underseat pipes, and so too the whine from the engine that was such a characteristic and to my mind annoying thing; now there's just the rasp of the intake and the growl from the exhaust instead. And it always weighed in a bit porky, 210kg at best, in conjunction with being a triple in a sea of fours, both impacting on its performance.
The third version then is more like the third coming; forget pretty much everything about the old machine because this feels brand spanking new, and it bristles with power and energy. Where the previous Speed Triple was an elegant streetbrawler, this is the trash-talking, knife-toting, knuckle-dusting streetfighter the Spittle was always meant to be. Sometimes wholesale change is a mixed blessing but here the total makeover has reaped real benefits, with just a few reservations.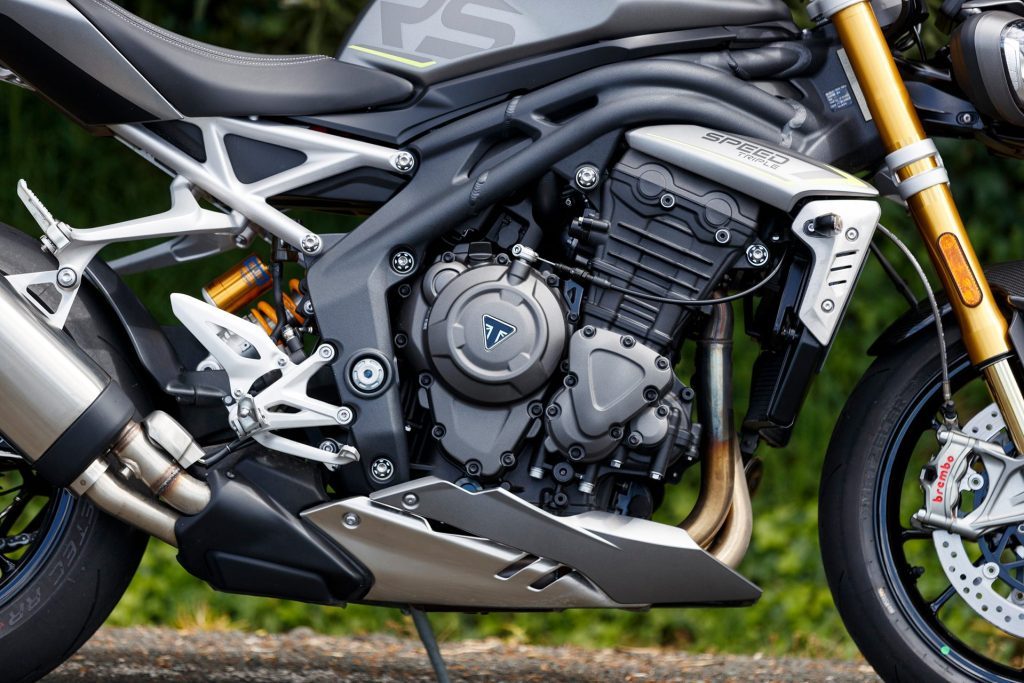 At last raw power
Triumph engineers were probably sick of hearing that their triple couldn't quite match it with the four-potter litre-plus offerings from Aprilia, BMW, Ducati, Kawasaki, MV Agusta, Yamaha and others. In some cases the supernakeds are now outputting over 200hp.
Triumph has taken a slightly different approach, aiming to bolster power (178horses, up 30 ponies on the former 1050 Speed) and so too torque (up eight units to 125Nm) but get equally serious on weight, down to a claimed 198kg. They've pared a heap out of the engine, despite the big power up, and done smart things like installing a lithium ion battery which saves another 2.5kg. There's more tech on board, an IMU allowing for cornering ABS and cornering TC, plus antiwheelie control, which it now truly needs! Also new is a fancy five-inch colour TFT screen which can show phone calls, relay music, nav etc. There's also cruise control, awfully handy on a bike this quick.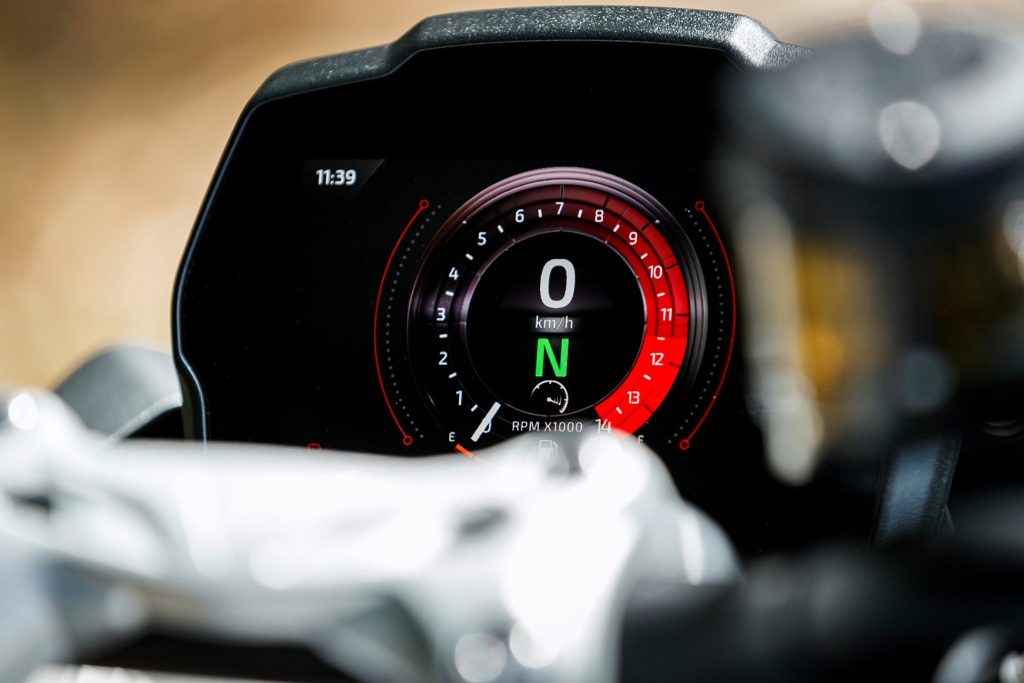 How quick exactly? Well, quicker than any Speed Triple before it, but that's not saying much. The best figures we've achieved from any model prior are 3.42sec for the sprint and 1.42sec for the overtake. New figures best these but still aren't breathtaking for the sector which is full of seriously fast weaponry. A best sprint time of 3.28sec is good but not stellar, mainly because first gear is quite tall, which makes getting out of the clutch without bogging tricky. Meantime, trying to keep the front wheel earthbound is no easy thing with TC nixed. Ditto for the 80-120 as it happens, the front wheel pawing the air, ending with a best run of 1.38sec. It almost matched this in second gear, reflecting the midrange grunt of this engine. This feels stronger than ever down low, brawny from about 2000rpm onwards, while from 2500rpm the muscle is clearly flexed and the pull in top gear is sensational, afterburners engaged at 4000rpm. There's unrelenting pull from there right to its redline of 11,700rpm. Its top end is a revelation compared with before.
Control to match the power
Naturally this runs a quickshifter device that works in both directions, downshifts made even better by momentarily buttoning off the gas as you hook a lower gear. Only there's a rubbery, lightweight feel to the mechanism that's in contrast to most manual transmissions we've experienced previously on Triumphs. The feel was worse with the quickshifter switched off. Upshifts, naturally, are blazing, seamless, superb.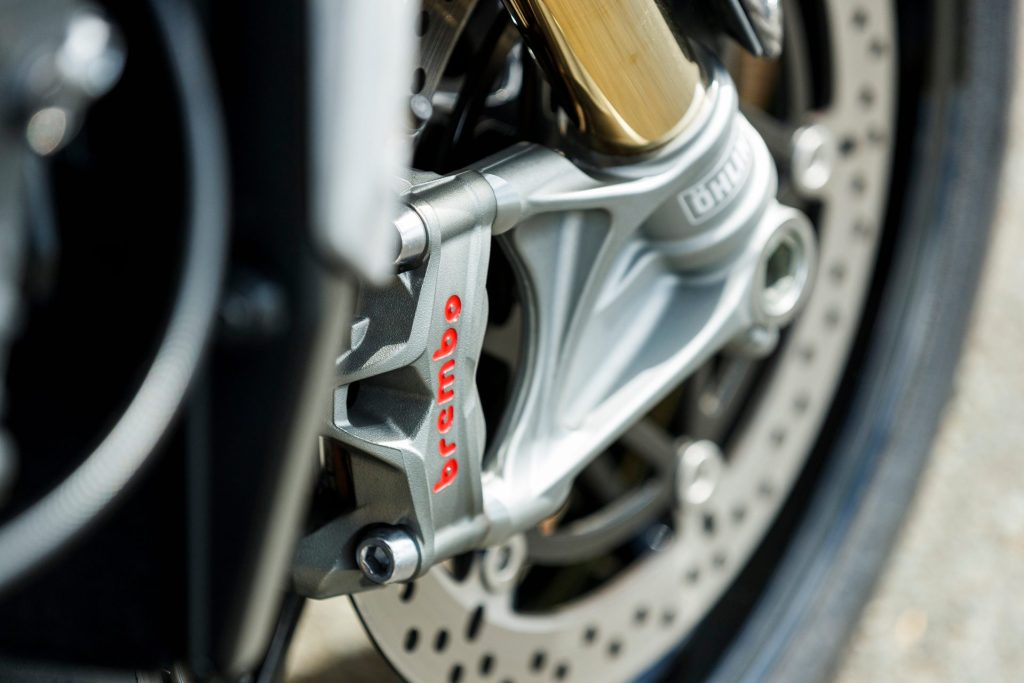 So are the brakes, Stylemas, the top Brembo offerings which are just wowing in their potency. These are linked, and perhaps explain why there's no scary rear wheel lifting antics on full ABS stops, just super retardation. Helping no end are some of the stickiest street tyres on offer, Metzler Racetecs. They're sublime, hugely confidence inspiring. And that's how the new Speed Triple comes across too, handling in an extremely secure fashion.
They've changed up a few things, like installing wider bars for better leverage, mounted the pegs a bit further inboard for even greater lean angles – you won't grind this – and the tail of the bike feels raised up a little which all helps with getting it to turn better. Not that it had issues with that before. There's not quite enough lock, so executing U-turns on rural roads has to be undertaken carefully.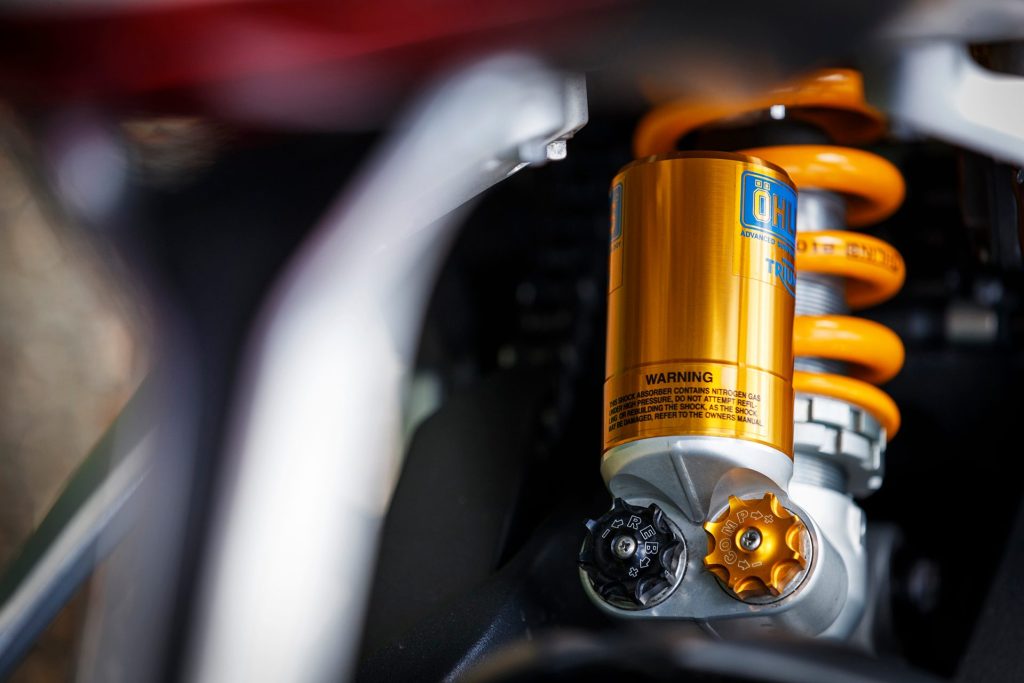 I'm not quite sure that Triumph has got it right when they say this feels like a Street Triple in the way it handles. At 200kg, it's rather heavier than that, but crikey it does love bending its way through the backblocks. Only it's so fast you really do wonder whether the extra capacity was needed. Ha, supernaked riders, they're never happy.
Triumph really needed to compete with whatever's the quickest streetfighter out there, and given most are four-pot monsters, this does seriously well to even be on the same page as the others. At 100 it's pulling an easy 4000rpm, right on the edge of where it starts to go mentally quick, even in top gear. It simply inhales short straights and you're forever thankful for the Stylemas which wash away speed in the most emphatic manner imaginable. Even just using the highly effective rear brake is often enough if you only need to erase just a little pace. It feels so secure tipping into bends this, and changes direction almost like a supersport machine. Almost.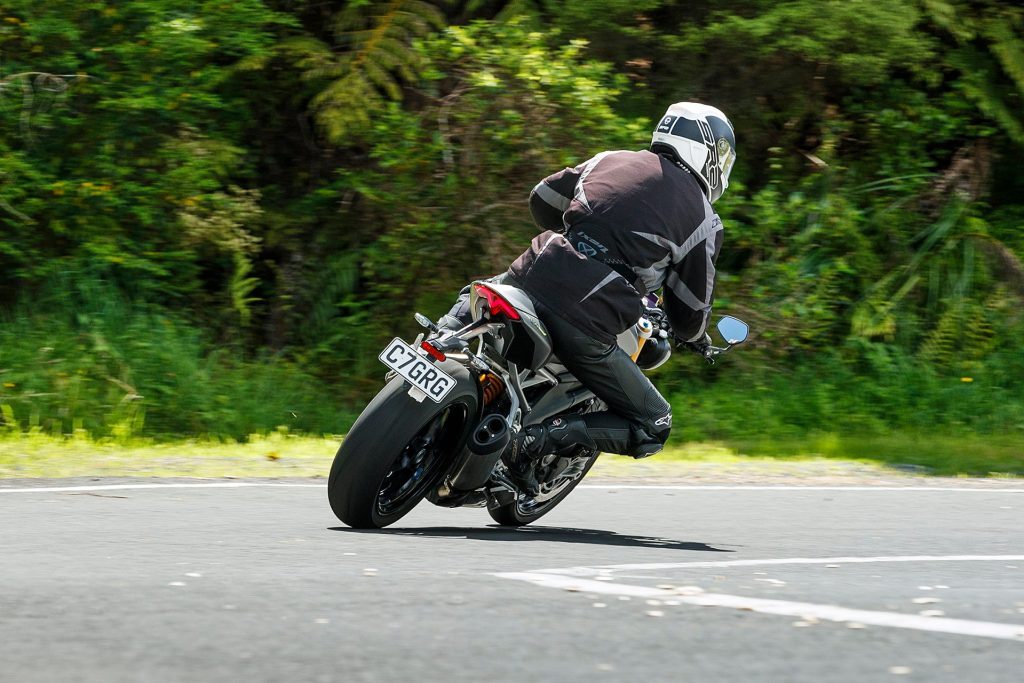 There's always a but
Being a streetfighter there's not much of a reach to the bars so it's easy going on wrists and neck at 100km/h and there's only a small amount of vibration too. Mirrors are bar-end jobbies and work well. The look is good too, though I'm still no great fan of the Dame Edna headlights. But styling is modern, suitably brutal, and rather stealthy in grey with the yellow pinstriping. Black's available too.
We like the keyless ignition and simple steering lock. All is not wine and roses of course. Messing within the rider mode isn't altogether intuitive. And while we've often been wowed by the look and feel of Ohlins suspension and impressed by how well the bike shrugs off bumps and undulations midcorner, ride quality takes a bit of a back seat, though it's not by any means unyielding. However, softening off damper settings doesn't help much.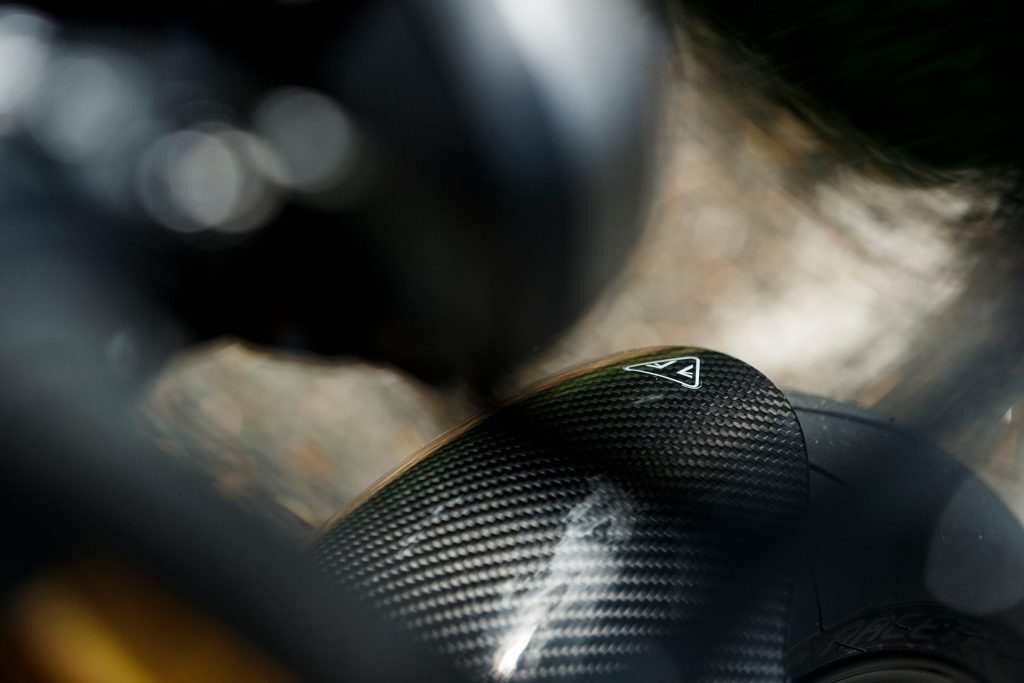 So in essence this feels more track than road ready. While the new seat is beautifully yielding and comfortable initially, with the slightly elevated pegs I found myself wriggling around after about half an hour or so. These are minor gripes, and likely personal ones. As always, YMMV.
Best Speed Triple yet? Probably, but with extra pace comes a harder edge and previous iterations were known for being cushy. There's also the bottom line to contend with; this is supposedly a lone offering now and you'll get no change from $30k, especially after ordering a flyscreen and engine crash bungs. But then, the Euro competition that it can now go toe to toe with – Aprilia Tuono, Ducati Streetfighter, BMW S 1000 R and KTM 1290 Super Duke – cost this or more. So Triumph cannot be dissatisfied with that. And Speed Triple fans will like the fact that it's no longer the runt of the litter.
| | |
| --- | --- |
| Model | Triumph Speed Triple RS 1200 |
| Price | $29,990 |
| Engine | 1160cc, liquid-cooled, fuel injected, IL3 |
| Power | 132kW/125Nm |
| Transmission | 6-speed, belt final drive |
| 0-100km/h | 3.27sec |
| 80-120km/h | 1.37sec |
| Weight | 198kg |