Triumph has updated its traditionally styled Bonneville T100 range for 2020 with extra engine grunt, reduced fuel use, and chassis changes that add comfort. Has it worked?
Along with the introduction of the Speed Twin, unquestionably the best Bonnie ever and sold out months ahead, Triumph has spruced up the rest of the range. It's the T100 we're riding here, a bike we've not checked out before. Think of this as a more iconic version of the Street Twin. In other words, the same underlying mechanicals but with a more traditional straight out-of-the-50s style than the funkier Street Twin which is meant to appeal to younger buyers.
So you get more chrome flourishes and polished aluminium on the T100. These can sparkle alarmingly as you ride it with the sun behind you, making it kind of hard to read the twin analogue gauges at times. There's nothing so crude and modern as a digital speed readout either, but it really doesn't matter because most of the time this settles into natural canter at around 100km/h, give or take. At this point you're using up less than half of potential engine speed, with just 3400rpm showing.
And on that, this is the high torque 900cc parallel twin engine which supposedly outputs 22 per cent more fire power in the midrange, and 18 per cent extra torque, a stout 80Nm available from 3250rpm, corresponding to just under 100 in fifth.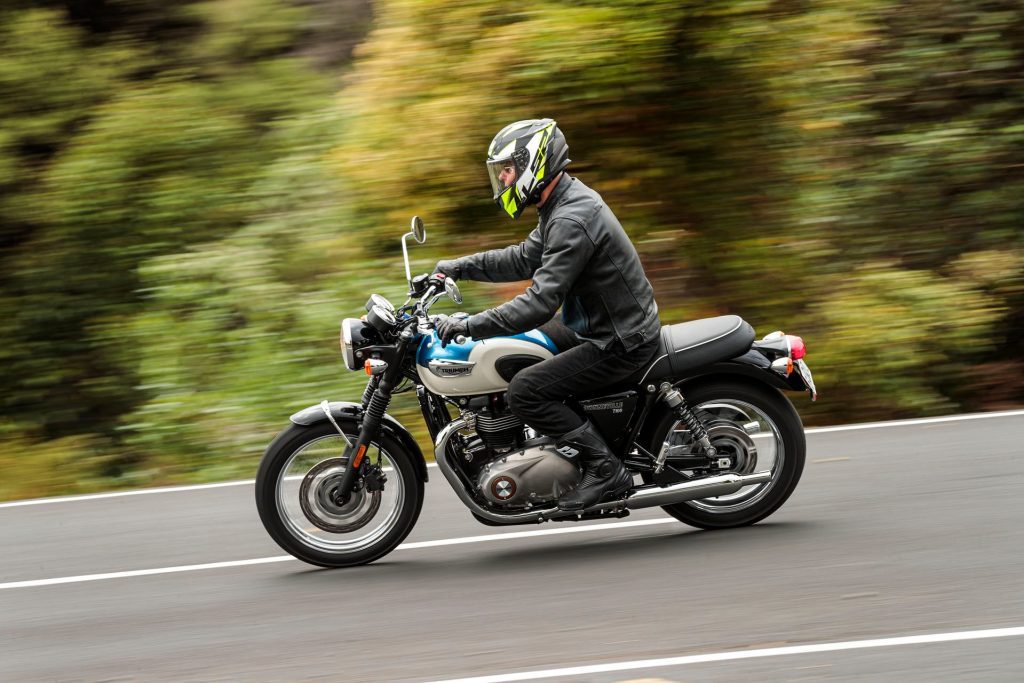 Er, yeah, that's right, just the five gears like the Street Twin. Does it need more? Actually, no, not really. We never felt one gear short of a half dozen when riding this, such is the torque available across a broad spread of revs. Less shiftin' means more cruisin', what ho? Rather.
For 2019 there's also said to be better fuel economy with an overall figure of 3.8L/100km. We often saw instantaneous fuel use of around 3.0L/100km on flat sections of motorway when keeping pace with the traffic. While drafting a semi, the figure was under 2.0L/100km at times. Not that we recommend doing this (both drafting, and paying more attention to the dials than the traffic ahead), just relating the figure in the interest of science.
The point is this middleweight uses sod all fuel for a moderately big twin. You can expect around 300km per tank on this; our indicated average fluctuated between 4.1 and 4.4L/100km, riding it as an owner might.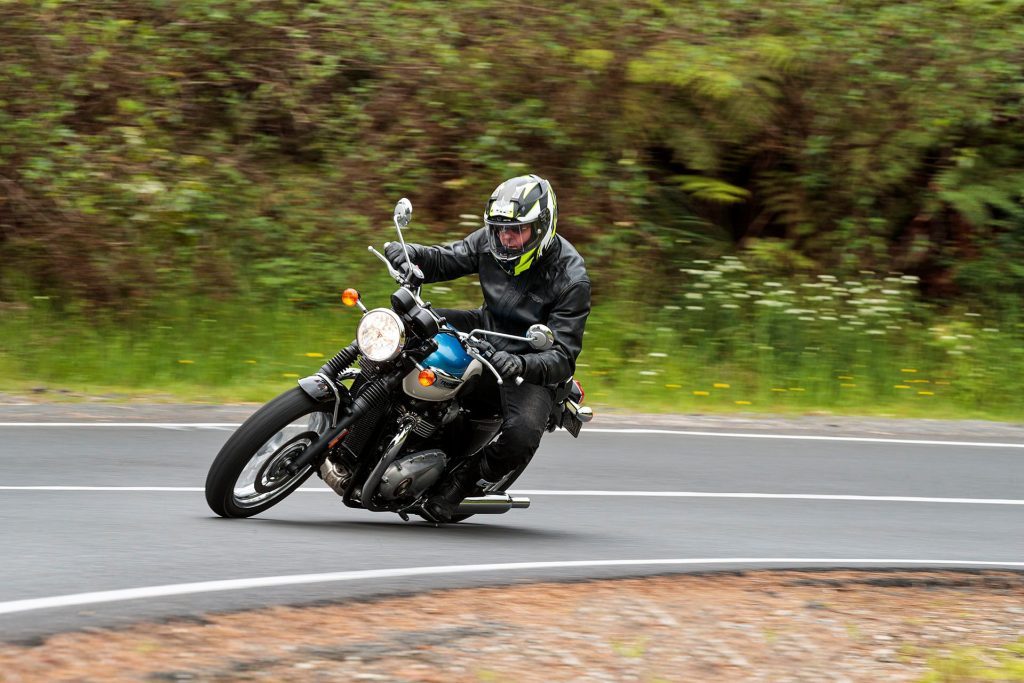 Crikey but this is a relaxed thing. It's set up for stability first and foremost, at which it is almost unflappable, but not to the point where it doesn't want to get down and cooperate when the rider demands a change of direction. It's just that it doesn't twist and turn like a sports bike, but it's happy to try to keep pace with such. And however far you happen to lean it, the T100 maintains that line in steadfast manner.
We ran it for half a day without touching down on either side, though the rubber was fairly new, like the bike, and we were taking things a bit easy. Later on in tighter going it did scrape the peg feelers, but you generally have to be trying to get it to do that in 100kay sweepers.
So it's a little different from the general American style cruisers. One of the ways that's most noticeable is in the riding position – this isn't classic feet forward, low riding – but more in the style of a typical naked roadster, ie, quite neutral. You're sitting higher at 790mm, with foot pegs set slightly rearward, meaning you can load them up in corners, and handlebars set where arms might fall naturally onto the grips. It's all well thought out for comfort over long stretches on the go, despite there being no weather protection whatsoever. But you can hunker down some through corners for a touch of sport riding, if you want. This is quite up for it, especially with decent standard rubber, retro styled of course; they're rather like the old Pirelli Phantoms. And these are in fact Phantom Sportcomps, on beautiful wire spoke rims.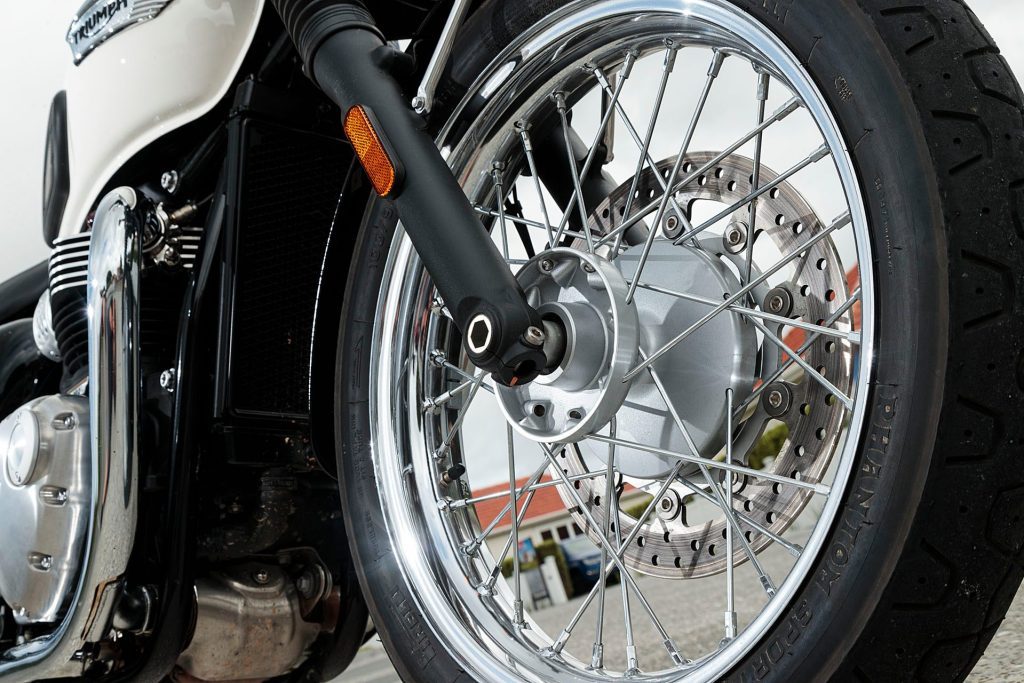 So back to the engine, and does it deliver? If you're after a mix of easy-going fuel efficient pleasant sounding performance, then it sure does. We've not speed tested a T100 before but in 2016 ran the numbers for the Street Twin, and while this is around 20kg heavier, the figures virtually overlaid those of its close relative. Just a hair over 5sec for the sprint and virtually the same 3.95sec time for the overtake. It's not really acceleration that is the standout feature of this sohc engine though, rather it's the ease with which it gets along without being pummelled, and its lack of annoying vibes. Round town it is happy to trundle along in top at 50km/h, and will pull away from as low as 1500rpm without having a tantrum. That means you can upshift early through the gears on the way to work happily, just taking things easy, making the most of its revised five-speed, easy shifting transmission.
Revs below 3000 in town are plenty, while things perk up further once you exceed that. Running between 3000 and 4000rpm is fine for perfect day rural duties. At 100 where the revs are hovering just below 3500, there's scarcely any vibration anywhere, and even at higher engine speeds tingles never really intervene until you're right up the throttle. That's a by-wire unit too, so there's TC present – you can switch this out with the ignition on – but no engine modes. And they're surplus to needs here anyway.
It stops surprisingly well should the need arise, thanks in part to a rearward weight bias which means there's a meaningful contribution from the back brake, running a twin-piston caliper. That works well on its own too, always handy if you find yourself hairing into a turn a bit quickly and need to lose some speed while already beginning to lean over.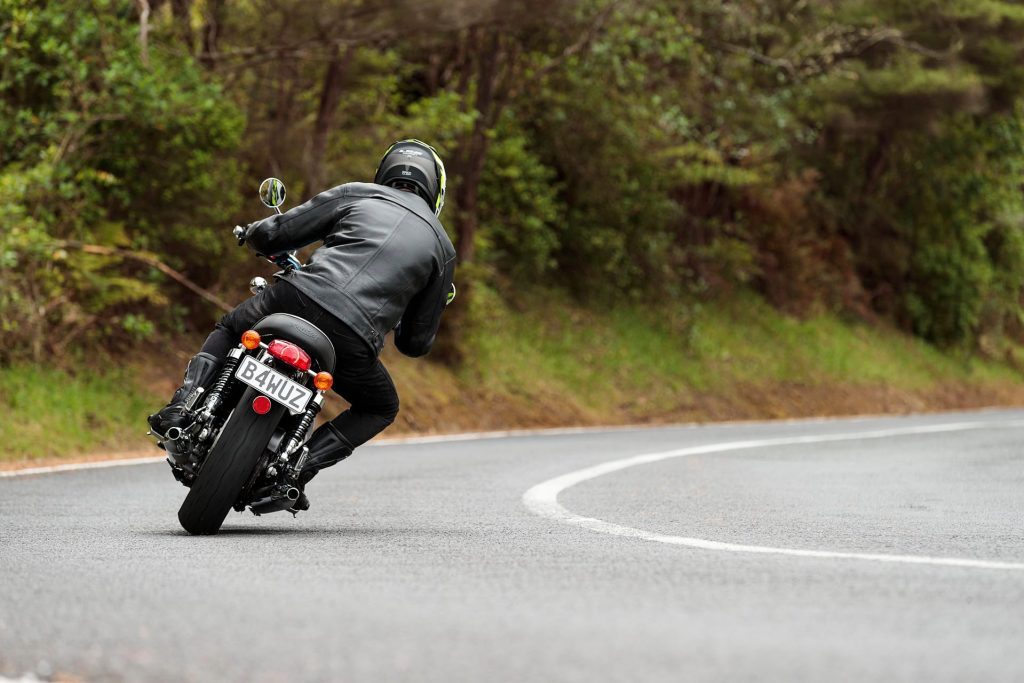 Despite the skinny 100 cross section front tyre, and the fitting of a single disc, this drew to a halt from 100 in under 39m, an improvement on the Speed Twin's 40.3m from 2016. Triumph said they'd uprated the single floating caliper up front and we'd say that's true. I recall the Speed Twin requiring more of a haul on the lever and this seemed less needy. In tandem with the solid contribution from the rear wheel, it really does slow well when requested. We liked that the handspan is adjustable too, useful when you've not got the mitts of a pianist.
What about comfort? It's rare to find traditional paired springs that work as well as a monoshock, but these have a velvet touch and in concert with a plush seat thanks to extra foam, and that oh-so natural riding position, you get the most civilised of rides here.
And perhaps the final noteworthy aspect of the T100 is that even on close inspection it looks the part. All the bits and bobs are well considered, beautifully rendered. Even the old-school instruments which are actually LCDs are done well, all that shiny chrome aside, with an 'i' for info scroll button. Everything is there too, right down to instantaneous fuel use, distance to empty.
And that's the thing about the T100; it's polished. The people who conceived of this clearly have a love of bikes. There's almost nothing about it that doesn't function as intended. If you've had enough of life in the fast lane and just want something back to basics, literally, and done in reference fashion, this T100 be it. And if you're after something modern classic with more of an emphasis on modern, the Street Twin costs much the same but is lighter and has 10hp more.
| | | | |
| --- | --- | --- | --- |
| Model | Triumph Bonneville T100 | Price | $16,990 |
| Engine | 900cc, liquid cooled, fuel injected, IL2, 41kW/80Nm | Drivetrain | 5-speed, chain final drive |
| 0-100km/h | 5.29sec | 100-0km/h | 38.56m |
| 80-120km/h | 3.95sec (113.7m) | Weight | 230kg |