Triumph is the latest to roll out something a bit left field in its Bobber. Just like Ducati laid claim to the streetfighter title, now Triumph has decided to take ownership of the bobber tag.
The concept of buying an old sports bike and turning it into a streetfighter is probably within the ken of any motorcycle enthusiast. Just rip all the superfluous bits off and replace the others with blingy aftermarket items. It's not rocket science, and there's a sense of achievement without breaking the bank. But try turning a standard bike into a bobber and chances are you're quickly in over your head.
Moreover, the expense will likely be more than you'd budgeted. Plus you've no guarantee of success, and it may take forever. That's why existing motorcycle companies are doing all the hard R&D yards for you, producing all sorts of retro-inspired stuff, and then adding catalogues of aftermarket items that allow you to personalise to your heart's content and wallet's extent. Take, for example, Yamaha with its XSRs. A mate who rides R1s just turned around and bought a Yamaha XSR700, a LAMS bike for heaven's sake. Why? Because he liked the look of it. Bike purchases are often heart over head. And he knew that he could derestrict it back to around 65hp, making it quick enough.
Moreover, with a few suspension tweaks he ends up with retro stunter that looks and handles great, won't land him in the slammer, and didn't cost the earth. Other bike makers have hit upon the same formula, and Triumph is the latest to roll out something a bit left field in its Bobber. Just like Ducati laid claim to the Streetfighter title, now Triumph has decided to take ownership of the Bobber tag. Bobber is what? Originally, almost a century ago, it related to a 'bob-job', which was another term for a 'cut-down', meaning stripping excess bodywork, right down to fenders – the rear was shortened or 'bob-tailed' – all to make the machine lighter and quicker. A cut-down often involved modifying the chassis, lowering the rear subframe and seat so there was one long sweeping line from the steering head to the swingarm.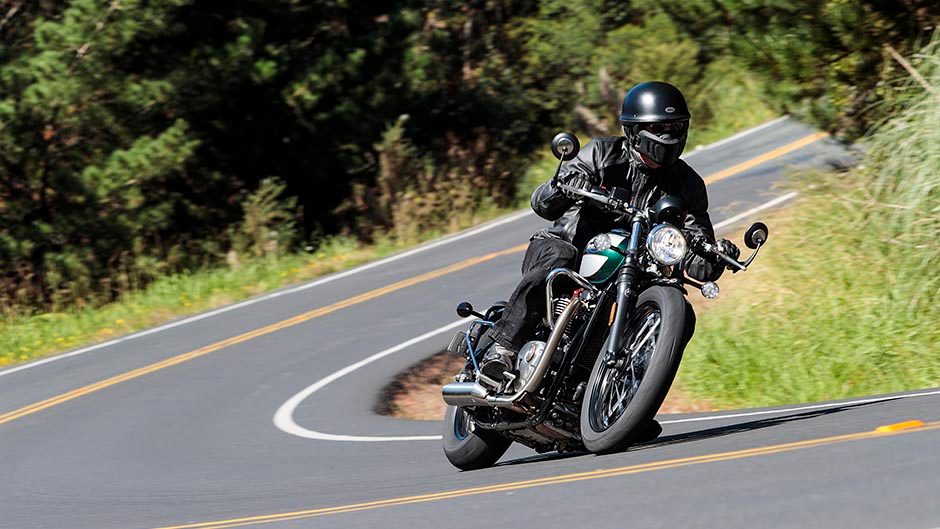 In the 30s, the AMA introduced a new racing class involving bikes like these, so road-based derivatives became popular, and the bobber class was born. Back then and right into the fifties and sixties, bobbers were handbuilt but that changed over time. Triumph's 2017 Bobber looks like it might have been produced back in the sixties, as it's based on the latest Bonneville T120, itself a retro machine.
But apparently every aspect is different. It even has its own frame, though the front half of the bike still resembles the T120. However, there's only a single disc and the forks wear gaiters, and there's a different main instrument and smaller headlight and tank. Otherwise, they're identical. Things get way dissimilar at the rear though, where there's a gorgeous bespoke single seat that could have easily been borrowed from a 30s or 40s bike, only it sits on an adjustable aluminium pan, secured by torx fixings and they didn't happen along until 1967.
Moreover, the seat sits on a 'swing cage swingarm' mounted to a monoshock absorber mainly hidden from view. The engineer responsible reckons it "gives the hardtail look but with suspension that is comfortable and gives good wheel control, offering 76mm of travel". The idea behind the adjustable seat is that it slides backwards or forwards, ideal for cruising with the seat back but you tend to ride in more spirited fashion with it forward, so the choice is yours.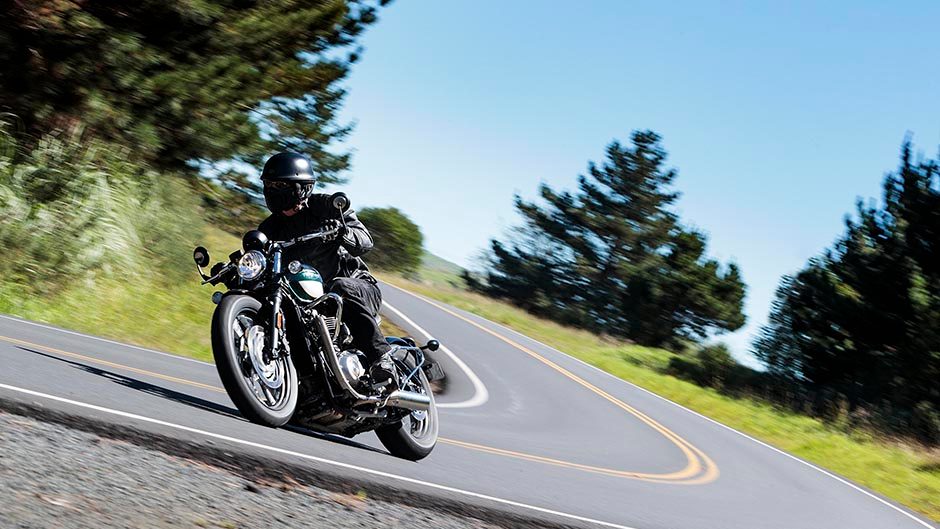 Travel is limited to 50mm. The 1200cc engine is similar to that of the T120, high torque, but with its own airbox and intake tract it produces slightly more grunt, 106Nm at 4000rpm, and will lug lower, right down to 1500rpm. Peak power of 57kW also arrives early at 6100rpm, but it's well onto it by 4500rpm. There's really not much point heading beyond about 5500rpm unless you're chasing numbers, and it's all over by 6500rpm anyway.
This bike is awful purty. Everyone wants to know about it. Got no friends? You'll be more popular with a Bobber, not that there's seating for pals; it's a solo mount only. That seat is a bit thin and while it's okay at town speeds and ride quality is passable on smooth surfaces the short sharp shocks you do notice at highway speeds. Lack of padding aside, the riding position is wizard for a cruiser, the pegs and flat bars positioned with just a slight forward bias. Kick 'er in the guts, figuratively speaking, and the almost unbaffled pipes speak with a lilt few will dislike. At times there's almost the sound of a flat-four, but mostly it's a characteristic parallel twin bark, not too loud or underdone. The slash-cut pipes are sweet looking too. Our machine had optional leather panniers, not that sizeable but easily removed. I prefer the pared-to-the-bone look.
As mentioned, this is the T120 motor, but beefed up for basement torque. Of which there's plenty, though there needs to be as it runs moonshot gearing. Come 100km/h it's waffling along at 2600rpm, so fuel use on the open road in the mid-fours is possible. We saw 4.7 after a stint that included performance testing.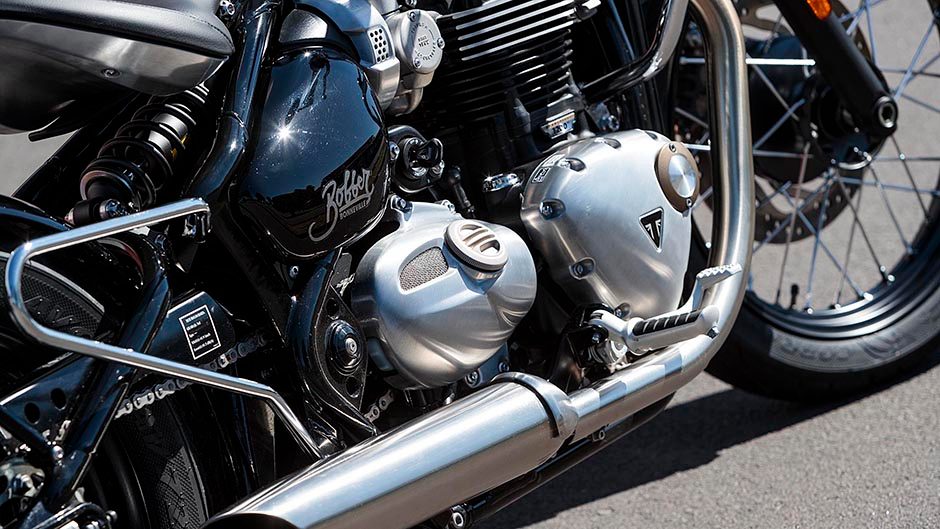 Because it runs such tall gearing it isn't quite as quick as Thruxton R, but nor is it backward in coming forwards, hitting 100 in 4.4sec, only 0.4sec behind the cafe racer. And it's the same for an overtake, down a gear or two and you're on the wrong side of the road for only 76m. We're not sure why but upshifts on the Bobber seem smoother than those of Thruxton, and they share the same gearbox. Perhaps it's because you're hooking the next gear at around 2000rpm in town, 3000 or so out in the boonies.
We really liked how this felt in our launch ride around town; it seemed to change direction in playful manner, thanks to the skinny front 19-inch wheel and the wide-set drag bars. Out in cow country its handling is a delight, but then it's a Triumph and that's a given. These guys are chassis maestros. With a raked out front end, it shouts stability holding a line beautifully, even with the pegs grinding away. And with a rear tyre that's not overly wide, and decent bar leverage, it drops into turns happily as well. The limiting factor is ground clearance in tighter going. Helping make this a delight is a kerb weight of just 250kg. And that makes moving it around a bit of a doddle, especially as you're not on tippy toes and the C of G is low.
Is this the ultimate cruiser then? Probably not, the ride precluding that. And some might not come to grips with its brakes either. A single disc up front is a much better look than a pair, and it keeps unsprung weight to a minimum but in a panic stop mauling the brake lever doesn't have that much effect. If you need to stop in a hurry you have to also stand on the brake pedal.
Do that and it pulls up from 100km/h in 3m less distance than the Thruxton. The other issue is its 9L fuel tank, but we managed 170km easily from brimmed and by that time your bum will be wanting a break anyhow. The Bobber is my fave from the new Bonneville family. It looks fantastic, does the important things well, and can be customised further if you want. Good luck securing one though; the first shipment of 25 sold out just like that.
| | | | |
| --- | --- | --- | --- |
| Model | Triumph Bobber | Price | $20,990 |
| Engine | 1200cc, liquid-cooled, fuel injected, IL2, 57kW/106Nm | Drivetrain | 6-speed, chain final drive |
| 0-100km/h | 4.06sec | 100-0km/h | 37.16m |
| 80-120km/h | 2.66sec (76.6m) | Weight | 252kg |