The old Peugeot lion has been a bit sleepy on the SUV front, but a new 3008 arrives soon that should hit the mark. Is this a turning point for the brand here?
To say the folks at Peugeot are excited about the arrival of the new 3008 is an understatement. Fizzing at the bung more like, and struggling to keep it corked. Can you blame them? In a market obsessed with everything SUV, Peugeot hasn't had much to roar about. The first 3008 was a Eurocentric MPV crossover that lit few fuses while the experiment with the 4008 was a failure. Brand loyalists weren't going to buy Japanese, while others went and bought the always-on-sale Mitsubishi counterpart instead. However the new 3008 arrives soon, and while the official launch is still a few months away, a handful of vehicles has landed to help dealers woo customers. We managed some seat time in the top-spec GT.
There are a few things we can tell you about the 3008 but the price isn't one of them, Peugeot keeping cool until closer to its launch proper in July. What they did say was that it will start under $40k, like most of the competition, and there'll be a three-pronged model range.
It will arrive with strong credentials too, recently picking up the 2017 European Car of the Year award, becoming the first SUV to do so. It's based on Peugeot's new platform architecture and, while the engine technology is familiar, it's at least competitive and is matched with the right transmission. So often a PSA brand has turned up here with a promising model, only for it to be lumped with some weirdo transmission. But with the 3008, Peugeot is finally looking further afield than just the European market, this being a well conceived SUV. Actually, it's more of a crossover if we're being picky, a five-door wagon with a high hip line and raised ride height. Don't expect AWD however. Peugeot's Grip Control traction system, which helps improve progress on low grip surfaces, will be a feature of the mid-level car but it's not on the GT, which gets a safety pack instead, and we know which will be more useful. A hybrid version will come, using the same set-up we first saw on the old 3008 with electric drive added to the rear axle, and that will be the only AWD offering.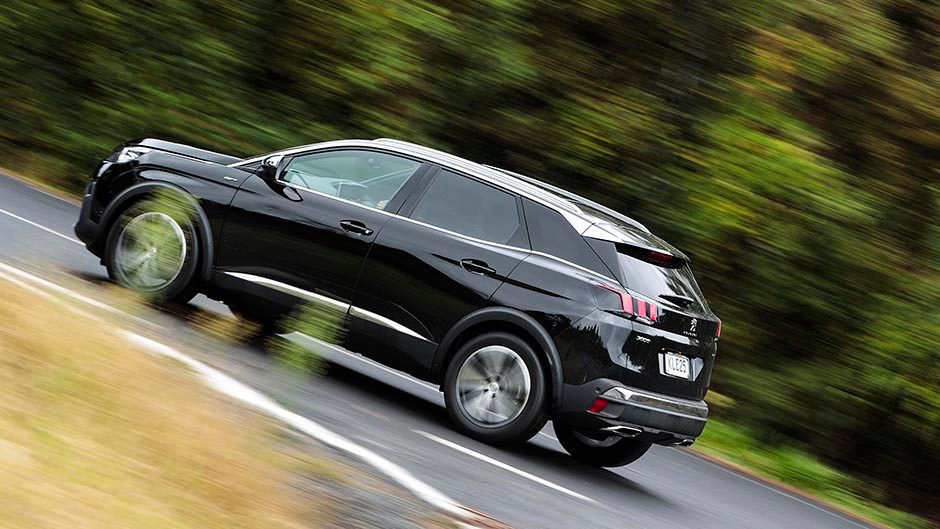 The 3008 is a right charmer on first encounter. It has genuine presence for a mass-market SUV, the lavish chrome treatments working cohesively to lend it both elegance and menace. Inside, the charm offensive continues with the new i-Cockpit design, everything wrapping around the driver. And it comes complete with a level of finishing one doesn't normally expect to see from Peugeot. The 3008 reminds of a DS, but one where everything is logically laid out, rather than sprayed about for effect. Peugeot's squished donut steering wheel is even smaller here, set below a 12-inch HD screen which replaces the usual dials. Like Audi's virtual cockpit, this is configurable with all sorts of displays and features, even 3D mapping data, though rather than being optional it will be standard across the range. The GT gains more high-end features which include real wood dash inlays that wouldn't look out of place in a C-Class, ambient lighting, contrast stitching, an air fragrancer, and driver profiles to set everything to your liking. There's probably an hours worth of fiddling to set everything just so, including the type of massage the seat will administer – we liked cat paw which seemed appropriate in the Peugeot.
The eight-inch touchscreen infotainment system is perched high for easy use and responds quickly, controlling everything from safety systems to ventilation, media and the sat nav. The operation is remarkably straightforward, not always a given with French systems, the standard bluetooth working as you'd hope, displaying texts easily, or you can plug in your phone, whatever brand you have. The GT gets an iQ charging pad at the base of the console but don't put the proximity key there as it doesn't seem to like that. Even though the glovebox is all but useless (full of the fuse box for right hand drive cars), there's enough other storage about the place with a big centre bin, useful cup holders, and even the door pockets are lined. It's almost like a Volkswagen interior, only not so boring. With all the new switchgear added Peugeot still manages to use the cruise remote they've had for decades, but that seems to work well enough, even with the addition of active cruise.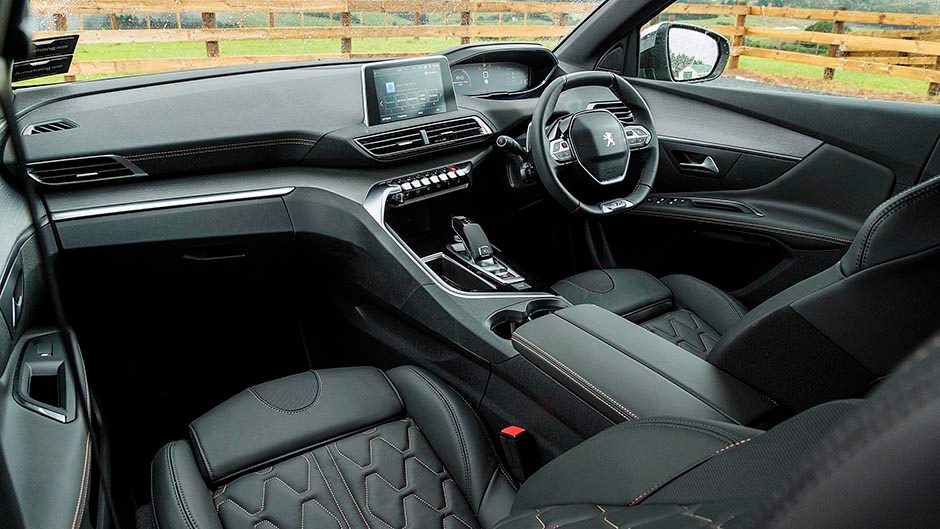 In the back you'll find a comfortable seat with sufficient rather than generous space while the boot area holds 520L. The floor can be set lower for taller items, or raised to ensure a flatish load bay when the seats are folded, which is easily achieved via boot-mounted levers.
The tailgate on the GT offers hands-free opening, and when fully extended tops out at over 2m, so be wary in lower garages. So, practical as ever to fit the SUV remit, though this GT will only tow a braked maximum of 1640kg if that's a consideration, and there's just a tyre repair kit too, all of which reinforce the 3008's urban pretentions.
The GT is a diesel-only offering, with the same powertrain as used by the 308 GT, that being a sporty 133kW/400Nm 2.0-litre turbodiesel. Cleaning up its act are both a particulate filter and Adblue SCR system to bring it up to Euro6 emissions standards. There's a six-speed auto too, though the torque flows to the front wheels only. Lesser models will use the familiar 1.6-litre turbopetrol or turbodiesel engine.
How do the front wheels handle such pull in the GT? Reasonably well actually, with torque steer kept to a minimum, as is excess wheel spin with the traction control system being well tuned. Slick conditions do cause it more concern but even so the 3008 wasn't too far off its claimed 0-100 time of 8.9sec on a wet track. The GT is not especially quick but the diesel torque lends it an easy demeanour. There's little lag away from the mark, and as long as the transmission has sorted itself properly, the response is crisp and the midrange sufficiently meaty. Peugeot claims 4.8L/100km as an average, but the real world figure is close to double that.
As one would expect from the brand, the 3008's general progress is accomplished; you wouldn't suspect it used a torsion beam rear end, the suspension working away quietly to sort the bumps and keep the flow smooth. The steering is light on weight, which is helpful in the traffic but more heft would be welcome further afield. It can be quite quick to turn in but also needs the occasional adjustment in the bends, and at times you wonder whether a bigger wheel would help manage the steering better. There's only ever a hint of feel through corners but it's enough to allow you to point the 3008 around faithfully otherwise. There's decent resistance to understeer and it doesn't feel quite as front heavy as the weight split suggests. The GT is not a lightweight but neither does it feel lardy and the 1.6 turbopetrol will likely feel even more nimble. Sport mode enlivens the drivetrain, the auto more responsive and better at holding gears, the engine perkier and there's even a gruff augmented note added to the experience.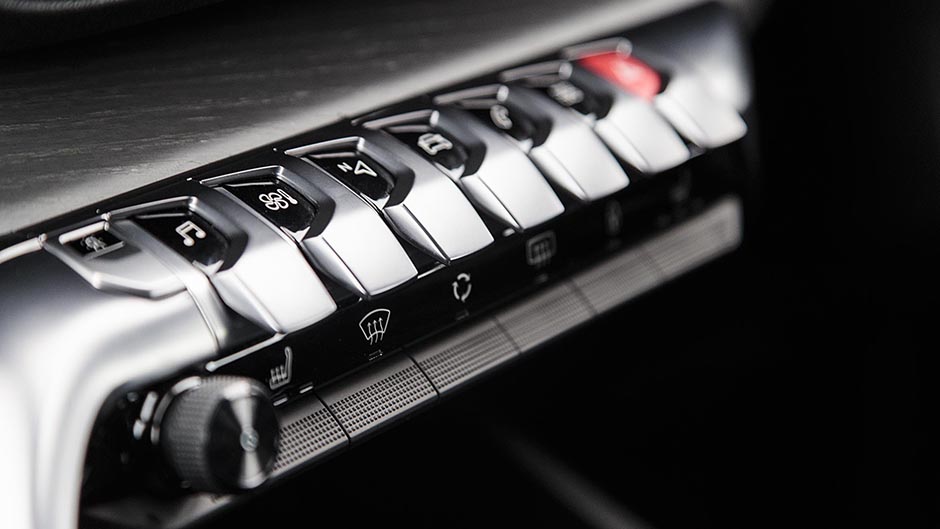 While the full 12-inch colour display panel will be a feature of all models, the active cruise and AEB are for the GT only, though auto high beam, lane departure and blind spot monitoring will feature on mid-levels models. The active lane keeping function prevents you from straying on motorways, and allows for longer spurts of hands-free driving than other such systems before reminding you to grip the wheel. And you'll quickly remember to use your indicators when changing lanes as it tries to pull you back into your lane if you don't. You can turn it all off if you refuse to let the car tell you how to drive. There's a parking assistant to help squeeze you into a space, and front and rear cameras which Peugeot describes as a 360-degree camera system but it's not. The screen resolution needs to be better so you can more clearly see what you're about to hit. There is an idle- stop system too but it's best deactivated upon start-up as it's overly keen, even killing the engine when you're inching slowly into a parking space.
While not revealing the price, you'd guess Peugeot would want to be in the thick of the market with its entry, mid-spec and top-line models hitting the same mark as the mainstream competitors. As mentioned, full pricing and specification will be revealed closer to its arrival in July.
We're suitably impressed with what the 3008 has to offer, at least in GT spec, which has a level of class about it to take on the VW Tiguan. But let's hope it doesn't come lumped with the Tiguan's hefty premium. A pricing strategy something more in line with that of the Mazda CX-5 would give Peugeot a real shot in this tough segment, and something to roar about, finally.
| | | | |
| --- | --- | --- | --- |
| Model | Peugeot 3008 GT | Price | TBA |
| Engine | 1997cc, IL4, TDI, 133kW/400Nm | Drivetrain | 6-speed auto, front-wheel drive |
| Fuel Use | 5.5L/100km | C02 Output | 124g/km |
| 0-100km/h | 9.30sec | Weight | 1634kg |