While it appears those keen for Toyota's plug-in hybrid version of the RAV4 will have to continue to wait, there's good news on the horizon for those keen on the marque's standard RAV4 hybrid.
The firm's local arm has announced that two new RAV4 hybrids are set to be added to the line-up in 2022; an electrified version of the ruggedly styled Adventure, and a new trim that sits between the GXL and the Limited, called the XSE.
Both models make use of the now very familiar 2.5-litre four cylinder hybrid powertrain, producing 131kW of power and 221Nm of torque. Both new variants are all-wheel drive exclusive. And they're priced at $52,990 (XSE) and $56,990 (Adventure), respectively, including on-road costs.
Regular readers will be familiar with the Adventure's specific trim elements. It gets its own bespoke front bumper, designed to be a bit more rough and tumble looking, as well as a revised all-wheel drive system that adds hill descent and 'Dynamic Torque Vectoring'.
It's also the only model offered only in all-wheel drive (apart from the XSE, I suppose). For 2022, the Adventure also gets new 19-inch wheels and a digital rear-view mirror.
The XSE also looks a little different relative to other RAV4 models. Its exterior gets a lick of gloss black finishing on its grille, wheel arches, and lower bumpers, giving it a more premium look relative to the GXL and GX.
Inside it features faux-leather upholstery with blue highlights, a black headliner, and bucket-style seats up front (the driver's seat is electronically adjustable) which are heated as standard.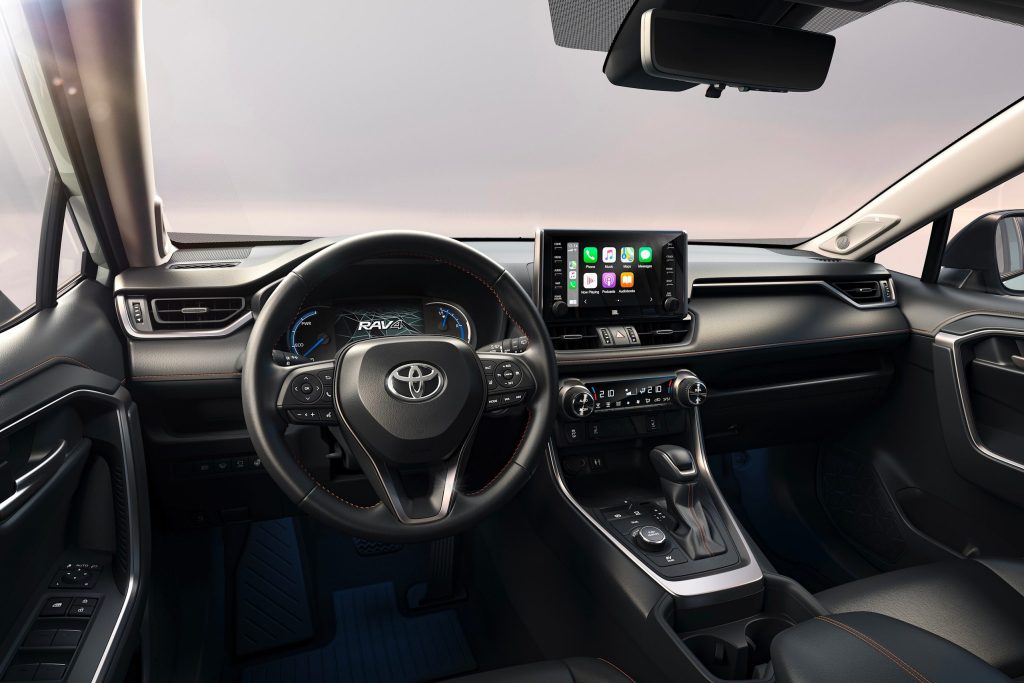 As with the existing RAV4 line-up, all models get a comprehensive safety suite as standard, featuring adaptive cruise control, lane tracing, autonomous emergency braking with pedestrian detection, and more.
"While the RAV4 has been a popular vehicle for families and fleet buyers, the latest model is the best yet," says Steve Prangnell, Toyota New Zealand General Manager of New Vehicles and Product Planning.
"Adding the benefits of an electrified Hybrid powertrain to RAV4's unrivalled exterior and interior packaging has catapulted new RAV4 to the forefront of the SUV segment. It's hard to find a more versatile vehicle."
The new models could be a remedy to lengthy waiting periods for New Zealand RAV4 hybrid customers. Toyota New Zealand notes that a staggering 16,814 RAV4s have been sold locally since the current model's successful 2019 launch.
Keen to add more plug-in electric vehicles to its line-up, a Toyota New Zealand spokesperson told NZ Autocar last September that the brand is still trying to secure the RAV4 PHEV for future sale. It appears this is still a work in progress.
Nevertheless, the brand is keen to underline the RAV4 hybrid line-up's environmental chops, referencing frequently that its powertrain is "hybrid electric" in the model's press release, while adding that hybrids continue to be relevant in the transition away from fossil fuel vehicles.
"Toyota hybrid electric vehicles offer carbon reductions of approximately 30% on their petrol counterparts and maintain the best of both worlds – lower emissions with no concerns about charging and range anxiety," says the release.
"Toyota believes hybrid electric vehicles (HEVs) continue to play a key role in the transition period for consumers as we move towards a low carbon future."