Celebrating 30 years of RAV4, the fifth generation is more everything; dynamic, frugal, fancy, and with good safety creds across the board. With drive-away pricing it's more competitive than ever.
For the fifth iteration of Toyota's compact RAV4 SUV, the catch phrase is 'responsibility', though not without a sense of fun. Based on the firm's new TNGA vehicle platform, all eight RAV4 models will get the full Toyota Safety Sense package that includes items like all-speed active cruise control, AEB with pedestrian and cycle detection, lane departure alert and lane centring function, automatic switching between low and high beam, and road sign assist. Just like Corolla then.
Other bits and bobs to feature on all grades include seven airbags, parking sensors, blind spot monitoring, sat nav, alloys, RCTA and idle stop. Top models get glamour bits like a panoramic sunroof, Qi charger, 360-degree camera and heated and vented power-operated seats. While safety is a top priority, Toyota has long been at the forefront of lowering vehicle emissions and today is the leading seller of hybrids, accounting for 80 per cent such sales globally.
The diesel RAV4, which didn't sell that well here, has gone and in its place a trio of self-charging hybrids (which are less expensive to boot). A 2.5L four-cylinder engine is mated with two electric motors, one on the rear axle.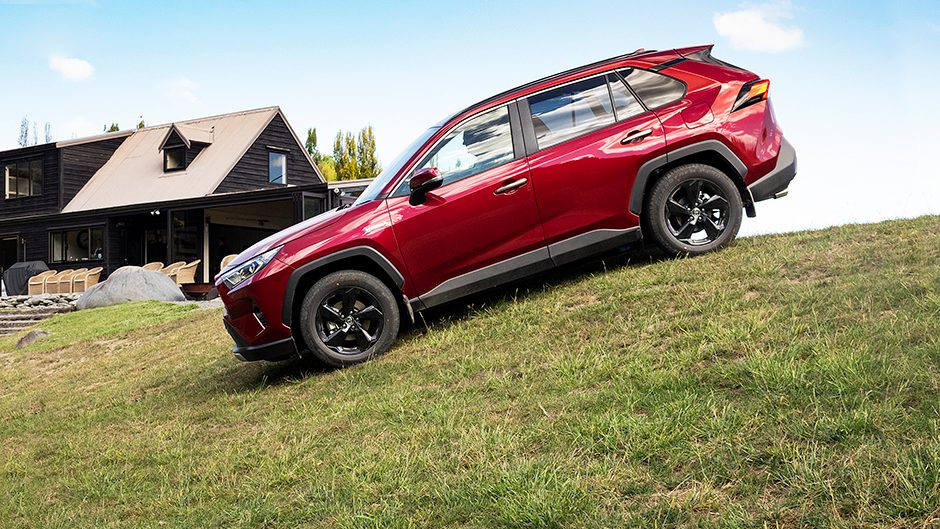 All three of the hybrid models are not only the most powerful and quickest in the line-up but also the most fuel efficient (4.8L/100km combined). It's noteworthy that despite the extra parts and complexity, there's virtually no price disparity between the like-speced 2.5 petrol-engined RAV4s and the hybrids. What Toyota is saying, essentially, is that there is no reason not to buy the hybrid version over the 2.5.
They'd rather you did because of lower emissions, (CO2 of 112 vs 158g/km), and they believe, and are budgeting on, at least 50 per cent of all RAV4 sales being hybrids. After driving the pair back to back, we'd suggest you should too because the hybrid not only feels a stronger, more relaxed and frugal drive but at the top of the range, it's also less expensive by $1000. So it has extremely limited EV range, like most of Toyota's hybrids, but you'll feel better and more responsible driving it.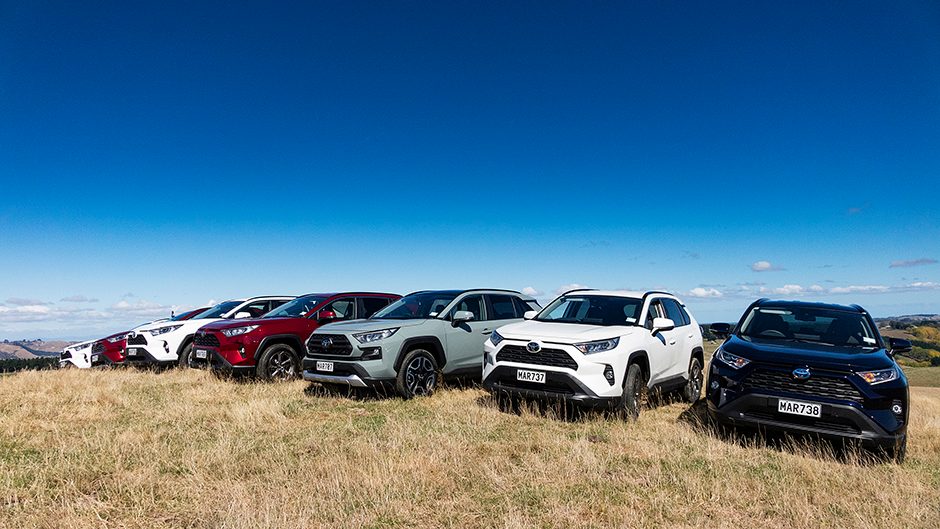 Three power trains and all are decent
As to how they go, the 2.5-litre inline four makes 152kW and 243Nm and gets along just fine, with a Sport mode via pushbutton and also a sport transmission setting. We left the former 'on' most of the time. But you'd get better fuel figures with it off as it tends to hold lower gears. On that, the 2.5 four is mated to a new eight-speed automatic, while the others use CVTs. On highways, 100 is an easy and quiet 1600rpm.
Must say that the hybrid works pretty well and by the seat of the pants it feels quicker than the models with the lone 2.5 engine (official figures suggest 0-100 of 8.1 vs 8.5sec).
The hybrid uses a detuned version of the 2.5 petrol engine (131kW/221Nm) but with the added urge of electric motors up front and on the rear axle makes a system total of 164kW. No overall torque figure is given but it's for sure beefier, the way it gets up and jumps when rowed along. The regular 2.5-litre engine gets underway in earnest at about 3000-3500rpm and likes to hold the revs until the engine is singing a merry tune for best forward momentum (when it's also a bit noisy) but in general rural driving it goes well in that 3000-4500rpm midband.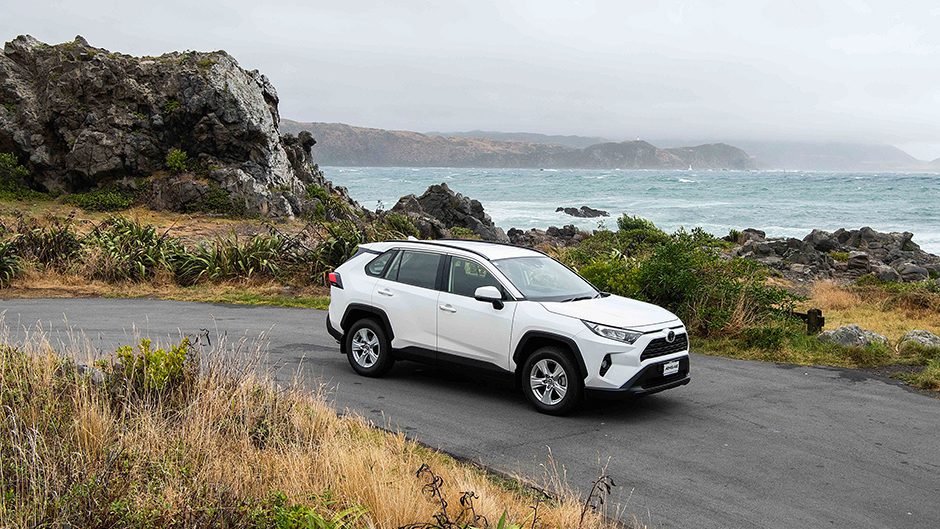 Road noise is muted in both, and so too wind noise thanks to improved aeros. There's also a trio of 2.0 entry-level RAV4s (127kW/207Nm), one of which, the base GX model, we got to drive, and for the 'Drive Happy' (think: Drive Away) price of $34,990 with all the safety items mentioned, it's a pretty decent gateway model into the new line-up. All three 2.0 variants are front drivers, so are urban oriented, while anything with a 2.5 motor, hybrid or not, is an on-demand AWD variant.
Being a two litre, it isn't quite as loud when revved out as the bigger 2.5 and, like all the new RAVs, it pulls nicely across the midrange, if not quite with turbo-esque torque. The 2.0 engine is mated to a CVT and we saw mean fuel use of 7L/100km on the rural drive (rated at 6.0L/100km overall). On that, the most potent was the most parsimonious, as expected. The hybrids used in the low sixes on the highway, but even the petrol 2.5s still managed an overall figure of 8L/100km.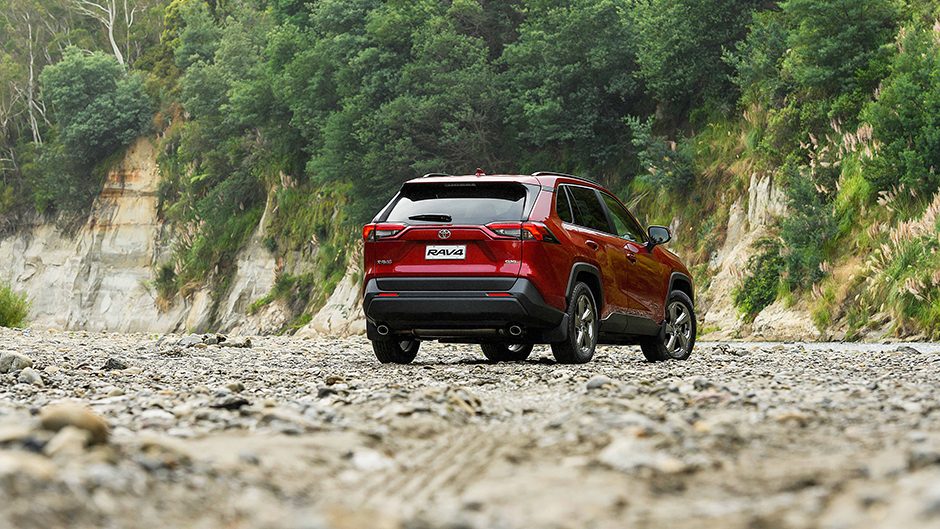 Sterner underpinnings
The TNGA platform has already proved worthy in Corolla and in new RAV4 it's also a peach, and a bit trick too. Stiffness is up by just under 60 per cent and there's a new double wishbone rear suspension set-up. The top 2.5 petrol offering, known as the RAV4 Adventure, also features a torque-vectoring rear differential, the only model to do so. It was this vehicle we drove down through the empty, exciting and challenging Parapara Rd from Raetihi towards Whanganui.
Try as we might, within reason, the front end remains steadfastly online thanks to the workings of the rear differential, aided by decent 235/55R19 Avid rubber from Yokohama. We liked the ride quality; firm but fair. Body roll is well contained while there's enough compliance over myriad surfaces for even progress. It's also a good steer and if you're agin high riders but need the space of something like this, with sound environmental and safety creds, and surprising agility, RAV4 ticks those boxes.
Adventure gets a unique look outside and in, along with sports seats in leather-like trim. A day earlier we kicked off with a bit of agrarian driving, on varied tracks of a 1600hectare farm in the Rangitikei area, and over dry grass paddocks. In reality, that's about as far off-road as RAV4 front-drive variants will venture anyway. But the other five AWD models will do better, the limiting factor likely to be ground clearance of 185-190mm. The petrol 2.5s get a 'Trail' button, along with "Mud and Sand" and "Rock and Dirt" settings.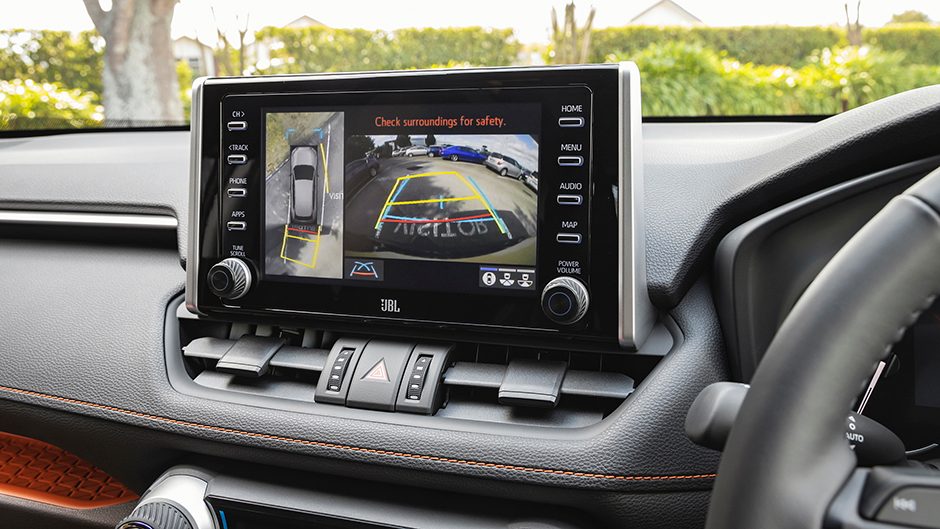 With the move to the TNGA architecture, there's also a lower centre of gravity which is not a bad trick all in all, given the 15-45mm rise in ground clearance. Over a couple of minor ascents from paddocks back on to raised tracks the electronic rear diff of the hybrid (torque vectoring by brake) kept the RAV4 gripping and moving and it handled the cross-farm cruise without putting a foot out of place.
And on capability, the hybrid variants have the same 1500kg maximum braked towing capacity as the 2.5 AWD petrol models.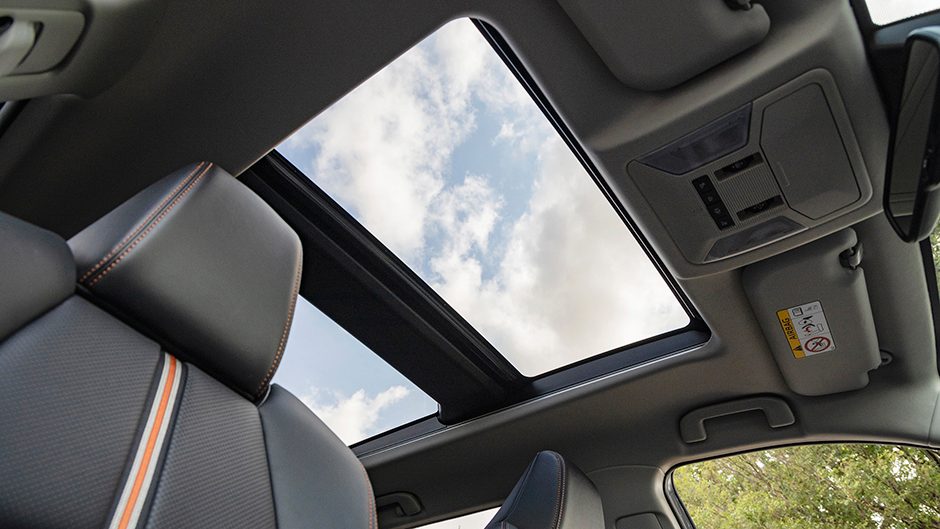 A more interesting look
In fifth generation guise, RAV4 has a rugged, aggressive look, with interesting character lines in profile, and a strong upright grille, with hints of RAVs from generations past. There's more muscle too, especially the top models with their added wheel arch cladding. A sizeable glasshouse ensures great visibility.
The interior is welcoming, and genuinely roomy for a midsize offering, especially legroom in the rear seats, at least equivalent to new Endura we're currently driving. Lots of footroom too, 49mm evidently. Despite all RAVs having a full spare there's huge amounts of luggage space, 542L for all models, thanks in part to a 30mm longer wheelbase (2690mm), and an added 10mm of width.
Downsides? Specification leaves most variants without lumbar adjust (only the top models get a lumbar pump) and so the seats felt a bit wanting in support for the lower back area. A 15mm lower hip point makes access easier, however, and adds headroom. Regarding fifth door opening, only the top versions getting powered assistance. But these are minor quibbles in the scheme of things.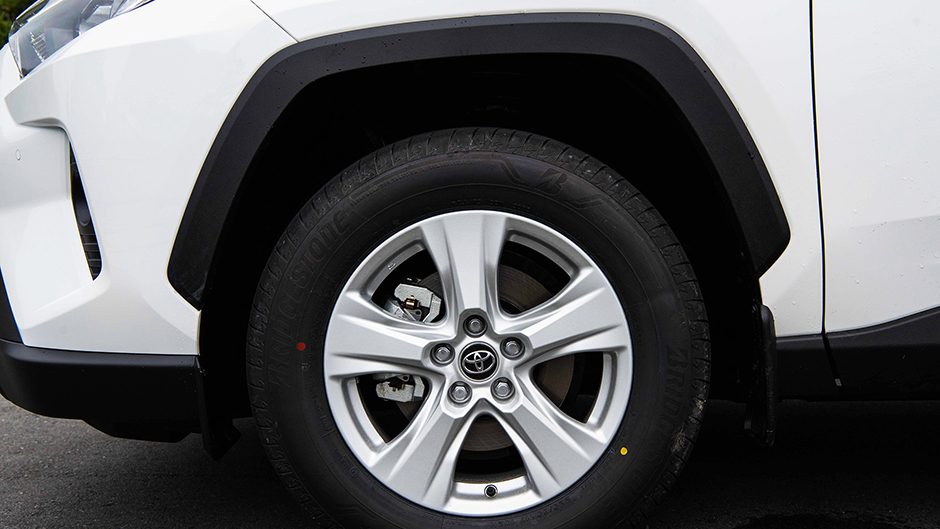 Pricing, which includes all ORCs (warrant, rego, full tank of gas, and floor mats) plus a five-year warranty ranges from $34,990 to $44,990 for the 2.0-litre front-drive variants, while the three equivalent AWD hybrids cost from $38,990 to $47,990.
The pair of 2.5 petrol AWD RAV4s cost $41,990 for the GXL and $48,990 for the RAV4 Adventure. We reckon the GX hybrid AWD at $38,990 drive away is a lot of vehicle for the money. For those with a sense of Adventure, only one model to go for really.