With the Aussie-Made Utes consigned to history, Ram's 1500 is the only hay hauler you can buy new in NZ powered by a petrol-fired V8.
The 5.7-litre pushrod Hemi pokes out a solid 291kW, and with variable valve timing, much of the 556Nm of torque is delivered without real need to rev its nut off. As it's all processed by an eight-speed auto, the 1500 Laramie trucks along nicely, despite its gargantuan girth and mass.
We checked out this model last year, coming away satisfied with the way it drove. It rides well for a big rig while also managing the bends of a back road. We were offered a drive of an accessorised version this time around, which we imagined would be decked out in trade-spec bits to highlight the Ram's working-class genes.
The 1500 can be had with the Rambox – inbuilt lockers in the wellside – for added practicality and security, and this also comes with a tri-folding tonneau, which all up is $5000. You can get a canopy for $5750 while the tri-fold tonneau on its own is $2700.
And with the proper tow hitch and a 70mm ball, you can maximise its hauling capabilities of up to 4.5 tonnes. This particular Ram, however, was outfitted with something more to our liking, with a set of rorty sounding pipes. Oh, and there's a bulging bonnet too, adding another set of nostrils to the front end.
The exhaust is a cat-back system with 2.5-inch stainless pipes flowing the gases through not much of a muffler and exiting via 3.5-inch tips. While it's labelled a performance exhaust, it's more about liberating the V8 soundtrack.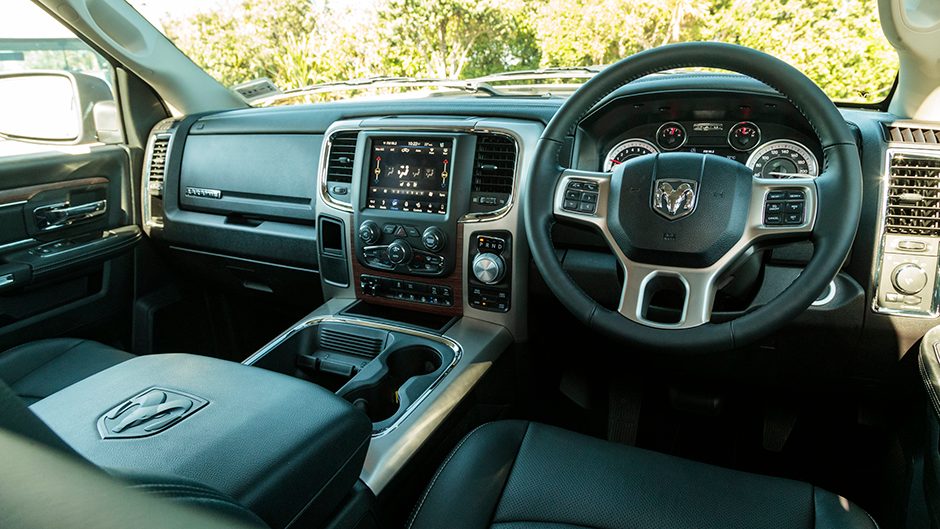 The standard Ram does have a nice burble, but nothing quite like this. It's now akin to an SRT Grand Cherokee on start-up, and sounds as it should throughout the rev range. You can literally feel the noise reverberating through the cabin at the top end, the pipes amplifying the Hemi's symphony nicely with a bassy growl and a rasping overture as the pistons pump away feverishly.
Any downsides? Your neighbours aren't going to love you when heading away early to work each morning – there's no quiet start feature here – and it seems to be extra loud on the cold start-up.
This doesn't drone on a constant throttle but there can be undesirable resonance associated with the V8's cylinder deactivation function. This turns the exhaust note rough and lumpy, but not in a good way. With the standard pipes, this is barely noticeable, but here it's amplified. However, we found a solution.
The Ram has tiny gear selector buttons on the steering wheel which allow you to set the highest gear the trans will shift into. So it's not a manual mode as such for the auto will change gears at the usual shift points, and kick down too, but this also seems to disengage the cylinder sleep mode.
This way you get to hear more from the pipes, especially on overrun as the convertor locks up more. You'll use extra gas however. Last time we noted fuel use of around 14L/100km, whereas enjoying the music means more revs and gas used, so it was up into the 16s here.
And there's the cost too, a not insignificant $5000 fitted. But if you want your V8 pick-up to sound proper, it'll be worth it every time you start up.