We don't watch old fashioned TV in our household any more, and therefore avoid the associated commercials. However, somehow I caught a Toyota one recently that was all about hybrids.
The petrol/electric mash up isn't exactly new, yet Toyota NZ has produced an ad to bring the uninitiated up to speed. It would seem that many have no idea about Toyota's hybrids and think you need to charge them. But of course there's no need to; you just operate them as you would a conventional vehicle. Simple, no added brain power required.
Toyota introduced the hybrid RAV4 in 2019, and it now accounts for almost two-thirds of the sales. This figure would likely be higher if you could actually get one, demand far outstripping supply, unfortunately.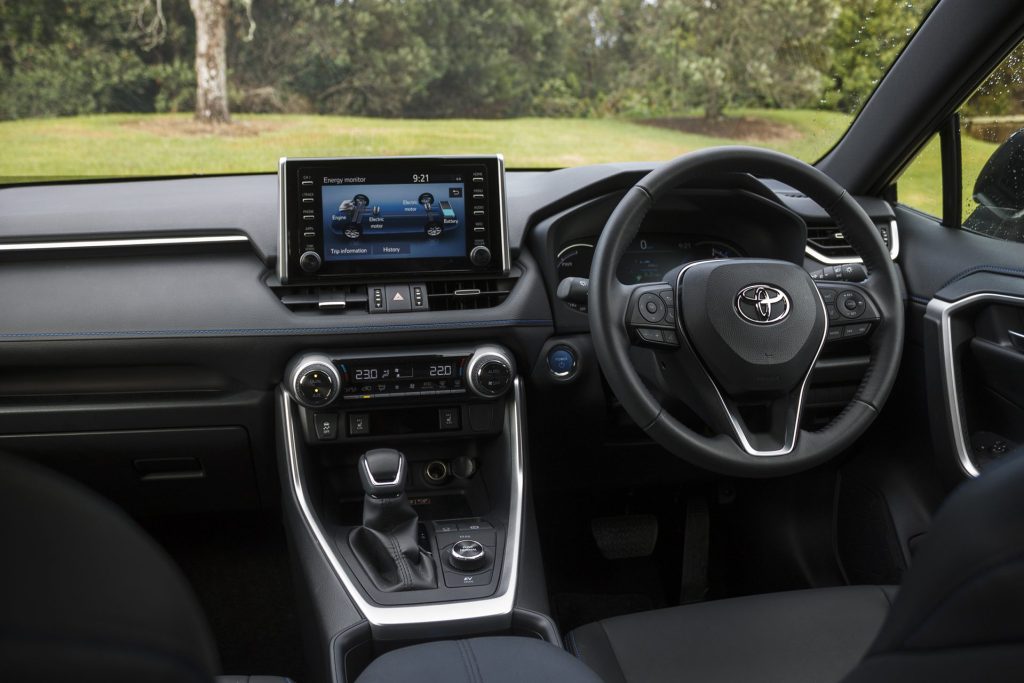 The engine part of the RAV4 hybrid equation is a 2.5-litre four cylinder, designed to be lean burning/fuel efficient, and so the figures quoted, 131kW and 221Nm, aren't class leading. But they don't need to be when they are boosted by the electric motors. The RAV4 has one motor (88kW/200Nm) helping up front and another (40kW/120Nm) on the rear, which gives it eAWD, in that there is no mechanical connection between the axles. Toyota quotes an overall output of 163kW (no combined torque figure however) and the hybrid system works out what does which and when. This largely depends on how hard you press the gas pedal. When floored, all available system power is delivered, and this hybrid moves quite quickly, 0-100km/h ticked off in just under eight seconds, and it gets any overtaking move sorted swiftly too (just over five seconds on the wrong side of the road). So while it's frugal, it's not slow, comfortably eclipsing the regular petrol alternative.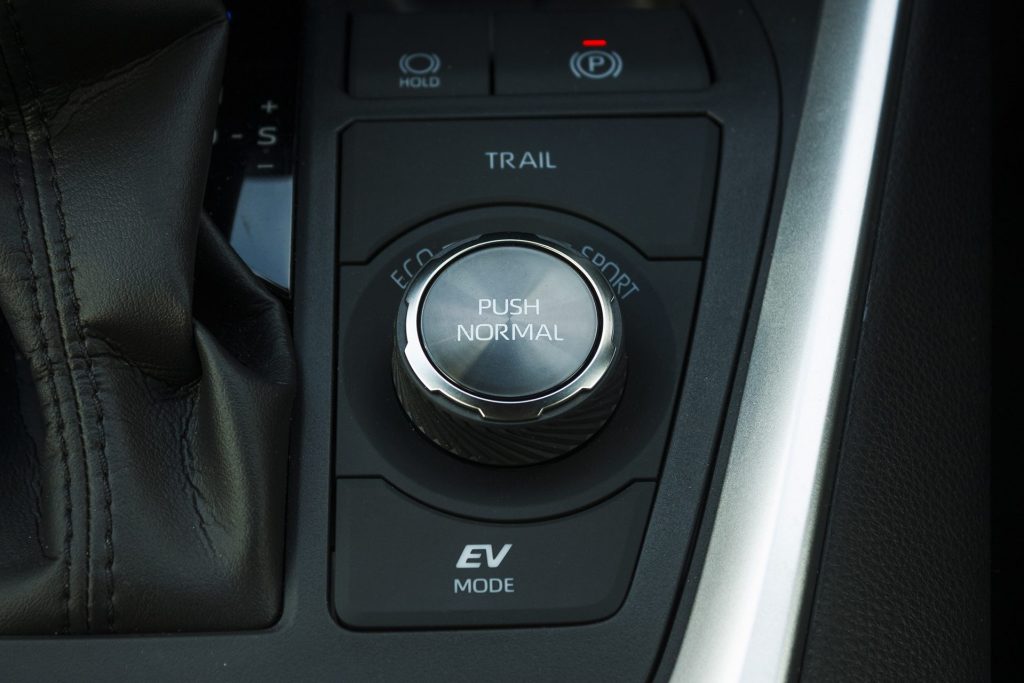 Drive with more restraint, and the hybrid will attempt to mooch about using its electric power but will add engine assistance to supplement acceleration whenever it's required. The system constantly switches the engine on and off as needed, everything done seamlessly. The transmission they label an e-CVT. This you'll find responsive when need be and is generally smooth and easygoing.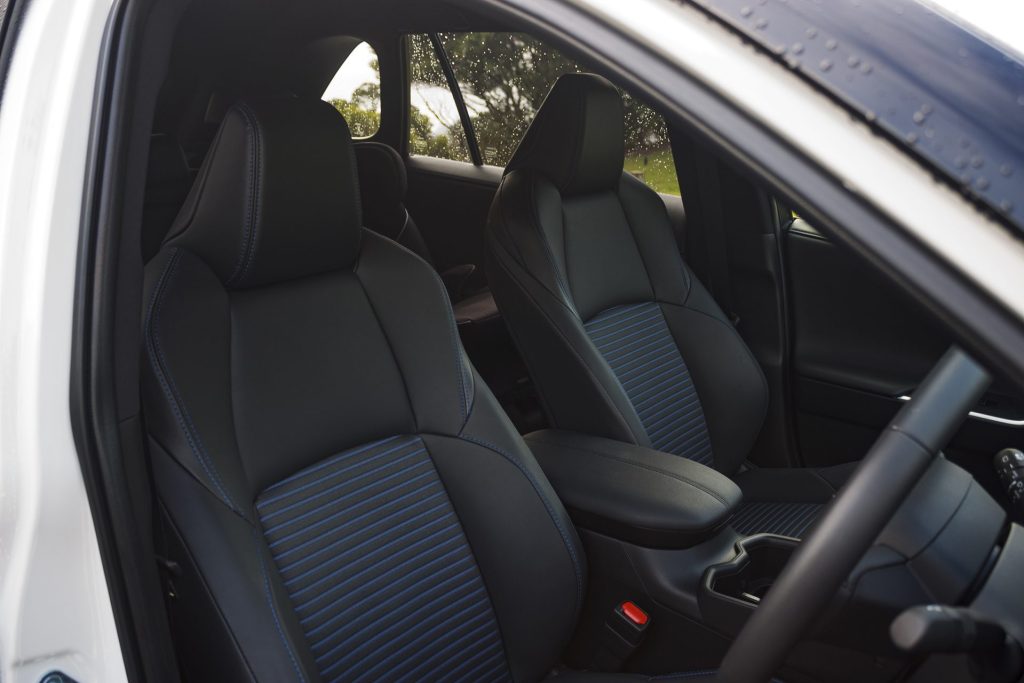 As to charging, you don't. There is actually a third electrical motor for the RAV4, the motor-generator, which is responsible for keeping the battery topped up using a mix of brake regeneration and power from the engine.
The RAV4 hybrid uses a Nickel-Metal Hydride battery, what you'd call 'proven' rather than cutting edge technology, positioned under the rear seat so there is no impact on load space and there is the usual split folding of the seat backs to expand load carrying. On boot space, it's competitive, the hold deep, wide and long enough for a family-of-five long weekend away. The rear bench fits three kids abreast, with leg room suitable for tall adults. While the seat doesn't slide, there is a reclining function and the usual Isofix and anchor points for infants.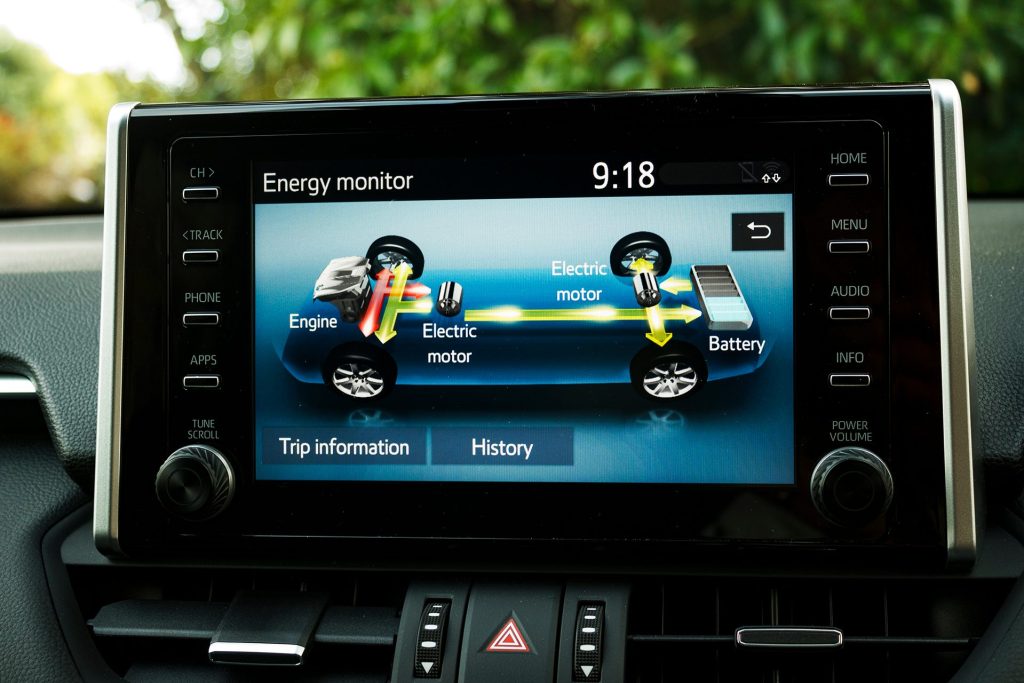 This hybrid can also tow, not much mind you at 1500kg braked, but enough for the home handy person. Now that we live by the figures of the 3P-WLTP conversion, the thrift of the RAV4 is rated at 5.3L/100km (we saw 6.2L/100km for mostly highway motoring) which equates to CO2 figures of 121g/km and a rebate of $2387 when bought new. Thanks Hilux buyers, and that should pay your gas bill for about 18 months too.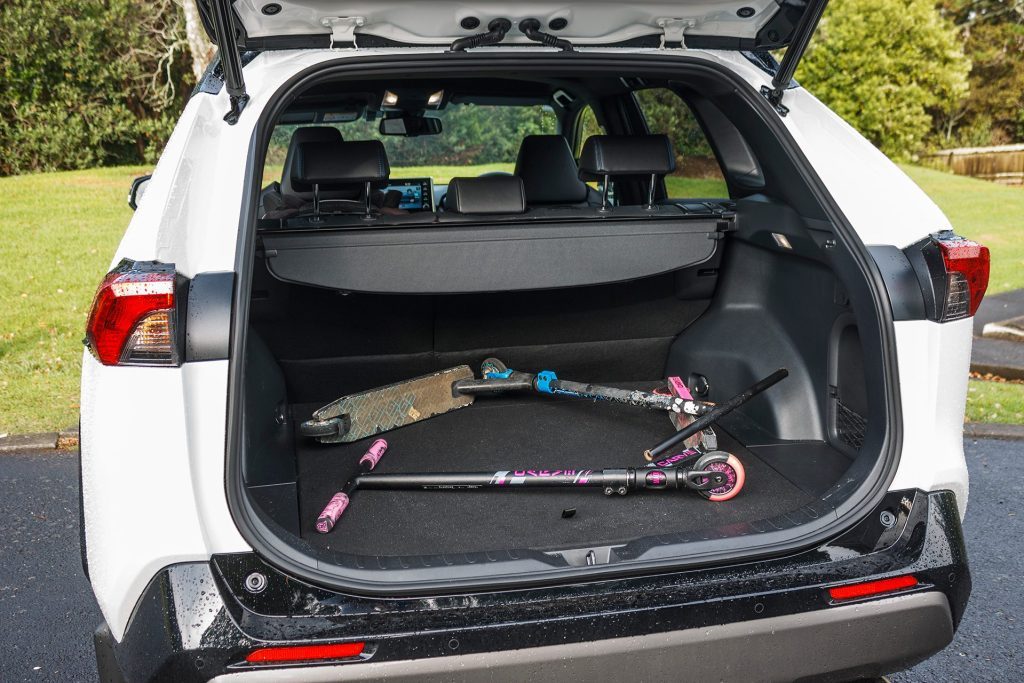 The $52,990 XSE you see here is a new addition to the RAV4 hybrid range, squeezing its way in between the GXL ($48,990) and Limited ($55,990). Unfortunately, price creep is affecting the RAV4 too, for when we first drove the latest generation in 2019, the Limited was $48,990. These are the Toyota Driveaway prices which includes all on roads, a full tank, fixed price servicing, floor mats (jolly good ones too, with plush carpet and a thick rubber backing, good for retaining moisture when you accidentally tip your water bottle over) and a three-year/100,000km warranty.
The XSE is said to have 'sportier exterior styling' with its two-tone design and gloss black finishings. Apparently it has a 'premium interior' to set it apart from the GXL, although the 'synthetic leather' covering the seats does not impart such a feel. They are heated up front, the driver's with 10-way power adjustment. There's a colour multi-information display between the dials so you can keep abreast of how economical your driving is; one setting gives you an eco score according to how efficiently you accelerate, cruise and brake.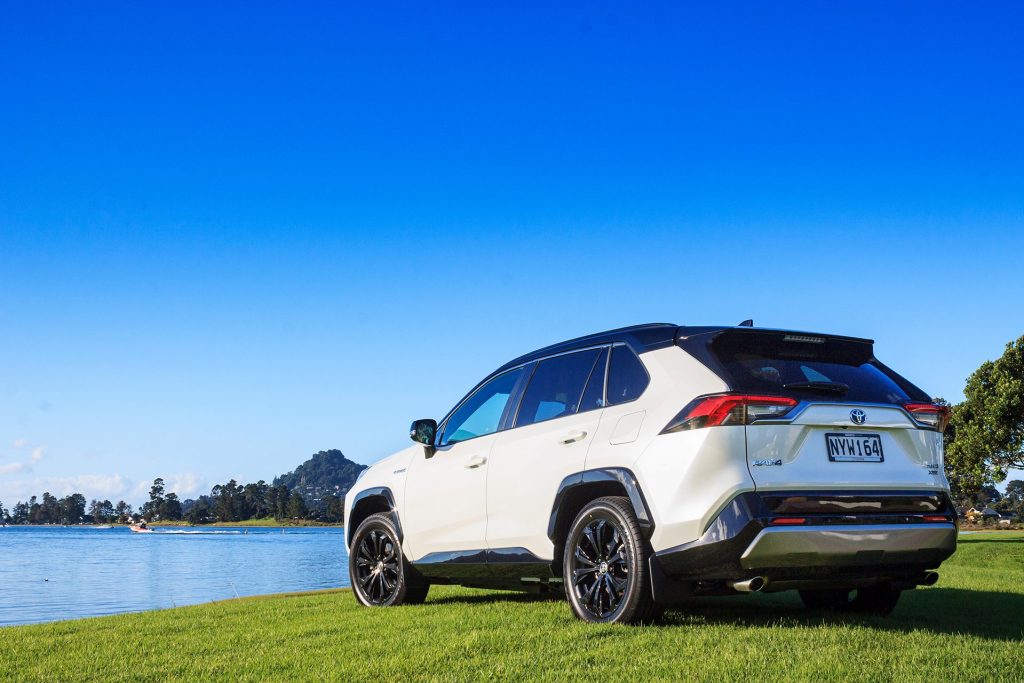 All RAV4s gain Toyota's 'Safety Sense' features, including active cruise (operational at all-speeds), AEB with pedestrian detection and daylight cyclist detection (throws only the occasional false warning) road sign assist, lane tracing assist (the least desirable function but easily defeated) and automatic high beams. Along with seven airbags, it has a five-star ANCAP safety rating, assessed in 2019. The reversing camera image is fairly ordinary. However, it and the excessively loud warning beeps for the powered tailgate, are amongst the few gripes with the otherwise excellent RAV4 hybrid. The real bummer is that you simply can't get one at present.
| | |
| --- | --- |
| Model | Toyota RAV4 XSE Hybrid |
| Price | $52,990 |
| Clean Car Discount | Rebate – $2387 |
| Engine | 2500cc, IL4, hybrid |
| Power/Torque | 163kW/n.a. Nm |
| Drivetrain | e-CVT, e-AWD |
| Fuel Use | 5.3L/100km |
| C02 Output | 121g/km |
| 0-100km/h | 7.8sec |
| Weight | 1745kg (claimed) |
You may also like…

In 2021, over 11,400 new hybrid electric vehicles (HEVs) were sold here, 50 per cent more than in 2020. Toyota...

Toyota's 'mainstreaming' of the hybrid continues with RAV4 now adopting electrical assistance. The popularity of the hybrid Corolla (and Camry)...