Toyota is advancing its work in the hybrid field with an improved plug-in Prius. Is the optimised Prime the next big thing?
It's more likely than not your first hybrid experience was from the backseat of a Prius with a taxi sign on its roof. You'll have noticed the hybridisation of the nation's taxi ranks, Toyotas en masse replacing the old Aussie dinosaurs, and there's probably no better endorsement for the technology in terms of its frugality and ultimate reliability.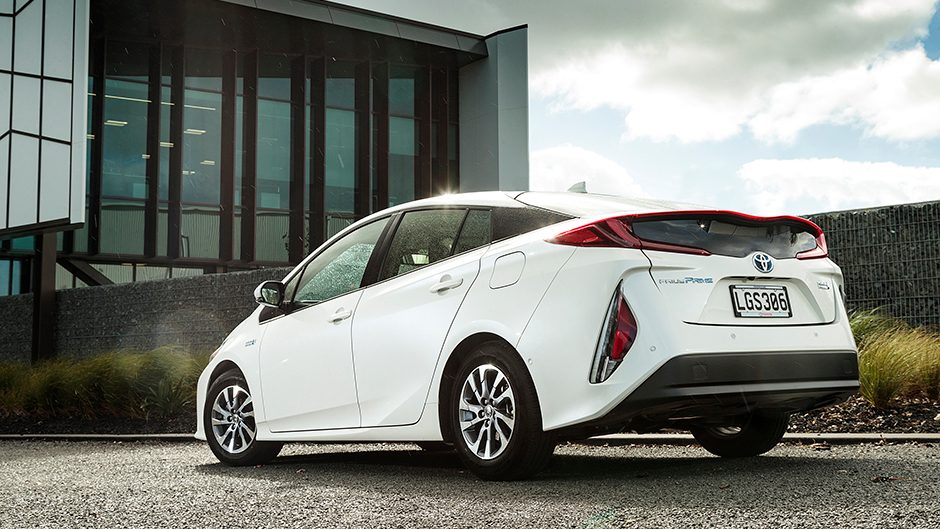 Toyota's hybrid movement began in 1997 and there have been incremental steps in the tech since, but no leaps, at least until recently. The first plug-in Prius was developed in 2012 though wasn't sold here initially but TNZ began offering it via its Signature Class operation last year. We drove one but it failed to wow. The claimed EV range was 26km. You were lucky to to crack the high teens, and so it was hard to replicate the claimed consumption of 2.2L/100km without plugging in every time you parked it up. But this has been a common theme for nearly all the plug-in hybrids we have driven so far; the all-electric range being insufficient to make a meaningful impact on overall consumption and to justify the price premium.
However, the new plugged Prius promises more. The Prime lands with a sharp (no-haggle, on-the-road) price of $48,490 and a claimed 63km EV range, with the average fuel consumption pegged at 1.0L/100km. How does it go in the real world you ask? First some details.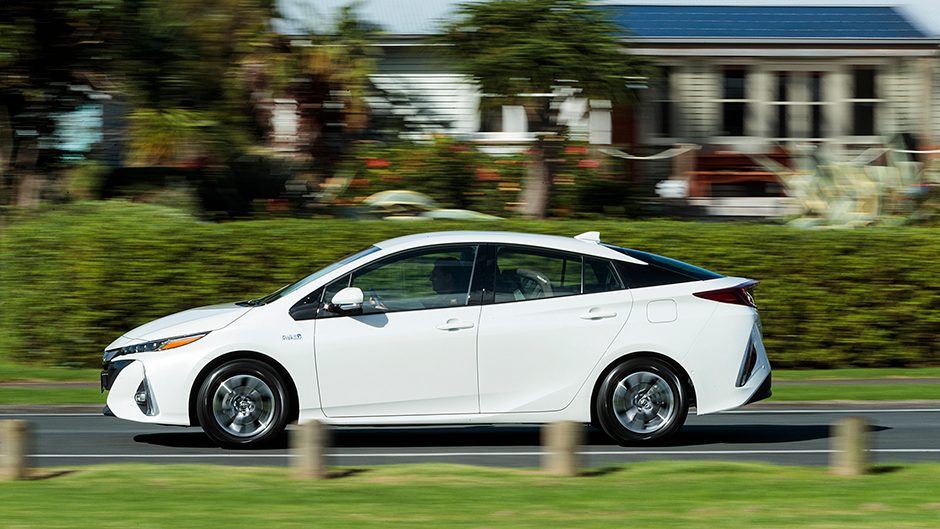 While its overall profile is still challenging, the Prime is easier on the eye thanks to its own front and rear styling. On the pointy end it wears a blacked-out grille and the LED headlamp clusters feature adaptive high-beam control. The tailgate is formed from CFRP for lightness and features a curved glass screen to improve aeros (Cd quoted at a slippery 0.25). There is just one Prime model but it's well spec'd, leather trim being the only option ($1500). Prime was rated a five-star car when tested in 2016 by Euro NCAP (we get a Euro-spec car for NZ) and features AEB, LDW, all-speed active cruise and speed sign recognition.
As to the oily and volty bits, Prime has a 'Dual Motor Drive' system which allows the hybrid generator to act as a second electric drive motor and this boosts both acceleration and top speed (135km/h) in EV mode. It also improves the hybrid operation with fewer engine start ups required and extended engine-off periods when cruising. While Toyota doesn't quote an output for the electric motivators, the combined system power is 90kW. The other power source is a 1.8 four burning lean on the Atkinson cycle, contributing 72kW and 142Nm while the motor(s) and engine combine through the complexities of the planetary-gear transmission to drive the front wheels.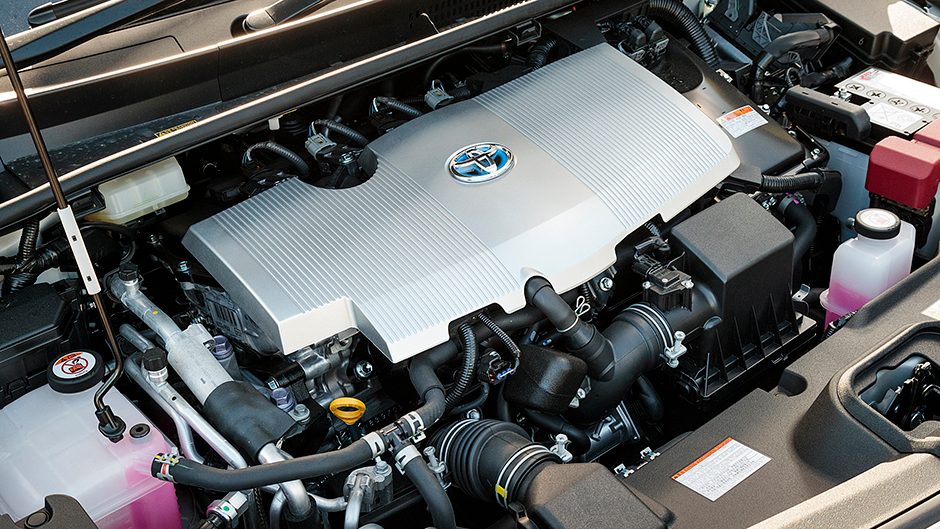 The Prime's EV range is possible thanks to a 8.8kWh lithium-ion battery pack. Along with a conditioner to ensure consistent performance in all weather, it has an eight-year, 160,000km warranty. As to charging, Prime has a Type 2 AC-only plug. Toyota says it will take 4.5 hours to charge using a domestic socket, though we presume this is based on an 8A charge. As a safety precaution, the supplied charge cable automatically switches between 6A and 8A depending on the supply. Both at home and work it only charged at 6A, meaning it took six hours to cook a flat battery. According to our power meter, it draws around 1340 watts, and uses just over 8kWh of power to fill.
And as to how much charging costs, it all depends on your power plan. One with an off-peak rate is best. That way, you can set the on-board timer to click on when power is cheap, and this also helps ease the strain on the network. You can apparently use a Type 2 to Type 2 cable (a $600 accessory part) and the Prime can be charged at certain public stations, drawing 16A to cut the charge time to a claimed 1hr 50m. But we think you'll find that plugging in at home and/or work will see you right as the EV range is now more useful and, along with an efficient hybrid mode, the Prime is easy on gas.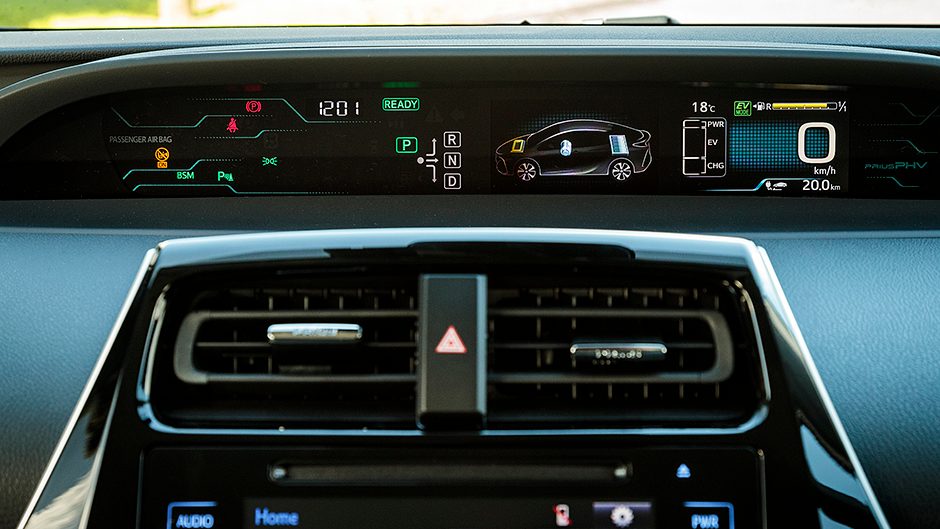 While the EV range is a quoted 63km, we never saw such a figure suggested by the EV distance-to-empty meter, a number somewhere in the 45-50km range being more likely after a charge up. And we managed 45km on an EV mission with no ICE intervention, sticking to city streets with the sort of stop/start driving this is made for. The AC unit, which uses heat pump technology, seems to be very efficient as switching it on doesn't wipe a huge deal from the anticipated range, though this might be a different story during hotter months.
While you can fret over the drive mode, and turn this on and that off, the Prime is simply an efficient commuter. The electric drive mode is more than sufficient for traffic ops, it's pretty nippy to 50km/h and it will accelerate comfortably up to motorway speeds. You can switch between EV and hybrid drive modes, the latter suited to motorway and highway work, leaving the battery charge for use in the city. Here you can prod the EV City button which helps stretch the range in urban traffic by reducing the power output to suit.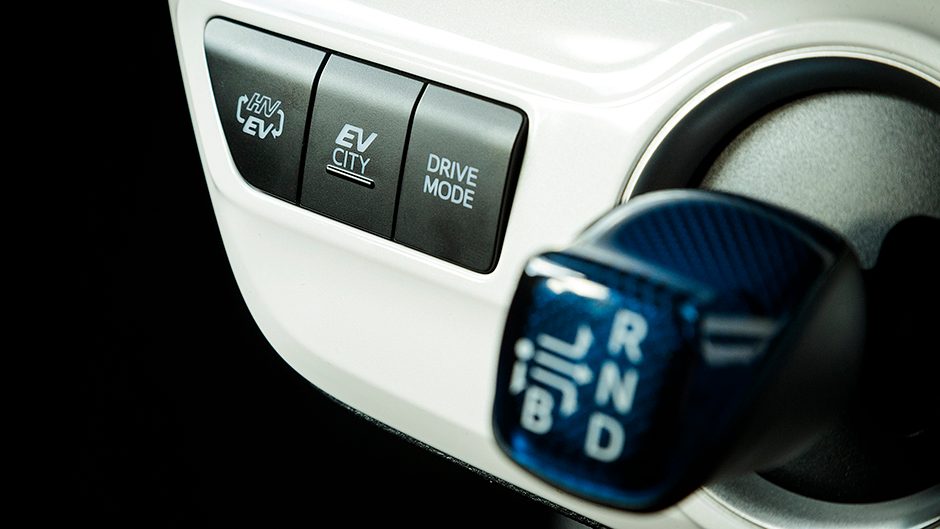 As to gas use, the first 200km of our time with the Prime was spent in the urban environs, and we dutifully charged 'er up every night to register just 0.6L/100km according to the trip computer. During the rigours of our testing procedure (read: aggressive throttle inputs) the figure nudged up to 2.2L/100km with the ICE in constant use, and running about the place for a further 250km in hybrid mode saw the final figure settle at 2.6L/100km, hardly thirsty, but it proves that plugging in everynight is the key to low overall fuel numbers.
Compared with models past, the new Prius has far superior dynamics thanks to its new platform. An independent rear end helps which, along with well tuned dampers, delivers a sorted progress over most roads. The steering is even alright, with a sense of life and agreeable assistance and weighting. This Prime sits well in a bend, even managing to generate a bit of resistance rather than simply ploughing on into understeer.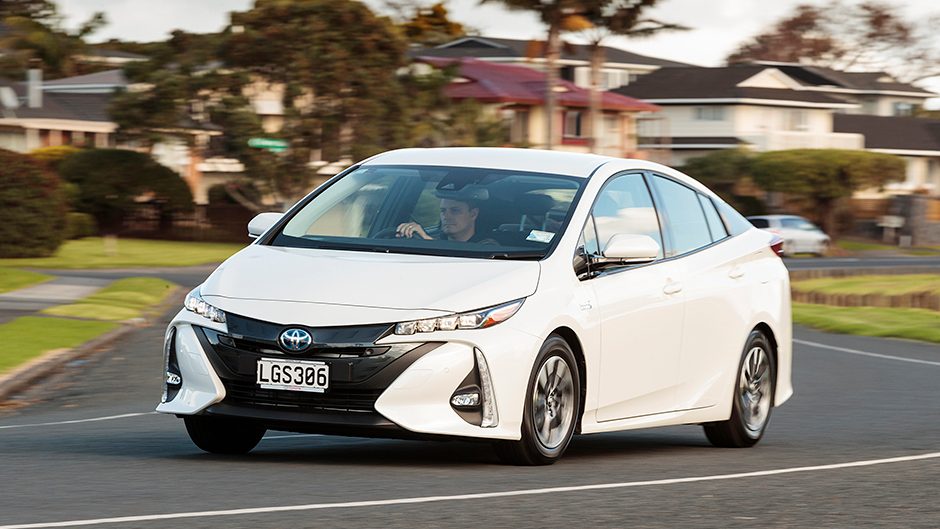 A Power mode delivers more forthcoming urge but while the torque provides sufficient drive off the bends, in terms of passing prowess, the power begins to wane quickly, as shown by the lengthy 80-120km/h distance. On highway, the Hybrid mode has the power sources working to best effect, with the engine used primarily but it will shut down frequently depending on the task. In the city, it's a handy commuter with a good turning circle, easy steering and plenty of outward vision. The powertrain in hybrid mode continues to be smooth and relatively quiet too, the ICE not too intrusive when it fires.
How does it fare up against the Hyundai Ioniq PHEV opposition? The Prime is quicker and smoother in EV mode, and has faster recharge times but can't quite match the Hyundai's EV range. The ride is more refined in the Prime. We prefer the more conventional layout of the Ioniq's cabin, its displays and meters being easier to fathom, and there are fewer modes to fuss over.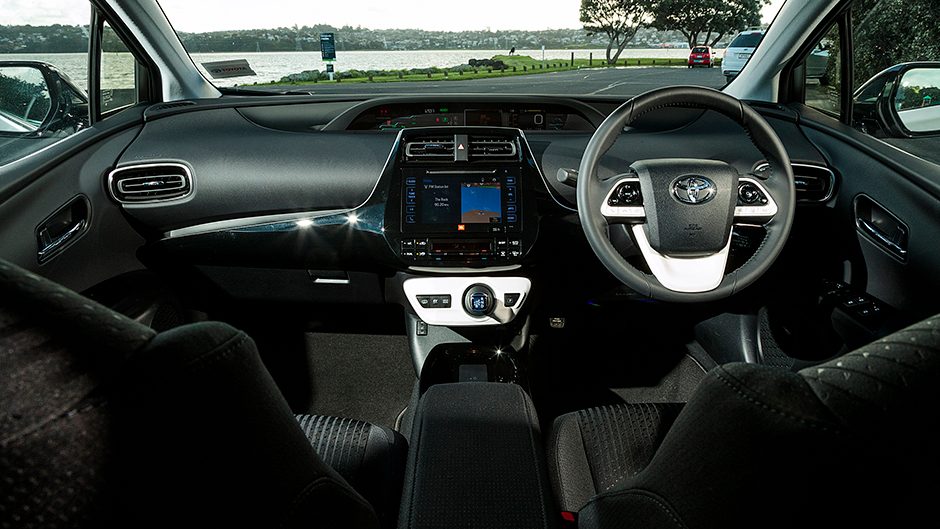 Both have adequate space in the rear though the Prime is a strict four seater. Both have boots that are hampered by a high-set floor to accommodate the battery underneath and the shallow rake of their tailgates is good for aeros but not ultimate load space. While the Hyundai looks almost sexy next to the Prime, there's a mismatch on price, the Toyota being $48,490 where Hyundai lists the Ioniq PHEV starting at $54k with the Elite at $60k. However, you can talk turkey with Hyundai to hammer out a deal…
Previously our view on plug-ins wasn't great but with the Prime's increased range and frugal hybrid mode, we can see the merits of it for city dwellers. It's still expensive next to a conventional model (Corolla ZR $38k, Corolla hybrid just $32k) but it's cheaper than going full electric, and it has a vast touring range thanks to its reserves of evil fossil fuel stored on board.
| | |
| --- | --- |
| Model | Toyota Prius Prime |
| Price | $48,490 |
| Engine | 1798cc, IL4, EFI, 72kW/142Nm |
| Hybrid battery | 8.8kWh |
| Combine output | 90kW |
| Drivetrain | e-CVT, front-wheel drive |
| Fuel Use | 1.1L/100km |
| C02 Output | 22/km |
| 0-100km/h | 11.70sec |
| Weight | 1532kg |