Gazoo racing's first offering, the supra, was worth the wait, but just a year down the line it has been upgraded. It's hastier but is it any better? We compare 'old' with new.
An update within a year of launch suggests something was wrong to begin with. But not with the new Supra because Toyota's development partner and engine supplier, BMW, found extra power and has shared the love. That this 'new' Supra costs less than it did a year back you'd label as a Christmas miracle, given we drove it around that time last year.
This is the fifth-generation Supra but it has been a while between drinks. Gen IV Supra production ended just after the turn of the millennium so it has taken Toyota two decades to renew its love affair with a front-engined rear-drive sports car powered by a turbocharged inline six.
It's known as GR Supra because Toyota's performance arm, Gazoo Racing, oversaw development. At least after BMW devised the important bits, like the chassis and powertrain. Yes, this is another of Toyota's collaborations. Rather than develop its own platform and powertrain for a car that won't sell in big numbers, the company opted to team up with BMW who was set to renew its Z4. Cleverly, BMW released a roadster while Toyota has opted for a hardtop coupe, (and an upcoming Targa) so the two don't really compete head to head. Just as well because they certainly don't on price.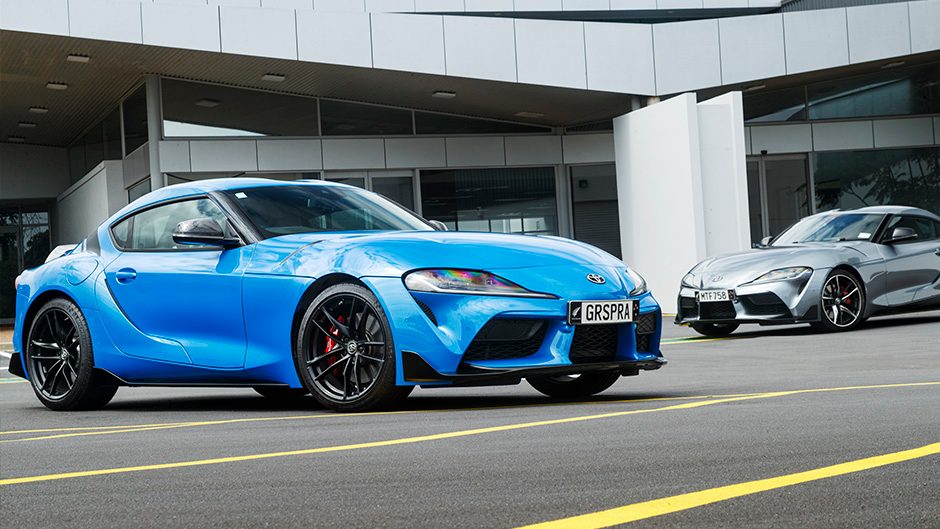 Once chassis and powertrain development was complete, the project was finished in Japan, where GR was able to put its own styling spin on the reborn sports car. When it launched here last year, editor Cassidy mentioned that it was "Good value amongst pure sports cars". Well that was then, but now it's even better with a performance upgrade….and a price drop of $1000 ($98,990). Engine changes have liberated another 35kW of power taking the total to 285kW, though torque is unchanged at 500Nm, available from 1600rpm.
The engineers mention "peak torque from just above idle" and we'd say 1600rpm doesn't quite fit this description. Especially as you can sense the turbo working effectively from not much above 1000rpm. The low-end pull is heroic – it will haul up steep urban hills at 50km/h in fifth gear.
Anyhow, the increased power output is sufficient to lower the sprint time by a further 0.2sec to a claimed 4.1sec.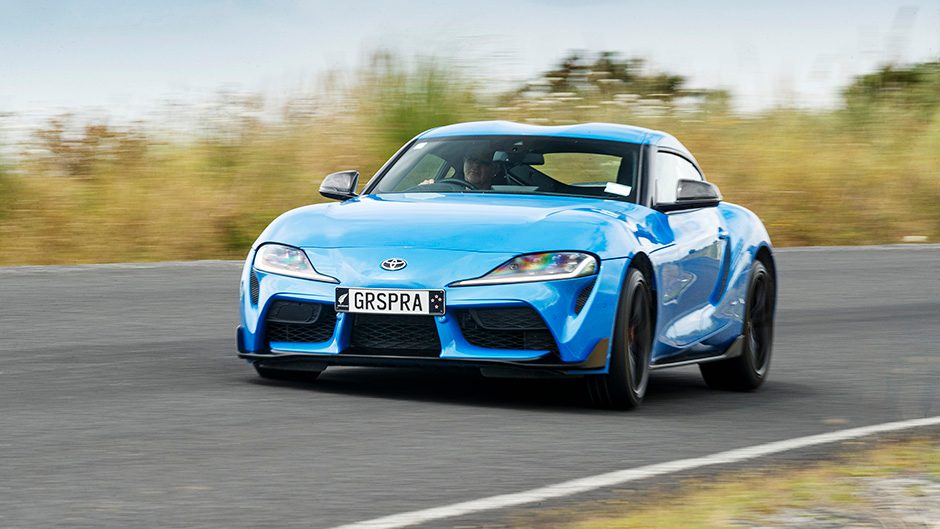 What's new then?
The engine changes affect mainly the exhaust side. Where the cylinder head and exhaust manifold were once integrated, the two are now separate, reducing heat build up in the turbo. The manifold is a new six-port design instead of the previous six-into-two of old. New pistons reduce the compression ratio, allowing a boost increase.
Rounding out changes for 2021 are under-bonnet aluminium strut tower braces for added rigidity and more focused handling. We also felt the 2021 variant rode slightly better, after driving the original, and evidently GR made subtle suspension tuning changes, adjusting the damping, without upsetting dynamics.
And this is what the Supra is all about – a surgical cornering tool. It looks the part, with a long clamshell bonnet, and short bespoilered tail, while the profile is menacing, with bulging wheel arches and faux vents. The body is set low and has an aerodynamic look with a double bubble roof, big diffuser and front splitter.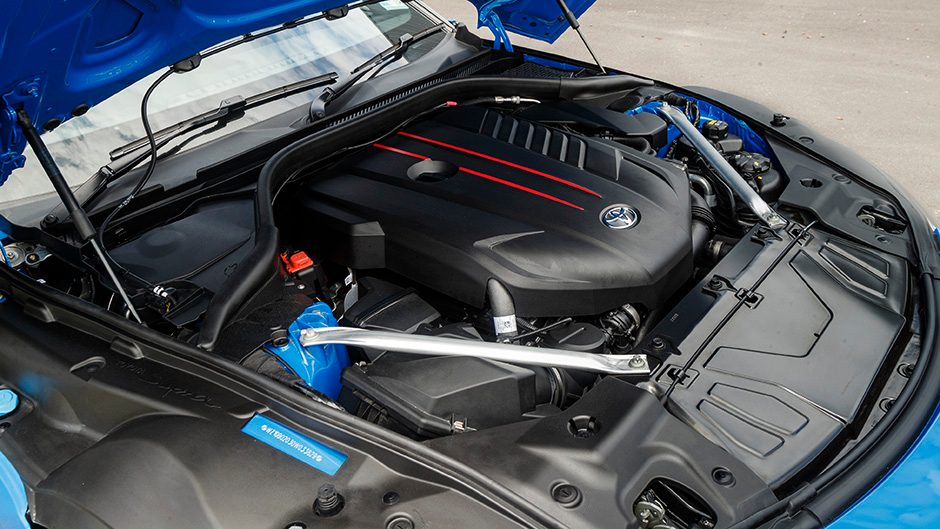 GR engineers talk about a 'golden ratio' between track and wheelbase dimensions, the ideal (for nimble handling at least) lying somewhere between 1.5 and 1.6. This is 1.55, much the same as MX-5.
Moreover, the Supra weight split is 52:48, for easier changes of direction. A low centre of gravity was also a priority, and with liberal use of composites and aluminium the C of G on this is evidently lower than that of the 86 with its flat engine layout.
Adding to dynamics is a variable electronically controlled active rear diff, and there's also adaptive suspension, both retuned for 2021.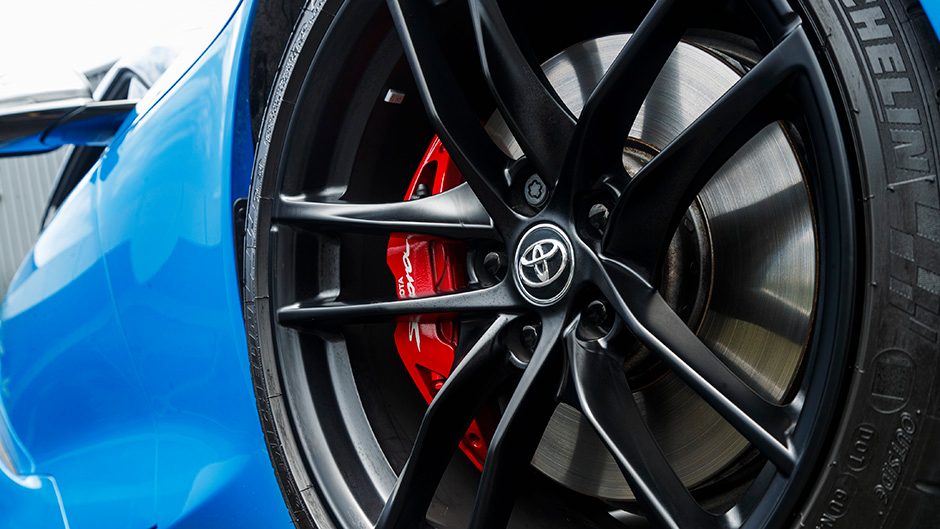 Does it work in practice?
This is a deceptively simple car to drive, helping the driver focus on the road ahead. There are just two drive modes, default and Sport. The latter you can configure individually but we opted for everything on Sport. The default mode is perfect for urban drifting (not the sideways sort) whereas the Sport mode feels just right for Kiwi back road conditions. Steering and suspension characteristics feel sorted in Sport at highway speeds. The engineers talked about not aiming merely for lap times but more for the feeling of the car and driver interacting as one.
The first thing you really notice about the Supra is how low slung it is. On entering, you need to tuck your head down onto your chest to clear the roof. But that's about it for discomfort. The seat's superb, every which way adjustable, and the driving position sorted. On the run it's not loud, despite the quality rubber. SPLs average around 76dB over freshly laid chip seal so noise levels are not too bad. The engine and exhaust note could stand to be louder but it produces a gruff note at low engine speeds where it is extraordinarily strong, making it surprisingly easy on fuel.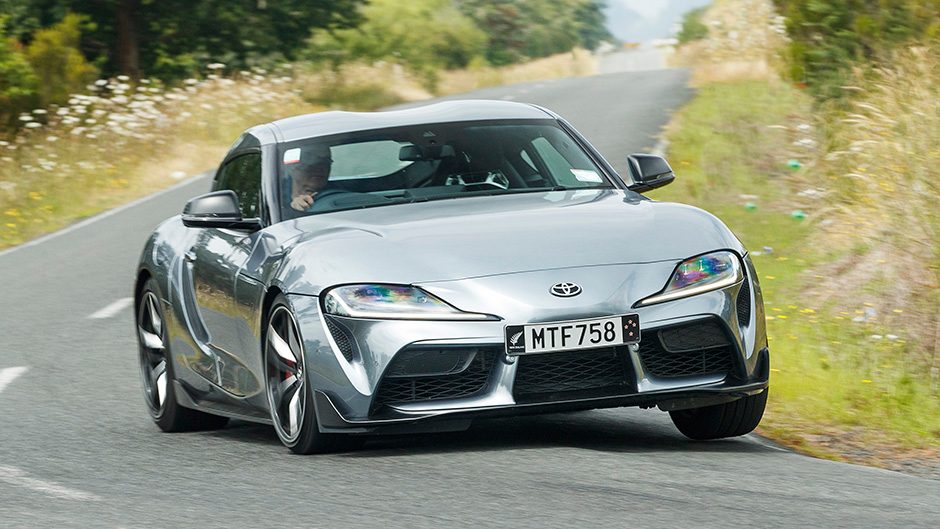 Split personality
This is kind of two cars in one. It isn't exactly a sports car per se, though it can be that in the Sport mode but it is absolutely the sublime GT when you turn Sport mode off. You'd not credit how compliant the ride quality is in regular mode. When you're two up, this setting is ideal for quick jaunts, the active damping keeping things on an even keel, bumps flattened as you'd like, steering weight like a regular sedan's. It's so user easy in town too, wafting along at a bit over 1000rpm in sixth at 50km/h.
Meantime, a switch to Sport galvanises things. Activate it on a steady throttle and you can feel extra zip underfoot, the transmission an able ally. And there really is extra urge in the 2021 model; the original netted a 4.4sec sprint time whereas this managed 4.03sec, and likewise the TED time, 80-120 dusted in just 2.3sec to 2.7 for the original. Brake performance is unchanged, still great. The Limited version has Supra embossed on the calipers and you can tell it apart by that and the carbon bits, Horizon blue colour and dark wheels.
Its eight-speed automatic transmission is superlative; upshifts are so smooth that you hear rather than sense them. With such an abundance of low-end torque the box quickly shuffles its way to sixth in town, and on the motorway system 100 is an easy 1600rpm in eighth, with mean fuel efficiency in the 8s. Even out in the back of beyond, we only saw double figures on occasion. With tall gearing it's difficult keeping this at 100km/h and when you do it seems like a shuffle.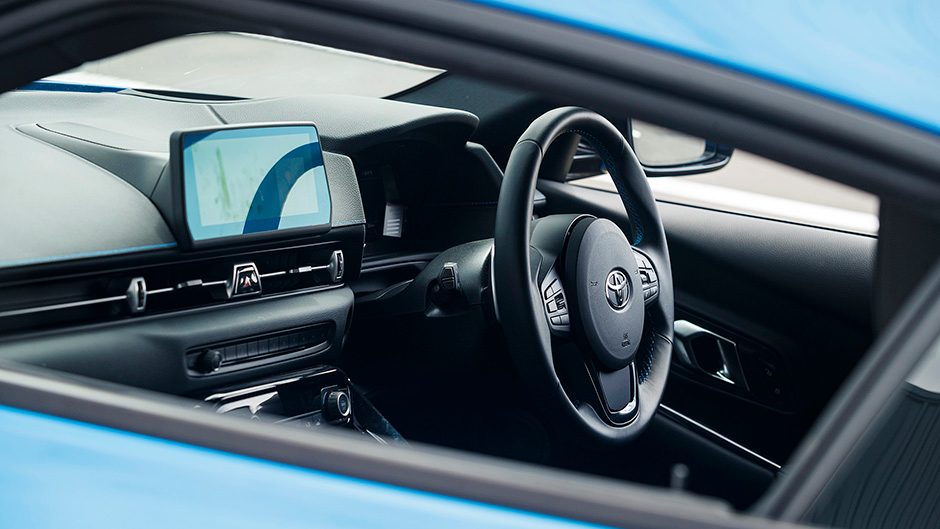 Sublime look and steering
This looks substantial for a two-seater, and yet it never feels heavy at 1520kg. Because the suspension is so relatively compliant in Sport mode, that's where we left it most of the time, not that it handles much worse (or less well) in its default mode. But it's pretty special in Sport, especially compared with similar performing European machinery that's substantially more expensive.
As Kyle mentioned, how the car turns is a highlight. Its ability to change direction so easily is a constant surprise, with little wheel movement needed. It just goes where you point it, and with such staunch damping, wide tracks, sticky rubber and low C of G, it holds impressive corner speed. You can enter hot in this, and a momentary throttle lift into the turn maintains the line. Get back on the throttle early to spool the turbo and it will round up to the apex as the torque surges rearward, the tail squirming under power.
There's little of the usual electrical weighting artifice to the steering too; it is quick, polite, accurate. Could it do with a hint more feel? Probably but then what electric power steering system couldn't? Brakes are hard to fault too, requiring just a wisp of pedal pressure to optimise entry speed, and they resist fade well.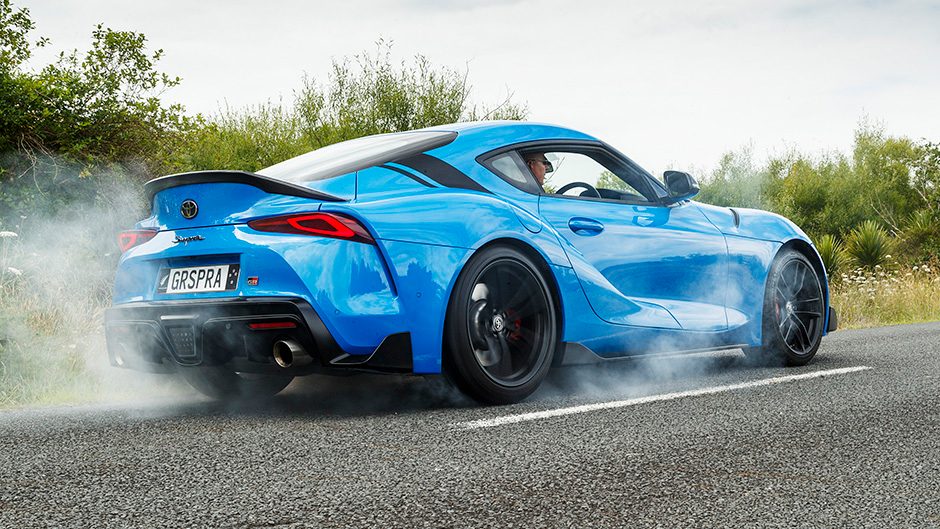 This is refreshingly straightforward to drive. Trip info is on the end of the left wand, which also operates the indicators. The instruments are clear, concise, with a tacho, gear indicator and digital speed readout dead ahead. The head-up display includes speed and traffic sign information, handy in a car with this much talent.
Aside from minor foibles mentioned, and a B pillar that obscures rearward view, arguably the worst aspect of this is its horn. It's high pitched, squeaky and entirely out of keeping. Bet the Z4 doesn't skimp on this.
That the GR is so otherwise talent laden, and is built so well for under $100k is surprising, and in many ways it's as great overall in the value stakes as the GR Yaris. It's amongst a handful of truly rounded sportsters you can buy for under $100k.
How does it compare with the original? They're pretty close, as you'd expect. The extra 35kW gives a credible straight line enhancement but on road the performance difference is minor. We liked the Horizon blue and the exposed carbon of the Limited too, with mirror caps, lip spoiler and inserts along the flanks. The silver tester had a performance exhaust upgrade but it's mainly audible outside the car.
The primary difference is the ride quality – the subtle tweaks to the new model making it more poised over uneven surfaces, less fidgety in sport. For this change alone we'd recommend it but then there are a thousand other reasons to order the latest version as well.
| | |
| --- | --- |
| Model | Toyota GR Supra Limited |
| Price | $99,990 |
| Engine | 2998cc, IL6, T/DI, 285kW/500Nm |
| Drivetrain | 8-speed auto, rear-wheel drive |
| Fuel Use | 7.7L/100km |
| C02 Output | 177g/km |
| 0-100km/h | 4.04sec |
| Weight | 1519kg |