The sport of drifting has its cynics the world over, but few can deny that a huge amount of talent is on show anytime someone can hop into a car and perform endless, smooth powerslides. Let alone doing so while another driver does the same thing just metres away.
Toyota, a brand synonymous with the drift movement, has developed a self-driving, self-drifting Toyota GR Supra. But, it's not for competition … it's for safety.
The Toyota Research Institute recently revealed the creation via a series of photos and videos, showing that it can drift around obstacles on a closed track, twirling the steering wheel from lock to lock without any human involvement.
As per the headline, Toyota didn't do this just for giggles. The firm is in the process of researching the development of autonomous driving systems capable of powersliding. Not for the purpose of entertaining crowds, but for safety.
It says that such a system could be a significant help if a car loses control while on a slippery surface like black ice, or as an aid when a driver needs to suddenly swerve to avoid an obstacle.
The project's current form reportedly took 12 months to complete, with the resulting car capable of recalculating its trajectory every 20th of a second in order to keep its drifts smooth and predictable.
While the Supra featured in the images and video features a driver behind the wheel, the driver is simply there to observe. The car's software operates the steering wheel, throttle, brakes (with each wheel's braking controlled individually), and transmission.
Japanese media has indicated that Toyota is currently working on autonomous vehicle software under the 'Arene' name, with the learnings from this self-drifting Supra potentially feeding into the software down the line.
"When faced with wet or slippery roads, professional drivers may choose to 'drift' the car through a turn, but most of us are not professional drivers," says Toyota Research Institute scientist Jonathan Goh.
"That's why TRI is programming vehicles that can identify obstacles and autonomously drift around obstacles on a closed track.
"When you're drifting there are a lot of forces at play, and you've got to really understand how every degree of steering angle slows the car down or every additional application of the throttle rotates the car."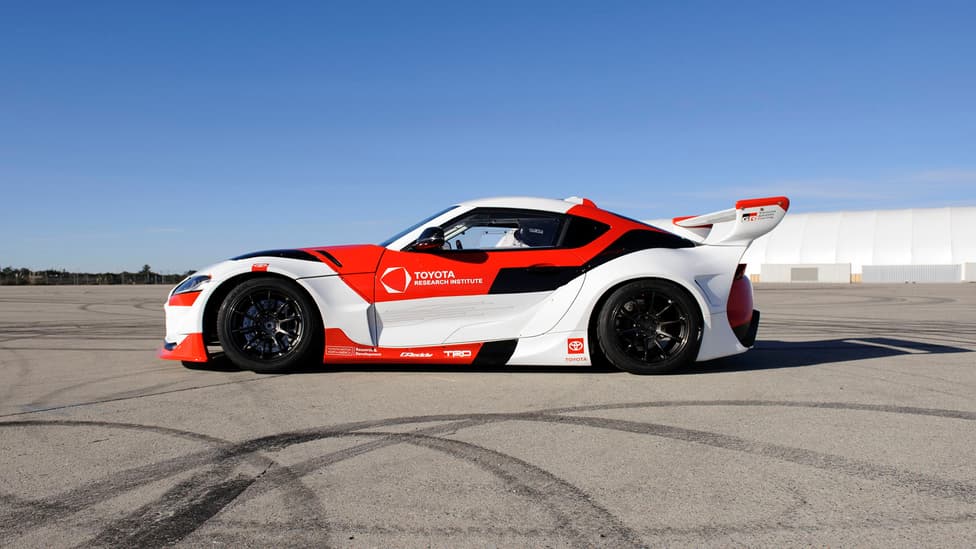 Along with utilising Toyota's brains trust, the project also looped in the Dynamic Design Lab at Stanford University, tuning company GReddy, and Formula Drift regular Ken Gushi.
The aforementioned Dynamic Design Lab gained notoriety in 2019 after they developed a self-driving, self-drifting DeLorean DMC-12 for the purpose of improving autonomous vehicle software in the event of an incident.