When pressed for an answer, there's a high chance that most Porsche aficionados would name the GT3 as the most beloved of the current 911 crop — rated for its commitment to signature high-revving sixes and manual gearboxes.
But, what's the best GT3? While the GT3 RS soaks up most of the accolades, demand and admiration for the more toned down GT3 variants has grown in recent years. What started with the 911 R — a limited-run 'pure' 911 R with a GT3 heart that sold like absolute hotcakes — has morphed into the GT3 Touring. And overnight Porsche revealed a new one.
As is fairly common for Porsche, the new 911 GT3 Touring looks a lot like the last one. It gets a much more sleek and subtle silhouette than its fully blown GT3 and GT3 RS cousins, thanks to the enormous rear wing being deleted.
Instead there's a hidden rear wing that automatically extends when needed. There are subtle trim differences, too. The windows get aluminium window frames, the front spoiler is painted the same colour as the rest of the car, and there's a few requisite Touring badges.
The cabin is a little different, too. It gets a little more leather than standard GT3s, while Porsche has also deployed some interesting embossing on the door cards. The idea is that those buying the Touring are a bit more sophisticated in their tastes, and a bit less focused on track days and tenth-shaving weight savings.
And, that's it. Those are all the changes the GT3 Touring gets over the standard model. That's the point, after all. While some people will assume you're sitting in some kind of basic Carrera, you'll actually be sitting in a stealthy sleeper.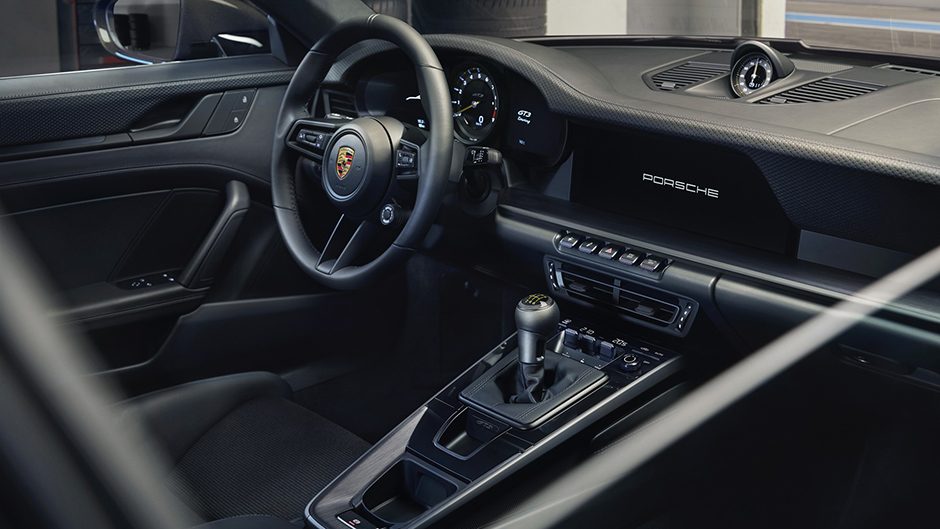 Under the rear hatch, therefore, is the familiar and much loved 375kW 4.0-litre flat six. It can either be paired with a six-speed manual or a seven-speed 'PDK' dual clutch. The latter is actually a slight departure for the model. Previously it was only available with a stick.
It's fast, too, as you'd expect. 100km/h is said to show up on the speedometer in just 3.9 seconds if you're in a manual Touring, and 3.4 seconds if you're in an a PDK-equipped model. The manual gets back at the PDK when it comes to top speed; its vmax rated at 320km/h to the auto's 317km/h.
It's set to land in North America in early 2022. With New Zealand's thirst for supercars as strong as ever, it'll most likely land here in the months after.