Tesla's performance flagship, the Model S Plaid, has had a whirlwind build-up and launch overseas.
This included the model being pitched against the Porsche Taycan at the Nurburgring, leading to a brief lap-time rivalry between the two brands. We saw Tesla quietly cull its plan to release a Plaid+ variant. The Plaid was at the center of debate when Tesla first showed off its 'yoke' steering wheel.
The Plaid has also, also, been the subject of numerous lap records. Tesla claims the model has recorded the fastest lap ever for an electric four-door performance car at the Nurburgring. It's also claimed record scalps at Laguna Seca and Willow Springs.
But there's been an ongoing caveat to each of these laps. Reviewers have frequently noted that the Plaid's steel brake package regularly suffers from brake fade.
Indeed, the Willow Springs lap record (claimed by Randy Pobst as part of a film produced by Hagerty) was done in only one lap, in part due to the car's brakes not being able to sustain more than a lap of abuse and in part because the car was actually a rental.
Tesla, it seems, has heard and acknowledged these complaints about braking performance. Overnight it announced that carbon-ceramic brakes would become an option on the Plaid from next year onwards.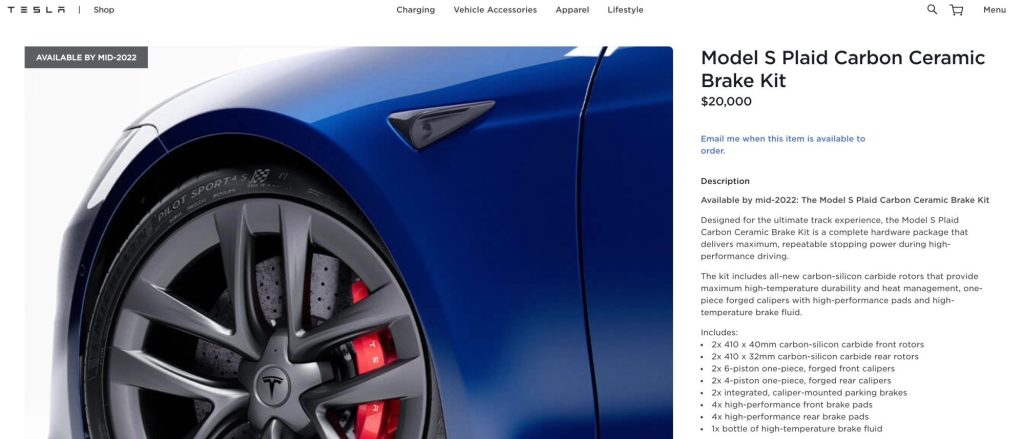 Specifically, the new brakes feature 410mm rotors front and rear. The fronts are a little thicker, at 40mm to the rear's 32mm. The fronts also get bigger six-piston calipers, with the rear utilising a four-piston unit.
Brakes are always an important element in a performance car, but with the Plaid they become even more relevant given that the model is capable of accelerating to 100km/h in a claimed 2.1 seconds, and weighs a hefty 2196kg due to its large dimensions and heavy battery tech.
The option is unlikely to be a commonly chosen one, with an eye-watering price of US$20,000. Those who want carbon ceramics will only be able to option it if their Plaid is bought with the larger 21-inch wheels, too.
For us New Zealanders, the Tesla Model S Plaid starts at $224,990, with right-hand drive production and local arrival dates still an unknown.