The MY22 Panigale V4 and V4 S have been unveiled at the EICMA show, and are said to be improved in every respect, becoming faster on track and "yet more intuitive and less tiring for a wide range of sport riders". Improvements are said to have been made in aerodynamics, ergonomics, engine, chassis and electronics.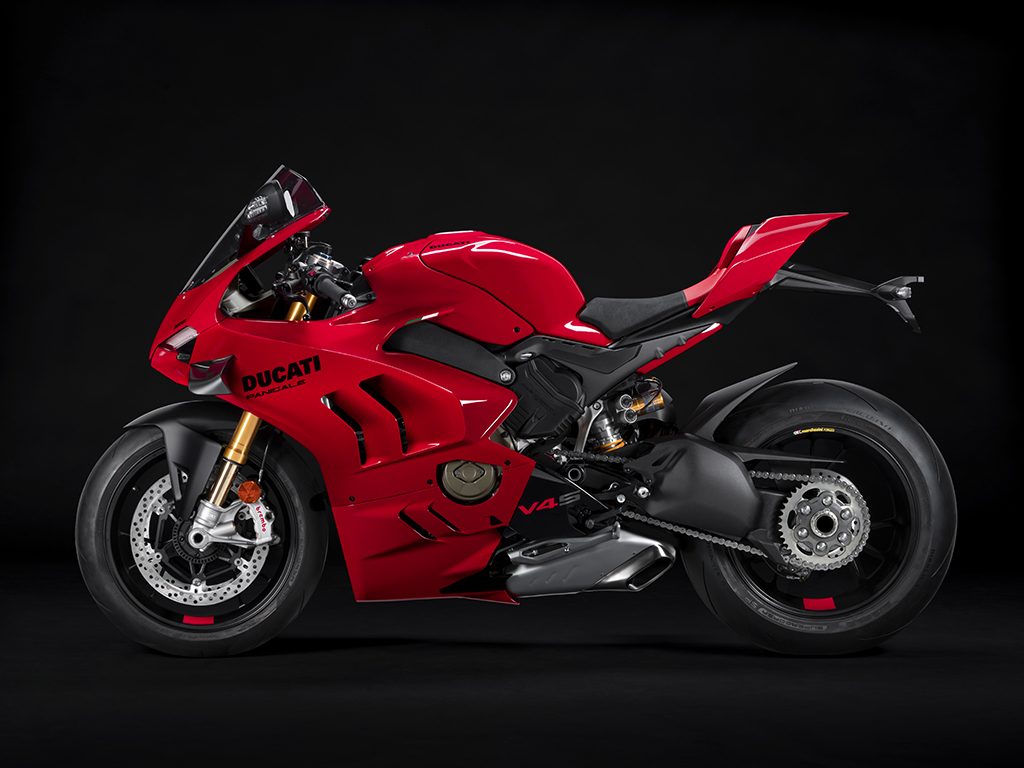 The Panigale V4 2022 is derived from competition, and is constantly refreshed and improved, incorporating the latest aspects of MotoGP and WorldSBK technology. The new models are said to offer "great and rewarding excitement to pro-rider and amateur alike".
Aeros are front and centre these days and Ducati engineers have concentrated on improving the fairing, which now features smaller and thinner double-profile design winglets with increased efficiency. Despite the smaller size, they can still generate up to 37kg of downforce at 300km/h. Handy. The lower part of the fairing features redesigned outlets to improve cooling and therefore engine performance at track days.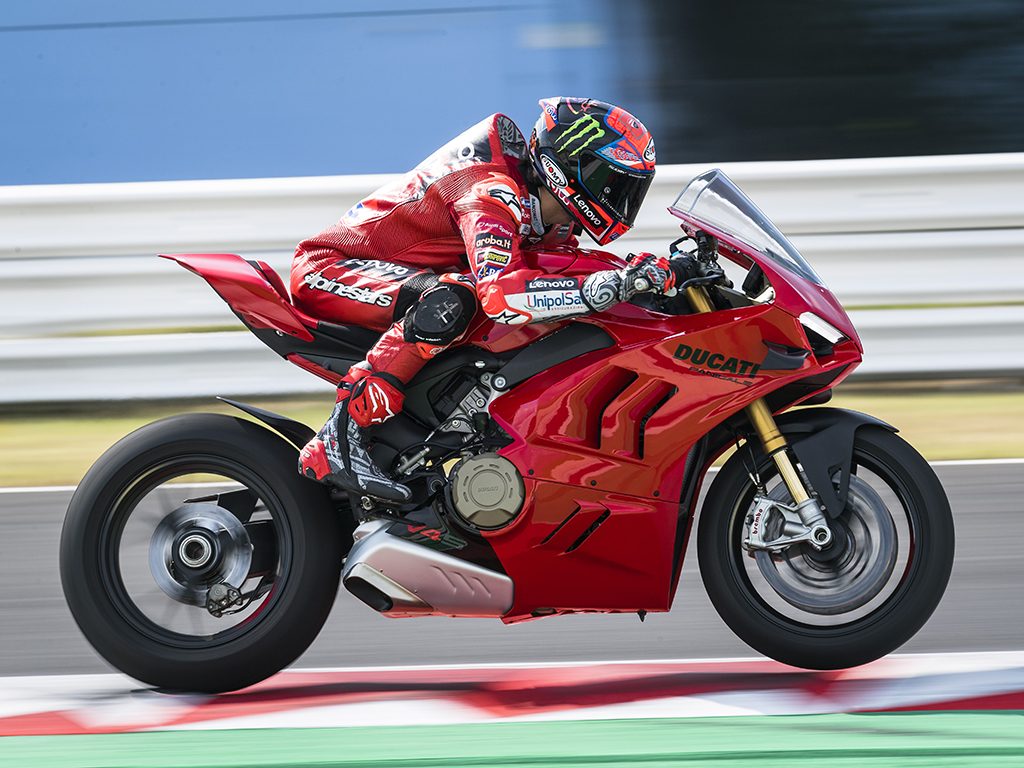 Ergonomics have also come under the spotlight, with a flatter seat, and a higher friction finish to support the rider better when braking. The new profile also allows easier movement of the body. A reshaped rear tank aspect means riders can anchor themselves better when slowing. The more integrated riding position is said to make the bike more comfortable in general use.
The Euro 5-ready 1103cc Desmosedici Stradale V4 sees a slight rise in power together with better throttle response for 2022. Features include a new oil pump, and increased diameter exhaust for reduced back pressure. With fresh engine mapping, output lifts to 216hp at 13,000 rpm. The engine also delivers 124Nm of torque at 9500 rpm, 80 per cent of that available from 6000rpm.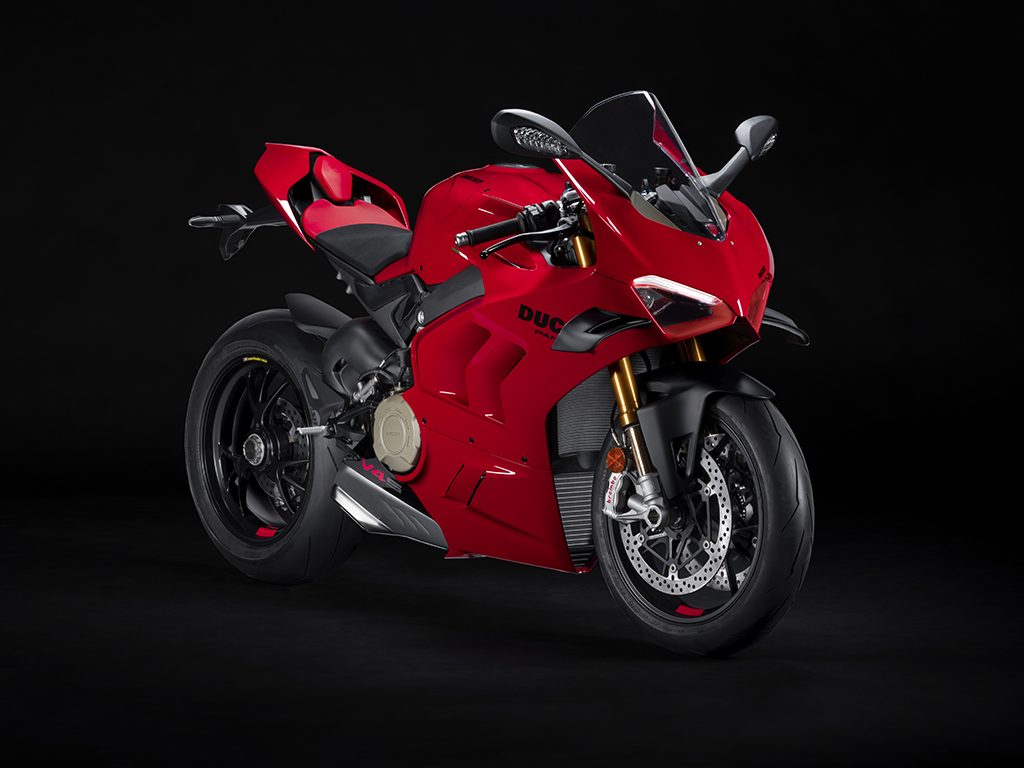 There's also a new gearbox, with taller first, second and top gears. This makes it easier to tackle the tightest corners in first gear (taller by 11 per cent), also permitting greater engine braking and better acceleration out of turns. Top speed rises by 5km/h with a two per cent taller sixth gear. That's to 330km/h, if you're wondering.
With the remap there are now four ride modes, Full, High, Medium, Low. The Full and Low configurations are new while the High and Medium settings are revised. Power Mode Full is the sportiest yet, while the Low mode makes road riding more enjoyable, limiting maximum power to a somewhat tamer 150 horses. A new optional performance exhaust takes power out to 228hp, while the maximum torque rises to 131Nm, and weight falls by 5kg, thanks to its titanium construction. Both bikes weigh in under 200kg wet.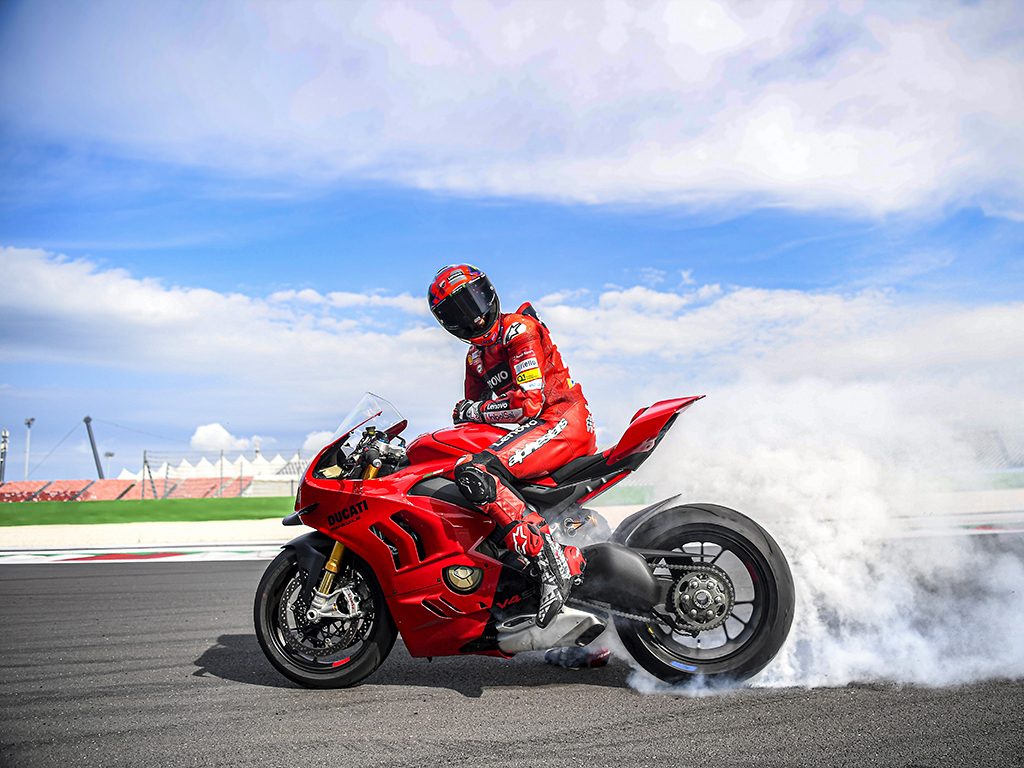 The latest Panigale V4 S gets new Öhlins NPX 25/30 electronically controlled pressurised forks, for improved braking support and better bump absorption, offering 5mm more travel. At the other end is an Öhlins TTX36 shock absorber and there's also an Öhlins steering damper. All boingy bits are fully adjustable. The single-sided aluminum swingarm pivot is positioned 4mm higher than before, increasing the anti-squat action and stabilizing the bike better in acceleration.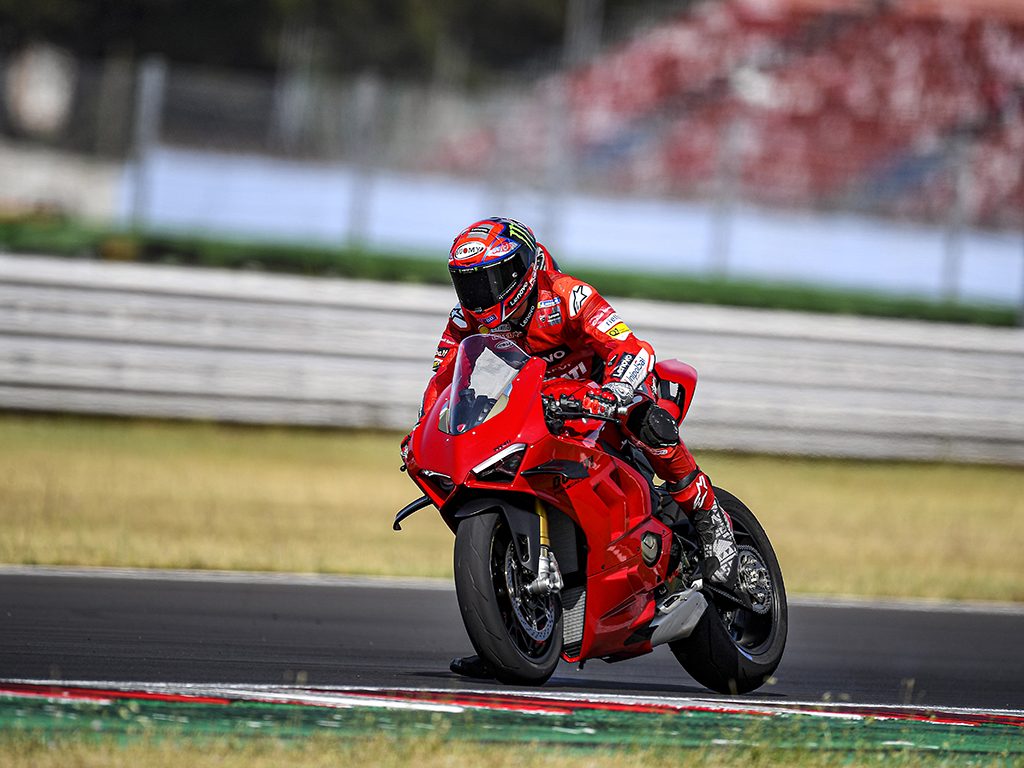 The standard Panigale V4 has 43mm fully-adjustable Showa Big Piston Fork (BPF), a Sachs steering damper, and Sachs monoshock, also fully variable. Brakes are the top Brembo Stylemas.
The safety electronics are still based on a six-axis inertial platform that controls all the riding phases, and these can be monitored on the new dash which features an additional "Track Evo" setting. This incorporates a horizontal tacho set high for easier viewing on track. Gear indication is in the centre of the screen.
Finally, the look of the bike has been revamped, with added aggression. Pick the new model by its bi-colour saddle. The Panigale V4 will go on sale here in February for $35,495 while the S variant has a sticker price of $45,495.