Super-scoots are like the two-wheeled equivalent of a car; they offer okay performance, amazing weather protection and surprising luggage capability but are much easier to park. Does the top Sym GTS EVO 300 pass muster?
Normally most motorbike people aren't scooter guys. Never the twain and all that. But I came away mildly impressed from riding the Vespa GTS 300; it's not for me, but I can understand why people like them.
So when we were offered a ride on the Sym GTS 300 (is the model name a coincidence one wonders?), I agreed that it was time to revisit a maxiscooter. The last one I rode was a Honda Silver Wing 400 from well over a decade ago. We took that to Marsden Point and back so I figured this latest GTS 300i Evo ABS should be able to handle a bit of an open road jaunt, despite the engine being somewhat smaller.
The other reason I agreed to check this out is price. Most of the bigger maxiscooters cost the same amount as a middleweight budget bike, so the motorcyclist in me says why would I even bother riding one, given it won't handle, stop or go as well? The reason is because not all maxiscooters cost five figures.
So who is Sym and what is this GTS exactly? Well the company is Taiwanese and has been in business since the mid fifties. They now mainly make scooters, though have some small motorbikes as well, only they're not sold here.
The GTS is essentially a major upgrade of the former GTS 250, evolved for greater style, improved overall performance and with added features. The single-cylinder, four-stroke, liquid-cooled engine now displaces 264cc and is fuel injected. Uprated brakes feature a single 240mm disc to slow the front wheel and a 220mm unit at the rear.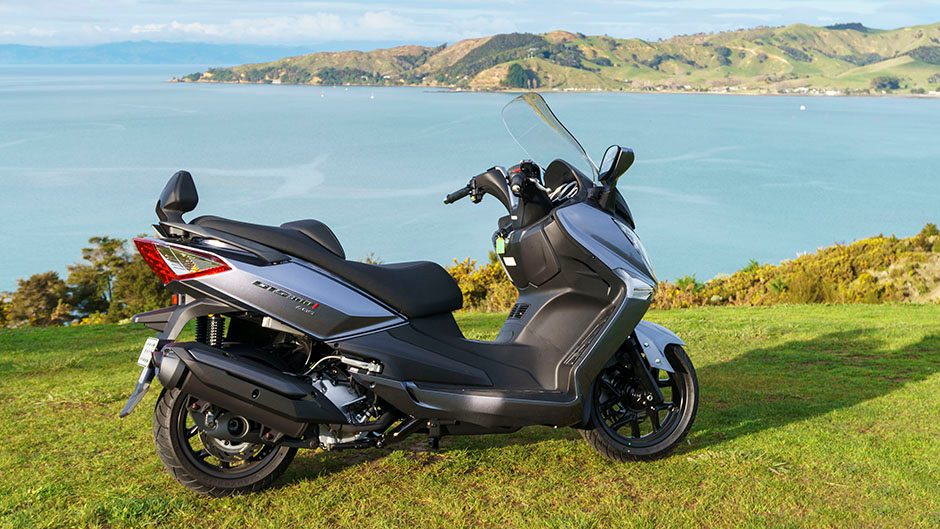 Like the Vespa, which could easily hit 100km/h on the motorway, the Sym is equally hasty so we decided to take it outside of the city limits and see how it ran. Instantly on the motorway, it affords much more stability than the Vespa, having a longer wheelbase and bigger wheels, and it also offers more weather protection. On the big ride day, we had to stop and remove a layer as we were slow cooking from the inside in so much gear.
Its fixed screen is tall but not to the point that wind is diverted above one's helmet. Contort yourself right down behind the screen and there's no wind rush whatsoever, but not much visibility either. In my normal riding position, the wind hits the visor, and I found that with it opened by about one-third, the wind rush was less. Curious but cool. There's nothing quite like riding even with the visor partly open on a bike made for cruising.
And the Sym manages that pretty darned well. Most of the maxiscooters are larger of displacement than this, the Burgman kicking off at 400cc ($12k). Only Yamaha's Xmax 300 is the same essential size, and much the same money as well ($8495). The bigger TMax 560 is over $17k.
So what do you get for your money? A big surprise really, especially in the practicality department. As mentioned, you don't need to dress up so much to go out. Moreover, after the ride you can stow your full face helmet under the seat along with gloves and jacket, lock it all up and head off as if you'd driven there. Only you'll find a park more easily if it's in town with the Sym. And then there's the cost; bike parking is generally free.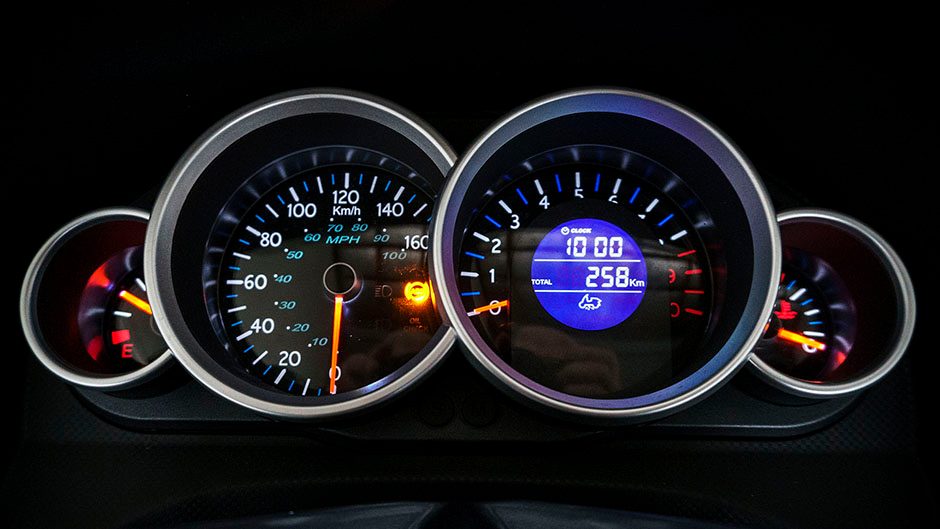 Hit the motorway and you're quickly up to 100, or so it would seem. Only 100 is actually a genuine 92. So at an indicated 110, you're still essentially legal. At this point the needle is pointing to 7000rpm, and yet you'd never know that, with little in the way of vibration or exhaust noise.
Because this runs a CVT, like most scooters, it appears you're getting up to speed quickly but in fact it takes the better part of 13sec to hit open road speeds, a couple of seconds behind the Vespa GTS 300, presumably because that weighs 158kg and this is over 190. But on the overtake the bigger GTS 300 is quicker, taking 12sec. And we did actually pass a couple of vehicles on this. You need to get the timing right and a long straight helps. It slows well too, the contribution from the rear brake significant with 50 per cent more weight over the back wheel.
A full ABS stop from 100 wasn't scary and took 42m. Its long wheelbase and decent sized wheels (14 front, 13 rear) help with stability. Not that you don't notice sharp-edged ruts but more gentle bumps are dealt to well. A plush seat helps. Stability is the best aspect of the GTS' handling. It holds a line well in smooth corners but anything with bumps sends the scoot into a bit of a wallow. Still, we made our way around the Hunua-Kaiaua-Clevedon loop in good time, sitting comfortably on 110 indicated, using two-thirds of a tank. That's about 8L for 200km odd, 25km per litre or 4L/100km. You'd do better in town.
Mirrors are jumbo sized and give a good account of what's behind, after minimising your elbows. And the riding position is comfy too. We liked the easy-access fuel filler – no need to lift the seat – and nooks and crannies for sundry small items.
It's easy to see why maxiscooters are so popular in European cities. A hint of car-like practicality and out of town ease, without the parking dramas. Prior to this I hadn't realised maxiscooters were available for under $10k. We'd say the Sym 300 offers excellent two-wheeled practicality, with a healthy dose of commuting comfort, especially at its price.
| | | | |
| --- | --- | --- | --- |
| Model | SYM GTS Evo 300 | Price | $8495 |
| Engine | 278cc, liquid-cooled, fuel injected, single, 22kW/28Nm | Drivetrain | CVT, belt final drive |
| 0-100km/h | 13.07sec | 100-0km/h | 42.07m |
| 80-120km/h | 12.05sec (350m) | Weight | 197kg |