A value reset for learner riders is how we'd describe the Gixxer SF, a.k.a Suzuki GSX250FR, a.k.a. GSX250SF. It's cheap but is it any good?
For a while now the best value cars have been coming from Korea, but China is pushing the boat out. What about two-wheelers? There's a lot of cheap stuff coming from China as well but we'd say what's out of India is better. And that's because the big Japanese bike makers have been there for an awfully long time. I recall when I bought my first bike, a Yamaha RD350, that the company was also making the same model in India then. And it's much the same for Suzuki; they've been making bikes there since the 80s.
Anyhow, that's why this particular bike, which we shall call Gixxer SF (Sport Fairing) sells here for $5000. Actually, you get a dollar change from five grand, but that's a lot of bike for the money, even if it is only a 250. Everyone we asked overestimated pricing. It even gets ABS, an LED headlight and digital LCD instrument thrown in. There's Suzuki's one-touch Easy-Start system too, and fuel injection so no choke like on the Gixxer 150.
Consider what we've had through the office lately of similar displacement; something like a Vespa 300 scooter, for example, isn't as quick or handy on the open road as this and costs twice as much. Course it has more history with that Italian cafe culture allure. The Gixxer not so much but it has a touch of racing pedigree from the GSX-Rs.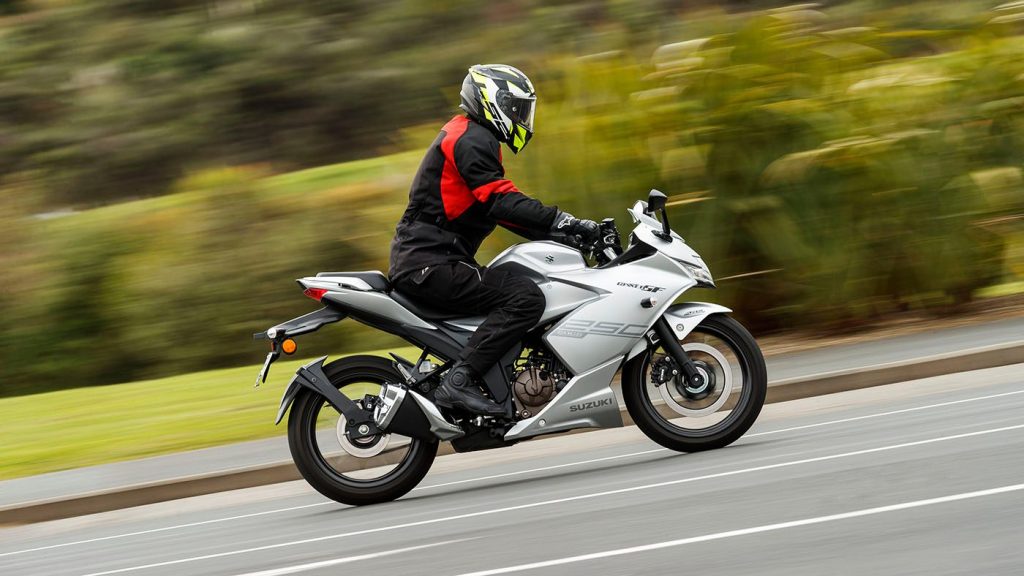 Yamaha's more desirable MT-03 costs almost 50 per cent more, though is for sure quicker being a twin-cylinder affair, while Honda's CB300R also gets the wood on the Gixxer but so it should for $8300. Even Honda's cute little Grom is $500 more expensive and it's only a 125cc machine.
So this is right up there as one of the best value machines you can buy that will cruise happily, easily, comfortably at 100km/h on the open road (an indicated 110 but there's nothing wrong with a bit of optimism). And compared with either of the big scooters we've taken out of town lately, this offers significantly better handling, being on 17s either end, and it rides pretty darn well too.
But we're getting ahead of ourselves here. There are actually two models of the Gixxer 250 available in New Zealand, this one with a fairing and if you're on a budget there's one without a screen for a couple of hundred bucks less. Both get ABS brakes. We'd probably go for the faired one – customers prefer them three to two – given it looks better and you at least get some weather protection. However, the mirrors attached to the front cowl don't tell you so much about what's behind (the bar-mount ones on the GSX 250R would be better). On the other hand, with the fairing, other riders aren't sure which Gixxer you're on. Nothing like keeping 'em guessing.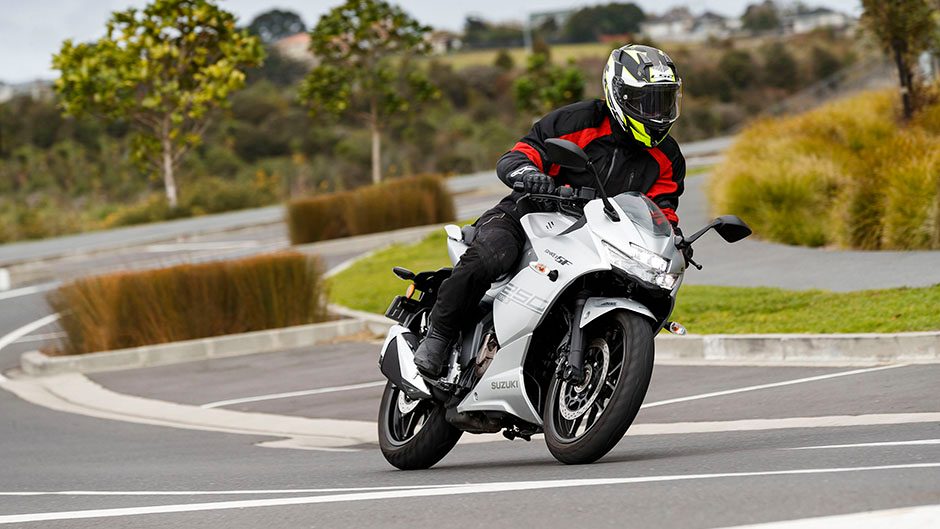 It's quite a modern looking thing, with its LED headlight, rear hugger and cute one into two exhaust system. But the 90s decals it could do without, like FI for fuel injection, and SEC for Suzuki Economy Control. Look closer and some of the components seem downmarket, but we're prepared to overlook that given its price. Moreover, it works. The Bybre front brake, for instance, is quite effective. The gearbox is slick too. Its single instrument offers time, digital speedo and gear indicator, along with a pair of trip meters. Enough then.
Powering the little steed is a 249cc single that's oil cooled (SOCS sticker). It is a Suzuki signature piece of engineering pioneered years ago on the first GSX, the 750R. An advantage is it does without a big radiator and the problem of where to conceal it. The fuel-injected sohc unit makes 27 horses at 9000rpm and is good for 23Nm at 7500rpm. Those rev points seem about right too; on the open road it feels happiest from about 6500rpm (bang on an indicated 100km/h) to roughly 9000rpm. In town you only need about 3000-6000rpm, and it toddles around merrily in top gear, sixth, at 50km/h. Helping is its light weight, just 158kg with a brimmed 12.5L tank.
This is so easy to manhandle, and with upturned clip-on handlebars, it has a tight turnaround as well. Lane splitting is fun on the skinny wee thing, and it really does take to any of these environs like a duck to water. So long as you're not expecting fireworks.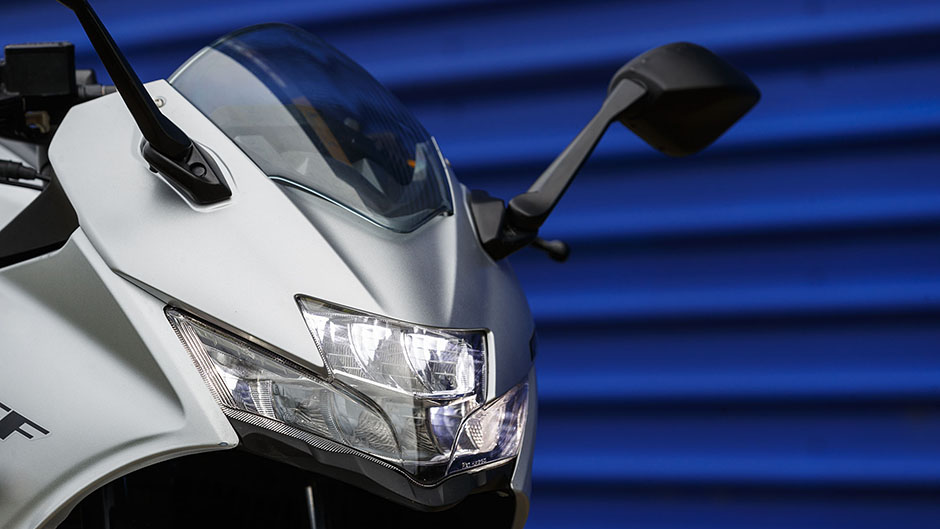 I'm probably a shade too tall for this at six feet in old money, but the riding position is good, a forward lean for the open road, part way upright for commuting. The seat isn't precisely level so you naturally slide forward but pegs are set at the right height, and your legs can really get to grips with the tank and bodywork, which helps with relaxing the upper body.
It's way more competent in a handling sense than either of the scooters we've ridden out of town recently. I'd not heard of the Indian rubber it gets but on dry roads it feels grippy enough. It turns like a demon, especially with a bit of peg weighting, and ride comfort is surprisingly good, only the sharpest of bumps catching out the rear monoshock, which is preload adjustable.
Fast it isn't but what do you expect? Indian reports suggest it gets to 100 in 8sec, but no way; clearly that's an indicated 100. Same deal with their overly optimistic top speed of 154km/h; try 130 tops. You really need to time your overtakes too but a single downshift is enough. We measured actual fuel use which came in at 3.1L/100km, most of that at around 100km/h. You'd get into the twos no problem commuting and in general running around.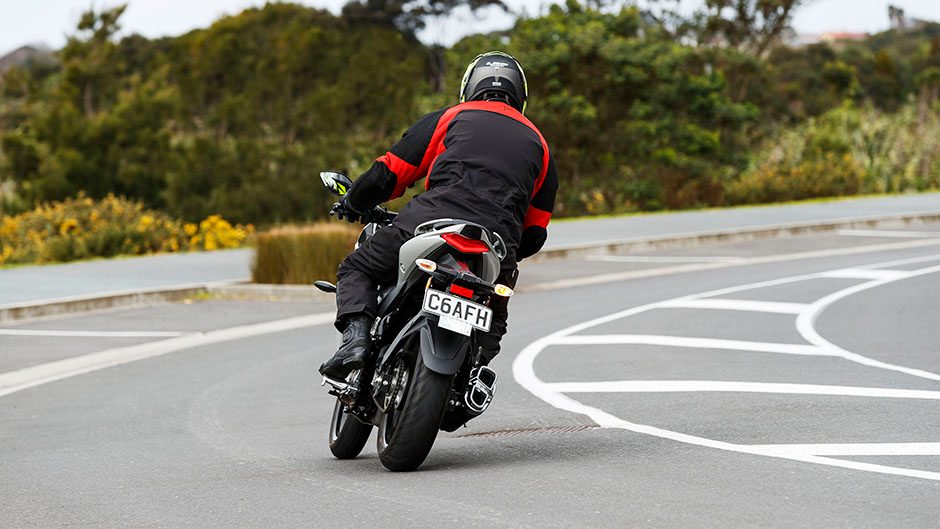 This isn't slow. We chased down a guy on a Kawasaki ER6N who was riding smoothly through a technical section of road; it took about 20km to latch onto his tail, and no, we didn't overtake. He must have laughed when he saw it was a Gixxer 250. And that's the thing about this size. What they're capable of is a bit unexpected. This is roughly as good and as fast as the Bike of the Year we chose eight years ago, the CBR250R, and that cost $7500 back then.
Bike on a budget? Unless you have a need for speed, look no further.
| | | | |
| --- | --- | --- | --- |
| Model | Suzuki GSX250FR | Price | $4999 |
| Engine | 249cc, air/oil-cooled, fuel injected, single, 20kW/23Nm | Drivetrain | 6-speed, chain final drive |
| 0-100km/h | 9.07sec | 100-0km/h | 43.74m |
| 80-120km/h | 11.88sec (338m) | Weight | 158kg |