At the 2017 Tokyo Motor Show, Suzuki showed off a fuel cell scooter and a 'cafe racer', a thinly disguised SV650. And that was it for 2018 newbies. Does the SV650X wow us?
So new for the road in 2018 from Suzuki is this, the SV650X. And that's it. In terms of excitement it doesn't quite rank up there with what Honda, Kawasaki or Yamaha had coming for 2018 but all auto makers have lean years, do they not? The name is a giveaway but in case you're in any doubt as to its genes, this is a restyled and not even re-engineered SV650. The good news for learners is you can buy a depowered one.
However, it will cost you the same money as the full-power jobbie, both selling here for $11,995 with ABS. So riders with full licences get the better deal. Suzuki had a busier year in 2017 (launch of GSX-R1000) while 2018 has been tomb-like. But for 2019 who knows? The firm has been teasing us mercilessly with a turbocharged middleweight Recursion to take on the likes of nothing in particular, given there's no other mass market turbocharged bike for sale at present.
Which is in marked contrast to the new car market where it's almost impossible to buy normally aspirated these days. How odd is that? Whether or not Recursion makes it to market is anyone's guess. But we'd be plumping in the 'not' group, given the conservative nature of Suzuki as a company. It was quite in keeping with Kawasaki to do something radical like the H2, a supercharged monster, but the guys from Hamamatsu? Next year, we're likely to see a GSX-R750 based on the thou, and a second-gen Hayabusa, possibly a 1400cc weapon with supercharger attached.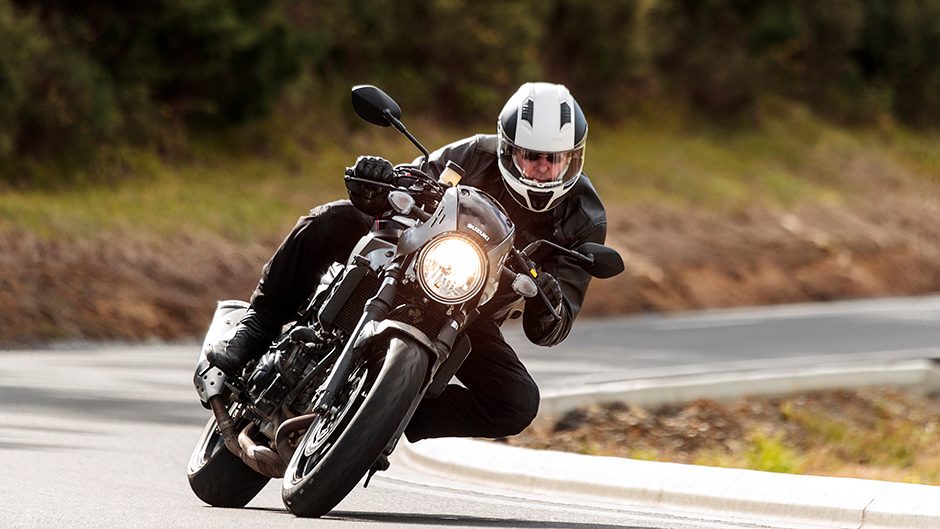 Subtly different but not new
Meantime, back in the real world, the SV650X is supposedly Suzuki's take on "a cafe racer-style custom bike".
To me, it looks like an SV650 with a slotted headlight cowl, clip-on bars, thin seat and a few blacked out items. Moreover, it's a bike slotting into an incredibly niche area, one for style-centric masochists. The bike is based on a 2016 concept machine dubbed SV650 Rally – which is a dumb name; surely that's reserved for a hard core ADV? – the primary difference being the production bike does without the shot-gun style exhaust pipe.
However, the LED fog lights carry over to the production bike as a cost option. Underneath the new bodywork is the SV650 update from 2016 when it received a new trellis frame and engine refresh. The original model first launched in 1999. There's nothing wrong with tweaking old technology if it's decent in the first place. That's how many motorcycles evolve.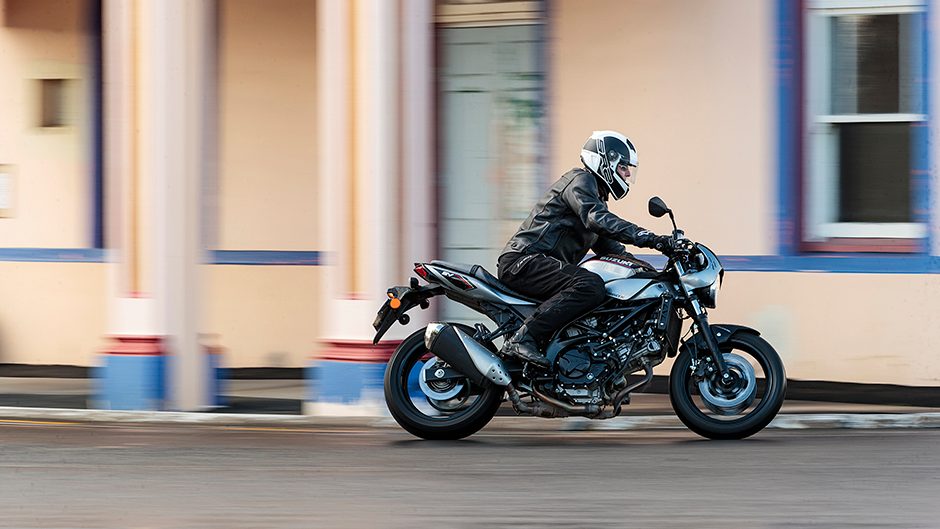 The companies in this industry aren't giants with bottomless coffers like their automotive counterparts. So you can understand why their development budgets are a little thinner. As Suzuki says, the X variant inherits the updated SV650 engine (better power and economy and EU4 emissions ready) while also employing almost all of the updated chassis and bodywork bits.
Good on paper
A twin, especially a V-twin, is entirely appropriate in this small niche sector. It's designed for good midrange punch – uses staggered length intake funnels to boost low rev torque – but also spins out well (to 10,500rpm), the full-power model developing 56kW at 8500rpm and 64Nm at 8100rpm. The LAMS bike, for the record, does 35kW, and 57Nm at 4000rpm. The former is said to be the most fuel efficient 650 twin in the class, thanks to dual spark plugs per cylinder, with a claimed overall figure of 3.9L/100km.
There's also Suzuki's easy one-touch start-up system and low rev assist function to prevent stalling when pulling away from a stop. Both are handy. Other features include a full-function LCD instrument cluster, kerb weight around 200kg, a slimline design and 790mm seat height to suit a variety of rider sizes, a new fork preload adjuster, 14.5L tank, and 14 different accessories. Colour choice is limited to two-tone black and gray.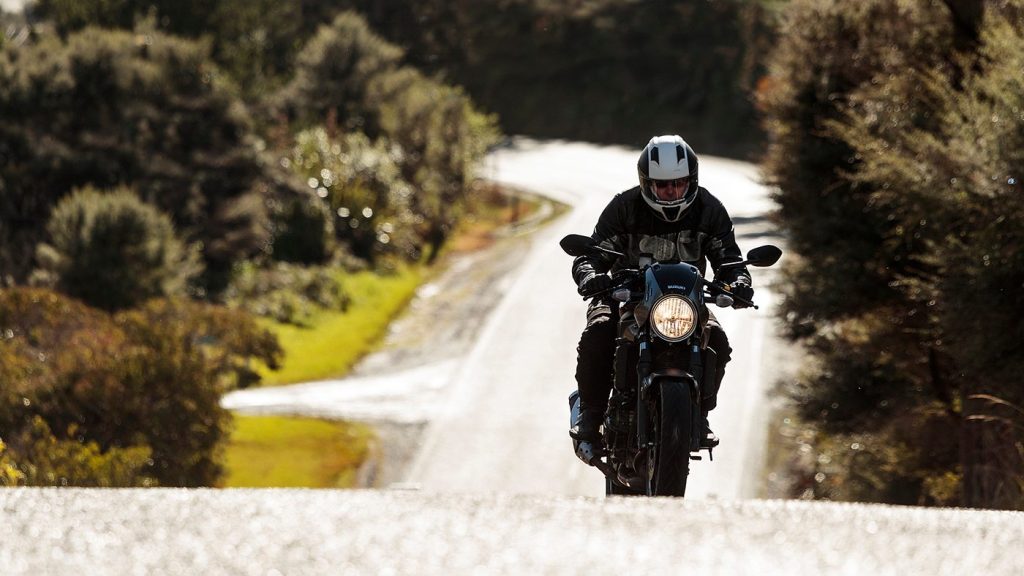 So how does Suzuki's lone new entrant for 2018 go then? Apart from soft brakes, restricted lock and firm suspension, it's really very well sorted, as you'd hope of something with two decades of development behind it. With the lower handlebars, clip-ons, it's a proper cafe racer crouch one adopts, and the thin cushion of the rider's seat therefore doesn't have quite as much of an impact on comfort as expected, given much of your body weight is supported by the wrists and the knees. More speed and air cushioning obviously relieves the wrists of some of that.
The not-great steering lock is the result of having clip-on bars. We've ridden plenty (of Italian bikes) that are worse in this regard. Stab the go button and the starter motor takes care of the rest. It's not a noisy engine this, but it's unusual being a V-configuration given most middleweights these days are space-conserving parallel twins. Hell, even V-twin crazy KTM has gone down that path. What next, a parallel-twin Ducati? Yeah, nah.
Sweet powertrain
This engine is said to be nigh on bulletproof. Just ask national racers in the pro-twin/F3 series. It pulls well from low revs, really well, as promised on the packaging, hauling around urban thoroughfares in top at 50km/h without wincing. And then from about 80km/h onwards it seems to accumulate speed well enough simply by twisting the throttle.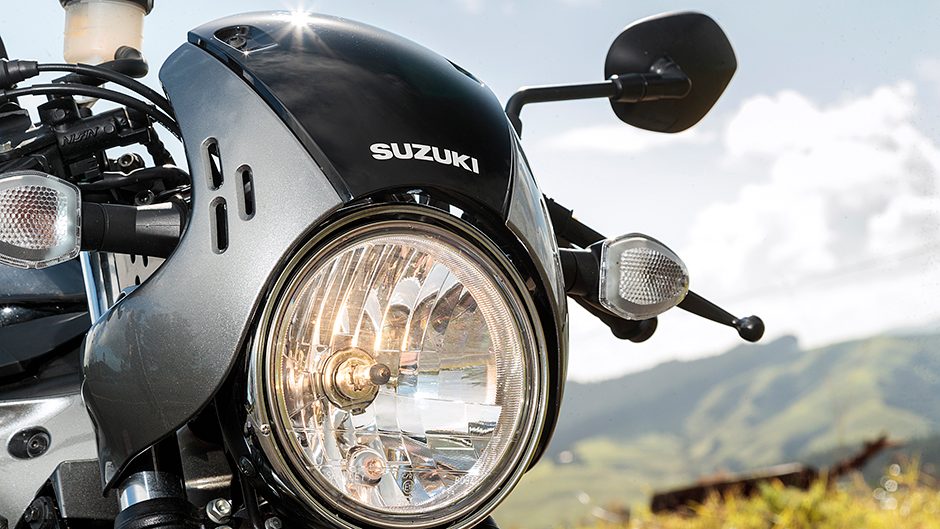 From 100 onwards, 4500rpm, it's well onto it, best pull residing around 5500-7500rpm. It's surprisingly quick too. About half a second faster than when we last tested Gladius, getting to 100 in under 4sec. It's almost as quick 80-120 as the high output version of Yamaha's MT-07. Helping is a slick, sorted transmission.
Low rev grunt beats that of most parallel twins of similar capacity, pulling right down to 50km/h without fuss. Fuel use is brill too, a tank range of over 300km should be possible given we averaged under 4.5L/100km. The one thing we did notice on our first acquaintance ride was a relative lack of retardation until you give the adjustable brake lever a serious prod. That's likely because the calipers aren't radial, they only contain a pair of pistons and rotors are just 290mm in diameter.
Yes, they work okay when given a proper yank, and they have ABS to prevent lock-ups but they aren't quite up to modern standards, even for beginners. Ensuring use of the rear brake each time you hit the front means stopping power is much better, as a 43m emergency test from 100km/h would attest. And that primary fault is rather a pity, given its overall abilities. Moreover, this dissects B-roads quite gracefully otherwise, thanks to its mass centralised slimline V-twin.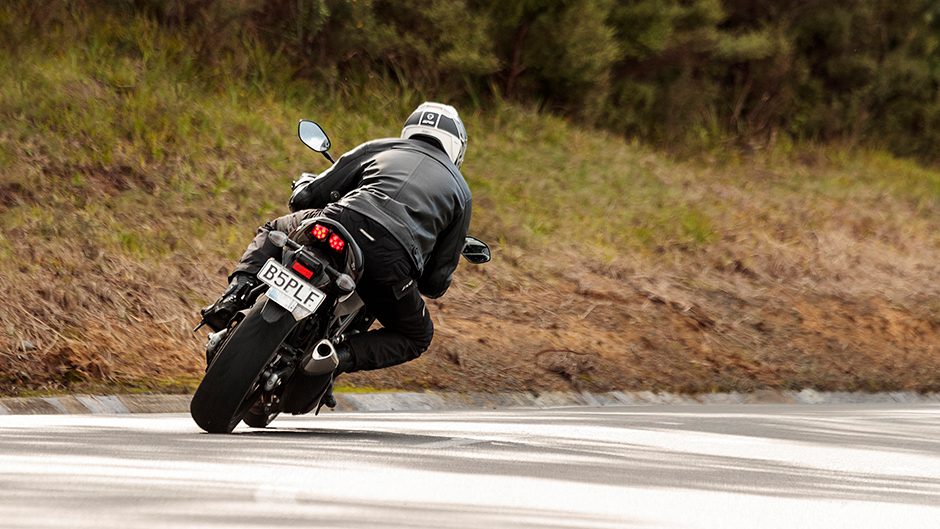 It's almost vibe-free at virtually all revs, and has some of the clearest, best designed mirrors of any machine. Shame their locking nuts come undone so easily. The ride's a touch firm in the rear too. However, it's cheaper than similar if not direct competition like XSR700 ($12,700) and Streetcup ($17,990).
Fact is, SV650X pricing is no different from what it was in 2009 as Gladius. And for that you can almost forgive its brake issue. Want an even easier riding position? A standard SV650 costs a grand less. It will be interesting to see what Suzuki issues forth with next, whether this year was just a lull between periods of road product activity or something more serious is afoot.
Given its participation and more than satisfactory progress in MotoGP, especially after jettisoning Iannone for the talented 20-year-old Joan Mir, we'd expect 2019 to be more promising for Suzuki.
| | | | |
| --- | --- | --- | --- |
| Model | Suzuki SV650X | Price | $11,995 |
| Engine | 645cc liquid cooled, fuel injected, V2, 56kW/64Nm | Drivetrain | 6-speed, chain final drive |
| 0-100km/h | 3.74sec | 100-0km/h | 43.6m |
| 80-120km/h | 2.42sec (70.2m) | Weight | 202kg |