Most Indian motorcycles are monstrous except for the Scout. Now there's a head-turning Bobber version, blackened, lowered, fenders chopped, dripping style. We do a recce on it.
Polaris had a difficult decision to make recently; it had both Victory and Indian motorcycles in its portfolio, but the one with the winningest name had been in financial trouble for some time, while the other with the heritage title was in the early stages of its rebirth. Should it keep both or cut its losses and ditch one?
Guess the decision was relatively easy in the end, with Victory getting the chop while the marque with over 100 years of history would be the motorcycle brand Polaris would nurture as a viable alternative to the institution that is Harley Davidson. Right decision to my mind; no point having two such similar line-ups. Victory was a me-too brand with no real history while Indian was a phoenix reborn, with pretty much new everything, apart from the name.
The engineers had a blank canvas while designers got the easy job, given oodles of heritage styling to draw upon. The renewed American icon came along at an inconvenient time for H-D, cruising along as it was. The result was the kick in the pants it needed, with a new development programme that culminated in the Milwaukee-Eight engine, a breath of fresh air for the firm. And they have plenty of other irons in the fire too, including an electric bike based on their Livewire concept, and an adventure tourer, a streetfighter, and a range of 250-500cc bikes aimed at Asia.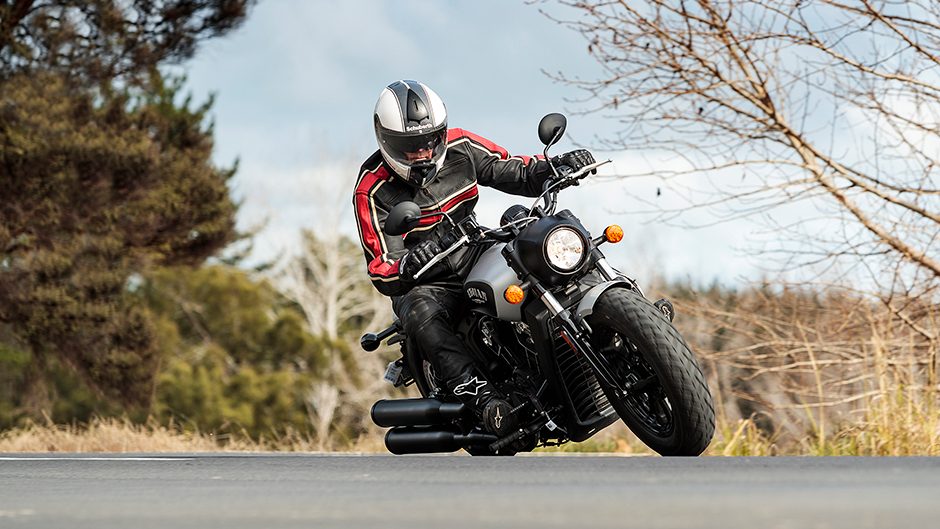 Bobbers are better?
Back to Indian though, and after the initial flurry of new models, most in the large touring iron category, along came Scout, an entry-sized cruiser with a generous lashing of style and speed. Not only would it be the world's fastest new Indian – being light and powerful it easily outdrags its bigger sibs – but it would come in several variants. The initial 1133cc bike was soon backed up by a smaller Scout 60 model, which subsequently exited stage left.
In its stead, Indian added something with a bit more mongrel in the Scout Bobber. As you may be aware, the Bobber craze began post-war when standard bikes were pared back to the basics, so that's the look modern Bobbers also get. Out with the chrome and the tassels that identify models like the Indian Chief, and in with blackened everything, wheels, exhaust, headlight cowl, footpegs, fenders and even the lone instrument.
Naturally two of the five colours available are different shades of black. To add to the aggression, the rear suspension is lowered by an inch, and the forks are similarly modded to suit. There's also a different riding position, with footpegs shunted rearwards by 36mm, and special lowered and widened 'tracker' handlebars, imbuing it with a more 'involving' or aggressive riding position.
Other new bits include a two-tone brown and black single seat, and a new Indian Scout tank badge. It's visually arresting.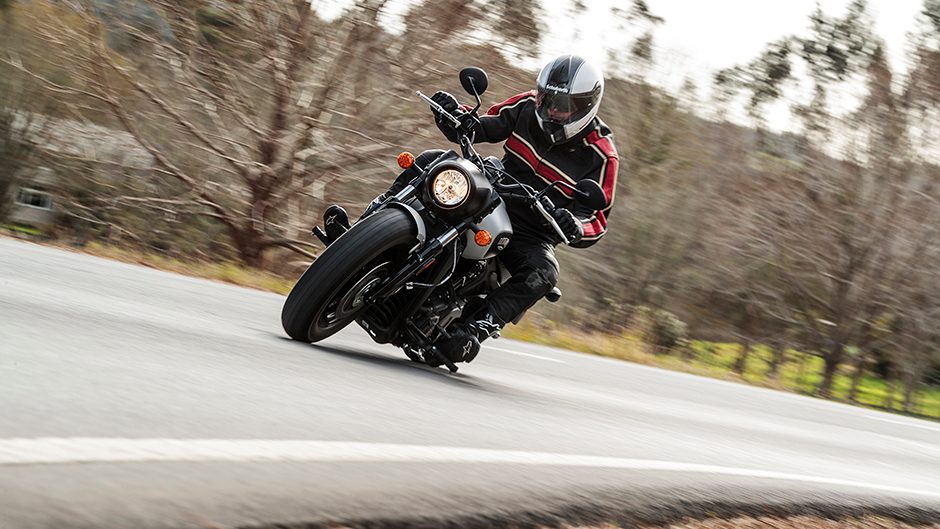 Powertrain is the business
As to the mechanicals, nothing's changed really and that's a good thing. The 1133cc engine, the best 69er in the business (cubes of course), is still good for 70kW and 97Nm, which compares with 57kW and 106Nm from the high-torque parallel twin of the similarly priced Triumph Bobber and 45kW and 97Nm from the 48 Harley's air-cooled mill. It too costs just over $20k.
In terms of speed in a straight line, we've checked out the Scout before and found it to be quick, particularly for a cruiser. Where the Triumph Bobber managed 0-100 and overtaking times of 4.1 and 2.7sec, respectively, the Scout rattled these off in 4.0 and 2.6sec, so they're twins in that regard.
You'd not suspect the engine of being capable of revving out, to around 8000rpm, but that's why it's so quick in a straight line, the 80-120 covered in second gear alone. However, it's all a bit pointless hanging on for the limiter. We rarely used more than about 6000rpm because there's so much happening across the 3500-5500rpm area. Any higher and the tingles start to kick in anyway. But it can hike, no doubt.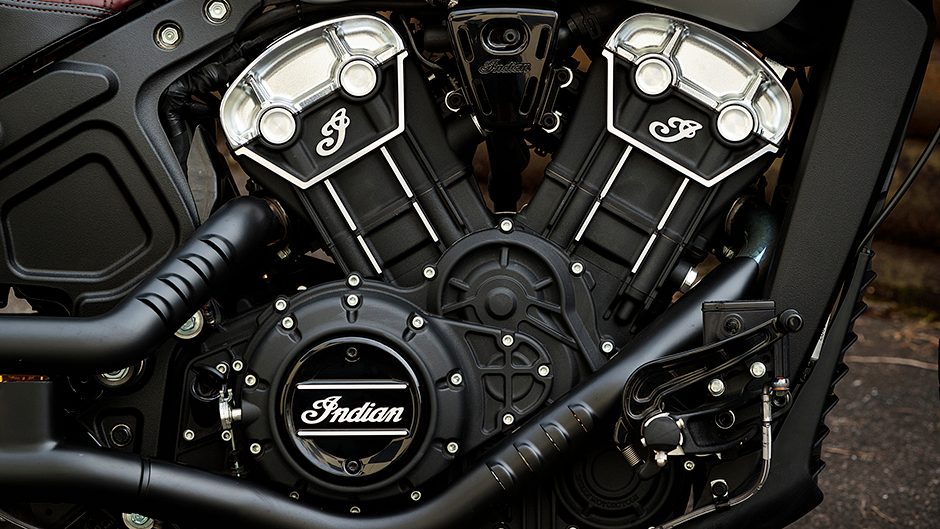 We'd forgotten about the vibes from the Scout; there's nothing until 90 clicks but thereafter the mirror reflections start to shimmy and by 100 you can't tell if its a new or old Commodore behind you. That said, riding at the legal limit it's just like any decent V-twin, the vibes feel minimal, part of the background. It's only when the wind pressure and speed build that the vibes do the same. The engine's barely breathing come 100km/h, 3300rpm in sixth. Like any good cruiser, that's also where it feels at its most relaxed.
Comfort takes a back seat
The engine itself is something to behold, a mix of alloy and black, and it sounds the part, though the stage one muffler you'd probably consider if you want a few more dB of goodness. And a few less kg of unnecessary metal. Not that the sexiest Scout is exactly lardy; its wet weight of 256kg is a far cry from the Chieftan's almost 400kg. But nor is it exactly a lightweight to manoeuvre for it's long and hasn't much steering angle, but in its favour, it is really a low rider. Most consenting adults would be able to straddle this with feet flat.
However, on the go its low-rise "tracker" handlebars make it a minor stretch, not so good for those with lower back issues. Furthermore, with only 50mm of rear suspension travel, bumpy secondary roads can add insult to injury, the spring settings a bit sportier than those in the regular Scout. It's part and parcel of chopping an inch out of suspension travel in the interests of improving appearances.
Best to lift your weight off the seat in anticipation of bigger hits. Or go for the regular Scout instead which is a bit comfier in the ride department. Alternatively you can upgrade to better Fox shocks, one of the myriad accessories available. We'd be thinking about a different seat too, for while the standard two-tone brown and black offering looks great, it doesn't exactly last the distance. There's a gorgeous old-school springer-look seat in black that costs around $700 and looks totally the Bobber part.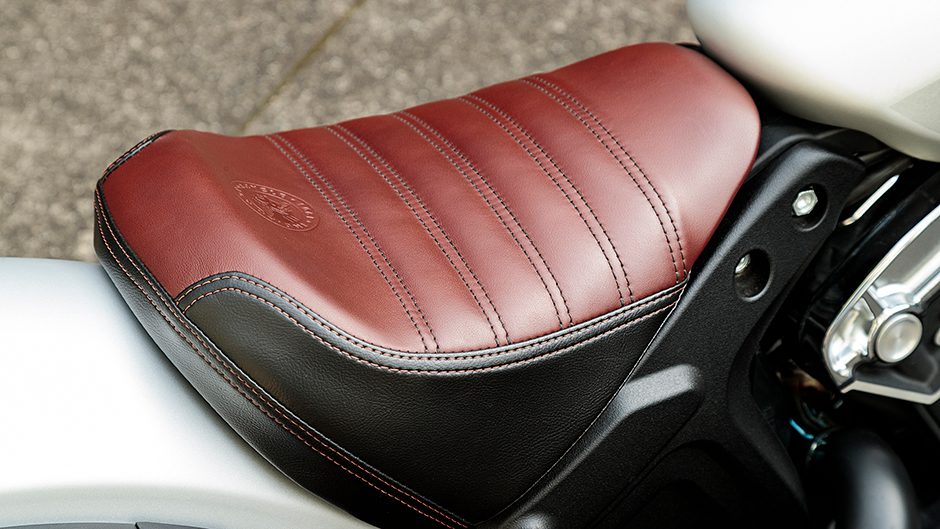 Go with the flow
The firm nature of the chassis set-up is typical of the breed, and detracts from what is otherwise a great ride. We were surprised at how often it didn't touch down, given its long wheelbase, and sawn-off suspension; it's mainly tighter bends taken a bit quickly that catch it out. Being a narrow V-twin with wide bars, you don't need to muscle the bike into changing direction. It flows nicely down all sorts of roads.
The powertrain is for sure its shining beacon of goodness. Initially you suspect it doesn't much want to know about revs below 2000 but will in fact haul away smoothly from 1700rpm or so. In town you tend to upshift well before 3000, where it can putter around happily in fifth.
The gearbox remains one of the smoothest we've encountered in any cruiser. And brakes are fine, ABS standard. There's no real adjustability here, no engine modes or TC but nor are they missed.
This or the Triumph depends rather on your engine preference and which appeals aesthetically. Both are great sluggers, and each has a ride that's better suited for short hauls. They're nicely screwed together too. Tough call. One thing's for sure; these are such eye candy that you'll never be lonely ever again.
| | | | |
| --- | --- | --- | --- |
| Model | Indian Scout Bobber | Price | $20,995 |
| Engine | 1133cc, liquid-cooled, fuel injected, V2, 70kW/97Nm | Drivetrain | 6-speed, belt final drive |
| 0-100km/h | 4.08sec | 100-0km/h | 41.15m |
| 80-120km/h | 2.68sec (76.40m) | Weight | 256kg |