Normally the RS badge has us motoring types fizzing at the bung, though when applied to these two it's more about being really spacious than racy and sporting. So which big little car is the better one?
While some might dwell on the fact these two aren't deserving of the RS badge they wear, to the general masses, they're just a couple of consonants. As alluded to in our intro, they could stand for really spacious, as Honda's Jazz and Suzuki's Baleno are just that. They might be small but their packaging sees them offer up plenty of interior space. They are cheaper than those hatches from a class above while offering almost as much space, but which is the one to pick?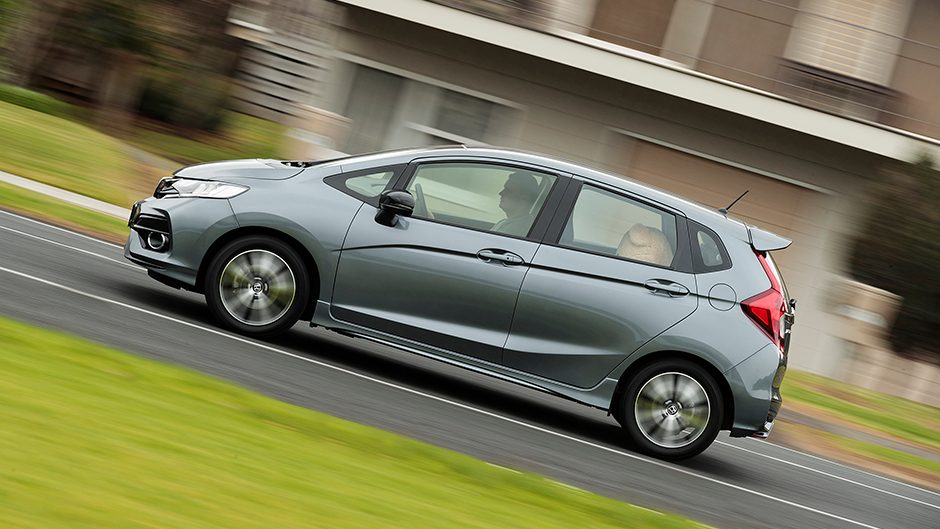 RS v RS
There are two Balenos to choose from but it's the RS you should be looking at. The GLX uses an old 1.6-litre engine lumped with a four speeder, whereas for an extra $2k, you can bag the $25,990 RS with a six-speed auto and the company's modern 1.0-litre turbo triple, along with an enhanced specification. The RS gains 14 extra kilowatts over the GLX, totalling 82 and there are 30 more Newtons, with 160Nm made in an easier fashion thanks to the pressurised induction, the total fronting at 1500rpm and slugging away through to 4000.
The Jazz is essentially a two-car range; there's the S with a 1.3-litre and the 1.5-litre RS can be dressed with a variety of body kits. Honda's four cylinder is naturally aspirated, and so requires a few revolutions of the crank to spin up similar numbers, 155Nm made at 4000rpm, but it musters more power with 97kW. You can get a Jazz RS with a six-speed manual, though most opt for the CVT auto, which goes for $27,490, plus on roads.
That's a Price Promise figure, so don't expect any leeway from the Honda agent, whereas the Suzuki dealer will be able to pull out the pencil sharpener on the Baleno's price.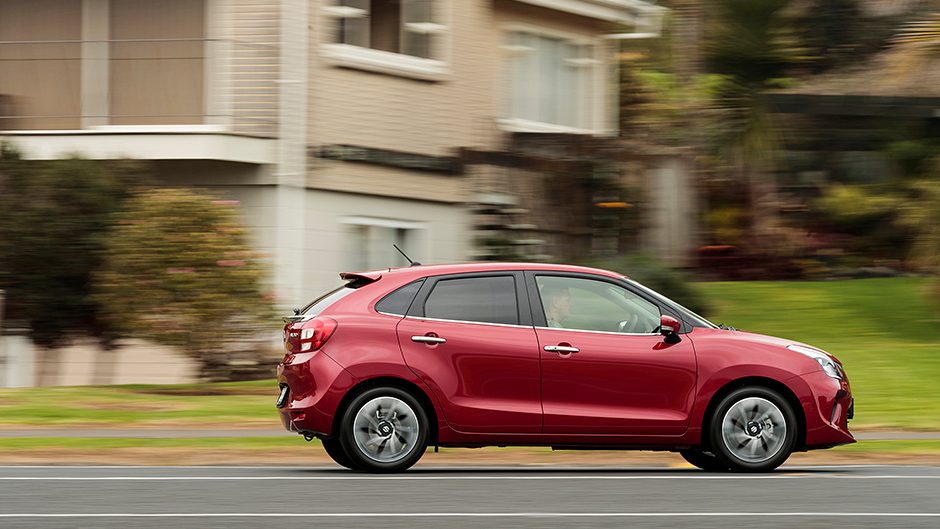 Small cars you buy with minimal running costs in mind. Honda rates the Jazz as averaging 5.6L/100km, though this is measured on the more lenient JC08 consumption test. The Baleno RS is said to average at 5.2L/100km on the ADR test cycle, but requires 95 whereas the Jazz can burn 91.
Suzuki markets a five-year/100,000km warranty, though this consists of a full three-year/100,000km warranty with a two-year extension on the powertrain. Honda gives a full five-year, transferable warranty with no limit to the miles travelled. Service intervals for the turbocharged Suzi are every 12 months or 10,000km, the Honda can go an extra 5000km between oil changes. Honda also offers a three-year, 45,000km service plan for $950.BOTH MAKE LIGHT WORK OF TOWN RUNNING AS THEY ARE STILL SMALL CARS AT THEIR CORE.
Suzuki has recently spruced the Baleno with a new grille and bumper up front and the RS now includes LED lights as standard, while the wheel design and a few interior colours have been changed. Engineering updates include additional sound deadening and a softening of the ride for more refined progress.
The Jazz received an update around this time last year with a new look front end, Honda also taking time to tweak the chassis of the now five-year-old car. Thicker steel is used in key areas to reduce NVH and improve rigidity and they have fine tuned the dampers and suspension settings. Though not applied to this MY19 car, Jazz has just received a further tweak with new interior trim and an updated audio system featuring Apple CarPlay and Android Auto.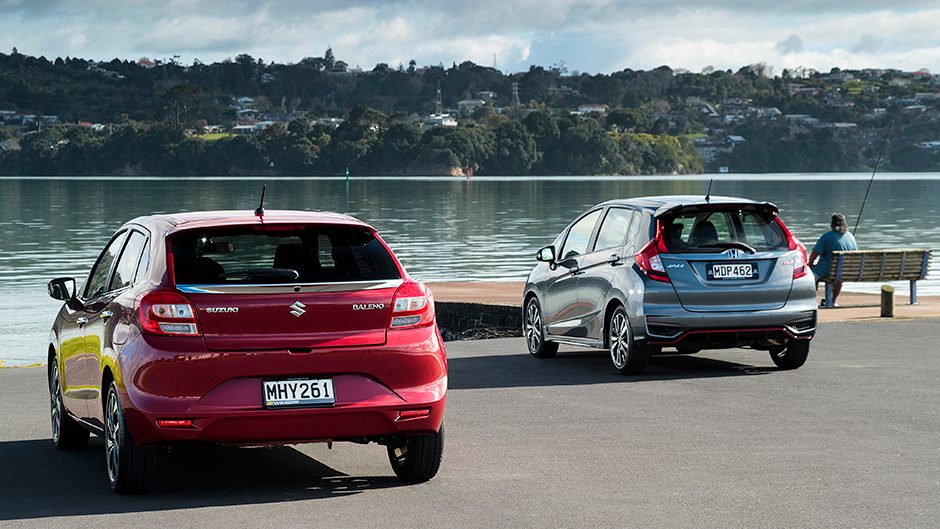 Big where it counts
If you're after something small but practical, these two are just that. Both have oodles of back seat space for little cars where two humans of a decent length will find it no problem to get comfortable. There's not much between these two for leg and head space. Even the middle perch is okay in this regard, though you're unlikely to squeeze three adults across the back bench.
The Jazz eases entry with its bigger doors and a slightly raised seat height. If you're the sort that finds it hard to resist a bargain when you're out shopping, you'll get your loot home more easily in the Jazz. While the overall capacity of each hold is similar, the Jazz has a bigger opening with a lower load lip, and the shape of the boot presents more usable space. And then there is the Magic Seat, which really is wizard. This sees the 60/40 rear seat flop right down flat, giving the Jazz a bigger overall cargo volume. And the seat bases can also be flipped up to create another cargo carrying solution, one just aching to solve a problem.
Up front, hard plastics are to the fore in both cabins, but the Suzi seems to have more of them, with fewer soft spots. Jazz has the better seat for comfort and support, and it's sited up higher too. There's a lower seating position in Baleno, but it can be pumped up too if that's how you want to roll. There are more power outlets in the Jazz and, save for the small door pockets, it has better cabin storage.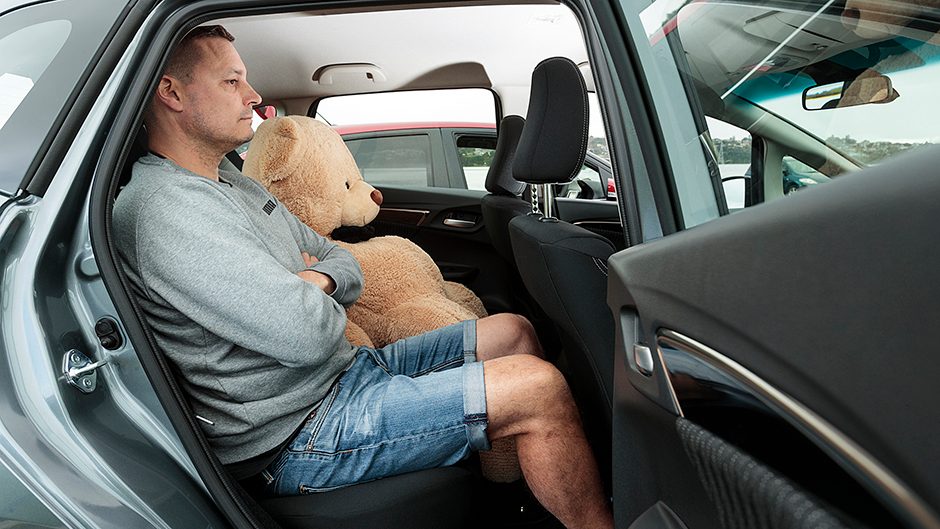 The Suzuki possesses the superior infotainment system. We like its simplicity yet it packs all the functionality you require, including sat nav and smartphone integration, while its resolution allows for a clearer reversing camera image. As mentioned, the updated Jazz is getting a new system with Carplay and Android Auto, and it's much needed.
Being RS models, they get shift paddles while the Baleno even boasts a boost gauge and g force meter! Expect a smart key, single-zone climate air, dumb cruise (with a limiter in the Suzuki), LED lights and alloys. Both have ESP and six airbags while Honda adds low speed autonomous braking.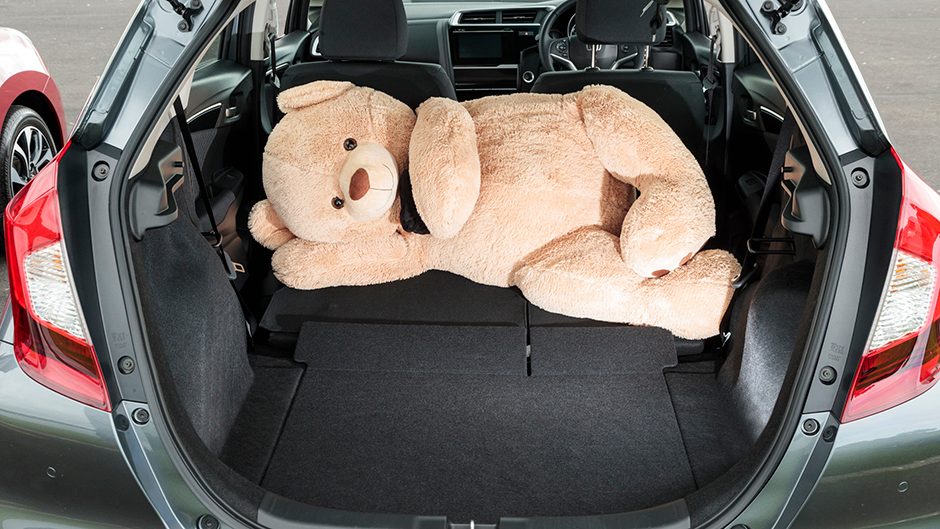 Town and country
Both make light work of town running as they are still small cars at their core. Each has light weighted but well assisted steering, the Jazz has a quicker ratio with 2.6 turns between the locks but has a larger turning circle. There is good outward vision from both driver's seats, making them easy to park and manoeuvre in confined spots, though with a bigger glasshouse, the Jazz's cabin is more airy.
The round-town ride of the Baleno is now more relaxed and soothing than rally sport inspired, while you'll notice a few more of the lumps beneath the Jazz. The Baleno's low and lumpy engine idle speed doesn't do much for refinement levels, but it's better than suffering through idle/stop dramas. With a low first gear, it gets off the mark quickly, by 1500rpm it's pulling well and is steaming by 2000rpm. It does like to hook up into fifth around town, which sees it pulling 1250rpm at 50km/h, where it's just off boost. However, the auto will kick down when persuaded, the engine willing to spin and it sounds pretty cool too, like half an air-cooled 911.
The Jazz too feels rather lively for a car in this class, underway without hesitation and though the 1.5 doesn't have the same low end surge of the turbo, there is enough below 3000rpm for traffic sorties. It too does 1250rpm at 50km/h, but does so more happily. Give the throttle a tickle and the CVT is quick to shorten the ratio and spur things on.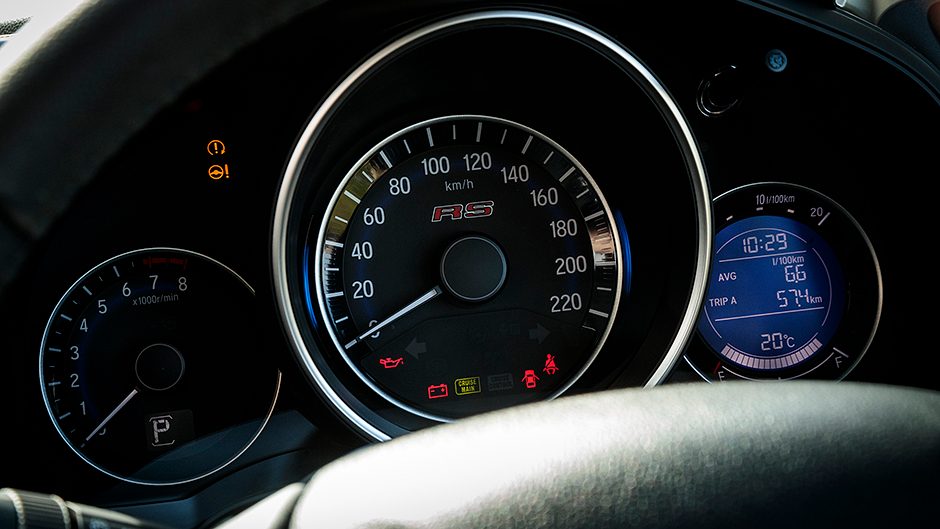 But with added revs comes extra noise. The trip computers in each recorded similar numbers; both will register in the mid-6L/100km range for town running and mid-fives is what you'll see on the highway. This pair gets along fine at a constant 100km/h cruise, and while it feels like the Jazz kicks on quicker for the overtake, they are about even against the clock.
The Baleno's softer spring tune means it's not as settled over the dips and rises as the Jazz, which feels more resolved at these speeds. Both have the same sized treads, with Honda running a sportier Dunlop tyre that sticks better but rumbles more. That said the Suzuki is not that quiet over coarse chip highways either.
The Jazz turns better, it's chassis more responsive and controlled, with less of an inclination to roll or float and is better at dealing to bumps at speed. The Baleno's auto continuously hunts for the right gear, and there's no sport mode, just a manual setting and those paddles. The Honda's CVT is a bit the same, until you pull the lever back into the S, and here it keeps the engine churning above 3500rpm to improve its responsiveness. While it's a tad vocal, the 1.5 revs with a certain vigour and the extra power up top is telling.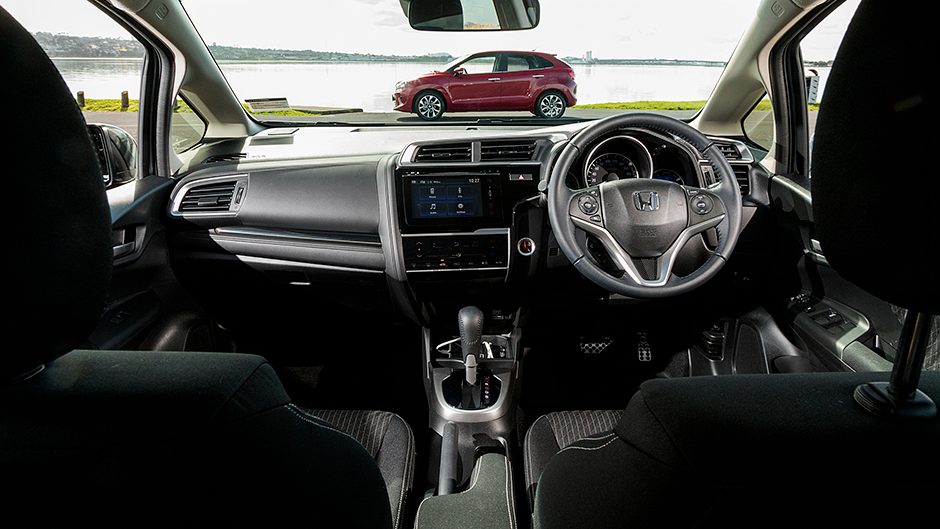 So what's it to be?
These are well matched in key areas, and you could well be persuaded by the Baleno's lesser sticker, turbo torque and supple town ride.
We preferred the drive in the Jazz, and it's added interior practicalities, but either is a good choice in this segment.
| | | | |
| --- | --- | --- | --- |
| Model | Honda Jazz RS | Price | $27,490 |
| Engine | 1498cc, IL4, DI, 97kW/155Nm | Drivetrain | CVT, front-wheel drive |
| Fuel Use | 5.6L/100km | C02 Output | 130g/km |
| 0-100km/h | 8.99sec | Weight | 1085kg |
| | | | |
| --- | --- | --- | --- |
| Model | Suzuki Baleno RS 2018 | Price | $25,990 |
| Engine | 0000cc, V8, XX/X, 000kW/000Nm | Drivetrain | x-speed auto, X-wheel-drive |
| Fuel Use | 5.2L/100km | C02 Output | 121g/km |
| 0-100km/h | 9.50sec | Weight | 980kg |