For those not into urban trucks or high-rise double-cabs, wagons continue to be a viable alternative. We check out a pair of turbo'd chargers with racy creds.
For those not so enamoured of the high-riding medium SUV or double-cab ute, all is not lost. There are still desirable wagons on offer and the sportier offerings make for convincing all-round transport. When they're not busy ferrying youngsters, the rear seats can be remotely unclipped, and the hold space put to good use lugging long loads like kitset raised gardens (not saying we did) or a load of scrap firewood from furniture factory offcuts (same story).
Such offerings cost about as much as a well equipped medium SUV and are generally less expensive than the range-topping double-cab utes. We've just had the pleasure of driving a pair of these, both in the $55k area and both with turbocharged 2.0L engines. What's distinctly different is that one's front-wheel driven and the other a four-paw affair. But given they're both touted as sport-tourers, one even wearing an RS badge, the comparison seemed valid.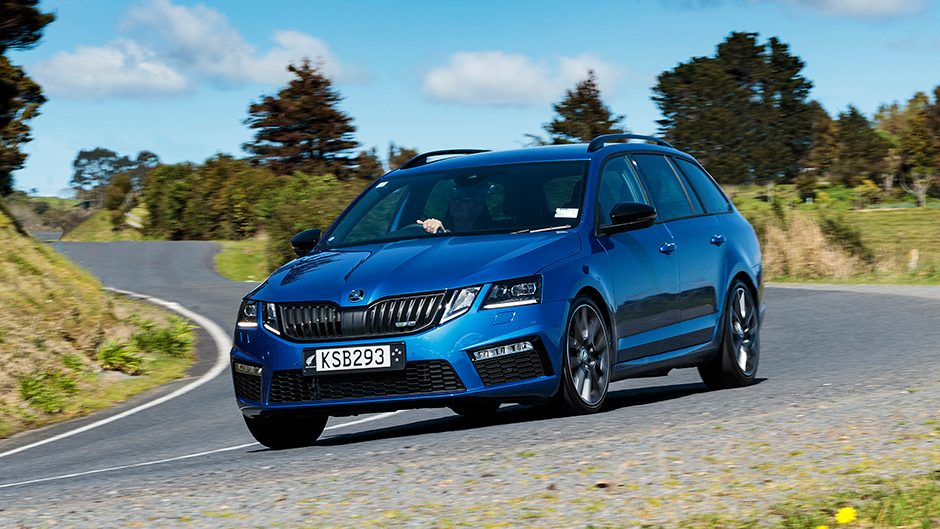 The Contenders
In one corner, from the European juggernaut that is the VW Group, or more specifically the Czech carmaker Skoda, we have the facelifted Octavia RS Wagon, powered by a 169kW engine (up 7kW on its predecessor) that you might also find under the bonnet of the ever-popular Golf GTI. That's hooked up to a six-speed twin-clutch transmission and offers all sorts of driving strategies, with paddles for the control freaks, and five driving modes. While none changes suspension tune, the modes alter engine responsiveness, steering heft, and even exhaust note. On Sport, the sound enhancer delivers and it's never overdone so we just left it like that. There are also separate D and S settings for the transmission, so you can alternate between Sport and Drive.
In the other corner simmers Subaru's refreshed Levorg. The minor facelift gifts new alloys, grille, front bumper and headlights, while beneath the Bilstein suspension has been tweaked. New cabin technology includes a front view monitor to help with parking proximity, and a rear view mirror camera to help with clarity if the back seat is full of would-be NBA players. There are also better brake pads, an auto-on electronic park brake, a new 40/20/40 split rear seat, a 10-way driver's seat with dual memories and adaptive headlights with DRLs. A new lane keep assist function does just that. Subaru has increased the price by $1000 so the lone GT-S model now goes for $57,990. As before, Subaru's Eyesight ensures active cruise with a stop and go function, autonomous braking and collision warning.
There's also the usual stuff you'd expect mirrored by Octavia spec, like ABS, ESP, dual zone air, sat nav, seven airbags, comfort entry and LED headlights. They both have sports seats with heating, but in the Subaru there's also full leather upholstery, an electric sunroof, and permanent 4WD as standard. Both get torque vectoring by brake. Octavia retails at $52,890, but leather trim adds $2500 and there's a similar cost for power seats up front, closing the gap. That said, the Octavia has an electric tailgate, behind which lurks a cavernous 610L of luggage space to the Levorg's shallower 522L, expanding to 1740L and 1446L, respectively. Octavia also wins on rear passenger space, and has a wireless phone charger in front of the gear lever, a removable LED light in the back and an umbrella under the passenger seat. Plus it comes with Apple CarPlay and Android Auto, neither available in Levorg.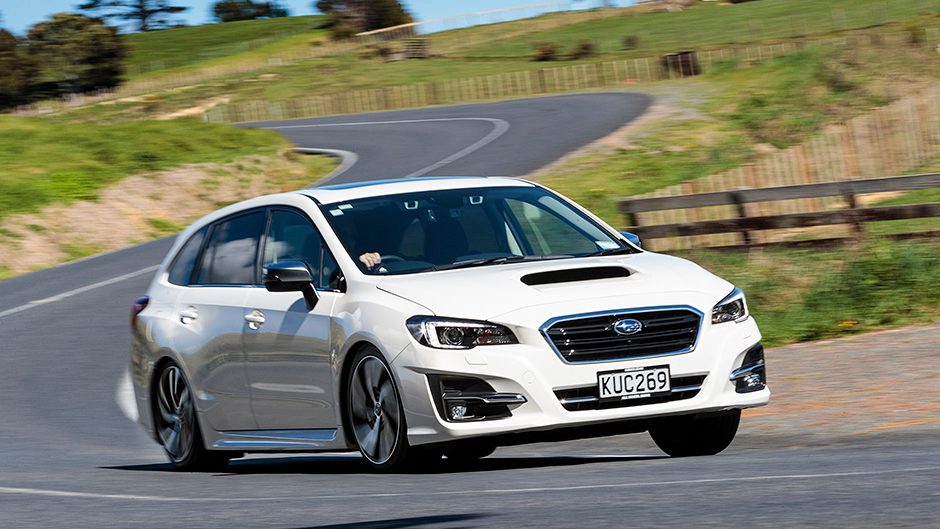 Aside from the slight size disparity between these two – the Skoda is taller, longer and wider than the Levorg – the other notable difference is that the Subaru uses a CVT, or Lineartronic in Subaru-speak. These devices are increasingly sophisticated. Depending on the mode chosen, it works as a six-speed auto or an eight-speed manual.
Aesthetically, neither would be contenders in a Body Beautiful 2017 competition, but then both Subaru and Skoda tend to go their own way in a styling sense. It's a case of function over form for the Skoda; you don't achieve gobs of load and passenger space by creating a hunkered form more along the lines of the Levorg. Not that it sets any new style trends either, its gaping letter box intake slot is about as modern as Fast Post.
On the safety front, they're both brimming with the latest active whatsits and are ANCAP five-star crash rated (Octavia 36.8/37, Levorg 35.9/37).
The experience
We drove both of these mainly in dry conditions, a miracle given spring conditions in Auckland. In the wet the front-wheel drive Octavia can light up the fronts but it's much less noticeable in the dry, except when using launch control. With less slip we managed better times without. Skoda quotes 6.8sec and a best of just under 6.5sec means Octavia is nipping at the heels of VW's GTI. The reason is that it weighs just 50kg more than the Volkswagen hot hatch and considering its dimensions, 1411kg wet is meritorious, particularly when the Levorg clocked in at 1618kg. It really needs its extra 28kW and AWD to compensate and even then is pipped, barely, by the RS. All credit to the CVT then, but the overtaking time tells the full performance story, and here the Octavia ruled, an overtake done and dusted in just 3.8sec to the Levorg's 4.3sec. With torque peaks of 350Nm for both, that weight advantage pays big dividends.
As it does for the stopping figures which also went the way of the Skoda by 3m, but then we've always found the Potenzas numerically good on the braking front. Uprated brakes on the RS contribute.
At the pump, there's also a benefit, though you cannot really rely on computers to tell the whole truth. Nonetheless, the Subaru's wouldn't budge below 12 in out of town running, while the Octavia's didn't get much above 11. Most of the time the figures were mid12s, and mid 10s, respectively.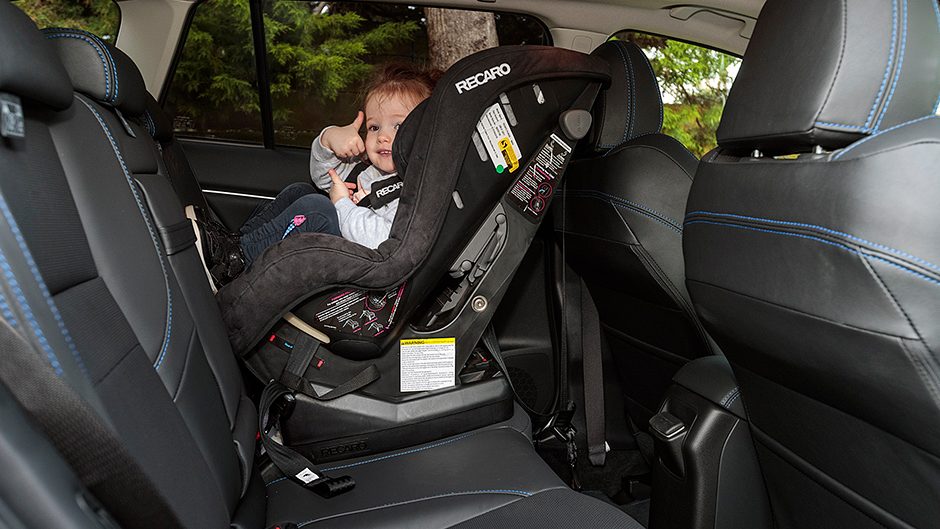 On road, other factors come into play and the two are much closer than the numbers suggest. In point-to-point running, they're neck and neck. Each of these features a gearbox that's a bit different from the normal six-speed auto. The CVT doesn't really have any gears as such, being continuously variable, but most of the time it acts like it does, for there are six steps when treated as an auto. Massage the throttle gingerly and no 'gear shifts' are perceptible.
Both of these cars feel a bit flat when driven in their normal operating modes during rural adventuring where more revs and performance are required for extra speed. Octavia gains a palpable lift in responsiveness when Sport mode is selected for the engine but the normal transmission mode remains economy driven, heading for higher gears too early, while the Sport setting holds revs a bit high, to around 4500rpm. Paddles therefore come in handy.
Compared with the intuitive operation of the Octavia modes, the SI and Sport Sharp buttons on the Levorg steering wheel initially seem weird, but they actually work better once mastered. Switching between normal, amped and a middling torque curve pretty much sorts every open road eventuality and the buttons are readily accessible. The fact we used the paddles much less suggests the CVT works well. That it even compares with the instantaneous shift nature of the DSG box is quite something. Let's simply say there are good workarounds to make both effective, but the Subaru solution is simpler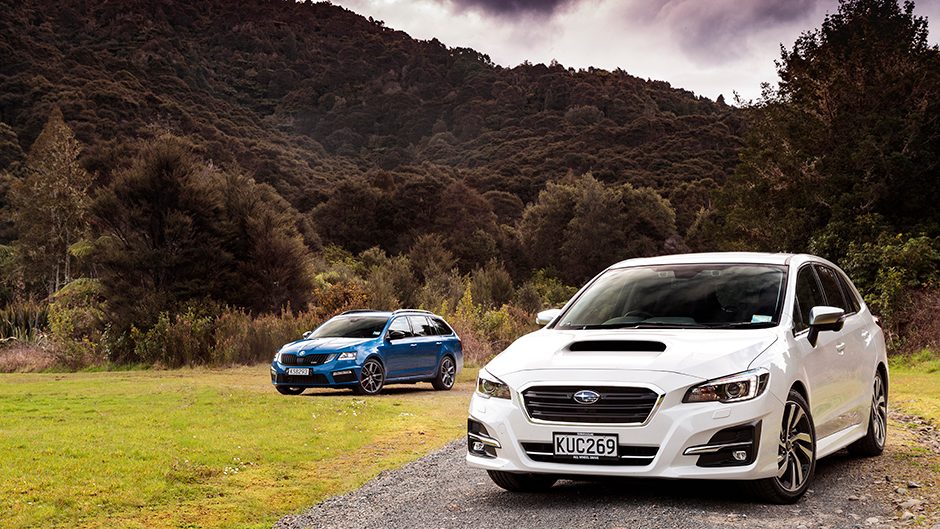 Dirty Dancing
We drove the Octavia first and were impressed with how it handled our reference drive loop. Suspension isn't adaptive, though for $2500 you can make it so. We probably wouldn't bother, as spring and damper rates are well chosen for the type of work it will be doing. It handled our roughed up back roads with aplomb, steering accurately if not quite meaningfully through its variable rack, though in the Sport setting there's a bit much heft. That's easily sorted by selecting Normal weighting in the Individual mode. Pushed along, it surrenders eventually to understeer but grip limits and composure are good, aided by tweaked rear suspension and a track wider by 30mm. Brakes are good too. It impressed us, but then we drove the Subaru over the same roads, and it impressed even more. The front end is kept under slightly better control, pushing wide later in the piece. The suspension tune is typically Subaru, long(ish) travel, and supple. Both can crash into squared off ruts on occasion. There's a bit more roll compared with Octavia but the plusher ride compensates, at both urban and extra-urban pace. The steering is better too. Weighting is excellent and there's not too much patter, with good off-centre progression. The wheel is leather bound and initially felt slippery but not for long. Don't really want to know why.
Driving position favours the Skoda; you're sitting too high in the Levorg. Regular height people may not find this an issue. Seats in both are sports encompassing, those in the Subaru firmer but the softer suspension compensates. Both have lumbar adjustment. The centre console has a sharp edge that rubs your left knee in Octavia. In Levorg you can brace yourself for corners with both knees, as it should be.
Bottom line
Most buying in this area won't need 4wd, and will feel Octavia fits their brief perfectly, with gobs of power, great performance and economy on account of surprisingly low weight, and sensible fit-out, both for safety and convenience. It's a space station too. For Subaru fans, outdoors adventurers and those into their dynamics, the Levorg takes the win. It matches the Skoda on the safety front but is edged for straight line go and people and gear swallowing ability. It depends then largely then on your priorities. We doubt either will disappoint.
| | | | |
| --- | --- | --- | --- |
| Model | Skoda Octavia RS Wagon | Price | $52,890 |
| Engine | 1984cc, IL4, T/DI, 169kW/350Nm | Drivetrain | 6D, FWD |
| Fuel Use | 6.6L/100km | C02 Output | 152g/km |
| 0-100km/h | 6.44sec | Weight | 1411kg |
| | | | |
| --- | --- | --- | --- |
| Model | Subaru Levorg GT-S | Price | $57,990 |
| Engine | 1998cc, F4, T/DI, 197kW/350Nm | Drivetrain | CVT, AWD |
| Fuel Use | 8.7L/100km | C02 Output | 201g/km |
| 0-100km/h | 6.58sec | Weight | 1623kg |