The most driver-focused premium sedans used to hail from Germany but not any longer. So which 'executive class sedan' is the one to buy if you still desire a sporty drive?
Jaguar and Alfa Romeo are old marques, their badges steeped in history. They've known glory on the race track, and have built some iconic machines, yet there are plenty of lemons amongst the peaches too. Each company has had its image and reliability issues, though charm and character have kept them hanging on. Now each is staging a comeback.
Jaguar's revival is in full swing with a well regarded range of sports cars and sedans thanks to their focused dynamics. And it has even cracked the SUV nut, the F-Pace being a right charmer. Alfa's revival is just gathering steam; the 4C showed the company's intent, and the new Giulia represents a serious tilt at the premium market. Stelvio SUV is due next year too and should add numbers to class. Both companies are pinning their hopes on sporty driver appeal, delivering vehicles that are entertaining drives rather than ultra refined, tech-laden snooze fests.
In the red corner, we have the new Alfa Giulia Veloce. While this is the 'entry level' car for our market, it's Alfa's top spec 2.0-litre offering, looking much like the headlining Quadrifoglio, and going darn near as well too. It shares much in common with the Jaguar XE R Sport 25t, and both have a price tag starting with a seven. So if you want the sportiest Euro sedan, which is the one to covet?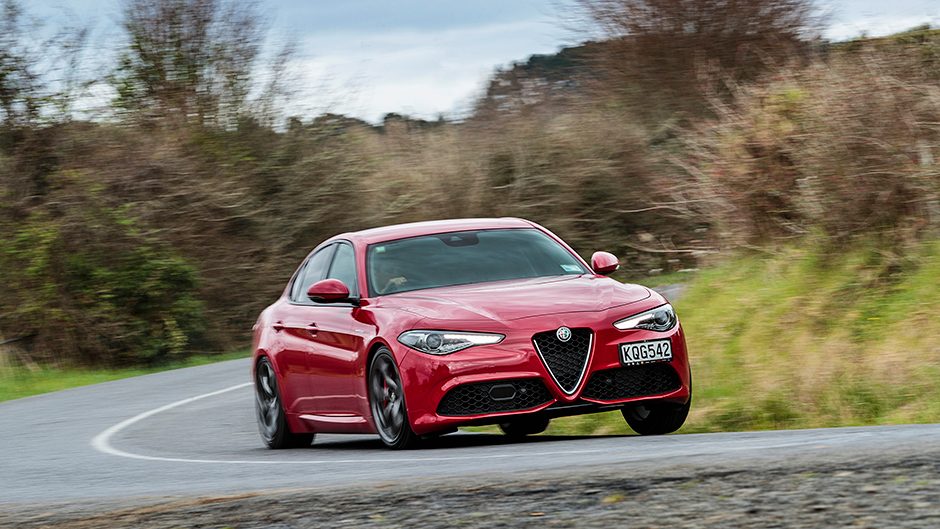 The contenders
Jaguar NZ has just realigned a bunch of its prices (yet again), the XE now better value with cheaper pricing and added specification. And they've added another engine option in the 25t which, in R Sport trim, goes for $74,900. The goodies include a smart key, front and rear sensors, backing camera, dual zone air, powered seats, an eight-inch screen for the infotainment with voice control, 380W Meridian sounds, sat nav, an alarm, AEB, blind spot monitoring, reverse traffic alert and lane departure warning. The R Sport gains subtle body treatments, black detailing and 18s along with sports seats and suspension. Jaguar now offers five years/80,000km of scheduled servicing.
Alfa's Giulia Veloce is $79,990, and those sharp mathematicians amongst you will note that's $5000 more but the Giulia matches the XE spec and adds heated seats and wheel, active cruise, adaptive suspension, an 11-speaker upgraded sound system, 19-inch wheels, adaptive front lighting with auto high beams, and privacy glass while leather coats the seats and dash. An alarm is extra, voice control is absent and servicing adds to the bottom line, but otherwise the extra gear helps justify the Giulia's premium.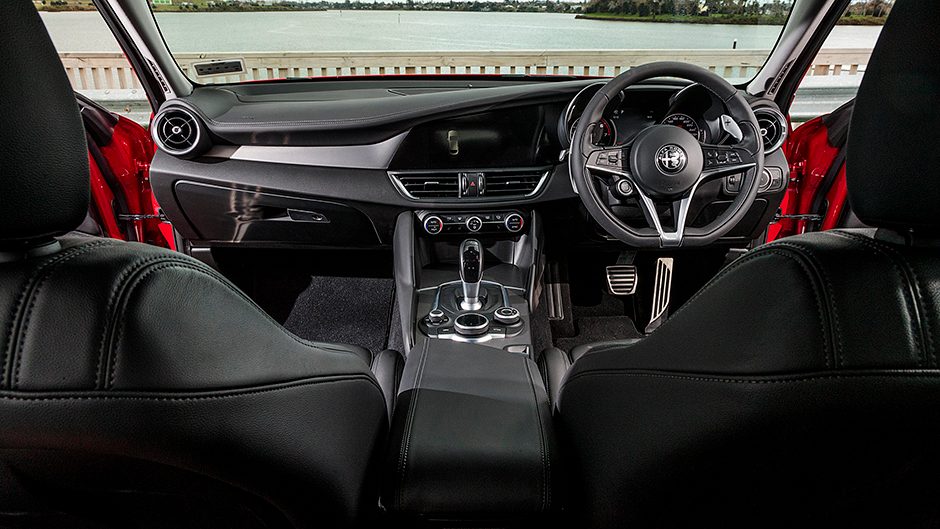 Alfa Romeo NZ wants to stress the quality control for the Giulia, saying each car is subjected to a thorough check prior to leaving the factory, another once it's imported to New Zealand, and a further final check pre-delivery to the customer. And there's a 150,000km, three-year warranty, along with roadside assistance should it revert to form. No warning lights, malfunctions or even dash rattles appeared during our test period, which is a good start.
Both use a boosted 2.0-litre four turning the rears via an eight-speed auto. The Veloce touts 206kW and 400Nm with an LSD fitted as standard. It's good for 0-100km/h in 5.7sec, which we matched, is said to return 6.1L/100km on average (our testing average ranged from 8.5 to 13.5L/100km) while it weighs 100kg more than they claim at 1593kg. The XE 25t also runs a 2.0-litre turbo, with 185kW and 365Nm (20t variant has 147kW and 320Nm). Jaguar quotes a sprint time of 6.3sec (we registered 6.8sec, but our tester was an older spec 25t, with fewer herbs) and supposedly returns a combined 6.3L/100km (our on-test average ranged from 8.5 to 11.5). The XE was 80kg heavier than what they claim at 1620kg.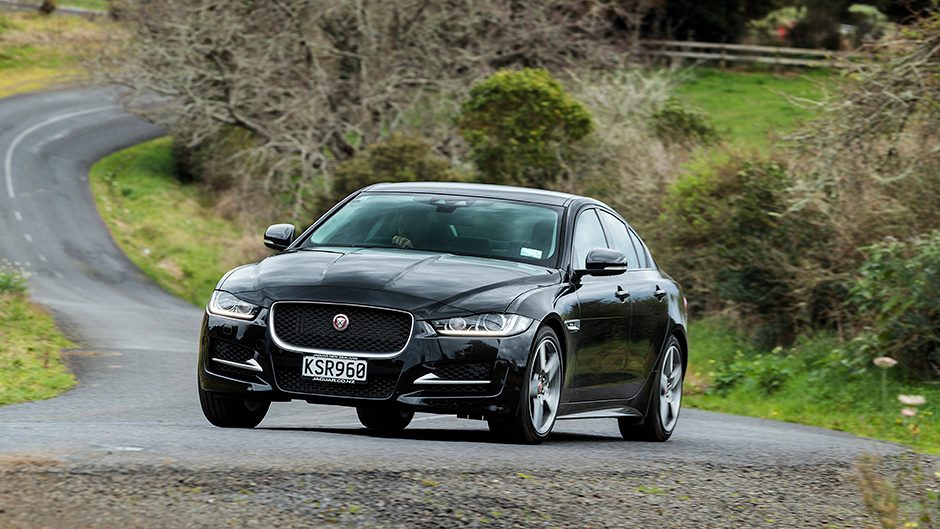 The boring bits
As any luxury model should, both provide easy going carriage for the daily drudgery. The turbo'd fours provide good go from 1500rpm with no real lag of note although the stop/start systems in each can activate at oddly inappropriate moments. Not often is there the need for more than 3000rpm for traffic duty while the autos are creamy shifters at slow speeds.
Both are easy to manoeuvre, though the Alfa gets quicker, less weighty steering with just two turns between the stops. And the Veloce's front end geometry isn't as aggressive as the QF's so there's no tyre chatter on full lock either. Each rides well, the Alfa helped by its adaptive dampers but the Jaguar is more supple aided by its fatter sidewalls. It filters the minor imperfections better, and there is less tyre-generated roar as well.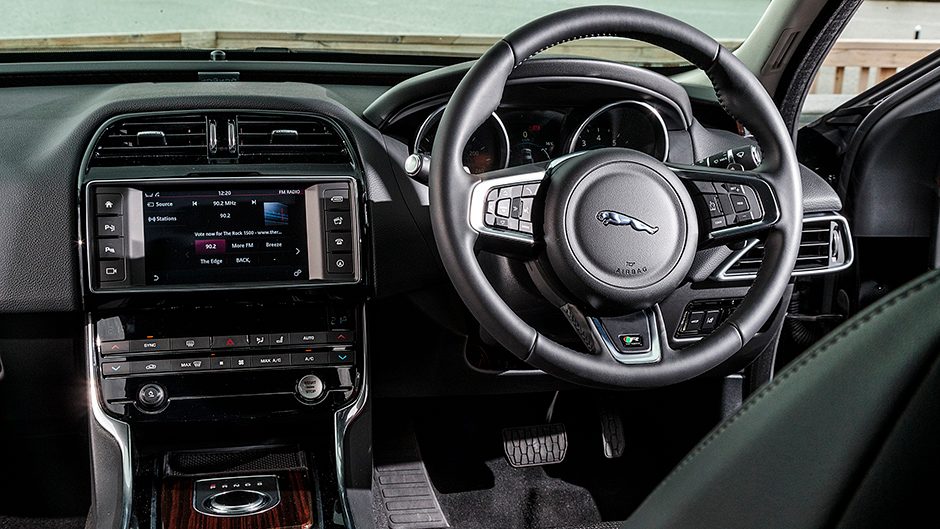 The Jaguar has an enveloping feel to its cabin, although you may feel a little hemmed in, especially if you're susceptible to the pork belly at business lunches. Electric adjustment at both the seat and wheel should help you find a good driving position, and you can get down really low if you so desire. There's not as much adjustment at the wheel of the Giulia, but neither is it hard to find a position that works. This is an Alfa free of ergonomic quirks. Leather is used only sparingly inside the XE so most of the seat trim is fabric. However, seats are comfortable and supportive. The Alfa has full leather and form-fitting seats, with heaters, and adjustable side bolsters too.
The Jaguar's cabin has a straightforward layout and touch screen functionality, though some of the material quality and build can be exposed with a decent poke test, while the rotary gear selector is still an acquired taste. The XE's central display between the dials is brimming with info, to the point that you wonder why we still need traditional meters.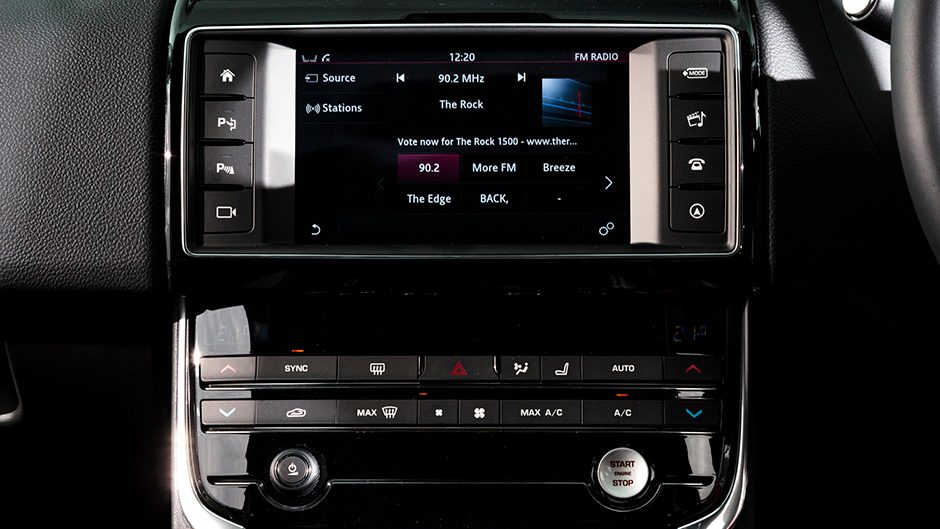 The interior build and design of the Alfa are harder to fault, only the hard plastic on the lower doors and a few sharp edges being questionable. The infotainment system is controlled via a mouse wheel remote thing, which isn't as good as the Jag's touchscreen, but at least it's intuitive enough to use without cursing. The reversing camera image is too small though. The Alfa's front seats are powered but only work when the ignition is switched on, which is quite annoying, and we wish you could switch off the comfort entry system which retracts the driver's seat every time you switch off the engine.
Neither is overly accommodating in the rear, comfort favouring the Jag slightly with a better formed rear seat, though we found more legroom in the Alfa. Overall boot space favours the Italian by way of a wider hold, though both are about even for length and height, and the meanness of the opening. Each has 60/40 split folding, the Jaguar with a spacesaver under the boot floor, the Alfa sans a spare as it uses run flats.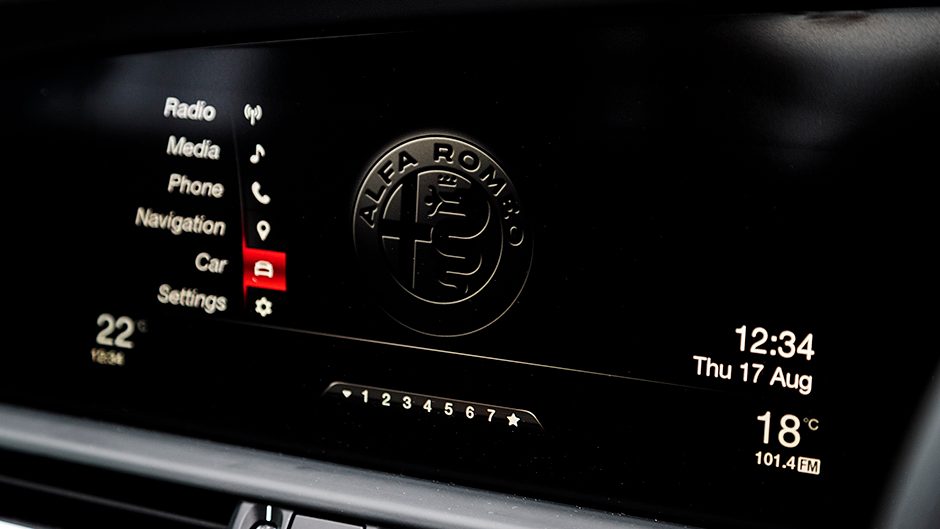 The exciting things
These cars have been engineered with driver's in mind, each with sharp controls, a responsive set-up and engaging steering. And yet there is still a layer of refinement intact for day-to-day civility. We always enjoy a drive in the XE, a veritable four-door sports car. It's steering would make a good informant, as you're always aware of what's happening on the ground. Well weighted, the car responds precisely and directly, helped by the impeccable balance of the chassis. The passive dampers are more than up to task, the ride quality is superb, body movements are kept in check yet the wheels are given enough travel to ride those crests and dips. And they've given it just enough tyre to make for a playful set-up; you can't drive the wheels off it and expect it to stick like glue, which gives it added character.
Both have various drive mode buttons, dialling up Dynamic hones the responses though the Giulia takes on a racier persona when you make the switch. With quicker steering, the Giulia turns fiercely and the front sticks well but with its LSD, a little throttle too early can start to push the front wide. However, you can keep the steering lock on in the turn and power added will get the rear to shuffle a little, helping it rotate better and tighten the line. The active dampers keep a sterner watch over roll and the Giulia is locked down for action. It transfers a few more of the bumps though, but if it starts to irritate, a softer damper tune is just a quick button tap away which trades a little lean for added compliance on bumpier trails.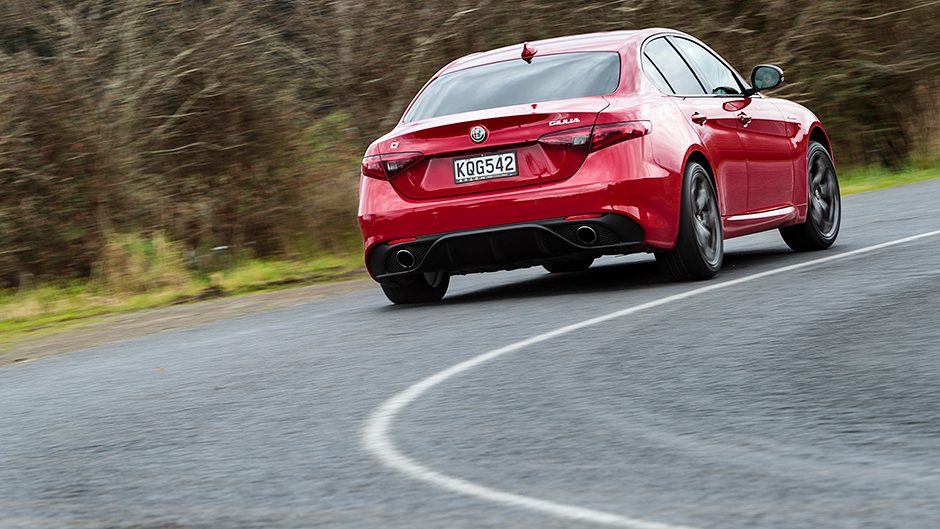 The Giulia's four cylinder is a feistier package. Both are enlivened in Dynamic mode, but the Alfa's 2.0-litre is keener to respond with a sharper throttle pedal, is quicker to rev and feels stronger up top. Both begin to work from 2000rpm, but feel better from 3000 onwards, yet begin to feel stretched by 5500rpm. The XE 25t we drove wasn't the sort with the recently upgraded engine, which adds a few herbs, but we can't see it being much different in character, and it sounds flat compared with the Alfa too. Both autos can be left to sort themselves, again the Alfa's is more urgent in Dynamic mode with sharper shifts. There's no real need to flip the paddles, but the Giulia's big alloy levers almost beg you to give them a seeing-to. Like the rest of the controls, the Alfa's brake pedal is more sensitive, and so requires a deft foot as you can occasionally tip it into full ABS mode too easily.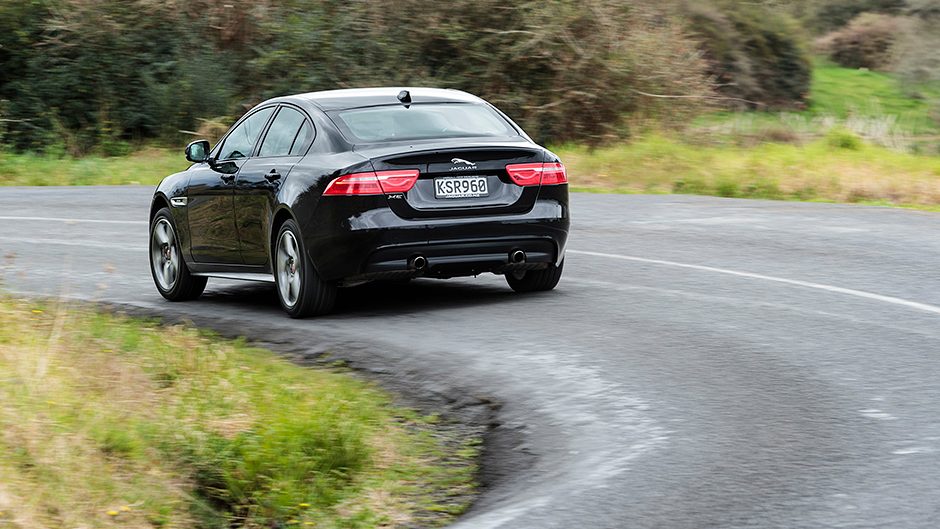 Which to choose?
If these two are at the top of your list, you'll be happy with either as they are easy to live with but possess a certain dynamic charm that makes them smile-inducing drives. The Alfa Romeo is newer, better specified, faster, and most thought it sexier, which is probably enough for the win by a slim margin.
| | | | |
| --- | --- | --- | --- |
| Model | Alfa Romeo Giulia Veloce | Price | $79,990 |
| Engine | 1995cc, IL4, T/DI, 206kW/400Nm | Drivetrain | 8A, RWD |
| Fuel Use | 6.1L/100km | C02 Output | 141g/km |
| 0-100km/h | 5.71sec | Weight | 1593kg |
| | | | |
| --- | --- | --- | --- |
| Model | Jaguar XE R-Sport 25t | Price | $74,900 |
| Engine | 1998cc, IL4, T/DI, 184kW/365Nm | Drivetrain | 8A, RWD |
| Fuel Use | 6.3L/100km | C02 Output | 144g/km |
| 0-100km/h | 6.87sec | Weight | 1620kg |