The latest Impreza kicks off a new era for the firm with a common platform that will underpin all new models going forward. Has Subaru put all of its eggs in the right basket?
Subaru is surfing the wave of the market surge, its sales ahead of the average industry growth over the past 12 months, which is not unremarkable until you learn its efforts are hindered by a lack of supply. Subaru's global production is near enough to maxxed out feeding both a buoyant domestic demand for its cars, and a voracious American market. Ten years ago, Subaru sold 200,000 cars in the US while now that number is 600,000, and growing quickly.
And with Subaru's production capacity at around one million units, that doesn't leave many for the rest of the world. In the US, they talk of selling 90,000 units of the new fifth-generation Impreza this year, and as such, a limited run of just 300 cars is all we'll see here in New Zealand. So if you're interested, best get down to your dealership pronto, especially as the new and improved Impreza manages to land with carry over pricing. At $29,990, it's simply outstanding value, and we can confidently name it our winner in the under $30k class of our Car of the Year awards, even with 11 months of the year still to play out.
This new Impreza marks a genesis for the next generation of Subarus. It debuts the new Subaru Global Platform that will underpin all future models for the next 10 years, including more hybrids. The commonality will not only give Subaru quicker development times at reduced cost, but also help with production efficiencies to improve output. There's a big drive around 'safety for the masses' so along with a more crashworthy structure, the Impreza gains Subaru's EyeSight active safety system along with the surefootedness of AWD. This new safety mantra derives from the US where reportedly it's the first or second priority on a Subaru-buyer's list.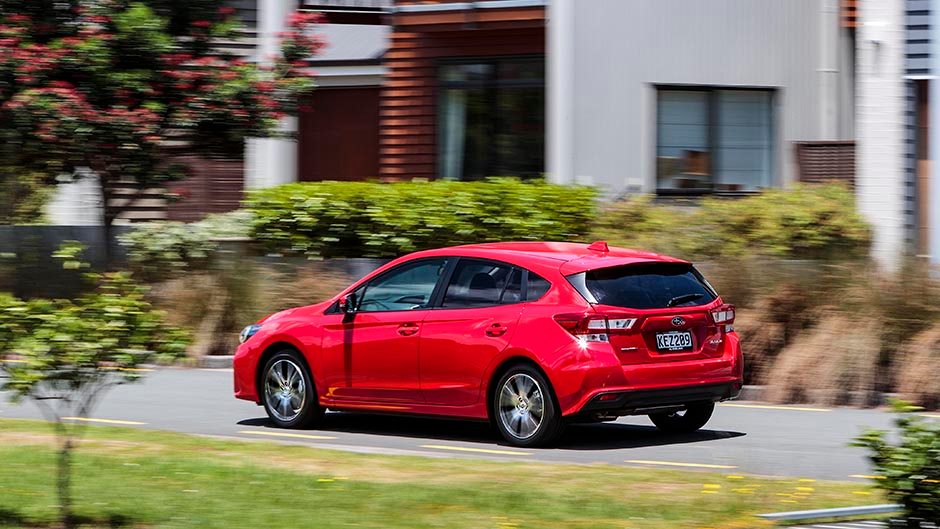 So, more about this new model then. Compared with the old one, it's lower (10mm), wider (35mm) and the wheelbase increases by 25mm to help improve interior width and rear seat leg room.
The new chassis is more rigid thanks to the usual mix of improved construction techniques, including adhesive bonding to complement the spot welds, and the increased use of high and ultra-high strength steels. It's reinforced in key areas to ensure a stiff structure that delivers the holy triumvirate of chassis design; improved NVH, dynamics and crashworthiness. Its ability to absorb collision energy is said to be be 40 per cent higher and it has been awarded the full five-star safety rating from ANCAP testing.
On the noise reduction front there's more insulation around the engine and firewall, and around the wheel housings. In an effort to impart a solid, quality feel the door skin is thicker for a better sounding shut, and there's thicker glass and superior seals. As to the look, well, it's fairly conservative, but given the experimentation around the aviation- and bug-related themes over the years, we are thankful it at least looks normal.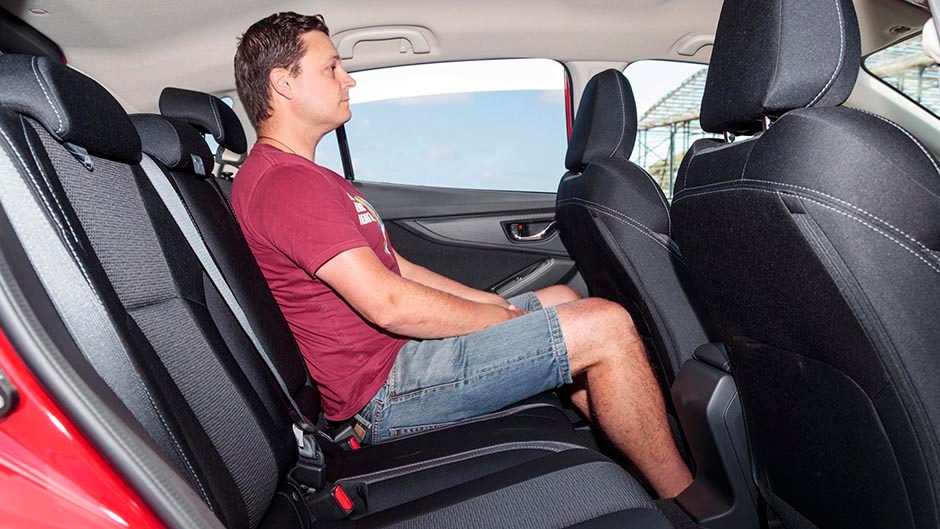 Changes in the suspension department were made to improve NVH while maintaining the usual Impreza road holding abilities. There's been an effort to shore up the suspension mounting points, and while Mac struts and double wishbones are still in use, more bits are made of aluminium. They've also revised the geometry, the centre of gravity lowering 5mm for better roll stability.
The powertrain is the same but new, a redesigned 2.0-litre flat four that's lighter thanks to a new block. With direct injection and a higher compression ratio it gets a pinch more power and improved economy. The numbers read 115kW, with 196Nm at 4000rpm and it's rated at 6.6L/100km overall. All wheel drive is retained, as is a CVT but it's said to be lighter, with reduced friction and a wider overall ratio spread, with seven steps for the manual mode and a revised torque converter too.
It all comes together in a very refined manner. The ride quality is stunning, more akin to a large car than a compact, with the suspension working away in a quiet manner. It is cushy round town and glides over the bumps on rural roads, yet still with considered control. The powertrain does the trick, there's enough below 3000rpm for town use and, teamed with the CVT, it's generally pretty smooth. Further afield, there's not a huge deal of midrange urge; it will accelerate tepidly with about 3000rpm onboard, but overtakes need 4000rpm and more to be convincing.
The new CVT feels more responsive to the throttle but it can also give the odd jerk when you pin the gas. It's not a whippet off the mark, and we can't tell you how quick it is or isn't as our timing gear decided to go on holiday a week early, but we can say the Impreza probably won't be leading the 2.0-litre pack, especially without a turbo.
The steering has good weighting with no iffy feel off centre, and it's well isolated from shocks and bumps, although that also filters much of the road feel. With a 60/40 weight split you get the usual frontal push, the tyres breaking away gradually but the slip is easily managed. There's good brake pedal feel, and strong response too.
Gone are the days where Impreza stood out as a driver's car and yet it's a better all rounder now with a much higher specification and safety package while being better built with a palpable rise in refinement too. And it still rounds up back roads with little fuss at a reasonable clip, although it doesn't much like pushing on. Best wait for the WRX for that and we reckon the foundations are there for a bobby-dazzler of a Rex as the Impreza feels particularly solid and planted.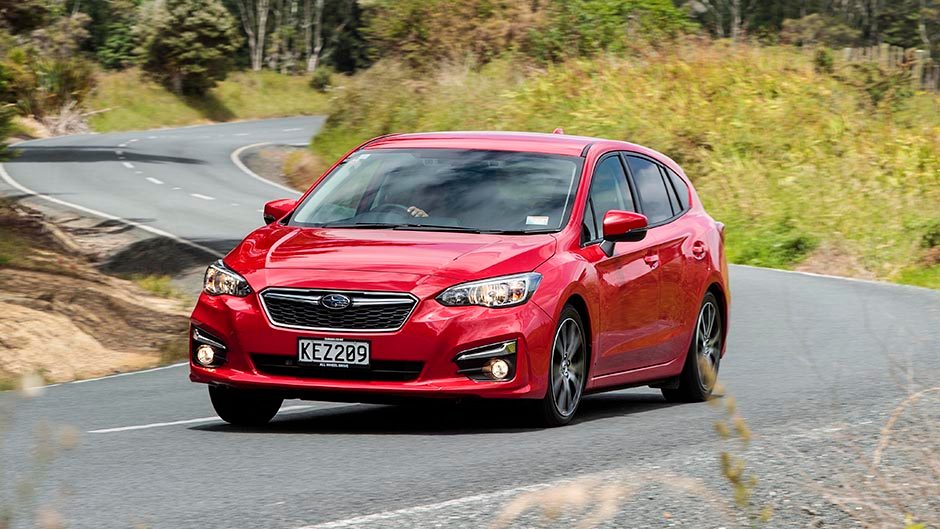 We like the new look for the interior, and its quality feel with more soft bits where they should be. The A pillars are thin, affording good forward vision while the front seats are noteworthy for their comfort, support and range of adjustability, though lumbar relief is lacking. The new infotainment system has a better resolution and a quicker response time, being more sensitive to the touch. There's CarPlay and Android Auto, while the standard Bluetooth function also works sweetly. The reversing camera has a much clearer and more faithful representation of the view behind too.
Its EyeSight active safety system uses a CMOS camera for better operation and the pre-collision braking function now works up to 50km/h. It also takes care of obstacle detection, the active cruise and lane departure, amongst other things. The system works well, with few false alerts regarding imminent collisions, even if the lane departure is a bit hyperactive. You can always turn it off.
There's more room in the back where the seats are comfy but there are no air vents and the door tops are lined with hard plastic. The centre belt extends from the C pillar, which is better than the roof, but it would be better still if it was attached to the seat itself for ease of use. Its boot floor is set quite high, which had us thinking this must be due to a full-size spare, but there's just a space saver which is unusual for Subaru. And so the hold is not all that deep though it is usefully wide, while the rear seat folds easily enough.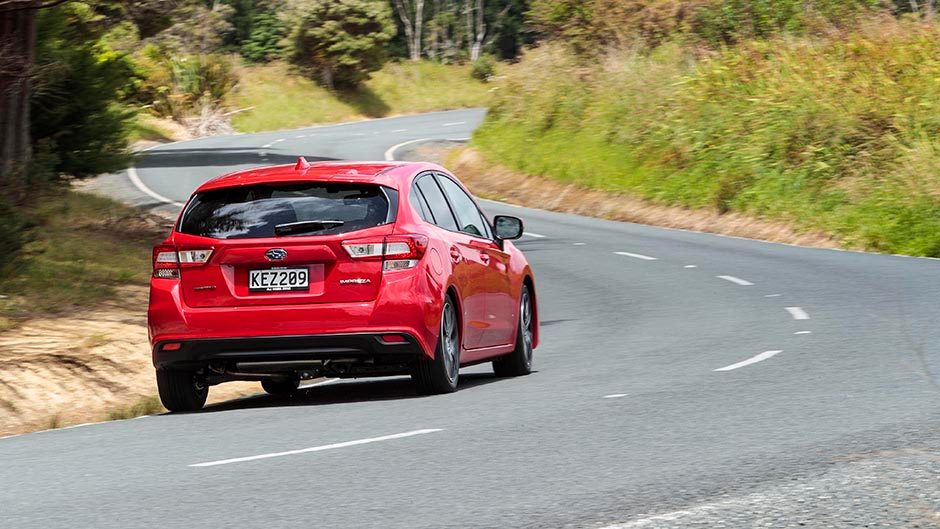 Making the specification list for the Sport, the only model that will be offered, are tyre pressure monitoring, 17-inch alloys, dual zone climate air, smart key, privacy glass and a three-year unlimited kay warranty. There are also seven air bags, ESP and the active safety tech. There's promise in this new platform, and we can be assured that the next Outback and Forester will be amongst the most refined and safest in their class.
A newfound level of refinement and quality defines this new Impreza, while the safety credentials are also sure to appeal. But it's the sub $30k pricing that makes this a stand out, though securing one will be the hard part.
| | | | |
| --- | --- | --- | --- |
| Model | Subaru Impreza 2.0 Sport | Price | $29,990 |
| Engine | 1995cc, flat 4, DI, 115kW/196Nm | Drivetrain | CVT, all-wheel drive |
| Fuel Use | 6.6L/100km | C02 Output | 152g/km |
| 0-100km/h | n/asec | Weight | 1377kg |