Like the Boxster, new 718 Cayman gets a turbocharged four instead of the superseded atmo flat sixes, giving it more punch and supposedly better fuel economy. Is it a step in the right direction or a lurch sideways?
So Porsche too has gone down the route VW has followed, engine downsizing and turbocharging. The purists for sure will decry the move, despite added speed and improved fuel efficiency in lab testing, and you can understand where they're coming from. You're encouraged not to rev a turbo, for the torque is available off the bottom. And that means the engine seldom gets to wail, whereas torque in the former Boxster/Cayman duo ramped up beautifully from middling revs. Moreover, the flat six sounded pretty neat, whereas the Cayman S we've been driving sometimes reminds of a Subaru flat four. The engine is still a boxer but there's not quite the sheer volume of noise there used to be, a bit like in F1 then but let's not go there.
We've experienced the 718 in Boxster S form already so it was with interest that we jumped into the new 718 Cayman S for a couple of reasons. Firstly, this one didn't have the sports exhaust whereas the Boxster we drove six months ago did and it sounded pretty darn fine. Secondly, would this prove as quick as the ridiculously fast Boxster which managed a couple of solid sub-4.0sec runs for the zero to 100 discipline?
On the first point, no it didn't come across quite as sonorous as the 718 Boxster and not just because there's more soundproofing in the Cayman, given its solid roof. Perversely, we measured more tyre-generated road noise than in the Boxster, despite taking roads similar to those we carved up in the soft top version. In the latter, mean SPLs were 75.1dB, whereas in the Cayman they averaged over 78dB. Both ran the same rubber so it's hard to explain, except perhaps that the roads we drove this time were a bit harsher. Perhaps the quieter exhaust made the road noise more noticeable?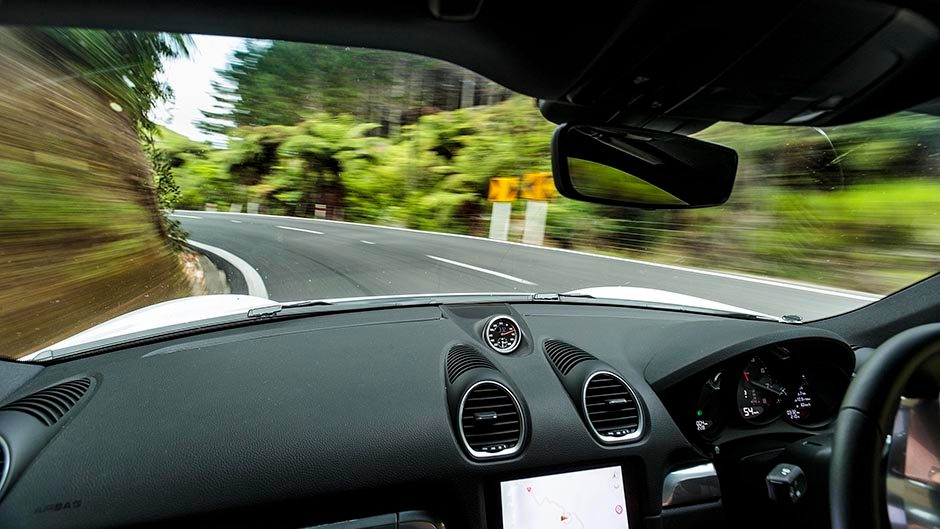 Whatever, over coarse chipseal the clamour from the tyres can be quite marked at 100km/h, sometimes exceeding 80dB. If the Porsche engineers came here and plied the same route as we did, they'd likely have apoplexy over the cabin din. Unfortunately that's the price you sometimes pay for dramatic dynamics.
And they are truly something else. Naturally the Cayman serves these up in sensational fashion. It always has, and this latest version is no different. Editor Cassidy has twice awarded the Cayman a 10-point rating because it does so many things so well, and for less outlay than a 911. Our particular car didn't have the optional torque vectoring ($3010) and given how seldom it departs from neutrality I don't believe it is something that you'd necessarily want to option in. Besides, there are literally hundreds of other cost items on offer; choose adaptive damping for similar money instead. Pricing realignment sees the Cayman now costing less than the Boxster. The S variant we drove lists at $148,500 for the manual, and $153,800 for the PDK. Our demo example, had a few option boxes ticked, taking the total to $169,570. That's a fair wedge for a small two seater but it is rather special.
Handling remains a sheer delight as per, blessed at it is with weight distribution of 43/57, uprated suspension and a 10mm lower ride height thanks to the adaptive damping option. Once you approach the grip limits which are high, progressive mild understeer is the order of the day. However, correct speed in and quick out of corners always beats fast in, sledge out, both in terms of pace and grace. In the tight and sinuous hill roads between Tairua and Whitianga the Cayman was truly at home. Mind you we had to endure long lines of slow traffic over the Kopu-Hikuai pass before arriving there, and even beyond Tairua the road is constantly busy with trucks and tourists. I'm tempted to say I'll never go there again, but the nature of the roads kind of draws you back.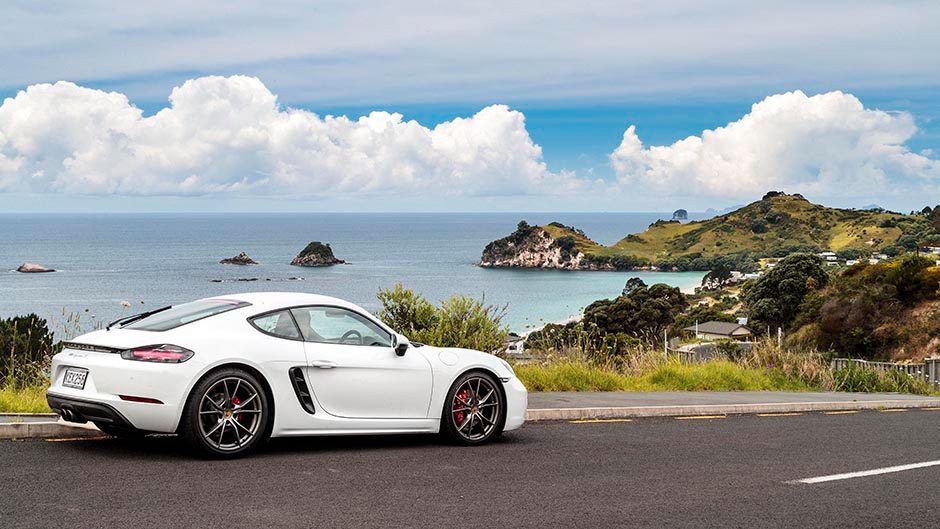 Anyhow, as you can probably tell from the cornering shots, the sweet balance of the Cayman S, the sporty damping and its tacky PZero low profile rubber conspire to great cornering ability. A dab of brake at the entry weights the front nicely and midcorner speeds are, as ever, some of the best in the business. With the adaptive dampers on Sport, body roll is kept to a smidgen. That said, it's pretty good with the dampers in Comfort too. There are clear ride differences between the two settings, and over some of the rougher sections, beaten to bits by the passage of trucks, ride composure is better in the Comfort damper setting. On the smoother bits, there's no doubt control is superior with the red Sport light illuminated.
Steering is impressive, though I'm still not convinced Porsche has quite got the feel as good as with the old hydraulic set-up. The Cayman could do with a slightly bigger helping of what the talkative Focus RS helm gets. But it does turn sweetly, as it always has, and being a two-seater, U turns on the tight Coromandel roads are merely 1.25 turns of the wheel away. Its turning circle is a reasonable 10.98m but then so it should be, being under 4.4m in length.
So crunch time; is the Cayman as quick as the Boxster? They should be much of a muchness as Porsche quotes similar weight figures for the roofless and hard top coupe sibs and on our scales they were almost identical. With 257kW of power and 420Nm of torque kicking off at 1900rpm, and pushing just 1385kg there's a weight to power figure of 5.3kg/kW. It should go hard, and with a twin-clutch transmission, Sport Chrono package and launch control it's rated to hit 100 from a standing start in 4.2sec. Porsche is generally a touch conservative and we managed a best of 4.06sec on the second effort. That's a half second quicker than the former flat six managed.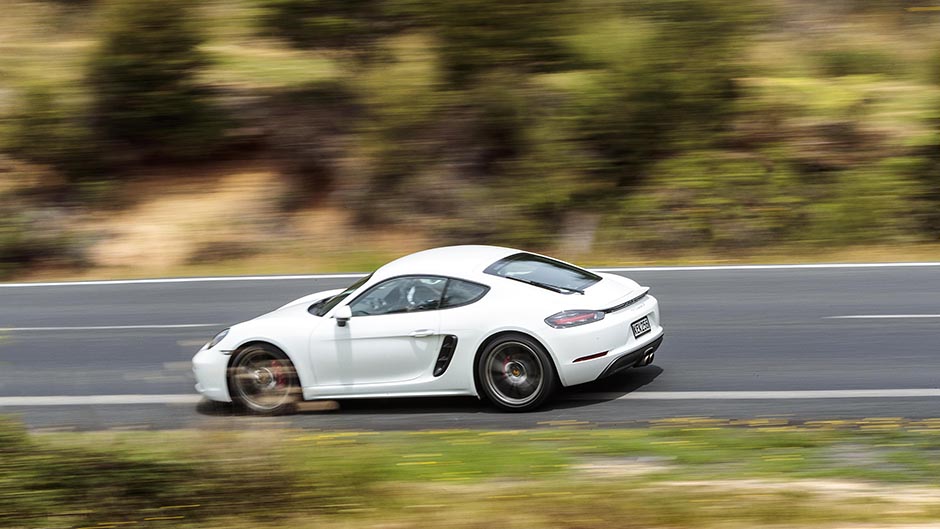 Those who recall the incredible 3.7sec time we achieved with the Boxster probably thought just that at the time, unbelievable. With hindsight it was; we had just started using the new QStarz timing device which we later discovered was accurate over the 80-120 time but not quite so much for 0-100s. They're now into their second-generation device, and accuracy for 0-100 is much improved. So apologies for Boxster hastiness; please ignore the 0-100 time we reported; it was spurious, and we'd suggest the Cayman time is a much better reflection of what the pair can actually do. Overtaking times virtually overlaid each other, Cayman and Boxster, both at just under 2.5sec. Each of these S vehicles has a push-to-go Sport Response button, handy if you have a line of vehicles to round up. But for overtaking one vehicle the added haste is needed for about 2.47sec, not 20sec.
As mentioned, the previous generation 3.4 flat-six in the Cayman S offered delicious torque across the midband. Now all that and more is available between about 2500 and 3500rpm, so you find yourself short-shifting everywhere, despite the engine limiter set at 7300rpm. It's not necessarily a better or worse experience, just a different one, only the accompanying sonics aren't quite as fulfilling, less revs and cylinders and all. For that reason you might want to think seriously about optioning in the sports exhaust system. It costs $4490. I'm sure the Boxster which had that fitted sounded better than the Cayman.
Brakes are always top shelf in Porsches, with the weight split as much as anything aiding in this instance. Regular cars with a 60/40 weight imbalance get most braking effect from the front wheels, but when there's more weight over the rears at standstill then in dynamic conditions there will be roughly the same contribution from both axles. Our particular car had new pads and stopping figures weren't quite as good as those in the record-setting Boxster, but a figure in the low 30s is still a fine effort.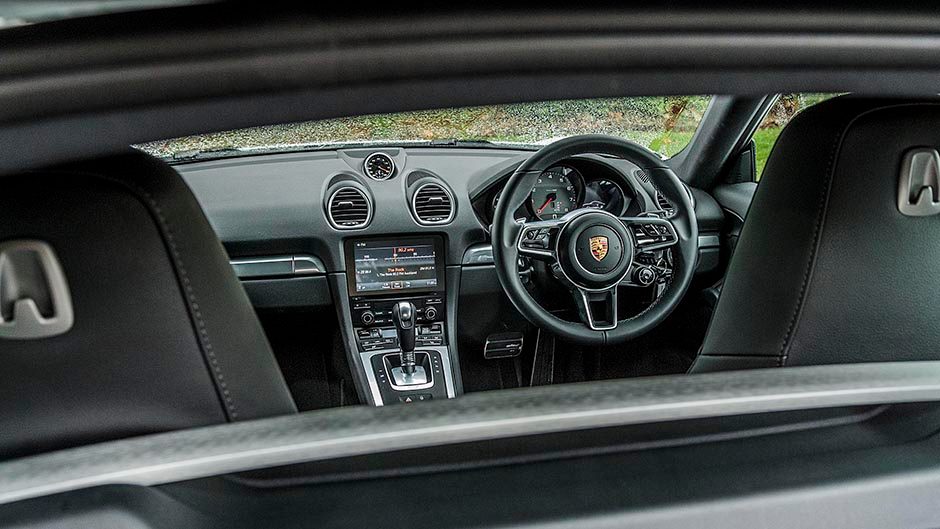 Recently we compared the previous generation Cayman GTS with the 718 version and found the latter to be slightly quicker and better controlled on track. On road the differences are likely less marked, and performance figures for the two are neck and neck, a slight advantage going to the new car. Performance in the 718 is no doubt more forthcoming but Porsche drivers don't mind coaxing their cars; the atmo six simply gives of its best at higher revs. That's where the new engines probably are at a bit of an advantage, using slightly less fuel when cruising, easily sipping in the 8s at a constant 100km/h, the auto evidently good for 7.3 overall. Hit them harder and 12s and 13s still seem reasonable given the performance potential here.
So does the new Cayman S still rate a 10 like Bo Derek once did? I'm not so sure it does, though a solid nine is nothing to feel ashamed about. It's just that sometimes you don't want everything to be handed to you on a platter, and with sports cars that's especially true.
| | | | |
| --- | --- | --- | --- |
| Model | Porsche 718 Cayman S PDK  | Price | $148,500 |
| Engine | 2497cc, flat 4, T/DI, 257kW/420Nm | Drivetrain | 7-speed twin-clutch, rear-wheel drive |
| Fuel Use | 7.3L/100km | C02 Output | 167g/km |
| 0-100km/h | 4.06sec | Weight | 1332kg |