After only revealing its first electric car late last year, Subaru appears keen to drive the message that it's into plug-ins further into the ground, with the unveiling of not one but two electric concepts at Tokyo Auto Salon 2022.
More likely to be 'production relevant' out of the two is the brand's Solterra STI Concept. Based on the recently revealed Solterra, it throws in a new front splitter, roof spoiler, side skirt, rear diffuser set-up, and wheel combo.
Subaru didn't unveil any information about whether the model packed more power or any other performance upgrades relative to the standard model. But, needless to say, it's likely that the brand will release some form of STI-fettled Solterra in the future.
Subaru was much more keen to divulge information about its other electric STI concept; the very different STI E-RA Concept.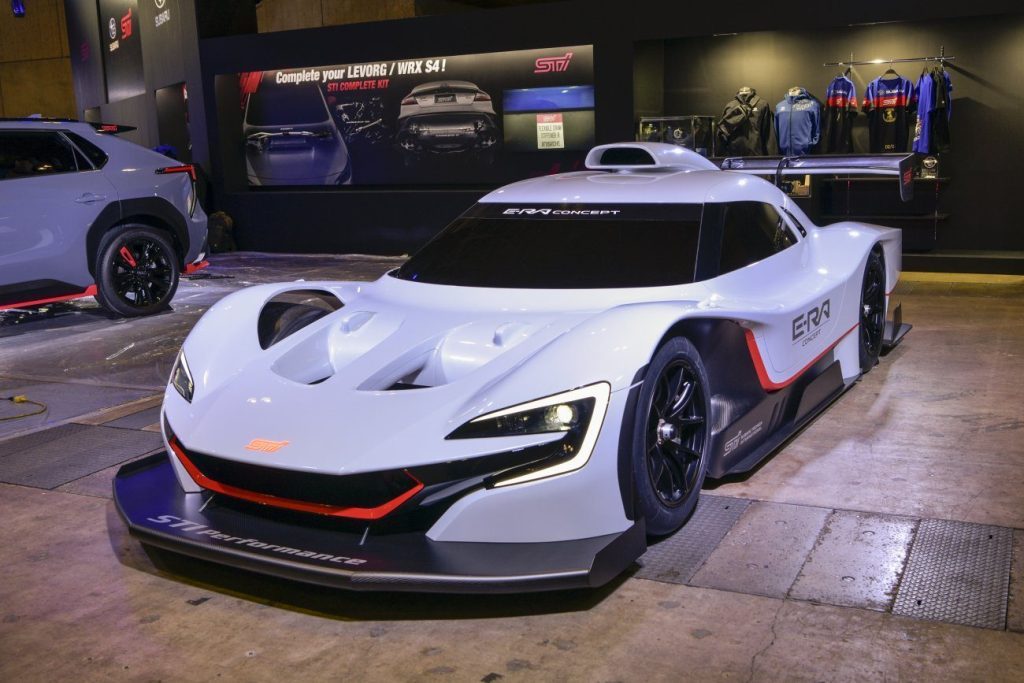 E-RA stands for electric record attempt, with Subaru aiming to take the car to the Nurburgring Norschiefe in 2023 and break the 6min 40sec barrier. Subaru aims for this car to be a test-bed and focal point for its future motorsport projects in the electric space.
Under the LMP sports-car-shaped skin is a Yamaha quad-motor set-up producing a claimed 800kW of power, paired to a 60kWh battery and Subaru's signature all-wheel drive system. 
Subaru makes particular note of its torque vectoring system, which can measure G-force, yaw, steering angle, vehicle speed, brake pressure, and other metrics in fractions of a second in order to decide which wheels need power (or brakes) and when.
With Subaru officially in bed with Toyota (the Solterra shares its platform with the bZ4X, and the brand's new Yamaha connection likely stems from Toyota), the learnings from the E-RA could impact Toyota's product line-up, too.
"As we await the arrival of the fully-electric, all-wheel drive SUV Solterra to New Zealand, the reveal of these two new electric Subaru STI concept cars is exciting and shows Subaru Corporation and Subaru Tecnica International Inc.'s future focus is firmly on electrified technologies," says Subaru of New Zealand Managing Director Wallis Dumper.