Audi today unleashed the latest version of its RS 3 Sportback, with both journalists and customers invited to check out the new RS driving modes and torque splitter. One of the modes, rear drive only with ESP off, allows liberal degrees of slip angle through corners. Put another way, the new RS 3 has a Drift Mode setting which we got to check out at the new Lilyworld kart and drift track inside Mount Smart stadium.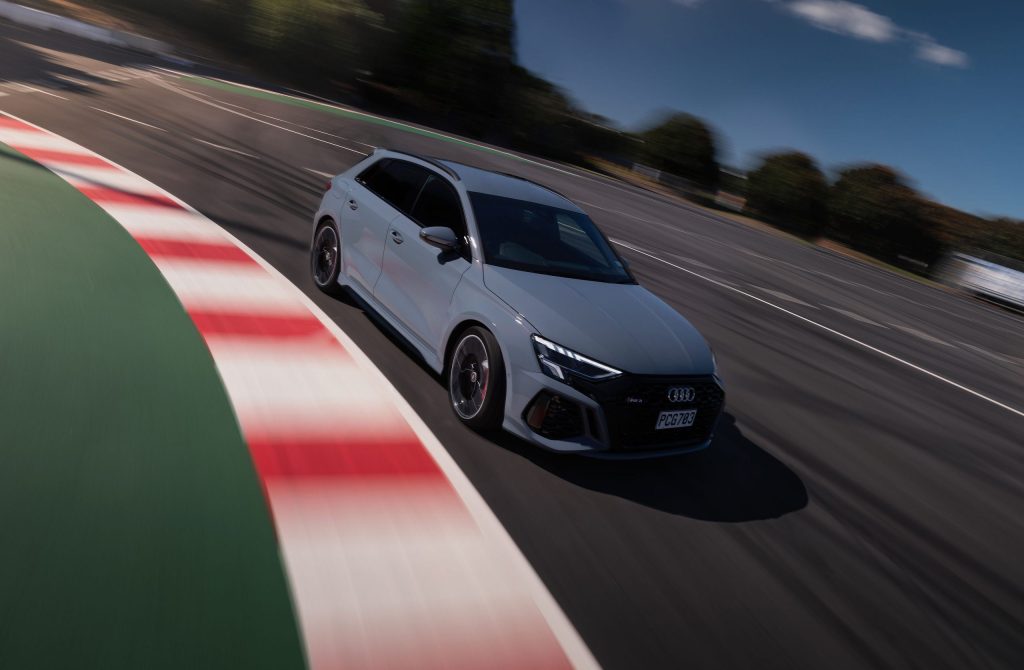 The new torque splitter was demonstrated through use of RS Performance and RS Torque Rear modes on the purpose-built drift track. Constructed in one the stadium car parks, and recently resurfaced, with a dash of water it was the perfect setting to assess the various drive modes of the new baby RS, available in New Zealand only in Sportback guise (a sedan is an option overseas). Don't want a hot hatch? There's always the RS Q3 and RS Q3 Sportback instead. Only no drift modes there…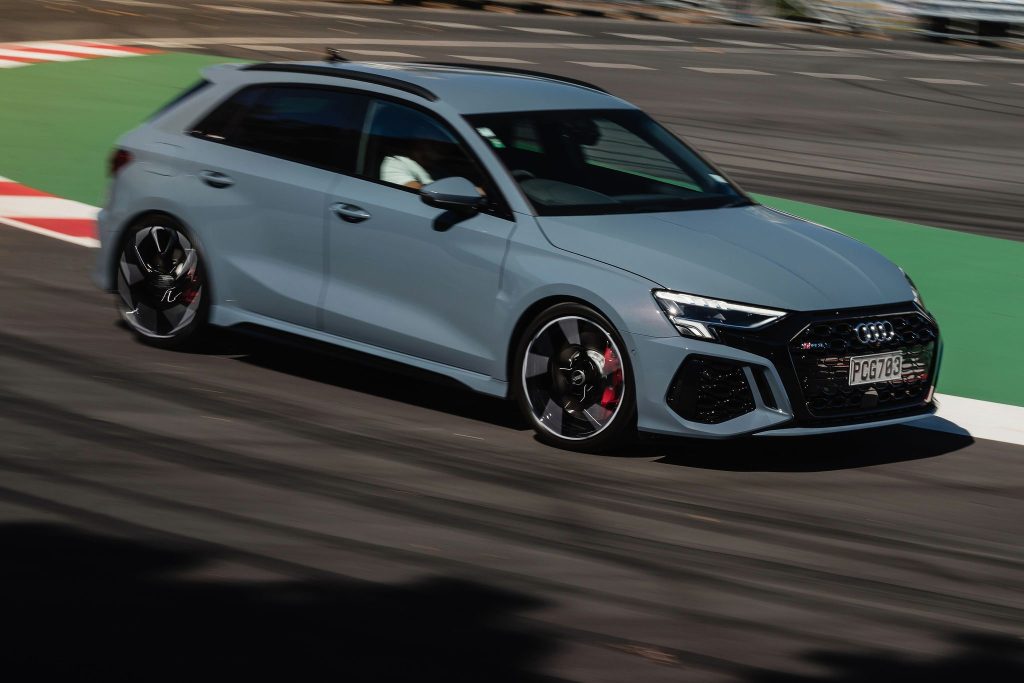 The new RS 3 is certainly a technological step up on its predecessor and as Audi NZ's GM, Dean Sheed, commented, "This event was a fitting way to exhibit the capabilities of the new Audi RS 3 Sportback. It's the first Audi model that comes standard with the new torque splitter… and is best experienced in action.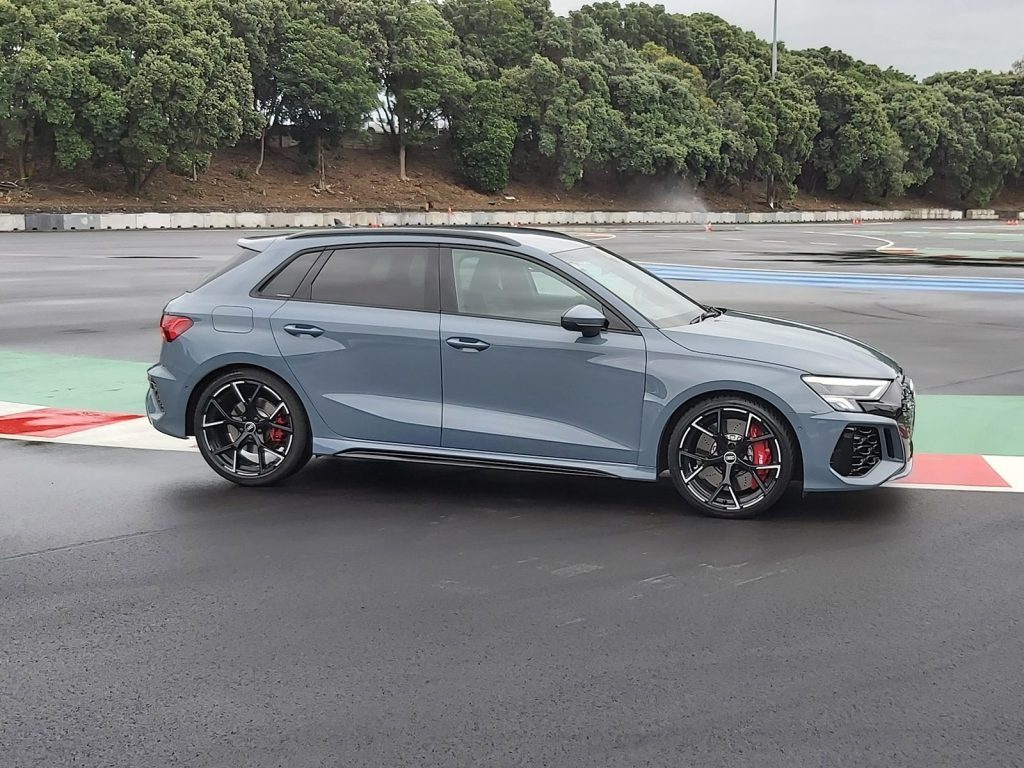 "The new model has proved it has enhanced dynamic agility over its predecessor." he added. And he's right; for one, the former model wouldn't drift under power whereas this is just itching to let loose, in an appropriate setting. Evidently the torque splitter also makes the new RS 3 more stable at speed, and certainly less liable to understeer in dynamic driving.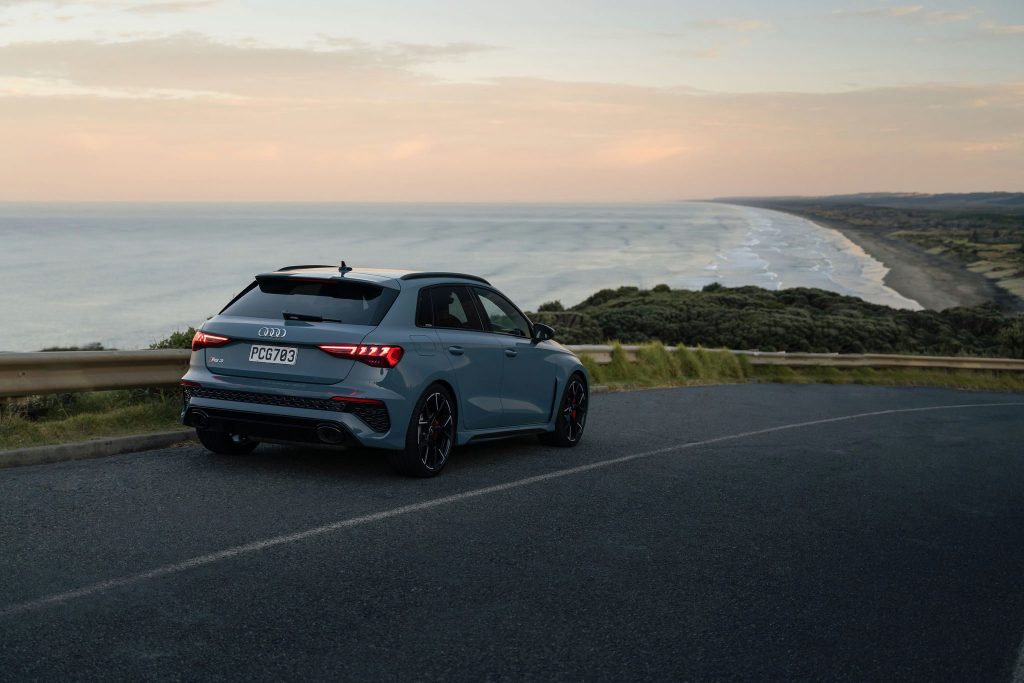 The Audi drive select dynamic handling system boasts two new RS 3-specific modes: RS Performance for the racetrack and RS Torque Rear, a drift mode for use on closed roads. Along with the four previous modes (Comfort, Auto, RS and Dynamic) the new RS 3 also features an Efficiency mode for the first time. We imagine that won't get a whole lot of use.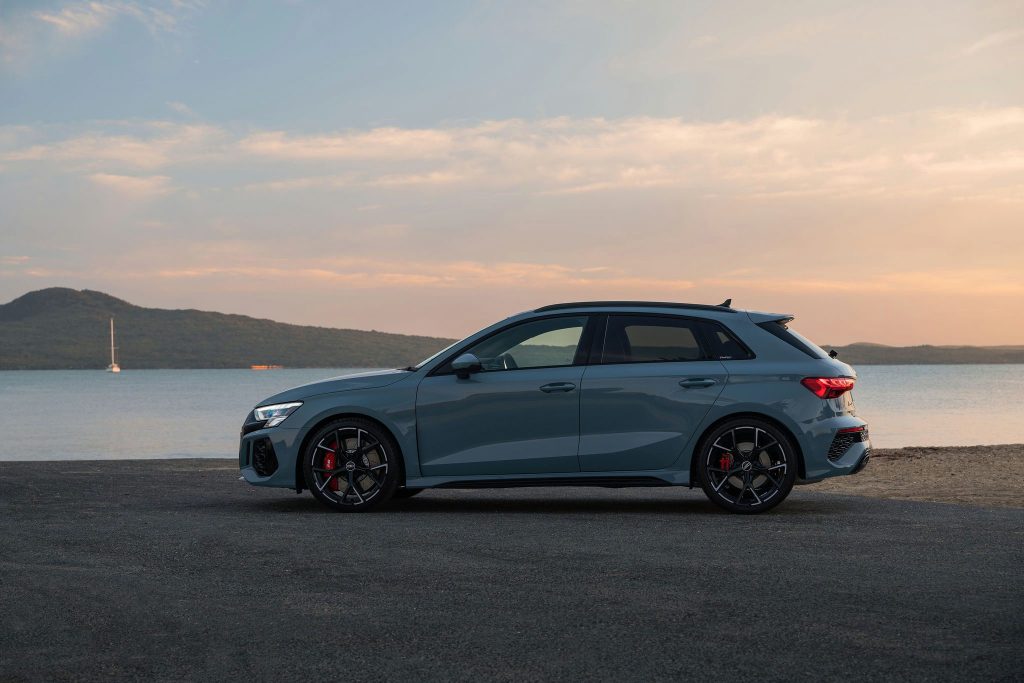 Things start to get interesting in Dynamic mode where all the components are configured for a sporty drive, with more direct steering, more agile handling and a stroppier engine note. Added thrust is sent to the rear axle and the dual clutch transmission fires through the shifts with more urgency. In the Sport ESC setting, the rear end starts to step out but reins things in once a certain slip angle is reached. It's all pretty predictable too, the amount of rear slip determined by how long you hold your hoof in.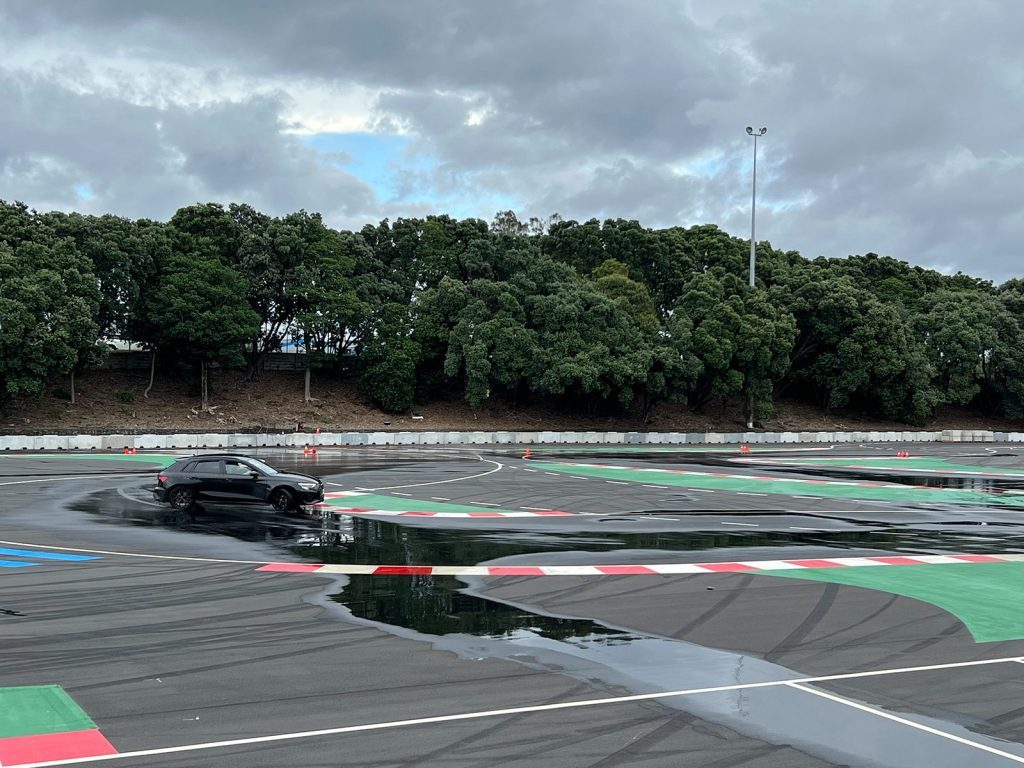 In the RS Torque Rear mode with ESC off, you're own your own, with up to 100 percent of the drive torque directed to the rear and ending up at the wheel on the outside of the curve. Thanks to torque multiplication there's a maximum of 1750Nm to help you get sideways. Certainly the rear seems to have more of a mind of its own, but providing you don't overcook things the drift can be held using varying degrees of opposite lock and throttle.
This was ably demonstrated by race ace Marco Giltrap who took a couple of us for a few "taxi rides", holding controlled drifts and linking a couple of the corners with the tail out one way and then using momentum to flick it around the other.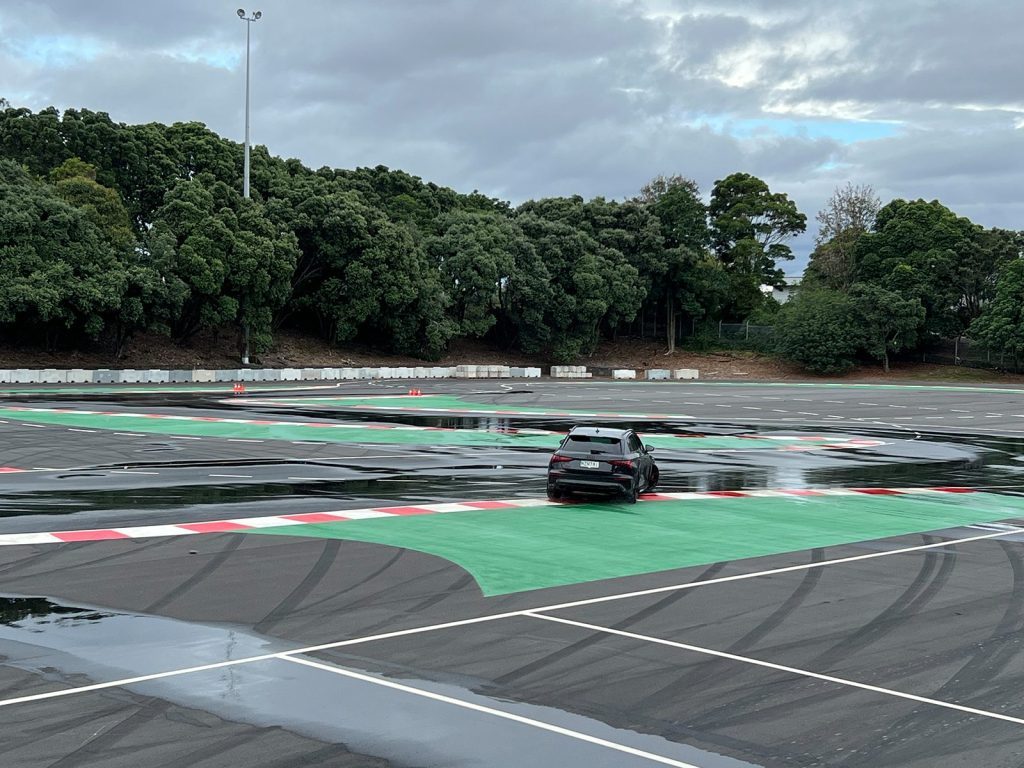 In both Dynamic and RS Performance modes, the engine tune is optimised for performance, with a more direct throttle response, and late upshifting and early downshifting. In the latter mode, designed for circuit use, the idle speed increases further to help with off-the-line performance. This is claimed to be the quickest RS 3 yet, its additional 15Nm of torque taking it to 500Nm even, with 295kW of power, as before. That imbues it with a zero to 100 time of 3.8sec. Top speed is limited to just under 300km/h.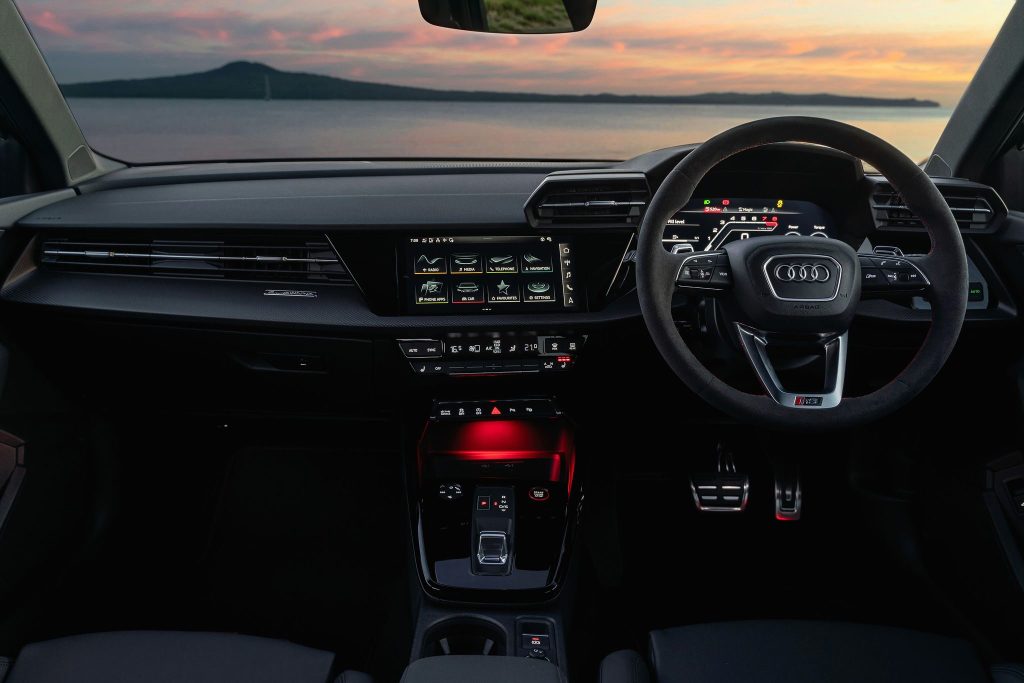 The Audi RS 3 Sportback is available now with an MRP of $112,500. Evidently 70 have already been sold, the new owners ordering them sight unseen, with 100 the expected 2022 sales total. New Zealand continues to be the number one country worldwide for AudiSport sales, accounting for 23.1 per cent of total annual sales.
Check out the next issue of NZ Autocar for a full review of the new Audi RS 3 Sportback.