No one asked for it, but AMG obliged anyway. The GLB 35 just might be the German tuner's most outrageous offering yet. Should you indulge?
AMG never fails to surprise. Makers of mechanical monsters, usually with an excess of horsepower, they offer wheeled solutions for those with insatiable needs. As most of the top flight models are all a bit OTT, we've come to like the 'lesser' AMGs, those adorned with 53, 43 and 35 badges. These are plenty quick enough but more understated and ultimately more civilised. The question is: does Benz's little GLB really need the AMG treatment? Probably not, but that won't stop a few buying it as they wander into the dealership for a perfectly adequate GLB 250, and then drive off in the AMG 35, having been expertly upsold.
Compared with the $96,800 GLB 250, the $114,200 AMG offers an extra 60kW and 50Nm from its fettled 2.0-litre turbo, the addition of a twin-scroll unit, more boost and better valve timing bringing the total to 225kW and 400Nm. The seven-speed twin-clutch of the regular 250 is substituted for an eight-gear unit, complete with AMG Speedshift programming. You can even activate Race Start, the system dialling in a bunch of revs before dumping its clutch and tearing off (don't show the kids, they'll want you to do it outside school) and it'll hit 100km/h in 5.2sec, or 1.7sec faster than the 250. All rather unnecessary really but (officially at least) it doesn't use much more fuel, rated at 8.3L/100km to the 250's 7.7. The reality is more like 10-12L/100km, which is what we saw. And 98 octane is the recommended fuel grade, though it tolerates 95.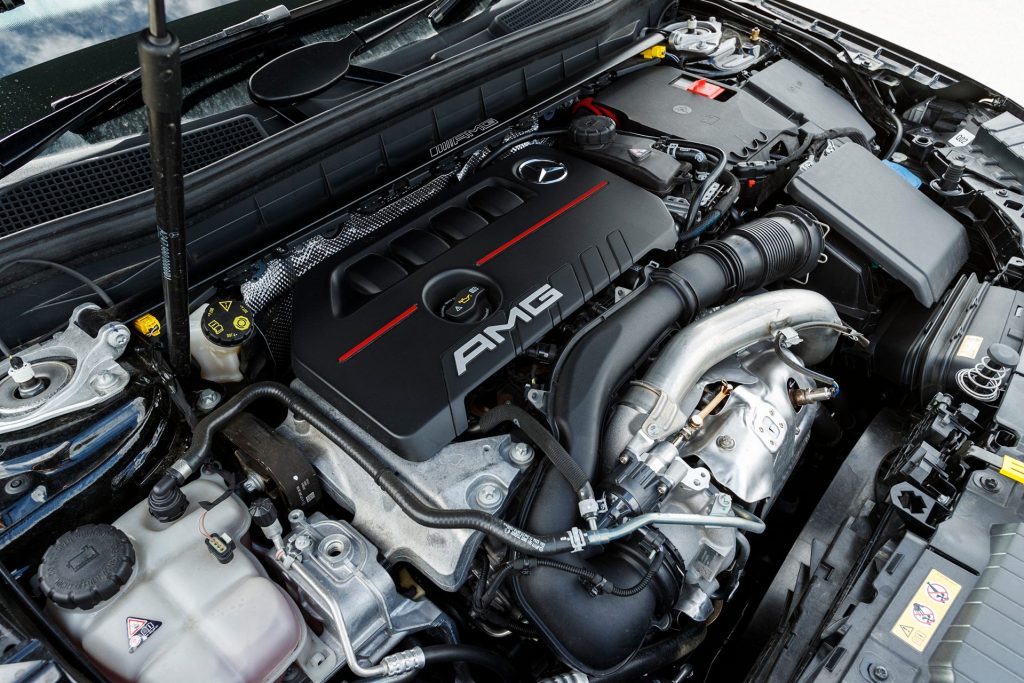 Being an AMG, there are the usual drive modes (Comfort through to Sport Plus) and a multitude of ways to select them, the easiest being the wheel-mounted buttons. The suspension has been AMG'd; stiffer, lower, less rolly, with unique steering knuckles and control arms up front and a tweaked subframe and hubs at the rear. Part of the mix is a set of adaptive dampers which can calm the harshness of the AMG measures. And they work as this isn't too firm riding for your daily missions. And it's not as noisy as the A 35 in terms of road rumble either. But then neither is it exactly plush or silent; there's always an element of AMG to it. The lowered suspension means this rides at about the same height as a regular A Class but hey, it makes it easier for little kids to climb aboard. While the steering is light weighted, and quick (2.1 turns) the 35 has a larger turning circle, quoted at 12.5m to the 250's 11.7. It's about the only blight on the everyday usability front.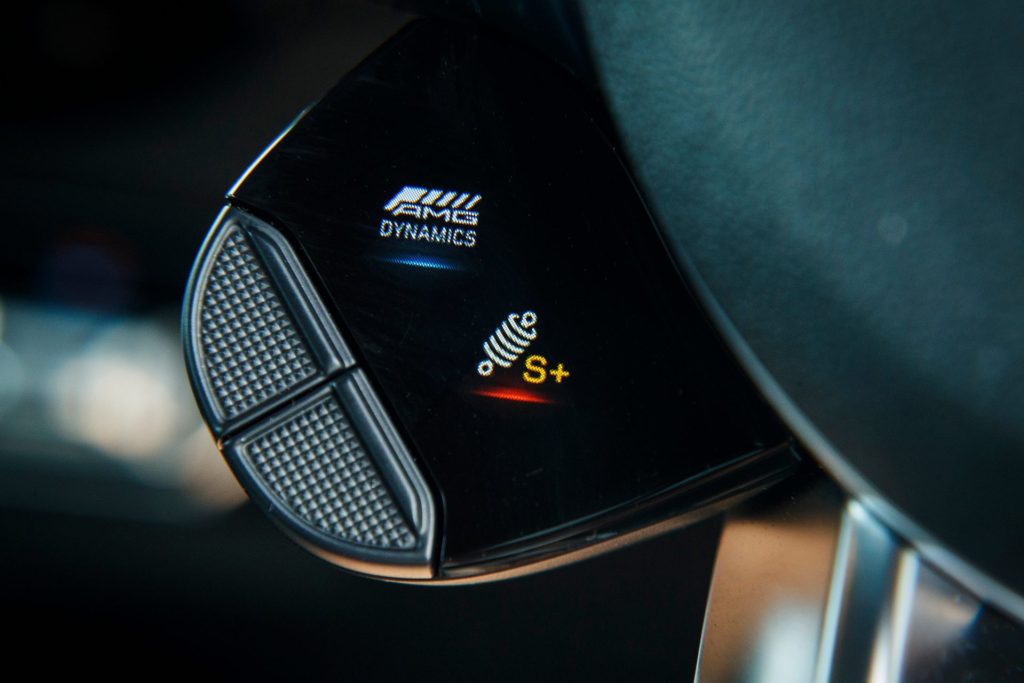 While the twin-clutch is an adept performer in all-out Sport mode, it's just as good at going slow. While the idle/stop system can add a pause off the line, it otherwise gets underway smartly and, despite the torque not fully registering until 3000rpm, there's plenty of urge below to suffice. The auto is quick both up and down the ratios, so it works perfectly well with the powertrain left in its default Comfort setting.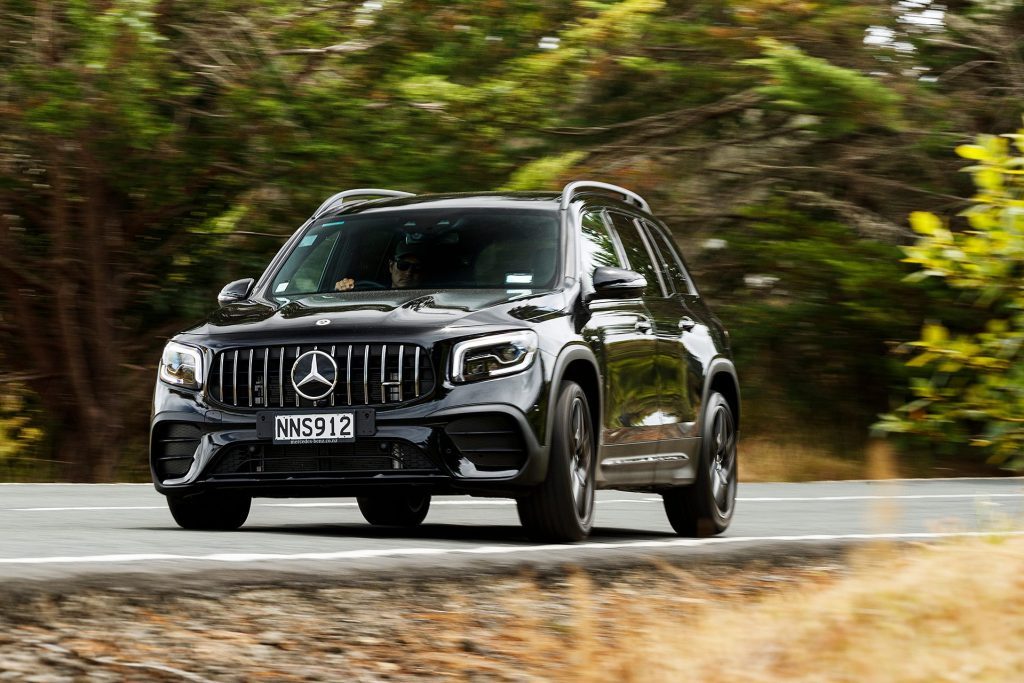 Should you ever find yourself riding solo with a few bends in front of you, this AMG won't disappoint. AMG Dynamics is a feature, which links info from the AWD system, steering, and traction control to further enhance agility and reduce understeer, largely by targeted braking. Certainly works too, and if you're really getting frisky, you can switch the ESP to its Sport mode, which lets you really test the roll control and grip levels. The AWD set-up uses the usual on-demand type system with a multi-disc clutch pack at the rear employed to drag torque back. In the GLB 35, this has been AMG'd to allow a more dynamic flow of the power, with up to 50 per cent being shunted rearward, and so it flies off the bends. In conjunction with the AMG Dynamics, this can cover ground rather rapidly while decent brakes give it strong stopping power too. The steering points it in sharply, the trans nearly always has you in the perfect gear and the engine has a broad spread of torque (and a snappy throttle response in its sharpest setting), and so this is a rather surprising package.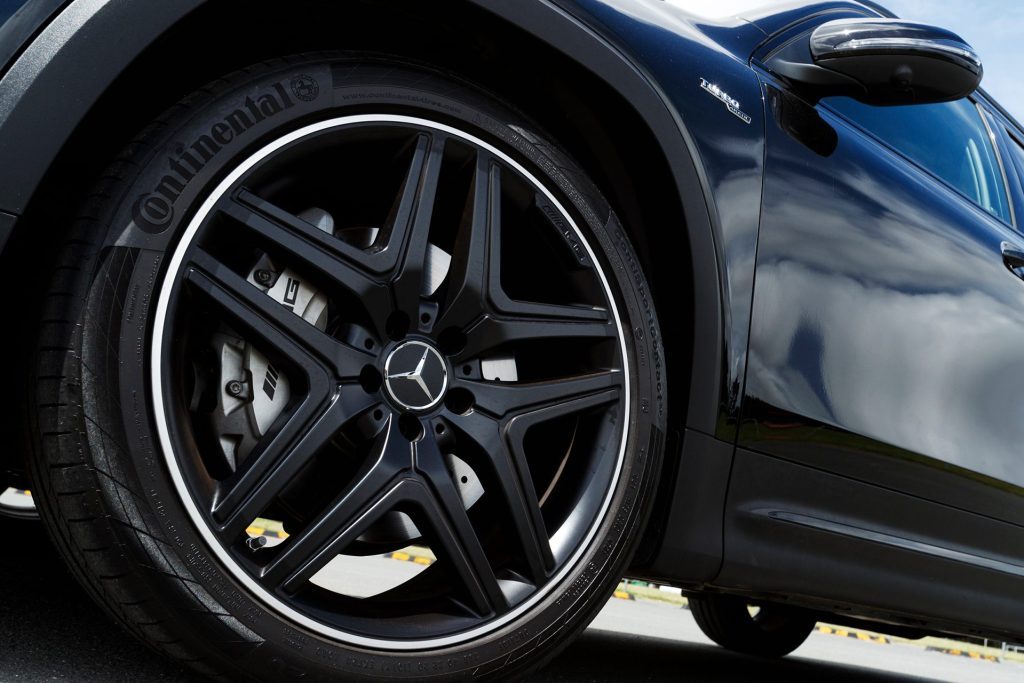 It's an odd looking thing, it has to be said. Yes, it's practically proportioned but in AMG guise it really needs wider guards to pump it out. What you do get is an AMG grille, front splitter, rear apron and an extension of the roof spoiler. 
The interior too gets a sports treatment with some carbon accents and an AMG steering wheel, though the front seats they've left alone, which is a good thing comfort wise. And despite the lowered ride, they still provide the more upright, elevated perch of the SUV genre.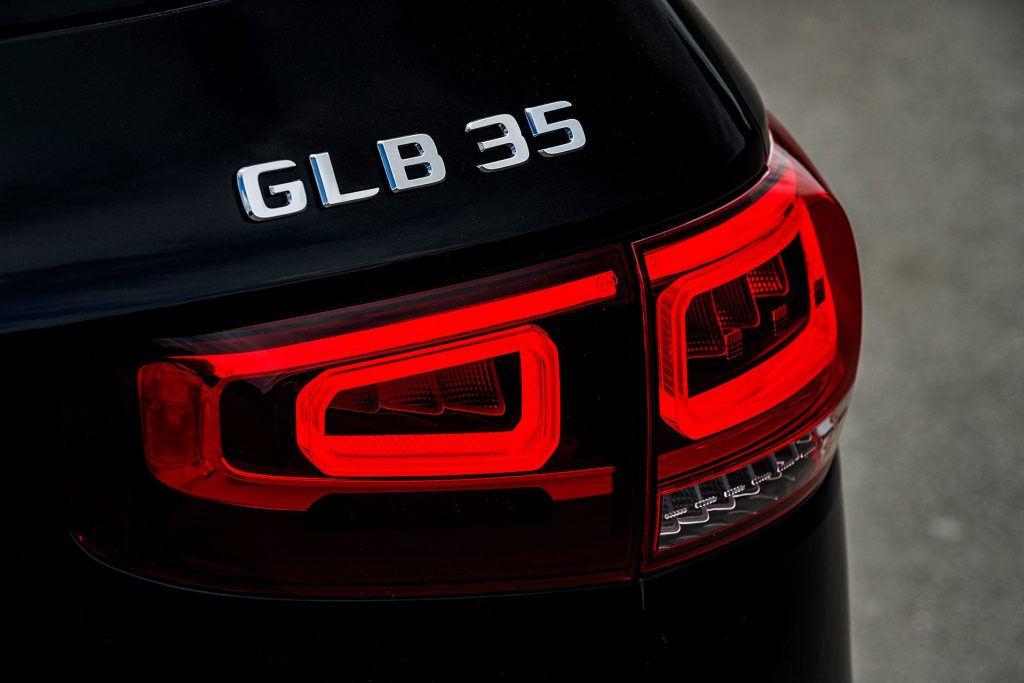 The MBUX interface is present, the screens smaller in Merc's compact cars but no less vibrant with a solid resolution for the displays. There are also 50 ways to control things, various touch pads, voice assistants and even a few buttons. There are some AMG-specific screens, like the Supersport mode with a central tacho and a range of gimmicky readouts; g forces, boost and engine outputs to help distract your gaze from the road. The requisite safety measures are included, though the convenience of active cruise is an optional extra.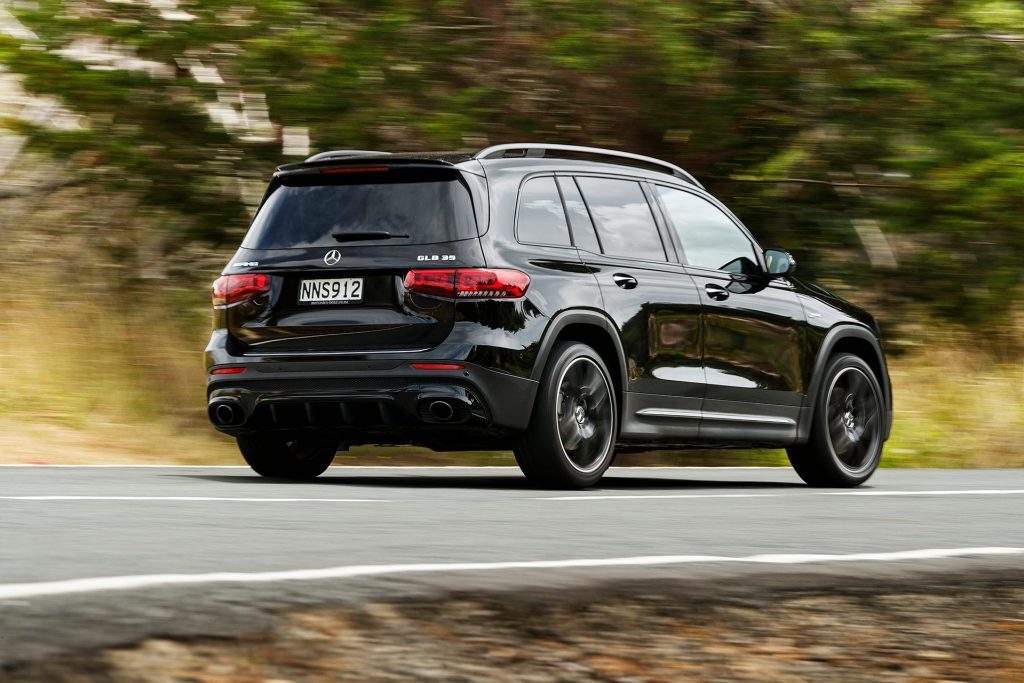 The GLB might be on the smaller side, but with a versatile seating arrangement, you could cram seven bodies inside. The second row has the usual sliding and folding mechanisms to both allow access to the rear and give those seated there some additional leg space. Merc says people up to 1.68m tall can fit back there, so it's a kid zone only. With seats stowed, the GLB has a rather decent boot, much longer, wider and deeper than the GLA's.  
Does the world really need a hi-po compact seven seater? Probably not, and we can think of more sensible ways to spend $115k. But if for some reason you think this is the bee's knees, don't let us stand in your way.
Model
Mercedes-AMG
GLB 35 4MATIC
Price
$114,200
Engine
1991cc, IL4, T, DI
Power
225kW/400Nm
Drivetrain
8-speed twin clutch, AWD
Fuel Use
8.3L/100km
C02 Output
186g/km
0-100km/h
5.25sec
Weight
1857kg (claimed)