Lamborghini has released the first of three short films which takes us through the development process of the newly-revealed Revuelto, the brand's first proper hybrid hypercar.
The seven minute video outlines how the Italian carmaker managed to retain key characteristics of its past cars that we all know and love while introducing new technologies. It also went into detail about the design of the new car and what we can expect to see on future models.
Chief Technical Officer of Lamborghini, Rouven Mohr, first appears to explain how the brand is embracing its electrified future by upping the power and lowering lowering emissions.
"The main challenge has been to transfer the Lamborghini DNA into the electrified world," says Mohr.
"Not only have we increased the power and decreased emissions at the same time: Revuelto is an overall improvement in terms of performance. Primarily, this is the first car where we have completely changed the architecture; on top of this it is the first Lamborghini with an electric four-wheel drive and it also features a totally new carbon fiber monocoque and an unprecedented sound."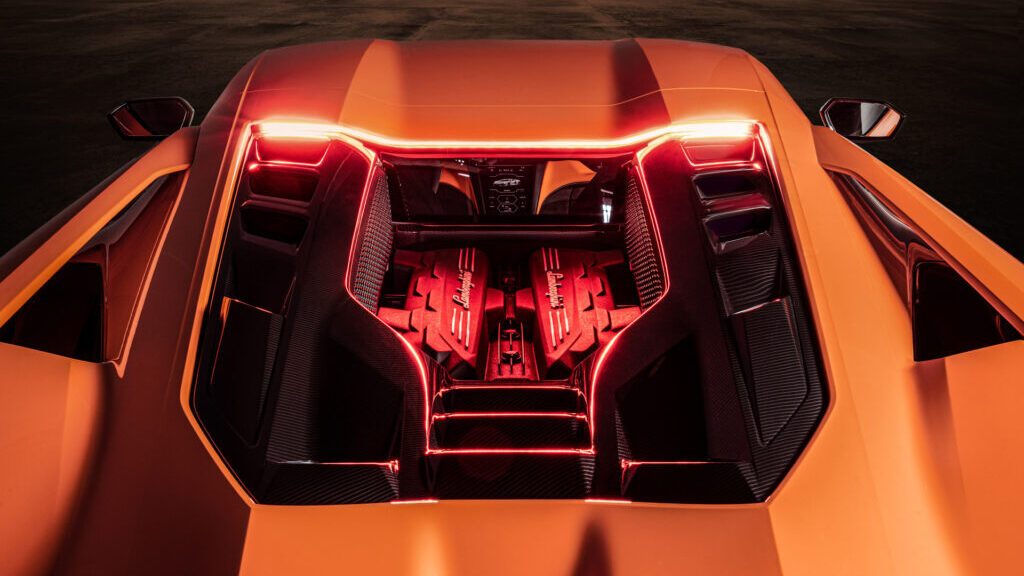 The Revuelto retains the brand's iconic naturally-aspirated 6.5-litre V12 and pairs it with three electric motors to generate a combined 746kW. And yet, the 30 per cent power increase over the Aventador also comes with a 30 per cent emissions decrease. Win win.
So not only does the hypercar retain the sound that Lamborghini fans know and love, it builds on it for the better.
It wouldn't be a Lamborghini without a bedroom wall poster-worthy design either, which is why Head of Design Mitja Borkert styled the Revuelto with the brand's well-known silhouette in mind.
"Every surface that we design in a Lamborghini has to be a high-performance surface," says Borkert.
"One of the parameters was to keep the typical Lamborghini silhouette and the cabin's strong inclination: all the lines embrace the cabin, celebrating the exposed V12 engine at the same time. The new Revuelto had to be innately recognizable as a Lamborghini, and from the very first concept we set out to create the Lamborghini of the next decade." 
See the first of the three Lamborghini Revuelto development films for yourself below.