The new Leon is the only 'car' Seat offers now. And the lone variant here is the Sportstourer wagon. Is it any good?
So after another lockdown was over, we moved out of the Cupra VZ Sportstourer and into something similar but with a different name, well, two different names really. While this is also a Sportstourer, it's a Seat Leon and an FR model at that, so it's rather less expensive at $44,900. That's quite a bit less than the Cupra version with the same basic bod and gear toting ability. But obviously it doesn't come with as much style, nor is there quite the performance while sheer grip takes a back seat as it drives from the front alone.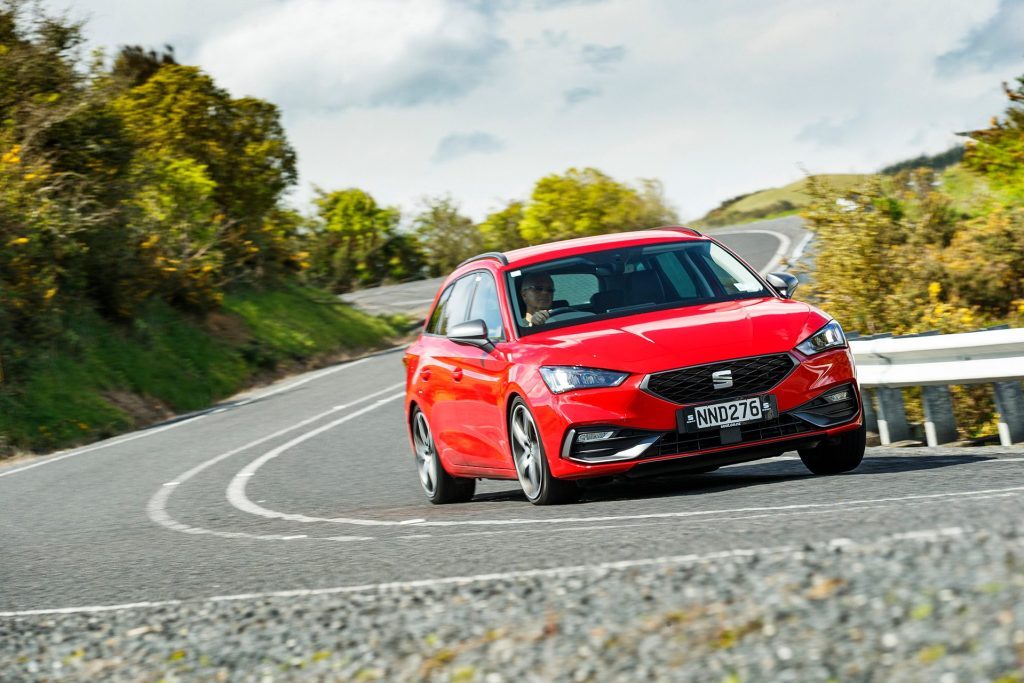 On the upside, it's hardly threadbare on the spec front with eight airbags, including the between-seats air pillow, adaptive cruise control, XDS electronic diff lock, a hands-free powered tailgate, keyless entry, triple-zone air conditioning and shift paddles for fun. There's still a range of cost options, and one of these is a $1600 Safety Assist package comprising wraparound LED ambient lighting in the cabin that doubles as the blind spot monitoring (so clever because it always catches your eye), auto-dipping, and exit assist (prevents door opening into the path of a following vehicle). FR also has a five-star ANCAP safety rating.
All this and yet it costs one-third less than the top Cupra wagon. Moreover, it doesn't use as much fuel so will be pleasingly cheaper to run. We averaged around the mid-nines for the Cupra whereas this is meant to be good for 4.9L/100km overall (CO2 of 128g/km), and average fuel consumption in the fives is certainly possible in extra urban running. Naturally, it isn't anywhere near as quick – the rush to 100 takes 8.7sec vs 4.7sec – but nor would you regard it as a slow poke, especially in its hyped up Dynamic mode. Everything is relative.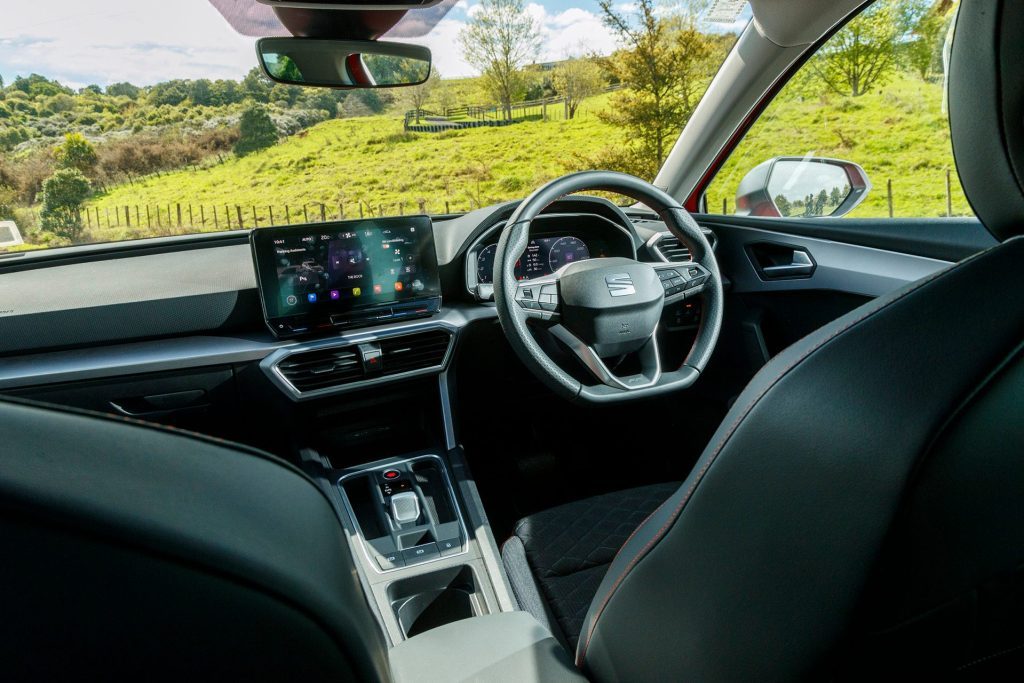 So how does it achieve such respectable fuel use figures and reasonable performance? By being a mild hybrid, which is no longer that unusual for Euro machines. It's a 1.5 turbo-fired 110kW/250Nm engine that does the heavy lifting, with a belt-starter generator to give it a tickle along and that also permits coasting on the run, and engine off from 15km/h and below as you're slowing, as well as faster restarts.
The new Leon makes use of the same VW Group MQB Evo hardware and the stretch in wheelbase sees rear leg room improve to the point of being almost generous. The estate is 93mm longer than the hatch (which is only available here in full Cupra trim) overall at 4642mm and there's no doubt the new design is now bolder, more aggressive; it looks up for a fight or flight scenario this one. Load space is rated at 620-1600L, with seats in place and split folded, respectively. That's similar to the load space of its more expensive rival Octavia.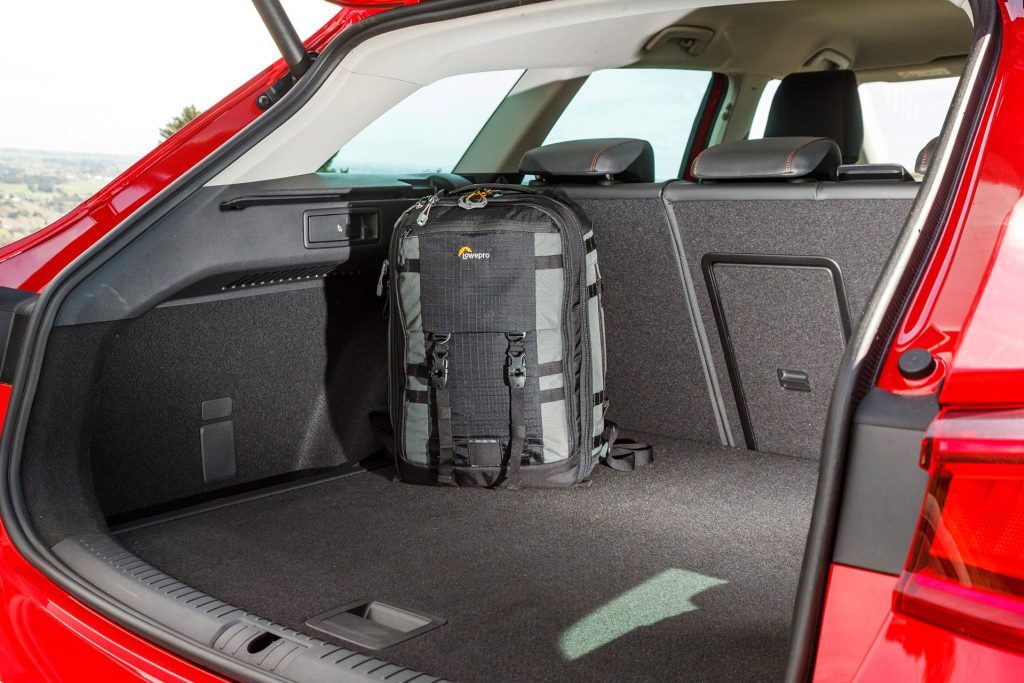 A relatively substantial difference is the lack of adaptive damping in the Seat variant, but the fixed suspension is well sorted, perhaps a bit firmer but then Seat is the youthful, sporty dynamic arm of the VW Group so that's appropriate. As speeds rise to rural pace, the compliance feels just right, the damping keeping body movements in check while mopping up road irregularities with grace. A good compact and relatively quiet family tourer then.
Inside is also fresh, with a 10-inch central infotainment screen that's split into three sectors and looks after myriad functions, including HVAC relegated to the top of the screen, apart from temp which is on haptic sliders below, and likewise volume control at the base of the unit. The various drive modes and assist systems can be readily changed using the touchscreen. Lane keeping which turns for you can easily be neutered with three screen touches.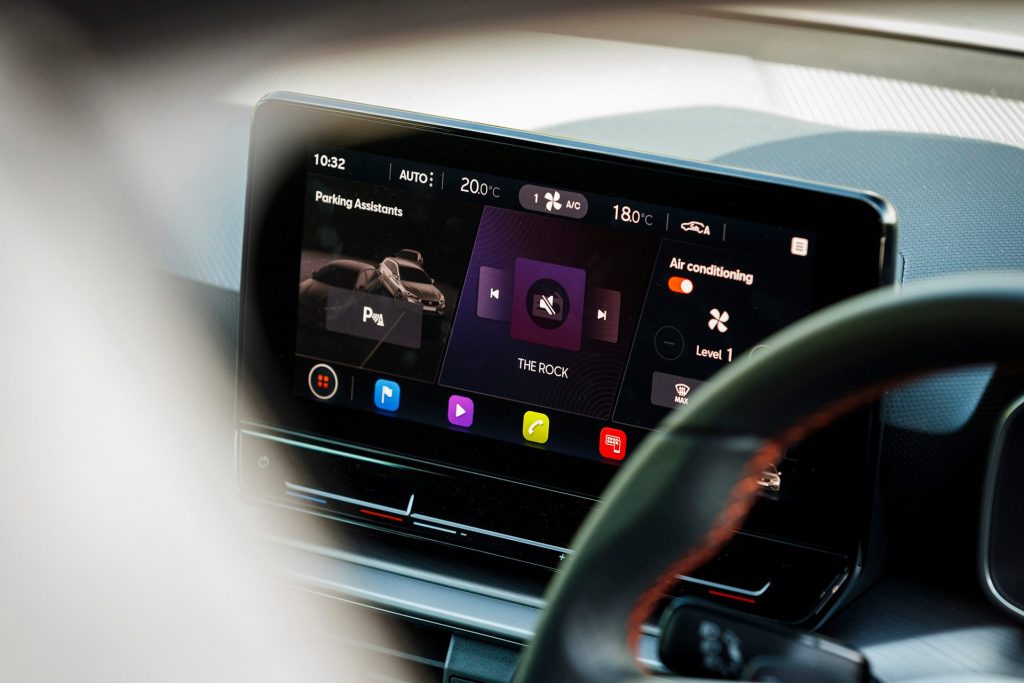 Each of the new wagons we've driven had a quick guide leaflet for the touchscreen but it's intuitive enough that a play around will soon have you familiar with how to run the car. And if I can fathom it, trust me, anyone can.
The Leon is pretty quiet too, running on Turanza rubber which also gives it plenty of stick and confidence in corners. Plus it can get along apace when called upon, easily meeting its claimed sprint time of 8.7sec – it seems all Cupra/Seat product is conservatively rated for performance – with a best of 8.3sec, and 5.5sec for the overtake. Other markets quote 8.4sec for the sprint time which seems more on the money. We saw a worst fuel use figure of 7.5L/100km, and a best of 4.5L/100km at 100km/h on flat motorway hotmix. A fairly tall top gear helps, with 100km/h corresponding to 1800 in seventh gear. That also gives it good range, the trip computer suggesting nearly 800km when full.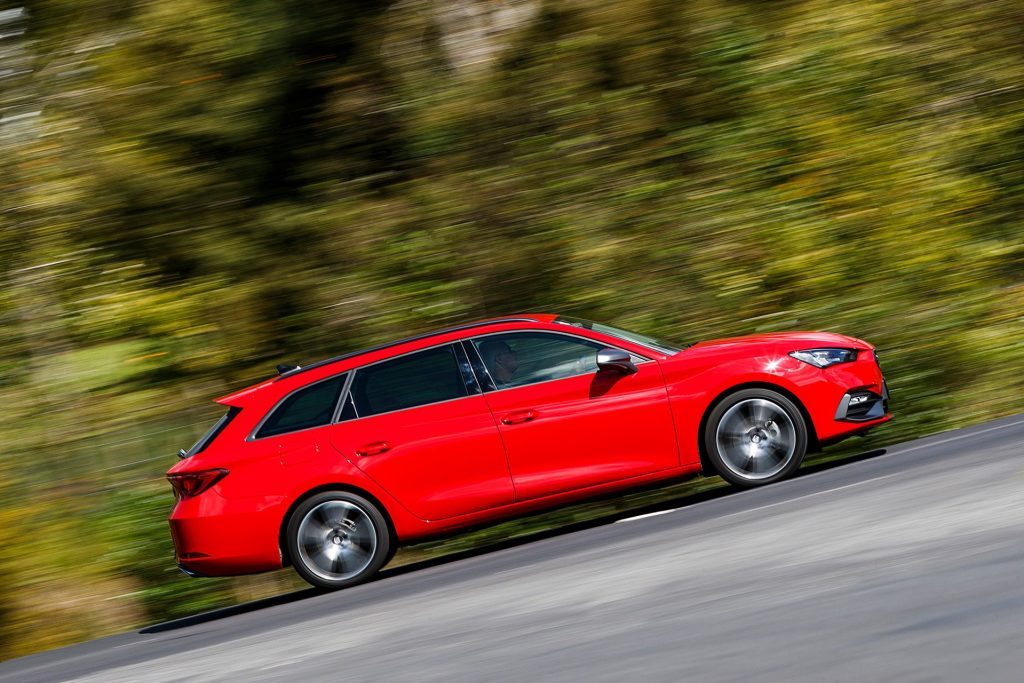 This gets off the mark well too considering it has a turbocharged engine, the electrics helping out in more ways than just economy. And that's just in the default Normal mode while Sport ups its game some.
You lose power adjustment of the seats and full leather trim compared with Cupra ST, no big deal really as adaptive cruise control is still present, so too full link Apple and Android. Being a wagon there's great visibility rearward, and good mirrors show all that's coming until you pick it up in your peripheral vision, so BSM isn't essential. There's a spot for a big cell phone in front of the shifter, with a pair of USB-C inputs nearby, handy for charging as there's no inductive device. All the bins are rubber lined so things don't move around noisily on the go and there's a lot of soft touch plastics.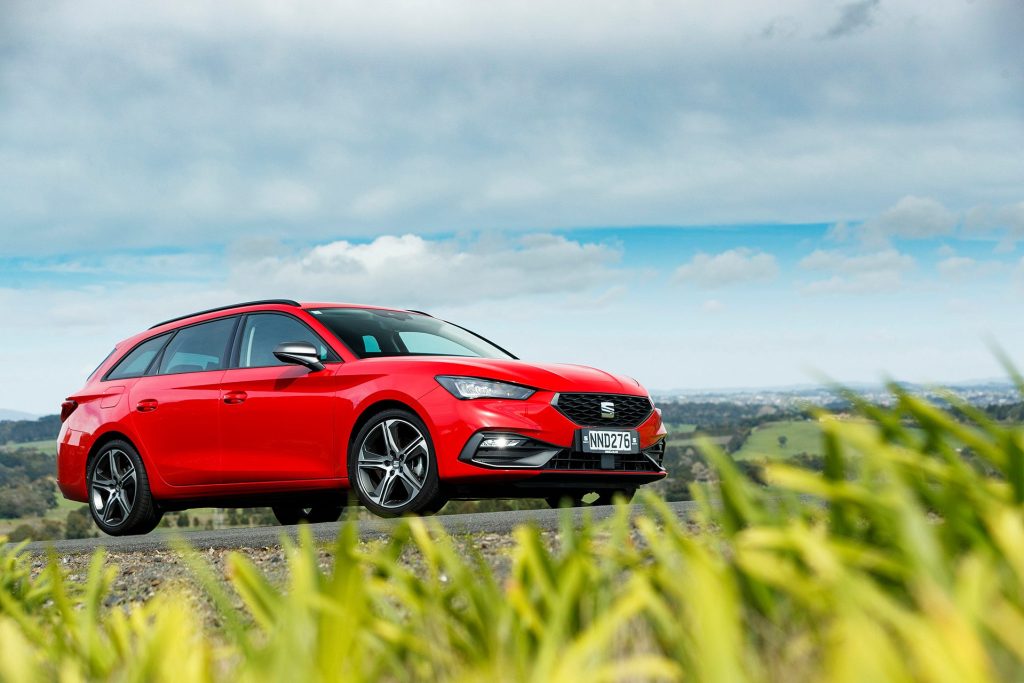 So this or the Cupra? For me, I'd be almost as happy with the FR, and its mix of performance and economy. Sure you get more go and opulence with the VZ but it costs much more to own and operate. Likely as not about half will be prepared to go large, and half won't because now Cupra and Seat are selling 1:1. Like we said at the beginning, similar but different. It's nice to have the choice.
| | |
| --- | --- |
| Model | Seat Leon FR Sportstourer |
| Price | $44,900 |
| Engine | 1498cc, IL4, T, DI |
| Power | 110kW/250Nm |
| Drivetrain | 7-speed twin clutch, FWD |
| Fuel Use | 4.9L/100km |
| C02 Output | 128g/km |
| 0-100km/h | 8.30sec |
| Weight | 1410kg (claimed) |