The 4×4 Intens diesel is new to the Koleos line-up, previously an all-petrol affair. Sales for diesels continue to drop off here as buyer preferences evolve, though this oiler might find favour with Renault loyalists, it being more European and less Japanese. The diesel is a 2.0-litre single turbo unit with 130kW and 380Nm and runs through a CVT.
It's said to have a combined consumption of 6.1L/100km, though the long term average for this Koleos was sitting at 8.3 according to the trip computer. It's a Euro 5 compliant engine, the legal minimum in New Zealand. Most of the European rivals offer cleaner burning Euro 6 diesels but this one does have 30,000km/12-month service intervals.
It's not a particularly noisy diesel – there's just a bit of a rattle when cold – but it serves up a decent measure of turbolag off the mark. Is a diesel and a CVT the best combination ever? It depends; it's better at highway speeds where the transmission has the diesel churning along at around 1800rpm, not far off peak torque at 2000rpm, and so it pulls nicely with just a little added throttle.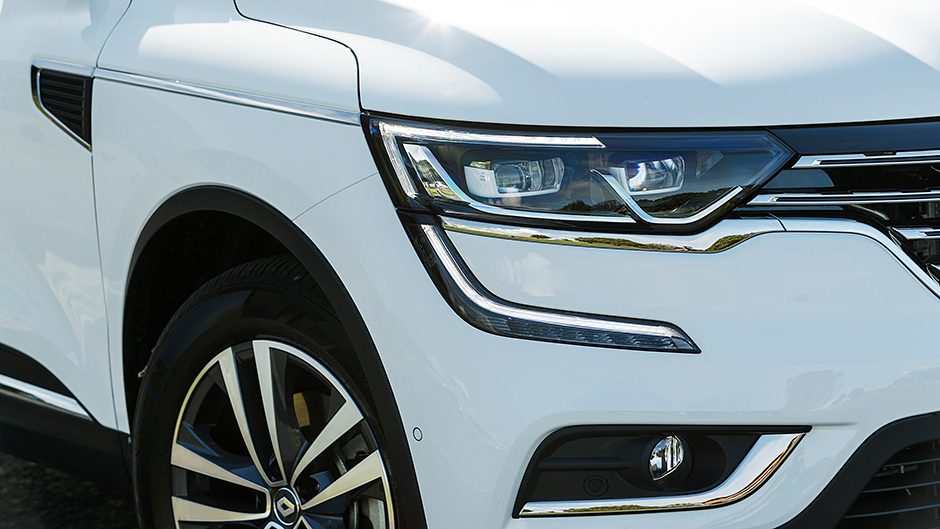 But when rambling around town, the engine is pulling just 1500rpm where it's happy enough but calls for extra go take a moment or two to be answered as the turbo builds boost.
While this Koleos is a heavy 1750kg, the diesel keeps it trucking along nicely when you massage the throttle more vigorously. It's quiet in terms of road noise, steers faithfully and holds on well all while riding in a dignified manner.
Koleos is a good look, rolling in standard trim as seen here while the locally-devised Sport model adds a blacked-out grille, a set of 22s and additional spoiler thingees clipped on to the front and rear bumpers. Like the exterior, the Koleos cabin is interesting, the Intens model with the large infotainment screen and the configurable instruments.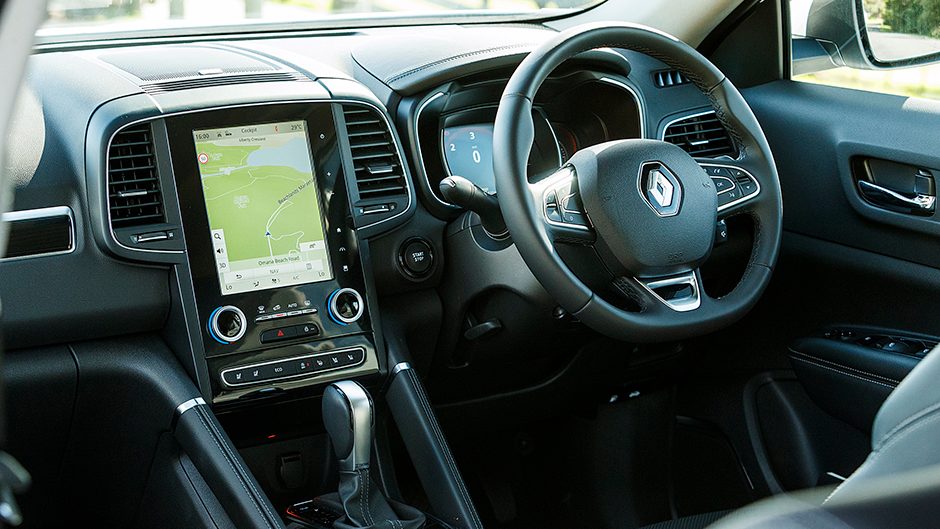 The portrait-oriented main screen is a dominating feature but delivers more screen space. It's particularly handy when you're using the sat nav as it gives you a better idea of the area ahead. Being French, it's not the most intuitive system at times, but you get the hang of it with familiarity.
The Intens model includes AEB with forward collision and lane departure warnings but lacks active cruise. You get LEDs, parking sensors that monitor around the entire vehicle and enable a self-parking function, there's ambient lighting, leather trim with heaters and ventilators up front, a powered tailgate, Bose audio and a panoramic roof.
It's well finished this SUV and big on space with generous rear seat accommodations and a voluminous boot. With the right tow hook, it's good for a 1650kg braked trailer. The diesel carries a $5k premium over the 2.5 and at $59,990, it's really getting up there in price. That puts it up against the likes of the top CX-5 and Kodiaq, both of which we'd prefer to own.