"What's a Commodore RS-V?" asked a friend after seeing the big silver wagon on the driveway. That's a good question. While Holden has persevered with the Commodore name, model designations like RS-V are foreign to most people.
In terms of the Sportwagon line-up, the hierarchy sees LT as the entry, the RS is the sporty version while the RS-V introduces the AWD V6 powertrain option, those others being 2.0 turbo front-drivers. So RS-V we guess is like the old SV6.
It has the FE2 'sports' tuned suspension, and runs a V6, though the 3.6 has been turned 90 degrees to lie transversely (cunningly, the acoustic cover is designed to make it appear longitudinal), sending its power via a nine-speed auto to all four wheels. This more sophisticated driveline is also accompanied by a higher specification than the old SV6, but the price rises only slightly to $60,990, which includes Holden's new three-year service deal. So it's not a bad thing this new wagon, and it sure does go well.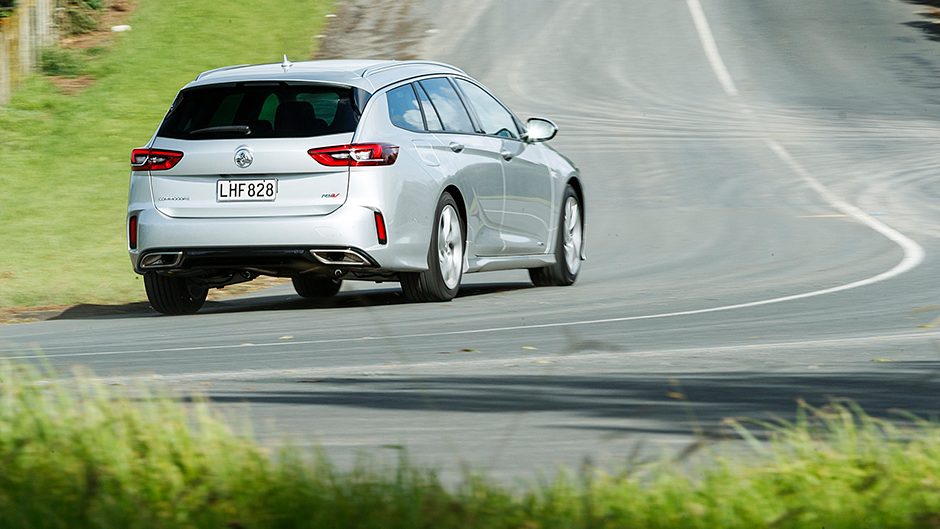 Riding on the FE2 suspenders, there is a slight sporting bent to its stride over both city streets and cantering along the highway but the set-up delivers controlled progress which, along with the AWD, allows this big wagon to feel balanced and contained. The variable AWD, with its ability to split the drive forces between the rear wheels, is a boon for every situation.
This really shines on slippery roads. Turning right out of a T intersection, you can accelerate swiftly and all you get is grip to go with no worry of the rears breaking traction or the tail sliding wide. The hardware sees this Commodore covering challenging surfaces with a greater degree of safety.
It's sure-footed and with both torque vectoring by brake and the active rear diff at work, the Commodore rarely strays from your intended line. Adding gas in a bend usually upsets a car, but here, a bit of throttle helps the Commodore track around the curve more assuredly and, if you're trying, you can be at full noise just as the corner exit has arrived. Those who like efficiency will like this; you can exploit all of the engine's go rather than see it wasted in tyre smoke and oversteer.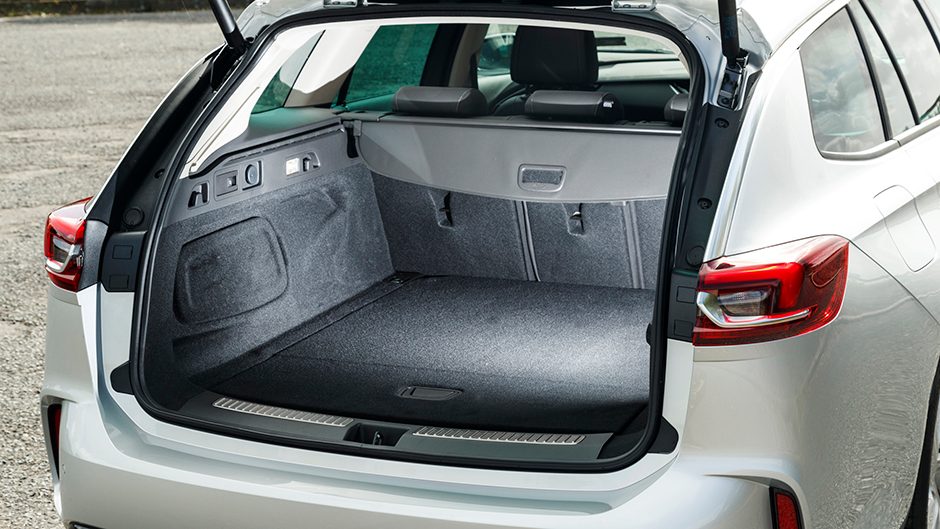 The dampers are of the passive variety, and so the Sport mode only acts on the engine, auto and steering. The V6 is a peaky unit, much of the real go hiding up beyond 3500rpm, and though the nine-speed auto isn't the sportiest operator, it does learn to hold gears and keep the revolutions lively. For the other 95 per cent of drive duty, the V6 and nine speeder are a happy combo. There's a good response from idle, with easy torque to mooch about below 3000rpm, and though the auto isn't the quickest at dropping ratios on kick down, it's generally a smooth unit.
The V6 will get through about 13L/100km in city traffic and drop back closer to 10 litres per hundy the more motorway and highway miles you cover. The automatic stop/start is quick to refire and isn't overly busy either. Neither is the forward collision warning system with fewer false alerts compared with the old system.
Along with this, there is also AEB with pedestrian detection, active lane keeping (easily disabled if you find it annoying) and blind spot minders, though active cruise has been omitted from this $60k car. It's one of the few convenience features missing from what is otherwise a big easy type of drive.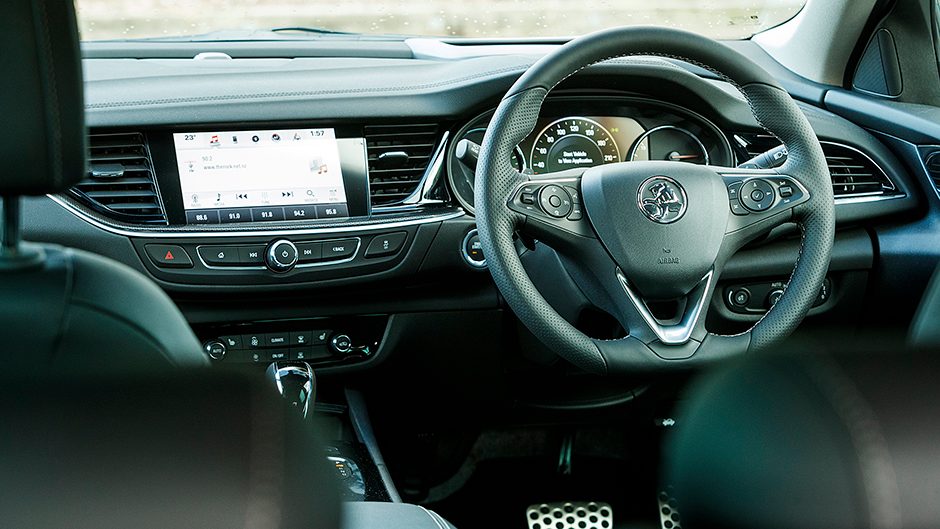 As to load space, yes there is a lot of it. The luggage capacity is quoted at 560L under the cargo blind and almost 800L with stuff piled to the roof. Lowering the rear seats is easy thanks to a spring-loaded folding system where a flat area presents itself.
It delivers in every dimension other than ultimate width and this narrowing of the Commodore is most evident across the rear bench; where three kid's seats used to fit comfortably, it's now a bit of a squeeze.
Up front, there are a few hard plastics evident, but the build quality is passable, and the cabin was squeak- and rattle-free. There's a central TFT screen with a limited range of display options, but there's also a large digital speed readout and a standard head-up display. The seats are perhaps a little firm but allow you to access a good driving position. The centre touchscreen has a couple of hard buttons to ease navigation and, though quick to respond, it's lacking in resolution.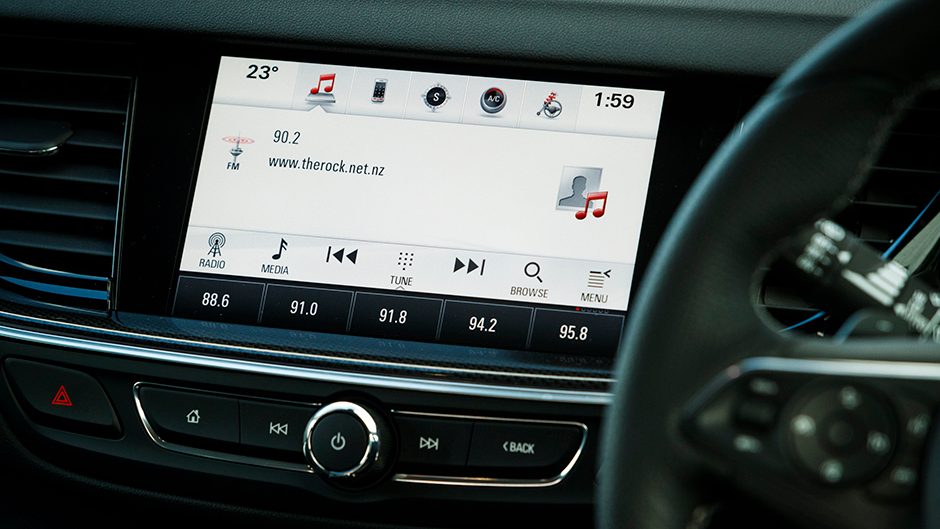 Along with smart phone hook-up there's wireless phone charging (if you have the right phone), ambient lighting, sat nav, leather trim with heaters up front, smart key and sporty details inside and out. If you can make do without the ultimate cabin width, the RS-V is a more polished, safer and more replete replacement for all those SV6s out there.