Love them or loathe them there has always been a demand amongst Kiwi buyers for a full-size U.S. Market pick-up truck from Ford, General Motors, and Ram trucks (formerly Dodge).
Many have been imported as brand new vehicles from the U.S. and converted locally to right-hand drive by specialist workshops such as Bunce Motor Company on Auckland's North Shore.
In the 2000s Ford NZ briefly marketed a right-hand drive F-250 7.2-Litre V8 turbodiesel pick-up truck which was sourced from Brazil, and from 1998 to 2001, Holden imported a nine-seater Chevrolet Suburban in right-hand drive built by General Motors at it Silao plant in Mexico.
We can thank expat Kiwi, Neville Crichton, for setting up the American Special Vehicles (ASV) joint venture with Walkinshaw Automotive Group to supply fully-factory supported and warrantied right-hand drive Ram Trucks to the Australasian market.
Brand new Ram 2500 and 3500 4×4 Laramie spec trucks are shipped from Mexico to Melbourne where they are completely disassembled, with the cab taken off the vehicle's chassis frame, and the engine also comes out for the thorough remanufacturing process.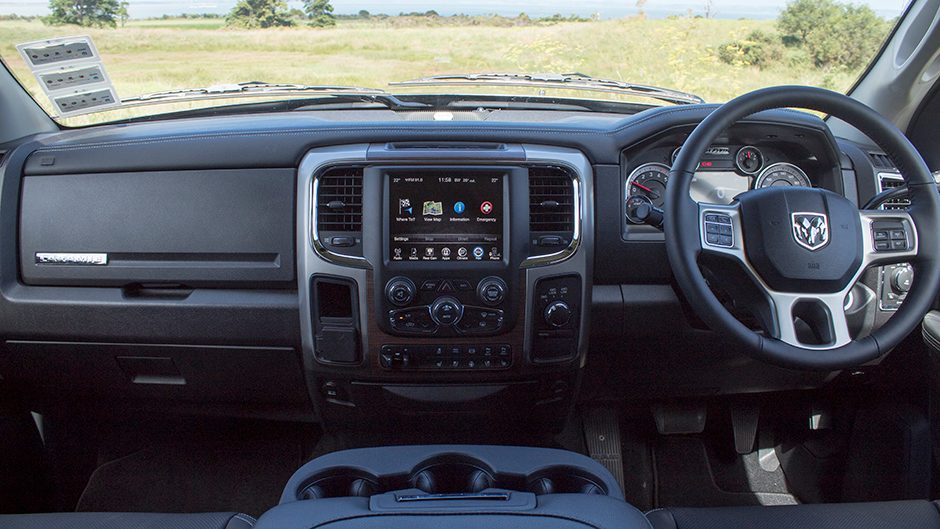 The two models are rebuilt on a production line into right-hand drive vehicles, receiving a new firewall, steering system, wiring loom, and dashboard. All the electrical and electronic functions for seat heating, air conditioning, windows, and mirrors are also re-configured for right-hand drive, as is the foot-operated parking brake.
Ram Trucks allowed the ASV joint-venture engineers to access its factory technical drawings, which means it can remanufacture the Ram's firewall and other componentry to OEM standard during the rebuilding process.
One right-hand drive truck has also been tested locally to maintain crashworthiness, which apparently it passed with flying colours.
However, the column change gear selector remains on the right of the steering wheel and the indicator/wiper wand remains on the left.
Owners will need a class two driver's licence because using the Ram 2500 Laramie as a tow vehicle means the gross combined mass (GCM) will exceed 6.5 tonnes.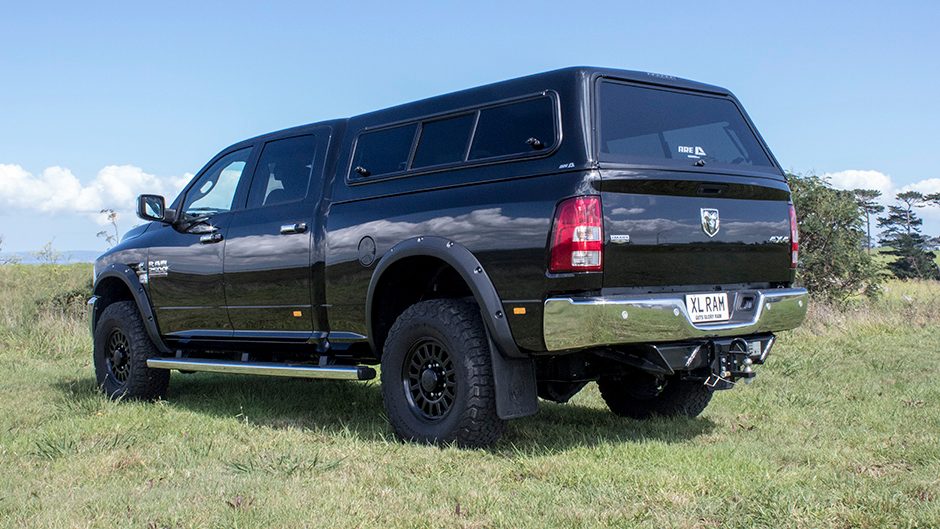 It has a maximum braked towing capacity of 3500kg using a 50mm tow ball, a 4500kg maximum braked capacity using a 70mm tow ball or a 6942kg maximum capacity using a pintle connection, which is double the towability of a Ford Ranger or Toyota Hilux.
The bed of the truck has a heavy-duty spray-lined tray which is 1939mm in length, and there is 1295mm of width between the two rear wheel arches which means that two standard pallets can be loaded on board.
In its home market, the Ram 2500 is known as a ¾-ton truck, while the locals refer to the Ram 3500 as one-ton truck and obviously the smaller Ram 1500 is called a ½-ton truck, because these weights reference the payload capacity of the truck's cargo bed.
Thanks to it's five-link coil sprung rear axle under the metric system the Ram 2500 has a 917kg payload capacity, but if you want more, the Ram 3500 with a heavy-duty Hotchkiss rear suspension package offers a greater payload capacity of 1713kg.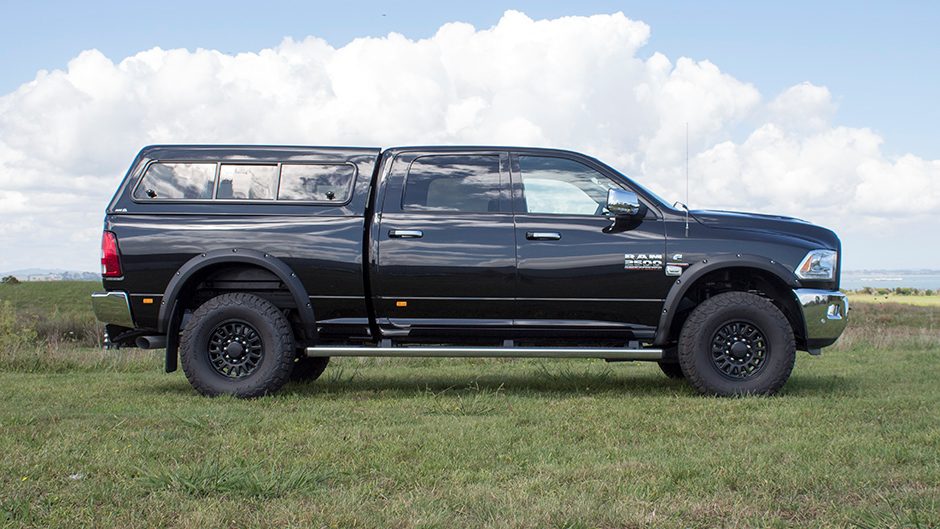 While it might be built tough for a rugged life on the road and off it, inside the cabin the Laramie more than matches the specification and comfort of a luxury car.
It offers seating for up to six occupants, and it is comprehensively appointed including heated and ventilated front seats, heated steering wheel, leather upholstery, climate air, Bluetooth with voice activation, U-Connect navigation, and there is even an electrical socket for three-pin plugs.
There are two rear cameras fitted, one shows a view of the cargo bed and the other the view behind the tow ball, and there are also front and rear parking sensors fitted which makes maneuvering the Ram 2500 much easier in tight spaces. The side-view mirrors have a power folding function which is also useful when parking on the street or in narrow spaces.
A very nice and unique touch is the rear bench seat which folds down and out into a bed for the night, and you can view the night sky through the electric tilt/slide glass sunroof.
The RAM XL pictured was also fitted with the Black Appearance Group package valued at $5000, which has an 80 per cent take-up from buyers, according to the distributor. The package includes a blacked-out crosshair radiator grille instead of a chrome version, an American Expedition Vehicles (AEV) heat reduction hood, and Mopar flared black guards.
There are also AEV Salta heavy-duty 17-inch black alloy wheels which are fitted with an AEV Salta heavy-duty trim ring and BF Goodrich 315x70x17 all-terrain tyres. The accessory canopy fitted to the review vehicle is sourced from the U.S.A and retails for $5000.
When the Ram 2500 Laramie first hit the market in 2016, it's recommended retail price was $164,990 plus on road costs, today the RRP is now $149,990, so with the addition of the Black Appearance Group and the canopy, this vehicle came to $159,990 plus on road costs.
People buy a Ram Truck because they need its prodigious payload and towing ability for both work and play. It's also surprisingly easy to drive thanks to the high seating position and view of the road ahead, but the dimensions and the engine's more than ample torque demand respect.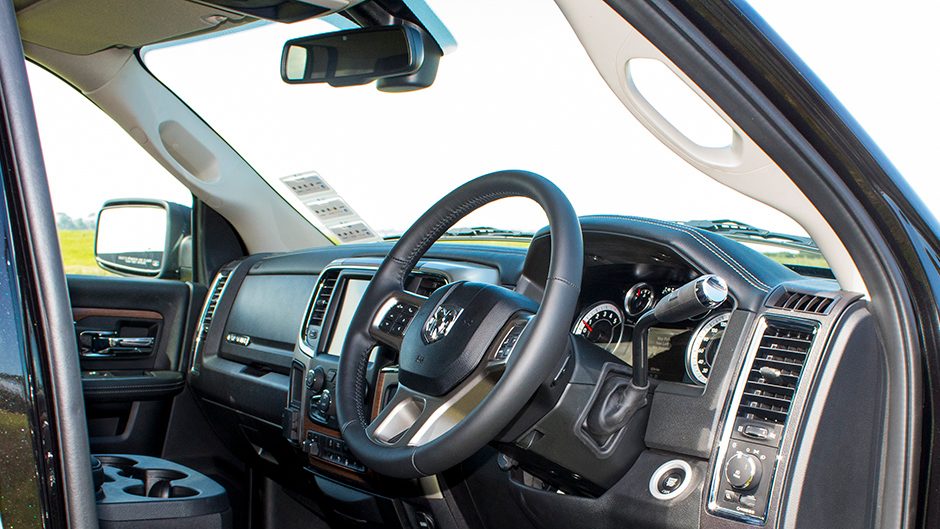 At nearly six metres long and two metres wide its best to treat it as a small truck rather than a big ute, and the optional all terrain tyres fitted also created more noise inside the cabin and we found the handling from these wasn't as sharp as set of highway terrain tyres.
Care needs to be taken because when accelerating too briskly on wet asphalt, the massive low end torque of the Cummins diesel engine will make the rear tyres lose traction and then the stability control kicks in to stop the truck wagging its tail.
Handling and dimension caveats aside, the Ram 2500 Laramie is a great working truck for people needing a vehicle capable of towing almost 7 tonnes and thanks to the price drop it's even better value now.
| | | | |
| --- | --- | --- | --- |
| Model | 2017 Ram 2500 Laramie | Price | $149,990 |
| Engine | 6690cc, 6-Cylinder, 276kW/1084Nm | Drivetrain | 6-speed auto |
| Fuel Use | 14L/100km | C02 Output | 0g/km |
| 0-100km/h | 0.00 sec | Weight | 3577kg kerb weight |
| Service | 10,000km intervals, 3 year / 100,000km warranty | Load | |
| Vitals | 4490kg GVM, 913kg payload | Vitals | 6942kg towing capacity |