After scouring the internet for some fine additions for our man cave, we stumbled across a replica Porsche 917 that houses a 24 Hours of Le Mans-styled slot car raceway inside of it.
Finished in the iconic Gulf livery, the racecar's shell lifts up to reveal every kid's dream, a fully detailed race track that mimics the Circuit de la Sarthe as it appeared in the 1970s movie Le Mans.
The 1:32 scale layout measures nearly four metres long by two metres wide and features hand-painted track surfaces, buildings, signs, foliage, and even miniature spectators.
There's plenty of detail when it comes to period correct sponsor displays as well with the famous Dunlop bridge making an appearance, as well as the Esso oil man and the Martini barn.
A range of 19 slot cars come with the track, including a Ferrari 512, a lineup of Porsche 917s including the #20 car driven by Steve McQueen in the movie Le Mans, a GT40 modified as a camera car, and more.
You also get two power switches and two remotes for players to race each other with.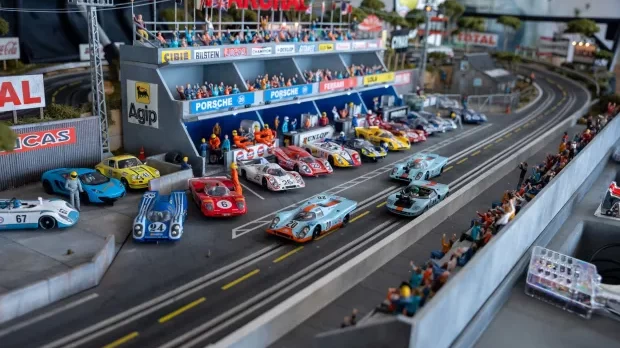 As for the replica body itself, it is constructed from a composite material over a tubular frame and can be moved around on casters. It has also features the number 20 on the front, back, and sides along with Gulf sponsorship. Other details include functional headlights and taillights, a windscreen wiper, side windows, simulated dual exhaust outlets, and a fuel-filler cap. 
The company responsible for creating the track is Detroit-based Slot Mods which specialises in creating high-end, life-like slot car raceways such as Road America, Laguna Seca, and built-from-scratch circuits.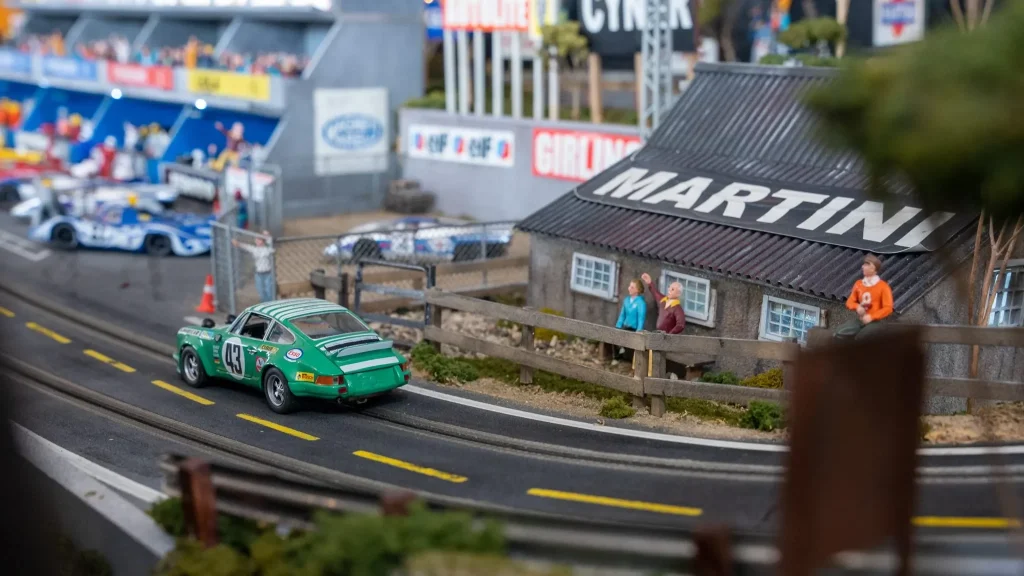 It's current owner has had the track in their possession for 10 years and is offering it for auction on the US-based site Bring a Trailer, with the current bid sitting at $US80,000 ($NZ128,000).