Jeep has unveiled a collection of brightly coloured off-road concepts in preparation for the 57th annual Easter Jeep Safari in Moab, Utah, at the start of April.
The event itself isn't actually hosted by the American carmaker but rather a local four-wheel drive club called Red Rock 4-Wheelers. It attracts thousands of off-roaders from across the United States who seek to test the limits of their vehicle every Easter.
Jeep has embraced the event's significance over the years with 2023 being no different. This time around, the brand has unveiled seven concept vehicles ranging from the popular Wrangler to a 45-year-old Cherokee with most of them featuring electrified drivetrains.
"Every year, more than 20,000 Jeep enthusiasts descend on Moab, Utah, for Easter Jeep Safari to drive in the most extreme off-road conditions, where our engineers continue to push the capability of our Jeep vehicles to next levels," said Jim Morrison, senior vice president and head of Jeep brand North America.
"It's the perfect place to showcase our seven new Jeep concepts, because it's with these Jeep enthusiasts that we'll be able to push the limits even more and get their feedback on where they want to take the Jeep brand into the future."
Without further ado, let's take a look at the newly-revealed concepts.
Jeep Wrangler Magneto 3.0 Concept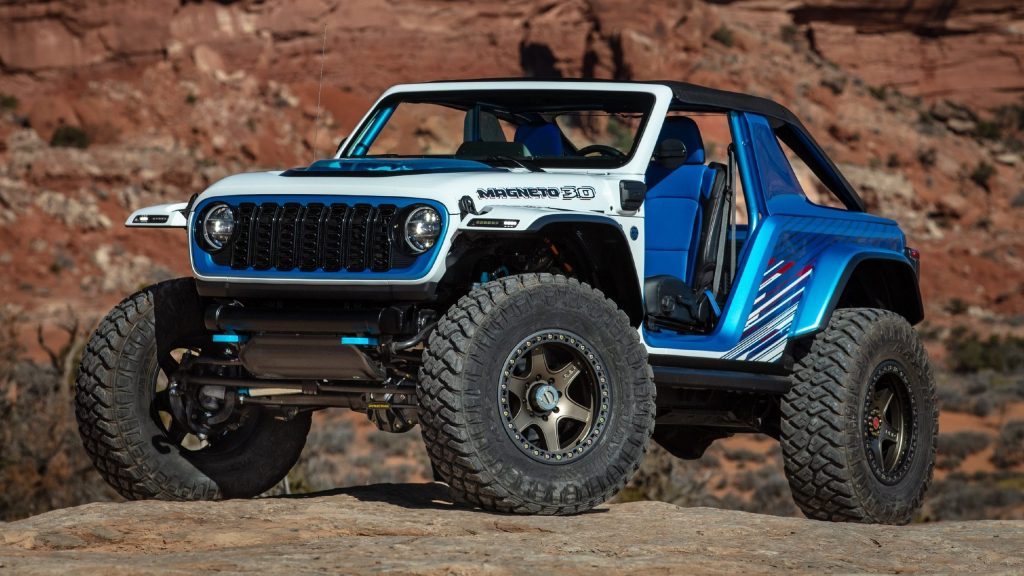 First and foremost to appear at the Easter Jeep Safari is the return of the Wrangler Magneto 3.0, the first fully electric vehicle concept made by the brand which now enters its third iteration.
The Magneto first made its appearance in 2021 with an electric motor producing 212kW and 370Nm of torque. In 2022, power was upped to 460kW and 1152Nm thanks to peak amperage being raised to 600 amps.
New to the concept this year is a more efficient motor that boosts torque, while usable energy and range has been upped by 20 per cent.
There are also three selectable functions that the driver can choose from when off-roading including two power settings, a two-stage power regeneration mode, and an aggressive hill descent mode that offers 'one pedal' driving capability.
Jeep Scrambler 392 Concept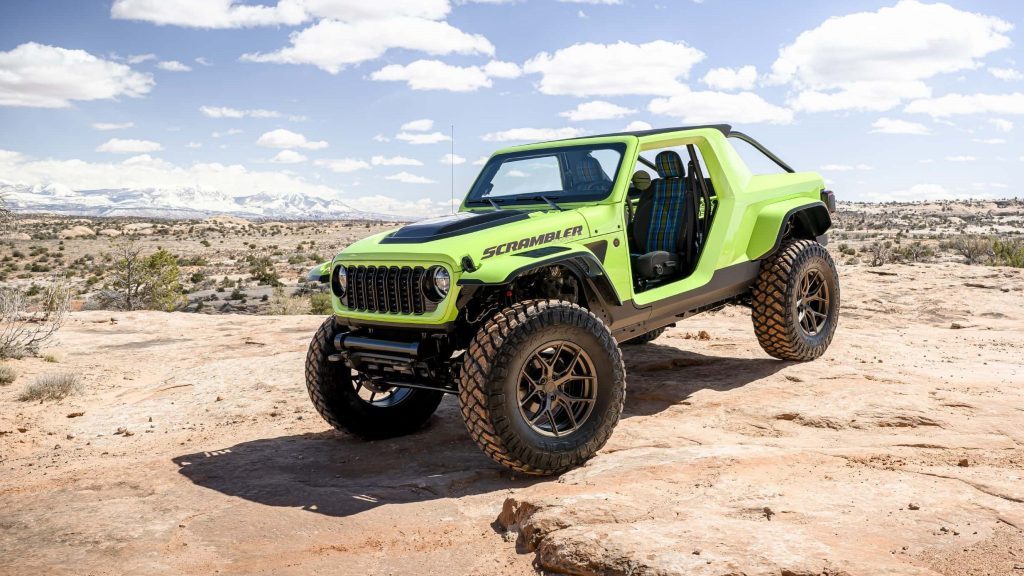 Four decades on since the Jeep Scrambler (CJ-8) was unveiled comes the 392 Concept which reprises the old nameplate.
The digits in its name relate to what's under the bonnet which is a 6.4-litre Hemi V8 producing 350kW and 639Nm.
It started life as a four-door Wrangler Rubicon but has since been converted into a two-door and now wears a carbon fibre body, ultimately lowering the vehicle's weight.
The Scrambler also features a newly-released AccuAir suspension kit which allows the off-roader to be raised by 38mm to 140mm via Bluetooth.
Underneath sits 20-inch wheels wrapped in 40-inch tyres finished in Brass Monkey paint. Speaking of exterior finishes, the body has been painted in Subline green, a famous colour found on various Dodge muscle cars.
1978 Jeep Cherokee 4xe Concept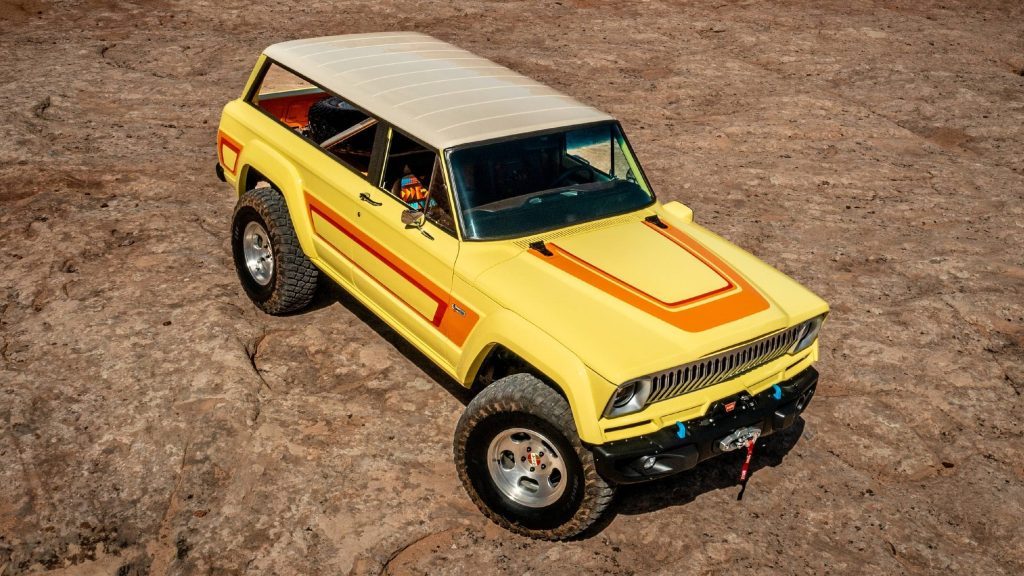 Throwing it back to the 1970s is the Jeep Cherokee 4xe Concept which features two electric motors, a high-voltage battery pack, and a turbocharged 2.0-litre four-cylinder powertrain from a 2022 Wrangler Rubicon 4xe.
The 1978 model upon which the concept is based on maintains its original body but has been modified by having its side window glass removed and wheel arches widened to accommodate 37-inch wide tyres.
Topping it all off is a fitting 70s themed multi-colour paint job.
Jeep Wrangler Rubicon 4xe Concept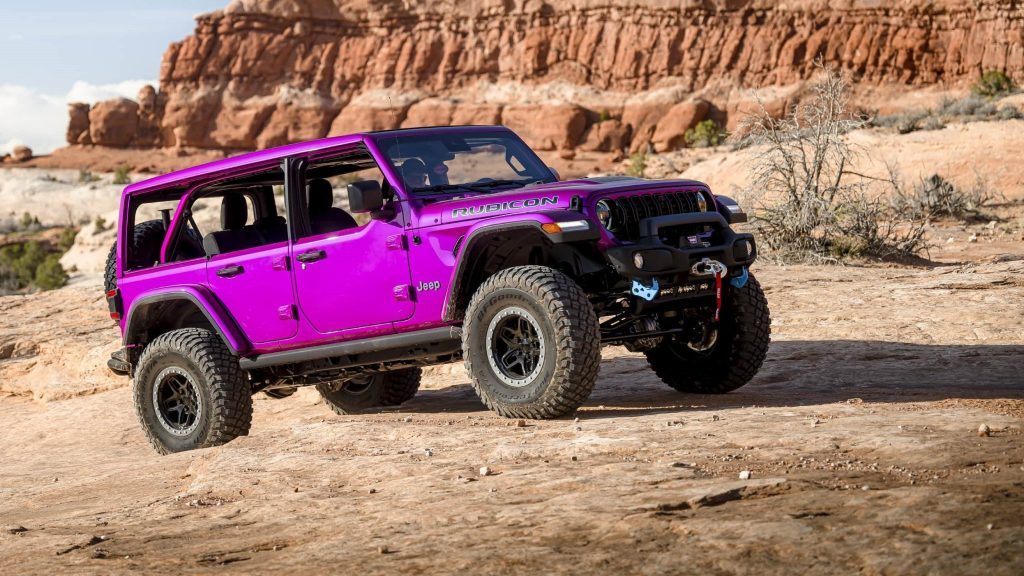 Following the success of Jeep's limited-edition Tuscadero colour option that debuted on the Wrangler in 2021, the brand decided to explore the finish even further by applying the pink-hued paint to the Rubicon 4xe Concept.
Custom leather seats can also be found inside also featuring magenta alongside the door pulls, grab handles, as well as the gear shifter and transfer case shifter boots.
An adjustable AccuAir air suspension kit has also been fitted to allow enough space for its 37-inch tyres to fit that are each wrapped around custom 17-inch gloss black American Expedition Vehicles (AEV) Borah wheels.
Grand Wagoneer Overland Concept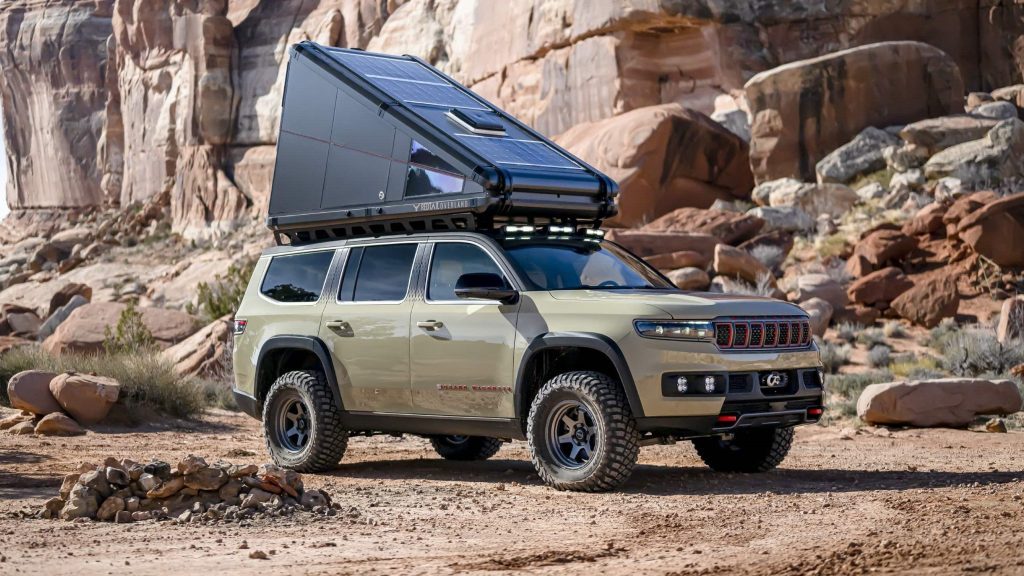 Jeep decided it wanted to see what its all-new Grand Wagoneer would look like as an overlander by installing a huge rooftop tent which can be accessed via a trap door inside.
The second- and third-row seats have also been removed to create more space for storage alongside a quirky living area which contains to bean bags, a rug, pillows. and ambient interior lighting.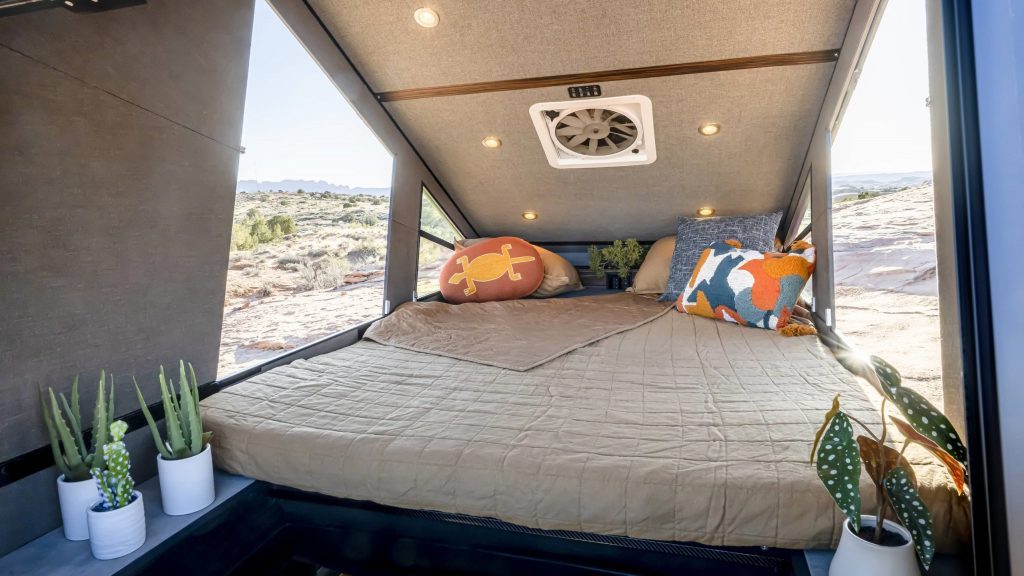 The exterior of the Grand Wagoneer Overland concept is painted in Industrial Green with Gunmetal accents. A Warn winch was added to the front grille and features two sets of custom laser lights for superior night-time visibility.
Jeep Wrangler Rubicon 4xe Departure Concept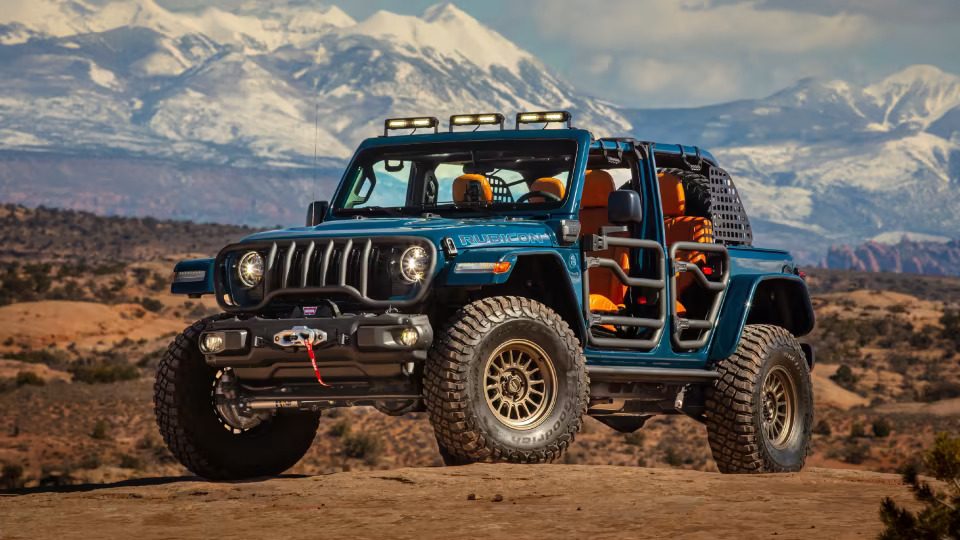 The Departure Concept sees a plug-in hybrid Wrangler Rubicon 4xe turned on its head and transformed into an all out off-road machine.
Its doors and roof have been replaced with rugged bar work while the fitment of a spare tyre mount on the back allows it to accomodate a spare 37-inch BF Goodrich tyre.
There's also plenty of steel up front with the grille being protected by a custom tubular guard that can fold down into a bench.
The four-wheel drive features a 2-inch lift thanks to a set of Bilstein shocks with remote reservoirs to increase suspension travel on challenging terrain.
New flat-fender flares and wheel liners have also been installed to accommodate its large wheel and tyre arrangement. There's also custom rock rails along each side to protect the vehicle's underbody.
Jeep Gladiator Rubicon Sideburn Concept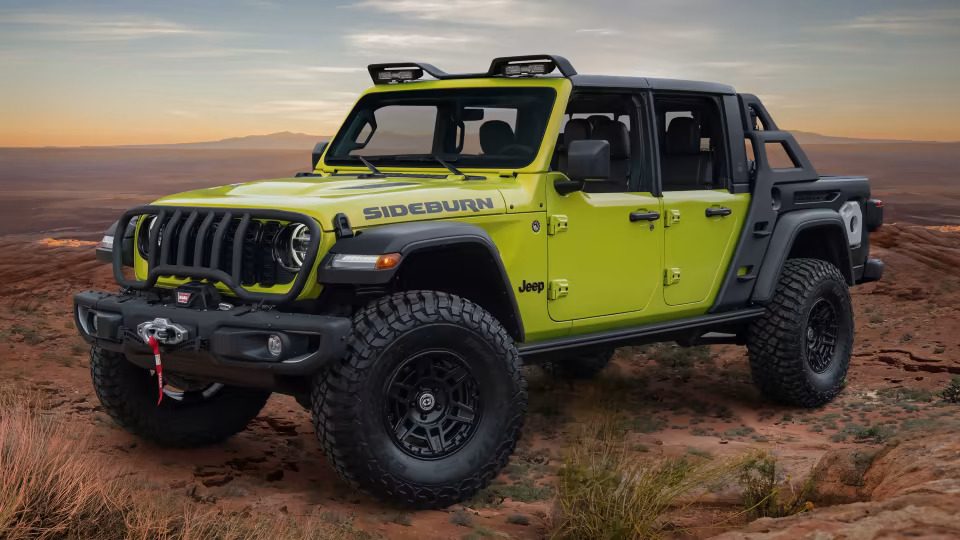 Last but not least to show its face at the Easter Jeep Safari is the Gladiator Sideburn Concept which you'll find the addition of removable roof lights, a tubular front grille, Warn winch, and a carbon fibre and steel sports bar.
The sports bar also has provisions to transport bikes, kayaks, or other roof-mounted cargo thanks to its four T-track rails.
For the first time on a Gladiator, heavy-duty cables attached from the top of the bonnet to the back of the windscreen can be found which direct loose branches over the roofline, preventing any damage to the bonnet and windscreen.
The same Bilstein shocks found on the Departure Concept can also be found here which are also joined by 37-inch BF Goodrich tyres.
Instead of having its doors removed, the Sideburn has been fitted with half doors to uphold an open cabin feel.