The latest 911 is yet another evolutionary upgrade, despite being 80 per cent new, bringing more power, precision and pace. We check out the Carrera S. Is it the most cost-effective high-end sports car available?
Is this eight-generation Porsche 911 (992 designation) the most affordably unaffordable sports car available on the planet at present? Could be. At a little under one-quarter of a million dollars, before options, it certainly doesn't go for chump change but it comes so close to what the exotically expensive supersports cars offer that potential buyers will find it hard to overlook.
For it achieves most of what's achievable in a performance sense for about two-thirds of the ask; in other words, it's a bargain in its rarified area. Moreover, it blitzes the field in one particular facet of performance we measure. The eighth generation of the 911 has just dropped 56 years after the original launched.
Each generation has gotten quicker, more sophisticated, easier to manage on fast roads, and increasingly more fuel efficient and cleaner running. There's even talk of a hybrid 911 arriving by 2022 but no 911 EV is on the horizon. The latest one we've been driving, the 911 Carrera S, isn't bad on fuel use anyway, easily getting into single figures using optional adaptive cruise control (nearly $4k, ouch), and seldom getting out of the teens when pushed harder on the open road. Porsche reckons on 8.9 average.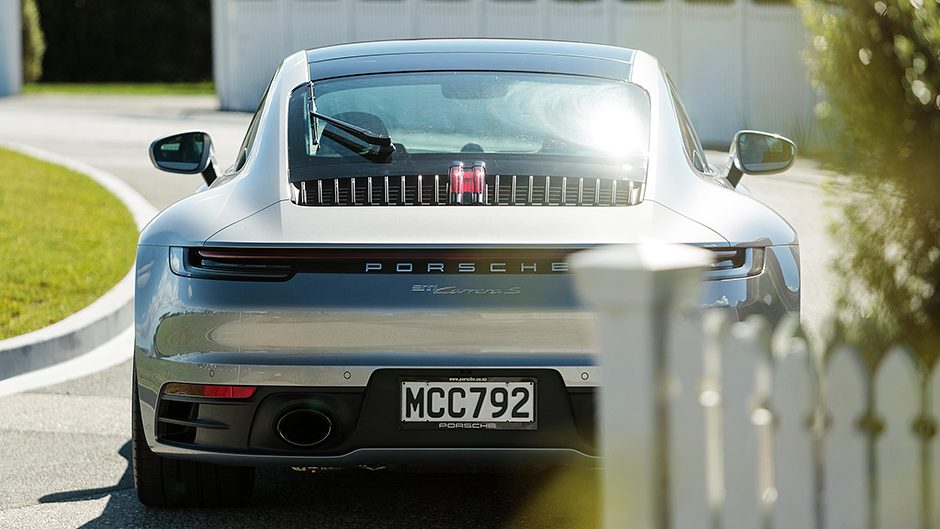 Given how hard it goes these days, that's pretty darn good. Before launching into just how quick, composed, relaxed, comfy, enlivening, and intoxicating a drive the new 911 is, a bit of background. Initially it arrives in rear and AWD configuration, as Carrera S Coupe models. In time the 911 family will grow, including GT2 and 3 variants. But for the moment, we were lucky enough to snaffle the rear-drive Carrera S, which has long been a favourite. Its list price is $248,100 and our one had a host of what Porsche suggests are typical cost options, taking the spend to $280,580.
Some of these a cynic might describe as ornamental. We'd definitely go for active cruise which works right down to a stop autonomously ($3870) and if there's a bit left in the kitty one might consider the sports exhaust ($5670), the Sport Chrono package (which includes the mode switch on the wheel; $5290), Park Assist with Surround View ($2360), and the 18-way powered sports seats ($2300). This also had sexy asymmetic Spyder design 20- and 21-inch alloys ($5070).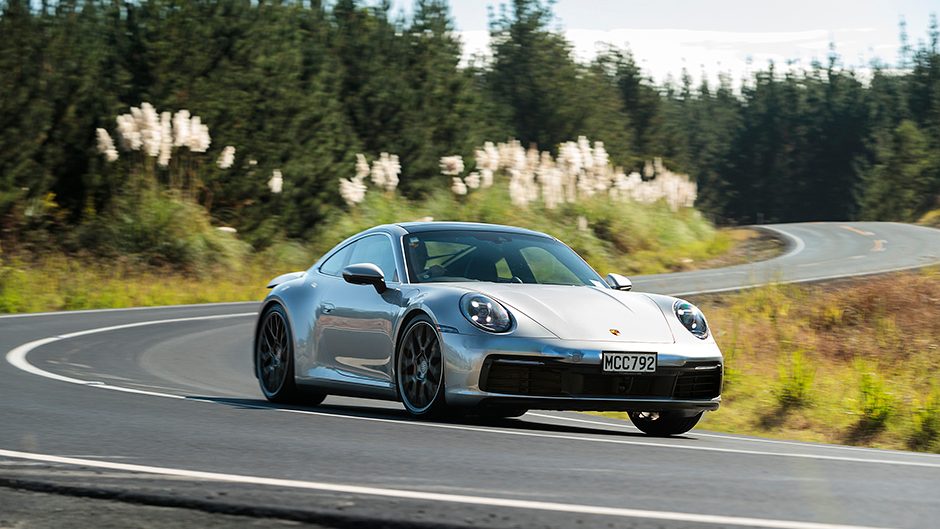 Makes a visual statement
You can quite easily determine this is the eighth 911 by physical changes. Lights are new each end, LEDs, and are particularly different at the rear, with a red strip running the entire way across and a high mount rear stop light that's inserted within the black vertical slatted intake louvre. New bumpers front and rear feature too, with dual exhausts exiting in the middle of the latter.
A visual highlight is that the Carrera S now has the wide body so the axles lengthen by 45mm. Another obvious change is the adoption of electrically activated pop-out door handles. Flush mounting when the doors close, these along with more aero-friendly wing mirrors help produce a Cd of 0.29. The interior is less button intensive now, and cleaner as a result, many functions relegated to a big 11-inch central touch screen. But what buttons are left, a handful, are the ones you'd want, like adaptive chassis, ESP easement, manual gear control etc.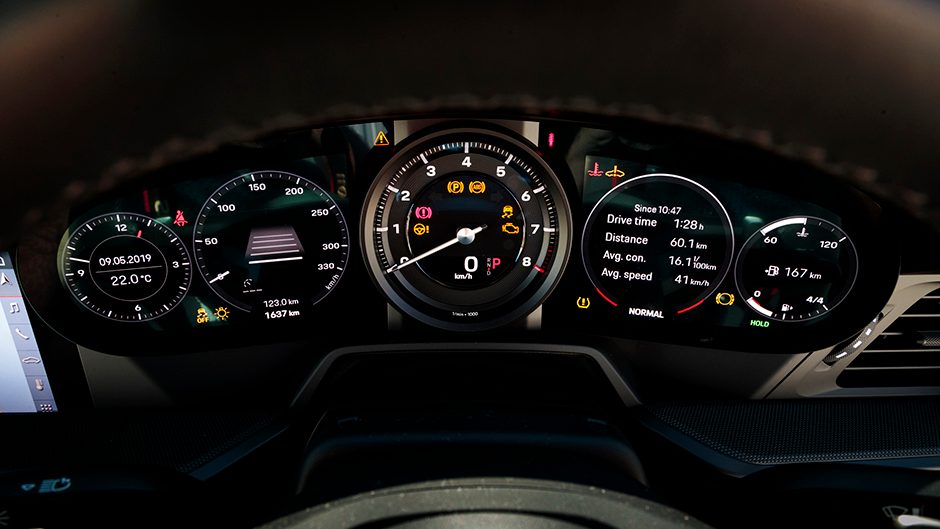 Stops suddenly
Each new generation of 911 gets a bit more power, precision, and performance. However, the wizards from Zuffenhausen have outdone themselves this time round. The 3.0L flat-six engine gets bigger turbos, and electronically controlled wastegates, along with a new charge air cooling system and upgraded piezo injectors.
All that translates to 331kW of peak power (delivered at 6500rpm; the engine limiter hits at 7500rpm), and 530Nm from 2300-5000rpm. That's an increase of 22kW and 30Nm, and evidently with the new faster acting eight-speed ZF twin-clutcher the Carrera S can now sprint to 100 in 3.7sec. Add the Sport Chrono upgrade and you lop off another 0.2sec. Not bad for a rear driver huh? But then, this isn't your regular rear driver is it?
The weight distribution remains rearward biased, with 63 per cent over the rump, 37 per cent up front. There are certain advantages to this, one being a light front end makes for breezier direction changes, while another, not immediately apparent, is better braking. During emergency stops from 100km/h, the weight shift forward means the split is closer to 50:50 overall, and that's why the rear brakes are similarly sized to the fronts, both 350mm in diameter, though there's a bit more bite from the front calipers (six vs four pistons).
This is a champion stopper and evidently the new 21-inch rear tyres mean even better bite than before. It has been a while since anything has beaten 30m in a simulated emergency stop but the Carrera came awfully close on chip seal, registering 30.78m. So we took it down the road and tried on hot mix, resulting in two stops in the 28m bracket. Out of the top 10 best stoppers we've ever tested, one half are Porsches. Last time we checked out a 911, a C4, it posted a 29.4m stoppie so this is clearly no fluke. Brakes are top shelf numerically and they have pedal action to match.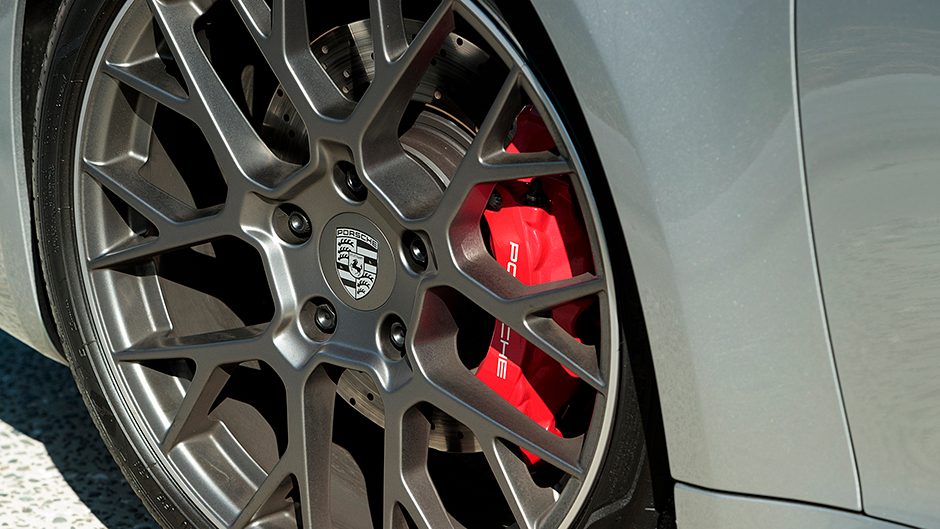 Added oomph translates
Oddly enough, the asymmetric weight distribution also works in the Porsche's favour for producing G forces in the other direction. On our regular test strip it eked out a best 0-100km/h time of 3.40sec, 0.1sec beneath the claim, and produced an 80-120 overtaking time of 1.97sec. The latter is just 0.2sec slower than the last 911 Turbo we tested. By the by, that was the only other car we've tested that stopped inside of 29m from 100km/h. All this performance from a 3.0 six pot. Can't stress that enough!
We checked how many cars we've tested that produced a TED time of under 2sec, and it's just 12. The Carrera outsprints a Lamborghini Urus, the fastest SUV on the planet, and is line-ball for performance with the blazing AMG E 63, both AWD. Helping with pace is that it launches with 5000rpm showing, which catapults it forwards to glory. All this is a bit hard to credit if you're just driving it around in the Normal mode where it quickly upshifts to eighth, and uses low-rev torque to drive it forwards.
Not only does it cooperate fully as a pleasant daily driver – even rearward visibility is good – but the various modes can be mixed and matched with a pair of suspension settings. Select Sport using the little mode device attached to the steering wheel and gears are held longer, while the sports exhaust also comes into play, not that it's exactly a barker.
Earlier atmo C2S models sounded more strident but they wouldn't have seen which way this went. On that, Porsche claims this will run to 308km/h. In Sport+ shifts are held until closer to the redline, so it's better for track action. In both Sport modes, once you've activated the paddles it's manual all the way. In Normal it will slip back to auto mode after a bit. Naturally with two turbos this has zones of grunt just about everywhere.
It also means 100km/h is a trifling 1350rpm in eighth, rising to 110 at 1500rpm. There's also a 'push to pass' or Sport Response button, offering maximum engine and transmission responsiveness for 20sec. Oh and a wet mode, if you just must drive quickly in iffy conditions.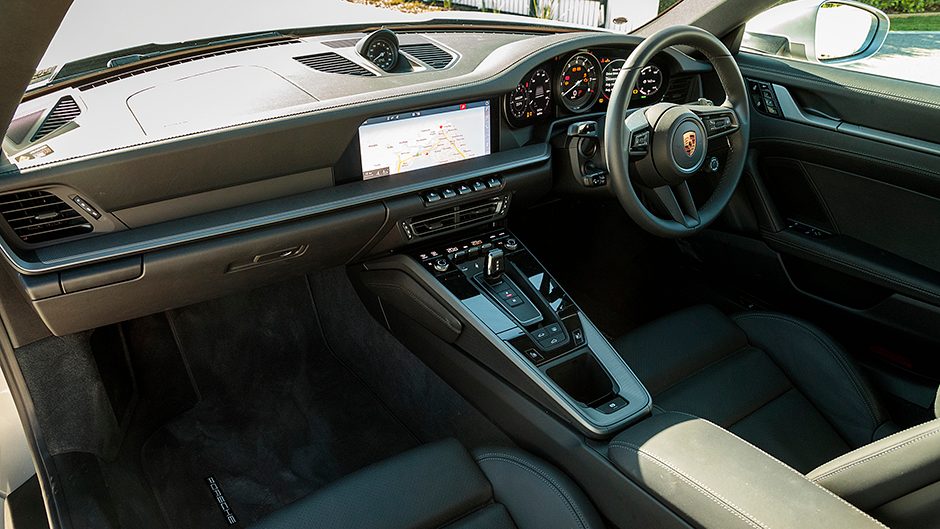 Stuck in corners
Dynamically this is da bomb, of course, but then you already knew that, right? The Carrera S comes with torque vectoring by brake, an electronically controlled locking rear diff, extra track width front and rear, and adaptive damping. With Sport Chrono there are dynamic engine mounts too. There's a button on the dash that firms things up but in the 'normal' chassis setting this will still corner in a manner that would see most following vehicles rapidly disappear in the rear view mirrors.
At regular road speeds, you'd not credit how well this dispenses with significant dips, bumps and hollows, even in the firmer chassis setting. Porsche reckons the 21 inch wheels on the rear vs 20 inches on the front make handling even more neutral, with less tendency to under- or oversteer. We didn't notice much of the latter, even under power in corners, and understeer is minimal.
There's just this profound sense of grip and superior corner speed; it laps the Nordschleife in 7min 25sec. And the feeling at the helm is also masterful, with just the right amount of interaction (weighting, sensitivity), always with the sensation of lightness up front and instantaneous turn in, despite its 2.5 turns lock-to-lock. If all this isn't enough for you, rear wheel steering is also available as an option.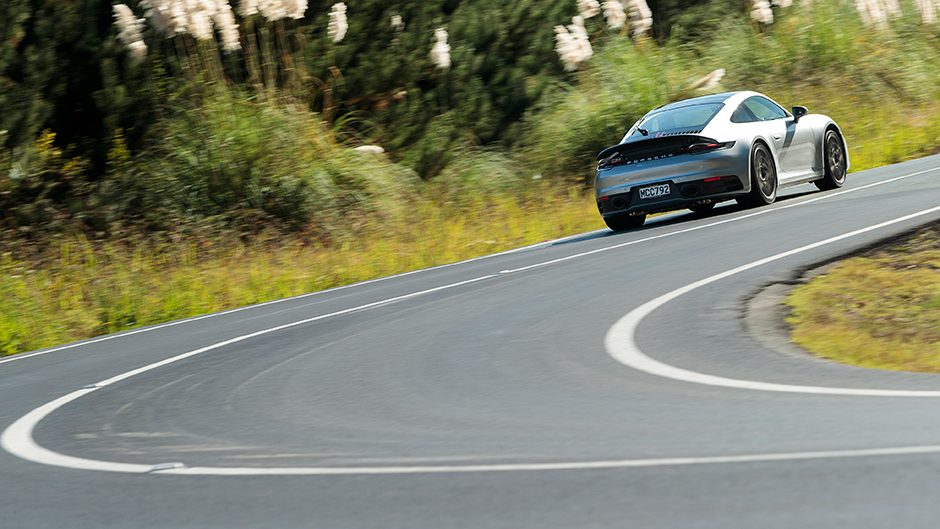 Other bits
Luggage space might seem pathetic, 135L but it is usefully cube shaped up front. All is not lost though as the wee seat backs of the tiny rear pews fold down horizontally so will hold additional luggage. Rear seats are good for juniors only. Up front, the shift lever is now minimalistic, vestigial almost, while a new addition is intelligent voice control.
The general look is more refined. And on that, this new 911 seems much less shouty. Average road noise levels have fallen by 5dB (75.4). Best drive this year for me? Without a shadow of a doubt. Odd as it may seem but the new Carrera S is almost a bargain in the top-end performance area.
| | | | |
| --- | --- | --- | --- |
| Model | Porsche 911 Carrera S | Price | $248,100 |
| Engine | 2981cc, flat 6, T/DI, 331kW/530Nm | Drivetrain | 8-speed twin-clutch, rear-wheel drive |
| Fuel Use | 8.9L/100km | C02 Output | 205g/km |
| 0-100km/h | 3.40sec | Weight | 1575kg |