The TCR formula of tin tops has made its way down to this part of the world. We check out the Hyundai i30 N TCR after its local debut in the North Island endurance championship.
TCR (which quite literally stands for Touring Car Racing) has quickly become the dominant formula for saloon car racing around the world. The TCR regulations were developed in 2014 as the likes of the World Touring Car Super 2000 category were on the demise.
They were devised for cost-effective racing, and modelled on the Seat Leon Cup, a factory-built racer based on a production car for customer teams. There are currently four internationally sanctioned TCR series and 12 national championships running to the TCR regs. Last year, TCR cars competed for the FIA World Touring Car Cup, and the two teams running i30s came first and second.
That segues nicely to the car featured here. This i30 N racer is designed and developed by Hyundai Motorsport Customer Racing in Germany. It emerged in 2017 and was honed with input from Gabriele Tarquini, who subsequently won the FIA driver's title last year. Built to the TCR specifications, it's eligible for a number of touring car and endurance categories and is Hyundai's first stab at crossing over from rallying to the track.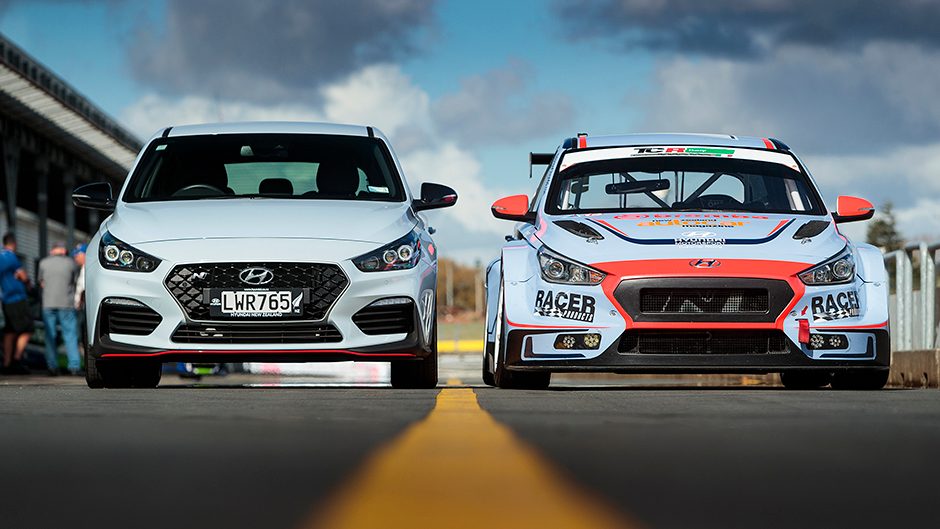 All TCR racers are based on a four- or five-door production vehicle, powered by a production-based turbocharged engine no larger than 2.0-litres. In the case of the Hyundai, the production i30 body shell ships from Korea to Germany for strengthening and installation of the high-tensile steel roll cage, aero kit and 100-litre fuel tank. At 4450mm, the racer is 200mm longer overall than the road going i30 N with its appendages front and rear, and 200mm wider at 1950mm, while the wheelbase remains the same. TCR rules have the i30 at 1285kg with driver.
As mentioned, the racer utilises the same 'body in white' as the road car and also its bonnet, doors, windows and wing mirrors. There are extensive modifications to the bodywork including composite arches housing the BRAID 10×18-inch rims while the track is out to 1700mm (road going i30 N at 1564mm).
The aero kit comprises a new composite front bumper with a carbon splitter, wide carbon skirts run down the side and there's a big wing tacked on the rear. The 2.0-litre turbo is the same that Hyundai uses in a range of its road cars from the Sonata to the i30 N. The rules limit boost and max revs to keep the output to around 360hp (268kW) with 460Nm at 3600rpm. The transmission is a six-speed sequential Xtrac with pneumatic paddle shifters. It's a front driver with an LSD and beefed up driveshafts.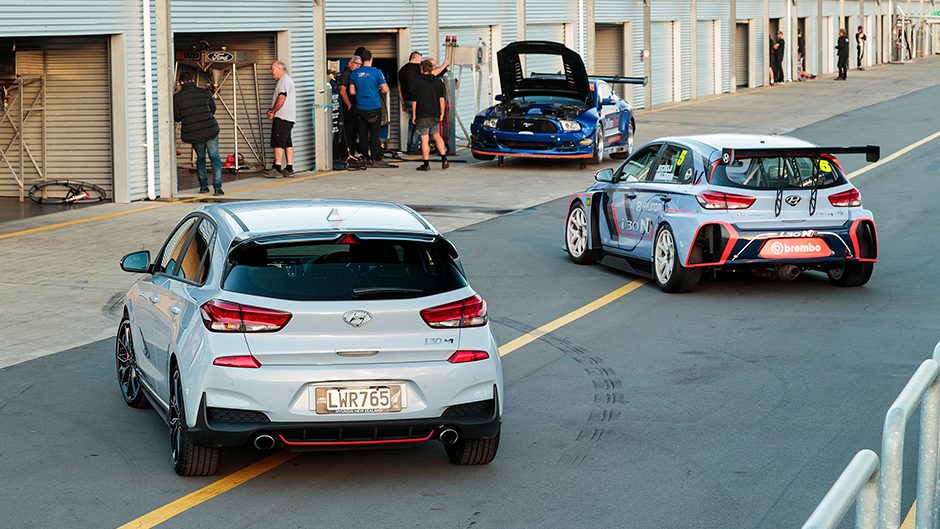 The suspension basics are the same as those from the factory, Hyundai using the production front and rear subframes and steering arms while the McPherson struts up front and the four-arm multilink rear get adjustable dampers. There's a hydraulic steering rack in place of the road car's electric set-up. The stoppers are far more serious too with the Hyundai running Brembo six-piston monobloc calipers chomping on 380mm rotors while twin-piston monoblocs with 278mm rotors grace the rear. The interior is fitted with an OMP seat and six-point HANS compatible harness and fire extinguisher system.
They call TCR 'customer racing' as the rules don't allow factory teams, but manufacturer help is encouraged. Cars are bought ready to race with a brand new i30 N TCR costing €128,000 ($NZ219,000). Performance and reliability are key with engines being good for up to 9000km of racing before it needs servicing. There is a Balance of Performance (BoP) system in place to even up the field of cars defined by the FIA and TCR technical departments.
They can make adjustments to race weight, engine performance via boost allowances and ride height. Some 13 manufacturers have cars that have been homologated for TCR from Alfa and Audi, to Subaru and VW and in excess of 600 TCR race cars have been built to date. The racers remain close to the road cars they are based on yet comply with the rules. There is no control suspension. For instance, the Megane RS TCR still runs a torsion beam rear, while the WRX uses its double wishbones.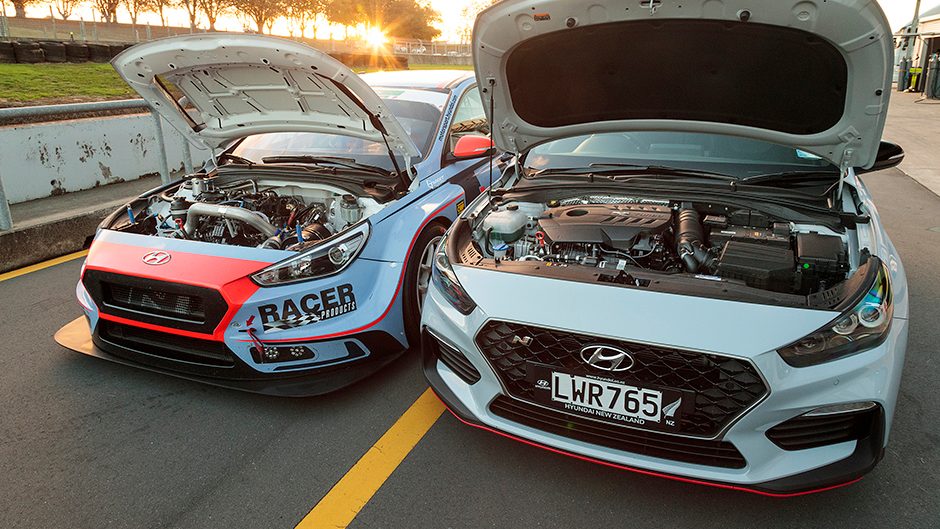 Engines vary too, the Renault with its 1.8, while the likes of the Audi RS 3 has an S3-based 2.0-litre rather than its 2.5 five-potter. Some run dual-clutch gearboxes, others sequential set-ups and, like the RS 3, the WRX is not AWD but a front driver. While the handful of TCR cars that reside in New Zealand, including a couple of Golfs, a Civic, an Audi and now two i30 Ns, are here for the Enduro series mainly, a New Zealand TCR Series is set to launch in 2020 with a mix of sprint and endurance races being discussed.
After a successful local debut at the second round of the North Island Endurance Championship at Pukekohe, winning its class and coming in sixth behind the GT3 cars, lead driver Gene Rollinson shared his i30 TCR experiences with us. It's been a while since he's driven a front driver in anger, being 11 years since taking on the Nurburgring 24hr in a Type R, and he says things have come a long way.
"The refinement in this car is surprising, and so is front grip. It brakes extremely well with the 380mm rotors on the front, which is an advantage over the faster cars. You can also hustle it hard in the corners; it just sits so solidly in bends." He says while it's based on a production car, it feels like a proper racer on track.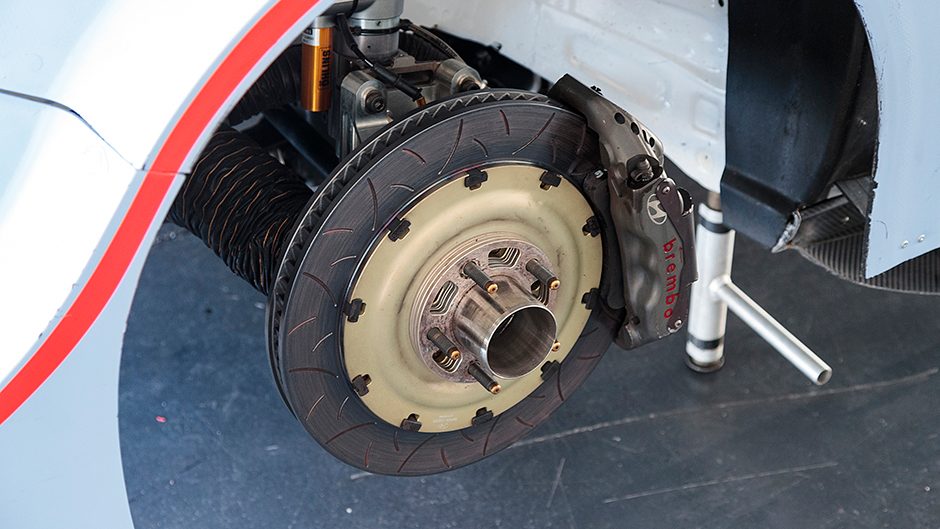 "There's all the aero, it's on big slicks, there's the sequential paddle shifter, and you're sitting in a completely different place in the car, almost in the middle and right the way back." Compared with the Audi R8 he has raced in the past, the Hyundai is around four seconds a lap slower around Pukekohe but, as he says, that's not bad for a car with half the horsepower and a lot less aero.
He also makes mention that they are similar in concept, being easy to drive at eight tenths, but it's when you try to really push them that they become challenging. He thinks the initial appeal of TCR is that it's novel and different, a break from the whole Ford versus Holden thing. He adds that these TCR cars are a lot more relevant to the road cars, and are potentially a more affordable category of racing. "These will be a lot cheaper to maintain. The i30 comes with a 150-page manual from the manufacturer on how to run the race car, listing what the life of the components is, what fluids to put in it, even what the downforce will be front to rear when you change wing angle. It's so easy."
Hyundai says the engine is good for 7000km in sprint trim and 9000km in enduro. Rollinson says that's good enough for two 24-hour races, including practice and qualifying, before a rebuild. But then he says a brand new engine is just $9000. "It's an uncomplicated race car. With the R8, for example, you needed two or three guys just to run the car on a test day. This thing you can do a lot yourself. This will appeal to those family teams that can run the thing with a limited budget. That's pretty good for an up-to-date world touring car that a lot of famous names are racing."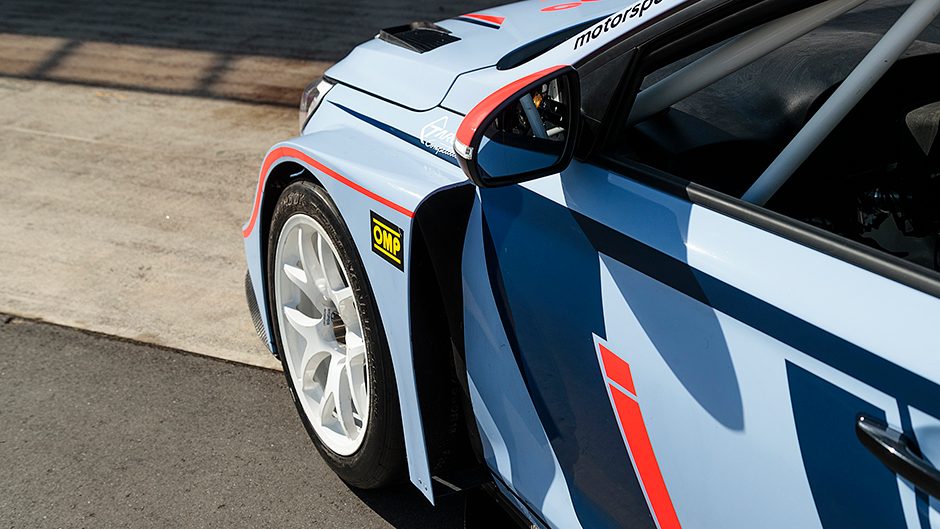 He says it's a relatively easy car to drive. "They need to be easy to drive up to a point so anyone can buy them and race them, but to snag a quick time out of them there's a bit to do. There's some torque steer evident when the turbo kicks in and if you're on the gas too early you get a whole lot of power understeer, and you really need to manage those tyres.
But it's not something that you get into and are scared of. Yes, it's tamer compared with the V8 Super Tourer but is no less exciting to drive." And let's hope the grid is full for next year's TCR championship; the local touring car scene sure needs some life breathed into it.